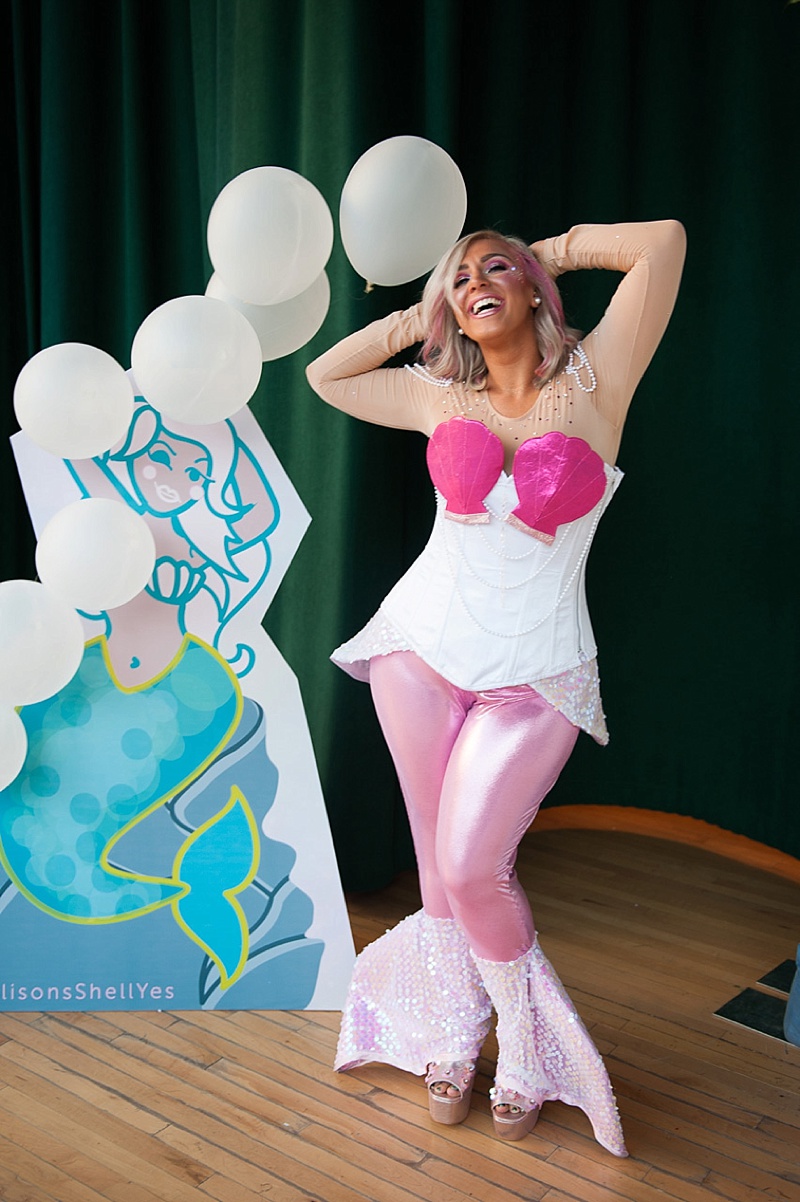 photo by Trevor Christensen 
Last week I posted the pictures and a recap of my all merbabes dance party, Alison's Shell Yes! You can see that here!
I didn't post the video with it because it seemed like A LOT to talk about all my feelings, show you all the pictures, and take you step-by-step through the party and then throw a video at you TOO! And I'm not one to overwhelm. Kidding. I'm TOTES one to overwhelm. But even I have my limits.
I just love this video so much I wanted to make sure it had its time in the sun! The reason I love it SOOO much is because I love watching all the ladies dance and get doooooown. At the parties I don't get to see SO MUCH because the parties are large, and there's only one of me. So I love having Modern Atelier as my eyes.
How freaking fun is that?! The song is called Sherlock by a band I love, Hive Riot. Their whole album is dancy and great! My husband produced the album and plays in the band when they perform. And they were so sweet to let me use the song! Thanks guys!
And don't you just love all the dance cameos Modern Altelier was able to capture?! I've been working with Modern Atelier for nearly 3 years now, and they continue to outdo themselves with each video with the techniques they use, and the way they capture the feeling of things so well. I met them at a little mixer type of event, that I had no intention of going to. But at the last minute I felt like I should, so I dragged myself there. I don't even remember what is was for, but after it was over someone introduced me to Kim and Jesse (they are the cutest married couple) because they knew I had been looking for people who could do more video work for me. We did some craft tutorials together, and I immediately loved them. I'll forever be glad I followed my gut and went to that thing! It can be so hard to leave the house guys!
But it has been such an amazing relationship. We've traveled all over the country together, they filmed my two courses, my family and Eric and I talking about our careers in our old house, and also there's the time we illegally filmed me dancing up and down the aisles of a grocery store. Good times guys. Good times. And why are grocery stores so anal about people filming there. GEESH. Haha. We got kicked out of one.
Anyway, I appreciate them so much. There really is nothing better than people who stick with you, and continue to want to work with you. I've worked with lots of videographers, and lots are good, but I will forever recommend Modern Atelier. They are fast, intuitive, and a pleasure to have around. And don't get the wrong idea, I pay them, this isn't trade. I just love them so much.
And I love you so much. And I love inappropriate dancing so much. I also really love super dirty rap songs.
I hope your week is awesome.
xo
Alison
Again, special thanks to our headline sponsor and purveyor of awesome: LuLaRoe!
VENDORS:
Venue: The Gallivan Center
Photographer: Trevor Christensen 
Merbabe Hair Coloring: Platinum Studio
DJ: Justin Godina
Drinks: Sodalicious
Acai Bowls: Vida Acai
Popsicles: Lick'd Pops
Sequin Backdrop: Drop it Modern
Marquee Lights: Vintage Marquee Lights
Balloons: Northstar Balloons
Signage & Graphic Design: Hello Tosha
Wood signs printed by: Impressions Shop
Shark Bait Swim Trunks: Kortni Jeane
ON ALISON:
Makeup: Vivian Makeup Artist
Hair: Jess Newcomb
Costume: Alyson Hancey 
SaveSave
SaveSave