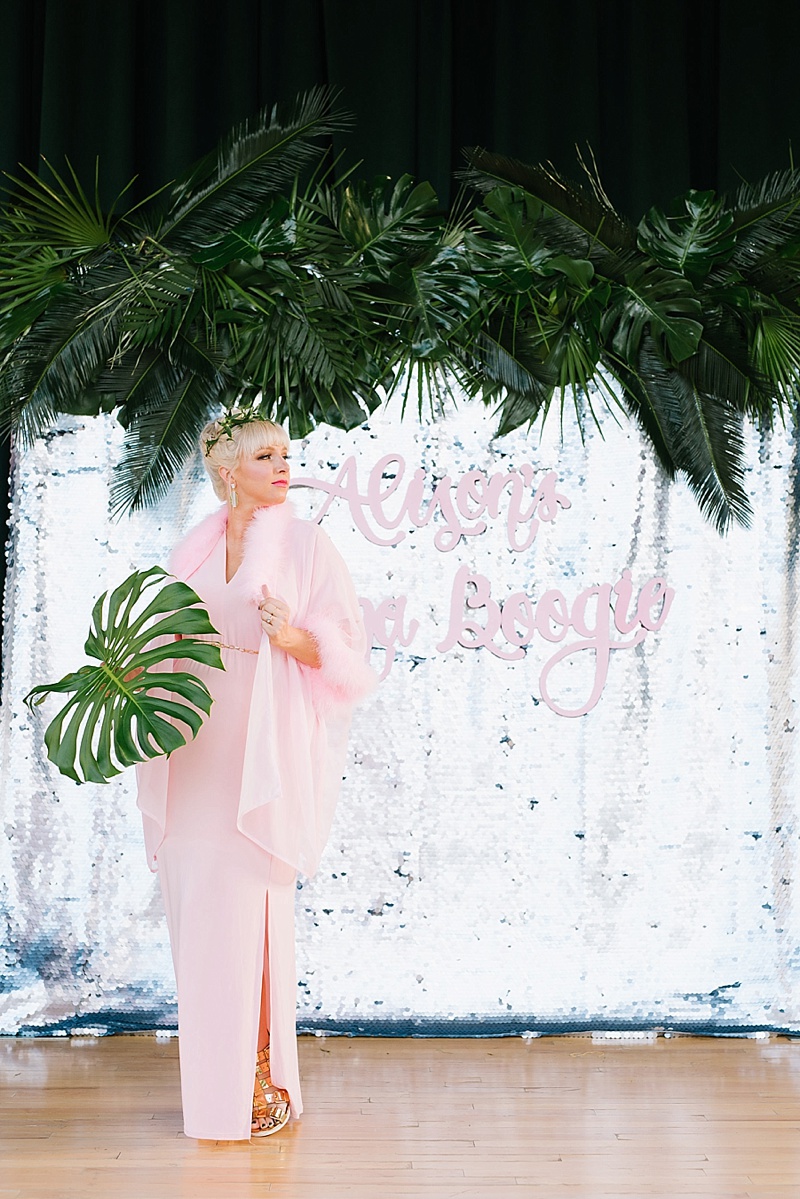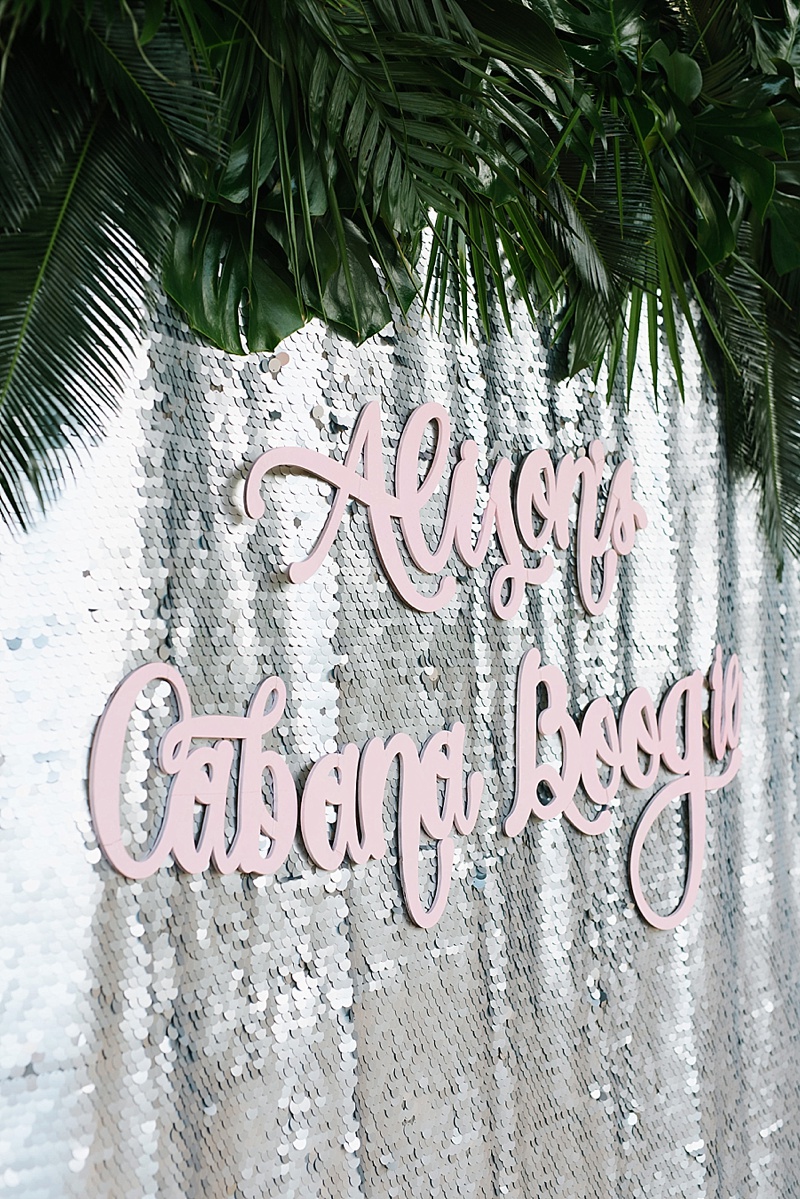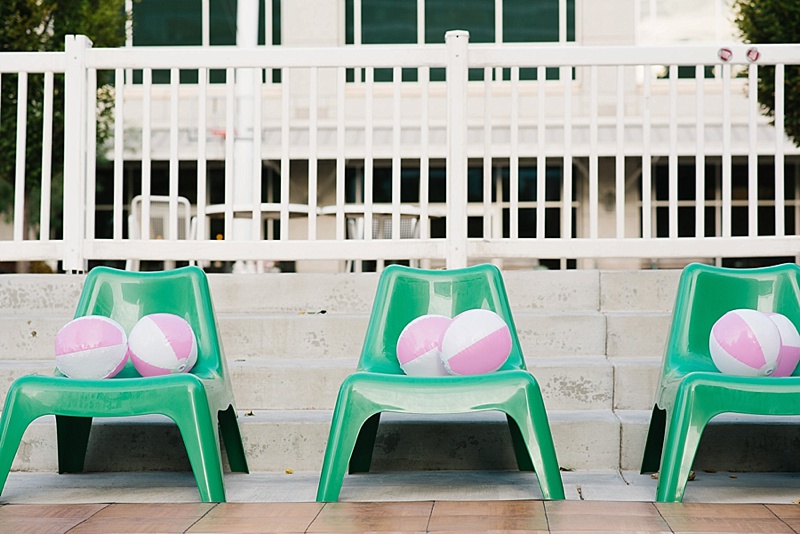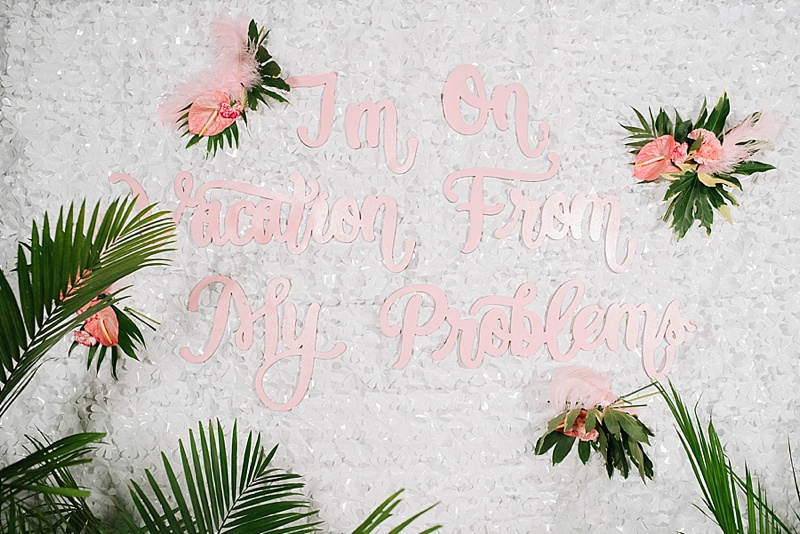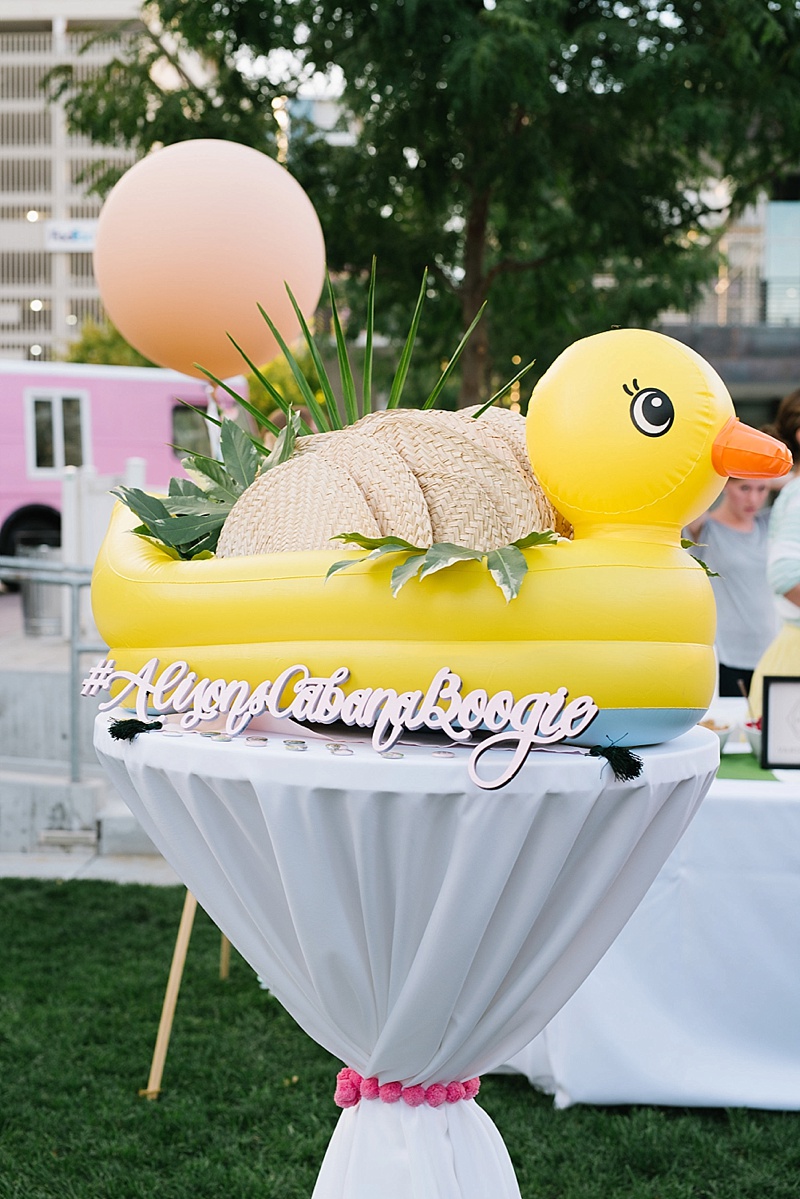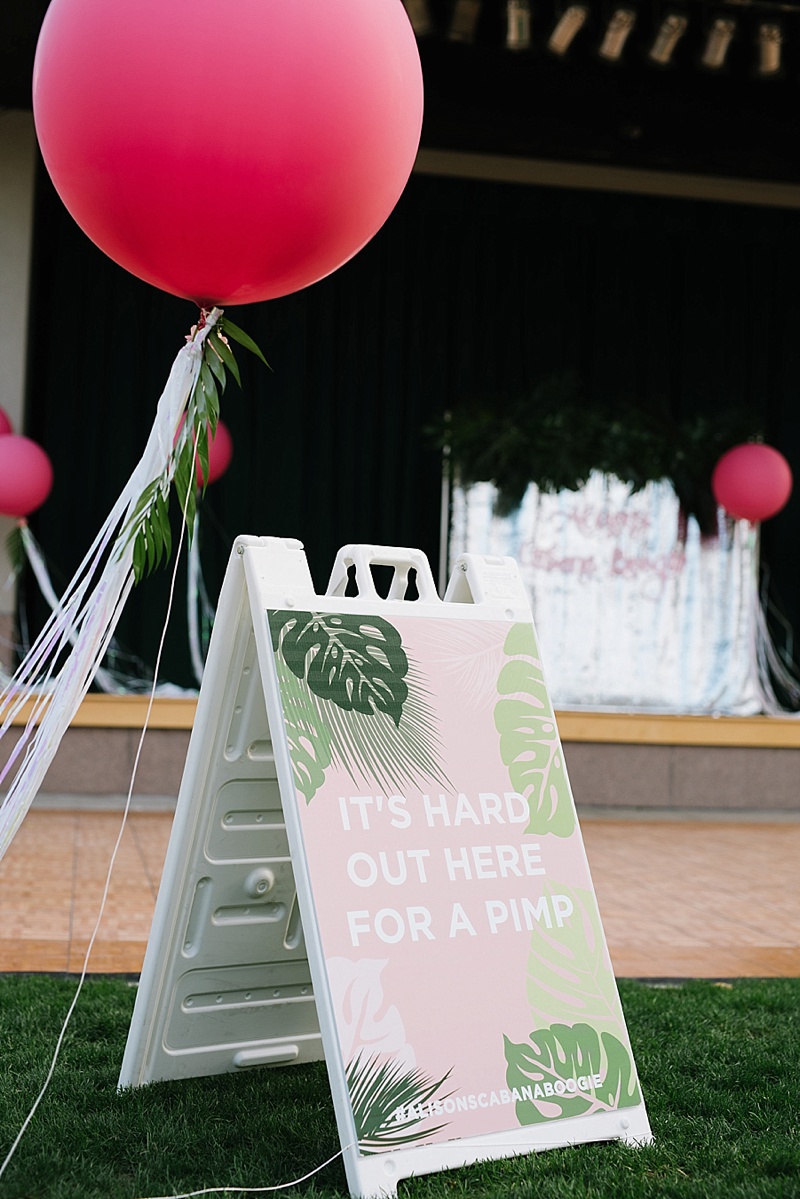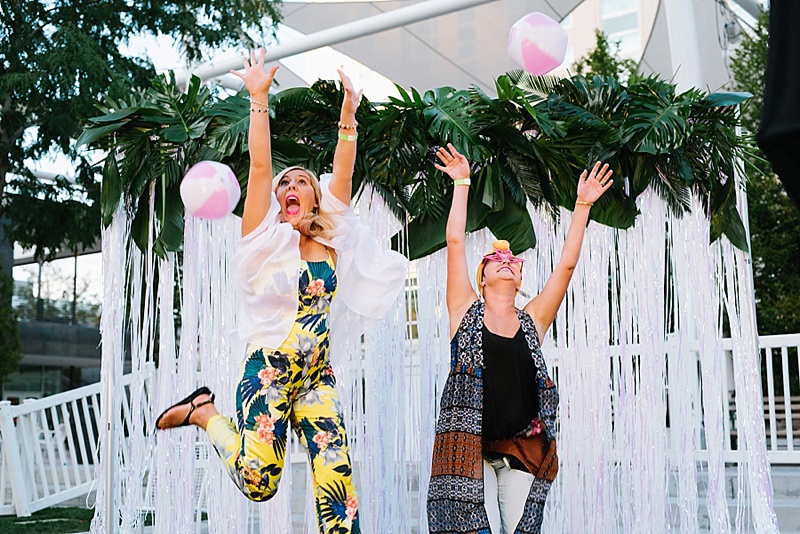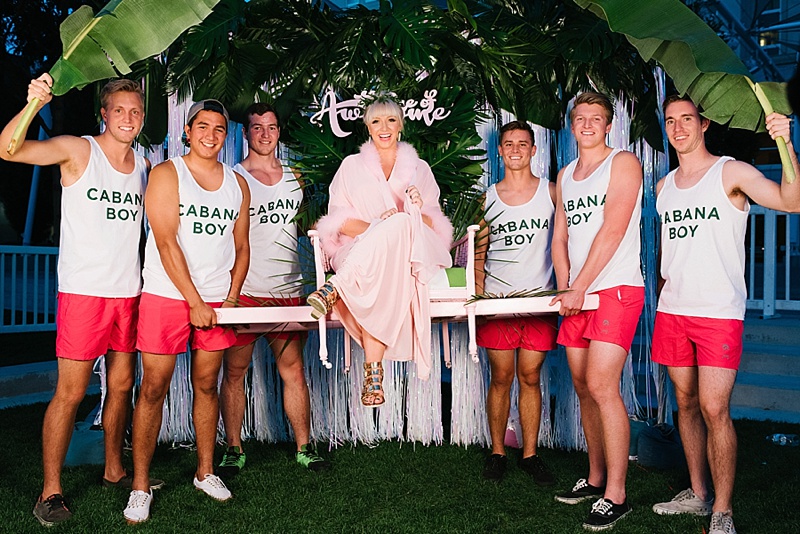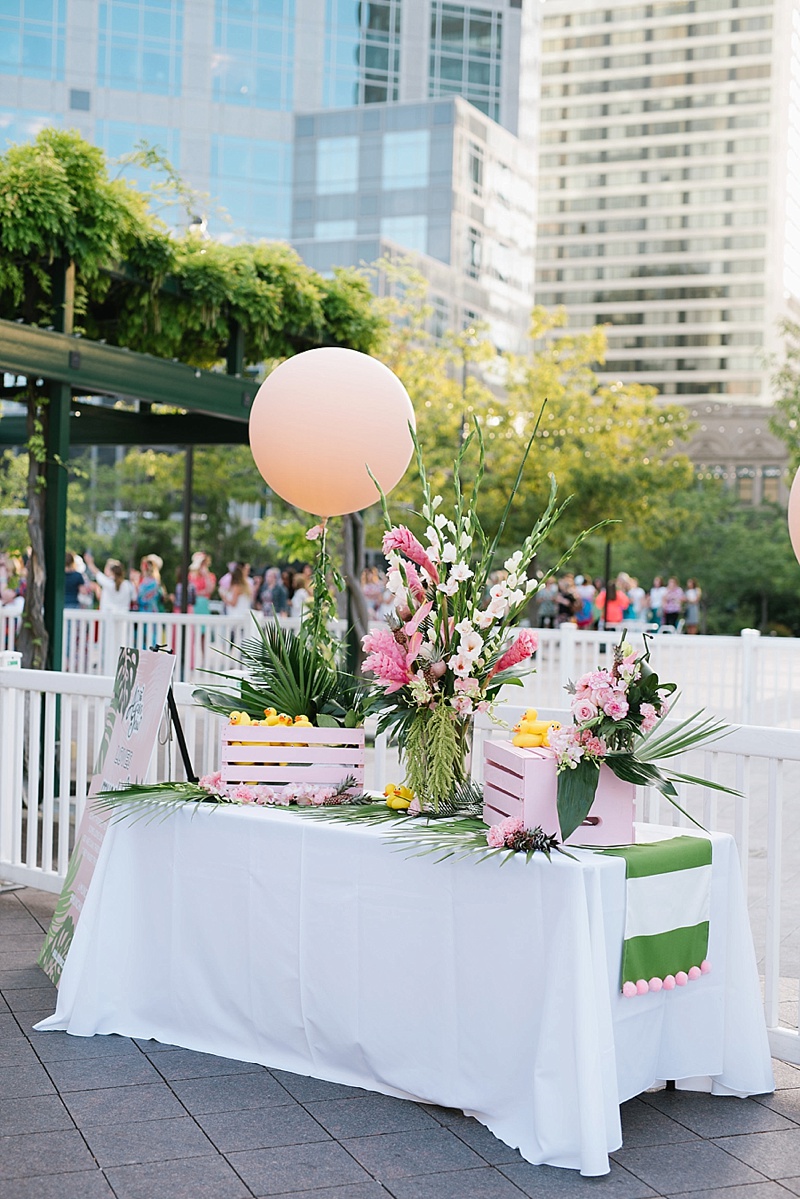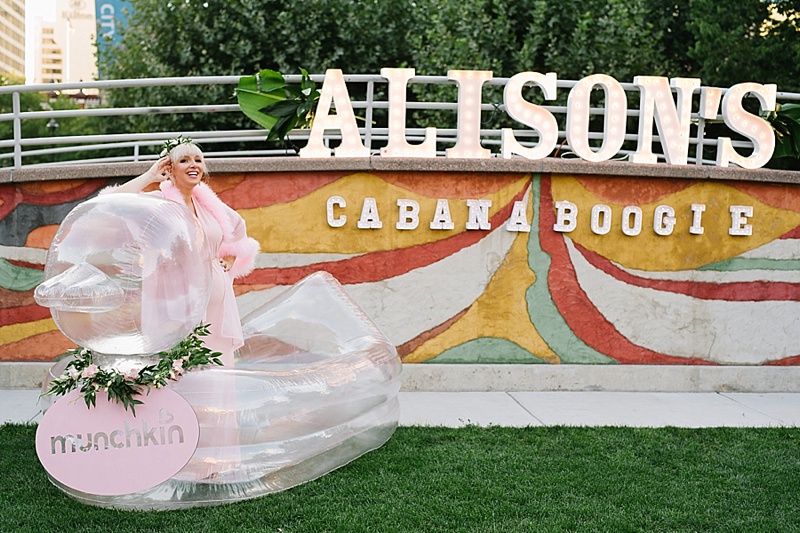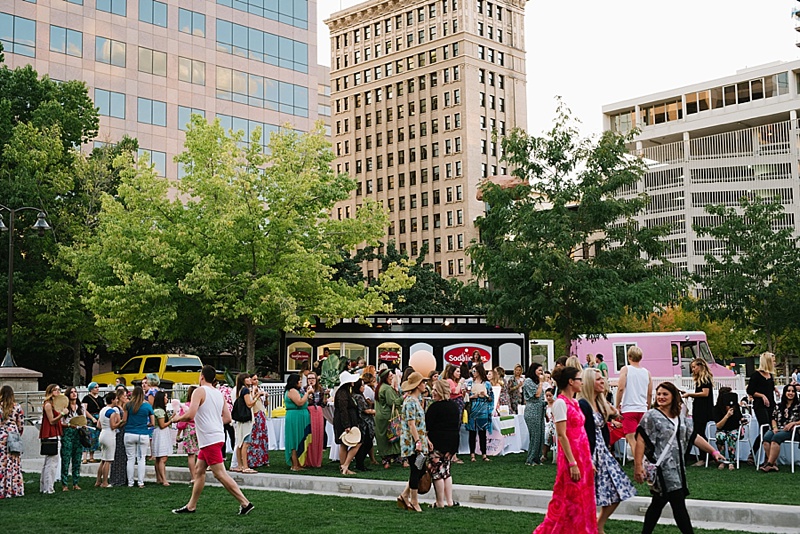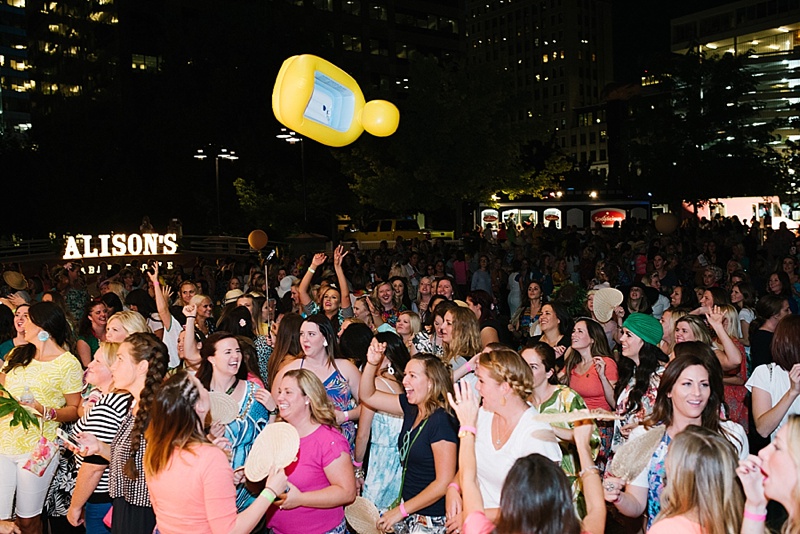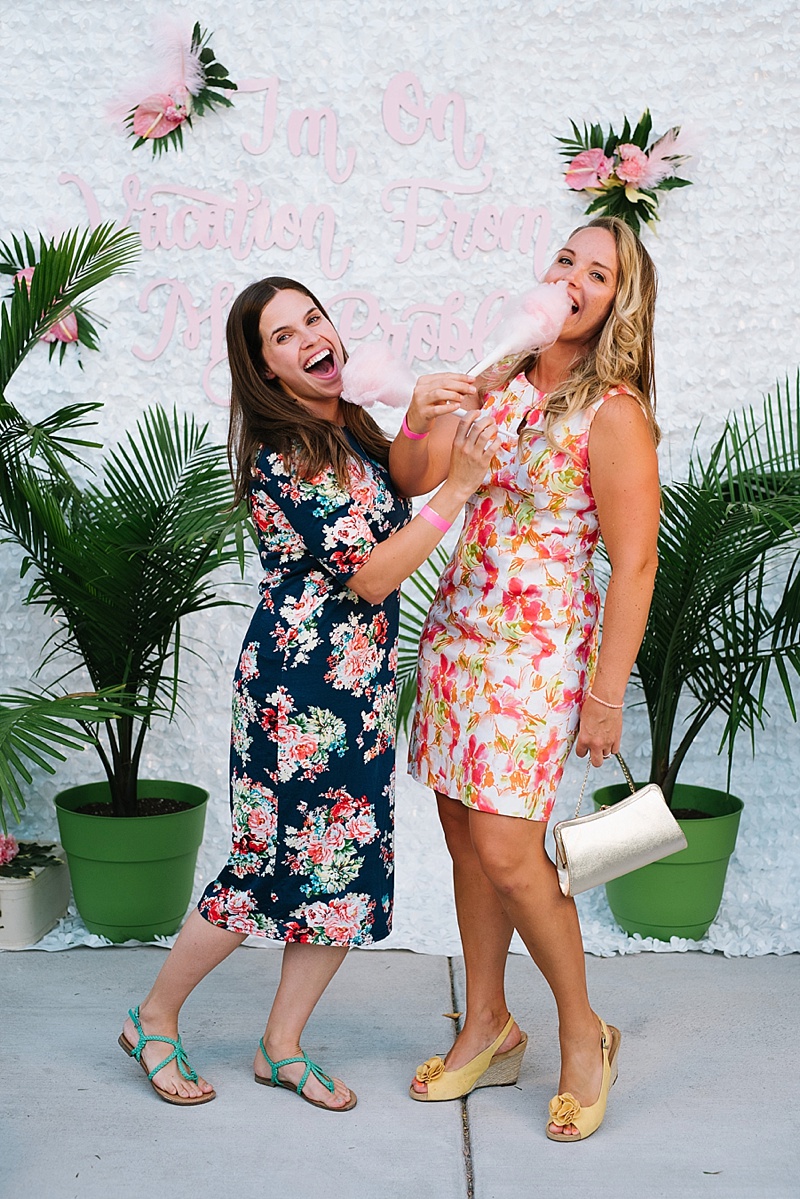 AND NOW! For your viewing pleasure, a fun video from Modern Atelier!
Well guys, I did it. The video and pictures will prove, I've thrown my largest dance party yet. Alison's Cabana Boogie provided over 600+ ladies "a vacation from their problems"…and I did the whole freaking thing while pregnant! To say that I am both shocked and relieved I accomplished this would be an understatement.
After each party I throw I like to lament the things that could have been better, or the things I would change. I pick apart photo walls or backdrops that didn't turn out quite as imagined, or try to work through some logistical errors. But after this party was finished, and I was dragging my DEAD tired pregnant body to the car, I exhaled a huge sigh of relief and said, "Well, that was essentially perfect." And as my sweet mom pointed out the next morning at breakfast, "Hearing something went 'essentially perfect' from a perfectionist must mean things went pretty well!" Haha.
But before you fall off your chair because you're blown away by my confidence/arrogance, I would like to point out that I still can't believe it came together like it did. But here's the reason I think it did: Call it what you want (I call it God) but God, or the Universe, or the Dance Goddesses of the Earth, wanted this party to happen. Really! And that's the reason why it happened! And why it worked out. Not because I'm so so special or great. But because some ladies needed a party! I am just a humble, party-throwing vessel. HAHAHA.
I had the idea months ago for a new Throne of Awesome–and that I wanted women to be carried on it Cleopatra style, or like Rikki/Lynn Stone in Girls Just Want to Have Fun, and thought I'd tuck it away for later. But then I thought about it more and I decided that a 1950's glam Cabana theme would be SO FABULOUS for an end-of-summer dance party. Especially with my new throne I wanted to create. This was in May or June, and I was still so sick and in my first trimester.
To keep myself from doing anything rash (I tend to throw these parties on whim) I would remind myself, "I can barely handle my life when I'm pregnant! And I can hardly throw these parties when not pregnant! This is A TERRIBLE IDEA!" But the idea kept coming up. So I kept praying over and over again, like, "I will throw this party if I should, but it just seems like logically I shouldn't!"
Because other than the fetus in my womb, I had 2 main obstacles.
1. I needed a venue. Club Alison is too hot to have a dance party in the Summer, so I needed somewhere to throw this party.
2. I needed money. If you don't throw large-scale events it's really hard to fathom that even with sponsors, and people donating product, the help of volunteers AND ticket sales, I don't make a lot of money from these parties. They take so much time, so it keeps me from getting other work done, and they cost A LOT. They help grow my business for sure, and they do make SOME money, but I'm trying to grow an empire, and be a mom, and these are not really my soundest money-making effort. For Alison's Candy Shoppe I didn't bother getting a headline sponsor and it was at financial cost to myself. SO, I couldn't do this party unless a headline sponsor stepped in to help with the cost. I wasn't looking to get rich, just have it make financial sense for my family and health.
And here's how both problems were solved.
I had talked to the Gallivan Center (the beautiful venue where we held the boogie) here and there, but didn't understand that they ACTUALLY wanted to work with me. They are one of the largest, most beautiful venues in the city. They hold events there that tens of thousands of people attend, like huge concerts and craft fairs. Why on earth would they want to work with ME? Haha. But they approached me again, and made it clear they'd love to have a dance party there! And I was like, "Well, that doesn't happen every day!"
THEN! A couple of sponsors approached me for a headline position. Mind you, I usually have to HUSTLE to find any sort of sponsorship. But I wasn't going to force it. I wanted everything to make sense and be what it was supposed to be. And neither of the sponsors were quite right at the time, so I just let the conversations fizzle. Which again, is a crazy thing to do when you're looking for people to give you money for all-female freak fest. Haha.
I had talked to Munchkin a couple of times about doing an event in the past year, but the timing hadn't worked out. And then I got an email from them, just about the time I realized the other sponsors wouldn't work out, and they said they hoped we could do an end-of-summer event together.
And BOOM. I had a party. I couldn't argue with the Party Gods at that point.
It was a lot, a lot of work. And it did cause a lot of anxiety and stress. But I just kept trying to focus on what I hoped would really be a positive experience for a lot of people. And to be grateful for the amazing people who came out of the woodworks to contribute to the boogie!
I share all this 1.Because I know I personally find it interesting when people explain things. Ha. Instead of hearing, "And then I got a book deal!" I like to hear the obstacles one had to overcome to GET said hypothetical book deal. This party happened because tons of other things DIDN'T happen lots of other times. And 2. Because I think it's easy, when us online people, or any people, thank "sponsors" and go on an on, to just tune us out and think, "I paid for the ticket…" or "They make their money…" or whatever.
But here's the thing. I am grateful to do what I do. But in my case, I give my heart and soul to every single thing I put out, whether I'm getting paid or not. My life stops when I work on a project. It's not super healthy, and I'm working on it…ha, and I know it's BUSINESS and shouldn't be quite so personal. But to me, my business is very very personal. So when people trust me, invest in me, and work with me, it enables me to do this personal business, and that makes me so happy, and so lucky. Even if it causes me to hyperventilate, I know it's a blessing. I don't REALLY know what I'm doing, and I still don't know where it will lead. But I work hard, so so hard, and try to have faith in the good I'm putting in the world. I just feel really fortunate to have people willing to contribute to that.
And as always, I sincerely wanted to create an environment where women could come together and let go of whatever had been holding them back. So here it is! Alison's Cabana Boogie! And all the people who made it happen! As you will see, it takes a village.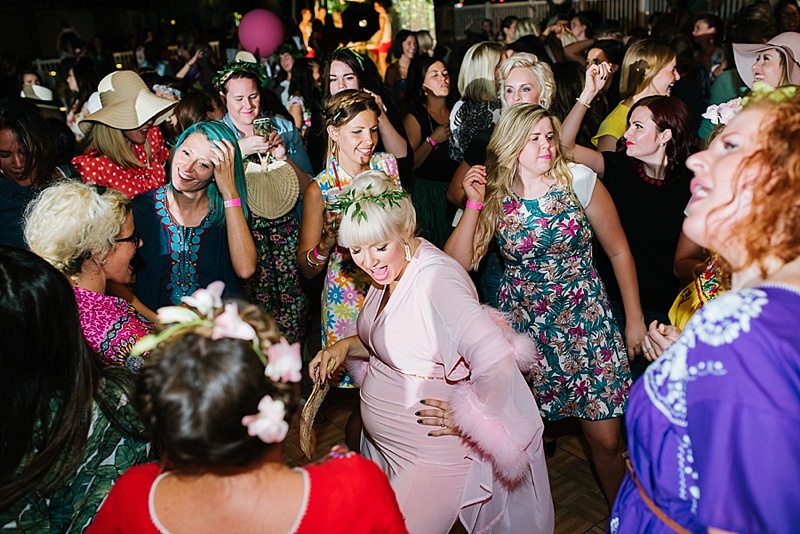 Working with the Gallivan Center was a dream. They are the most professional and helpful venue I have ever worked with. The challenge was keeping the very large space intimate feeling. So I'll just walk you through the party and how we set it up!
First and foremost, this is Claire with me in the throne. She acted as my events coordinator, and I could not have done anything without her! She is amazing. Also, my fabulous executive assistant Carla MADE this throne, because after I explained it to her, she agreed it was too amazing not to figure out. Talk about going above and beyond!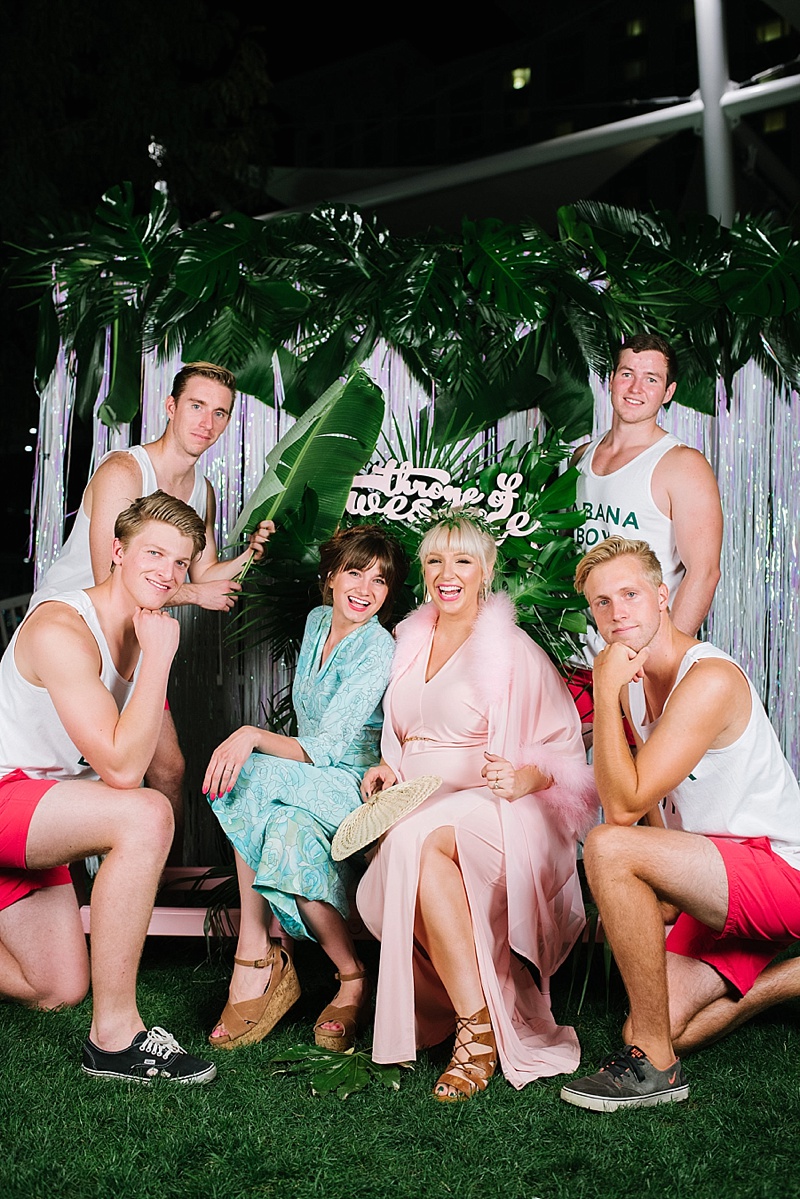 When Claire and I arrived at the Gallivan Center to scope it out, I just kept laughing that I was going to throw a party in such a grand space. But I just pretended like I knew what I was doing, and Claire didn't let the secret out that I probably didn't…and we somehow filled the space just right!
Ladies lined up to enter through this FABULOUS water feature. Which I leaped through when I found out we could use it as an entrance!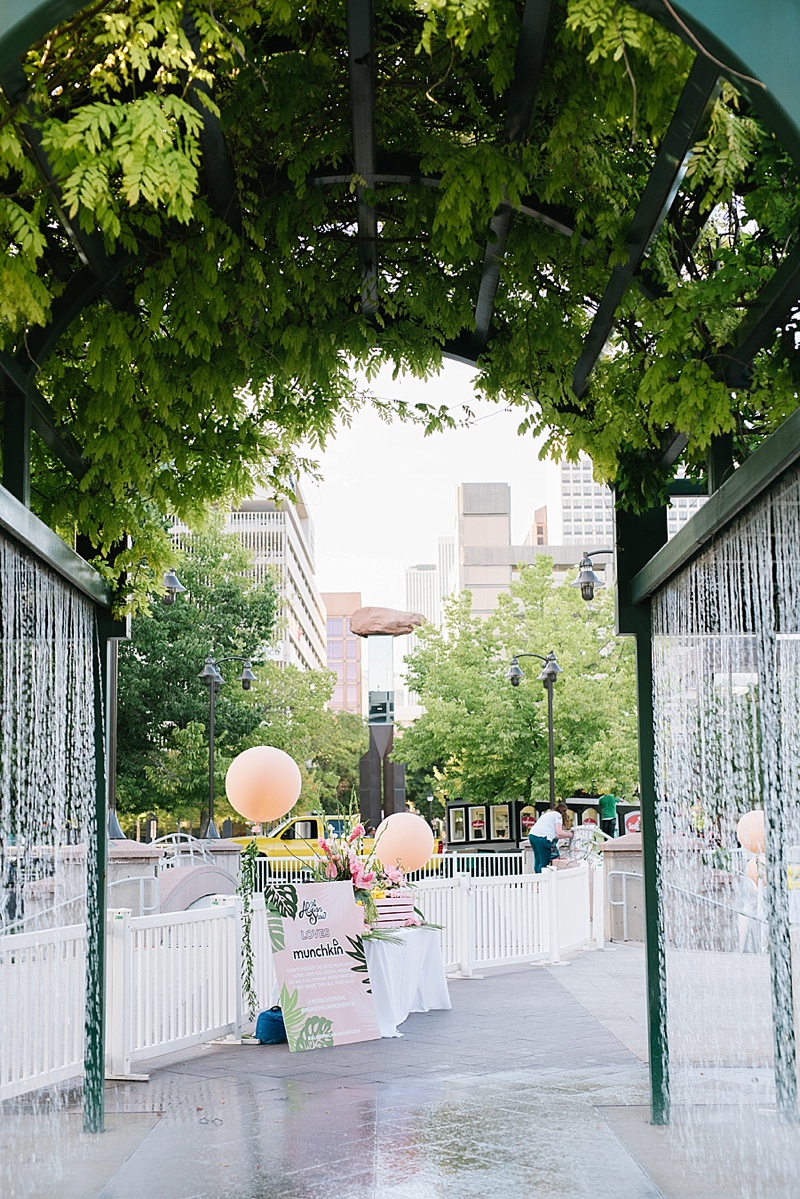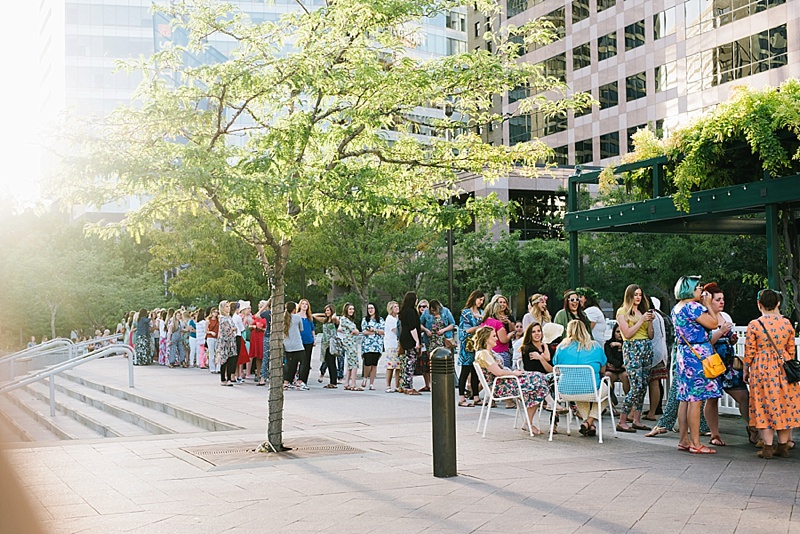 I always FREAK OUT when people line up before the party starts. HAHA. Like, "WHAT HAVE I DONE?!"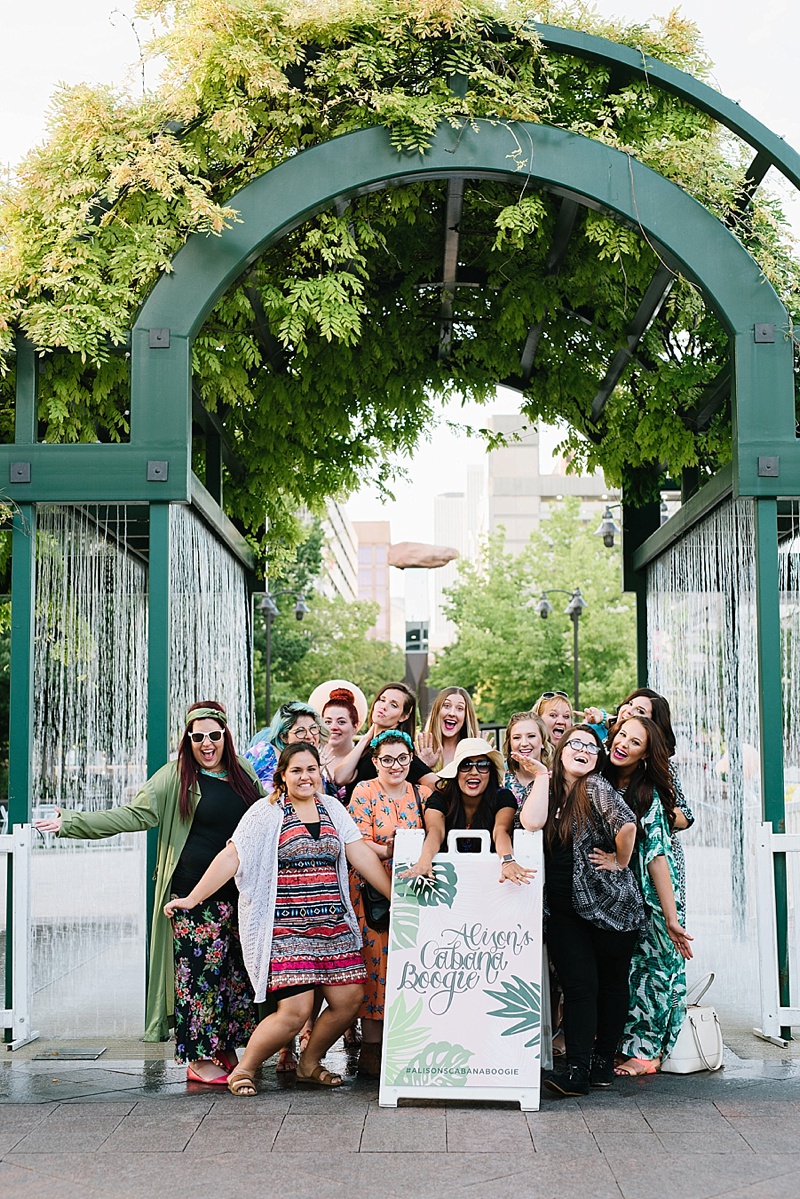 The Gallivan Center provided those sandwich boards, and I loved utilizing them for signage. I love signage.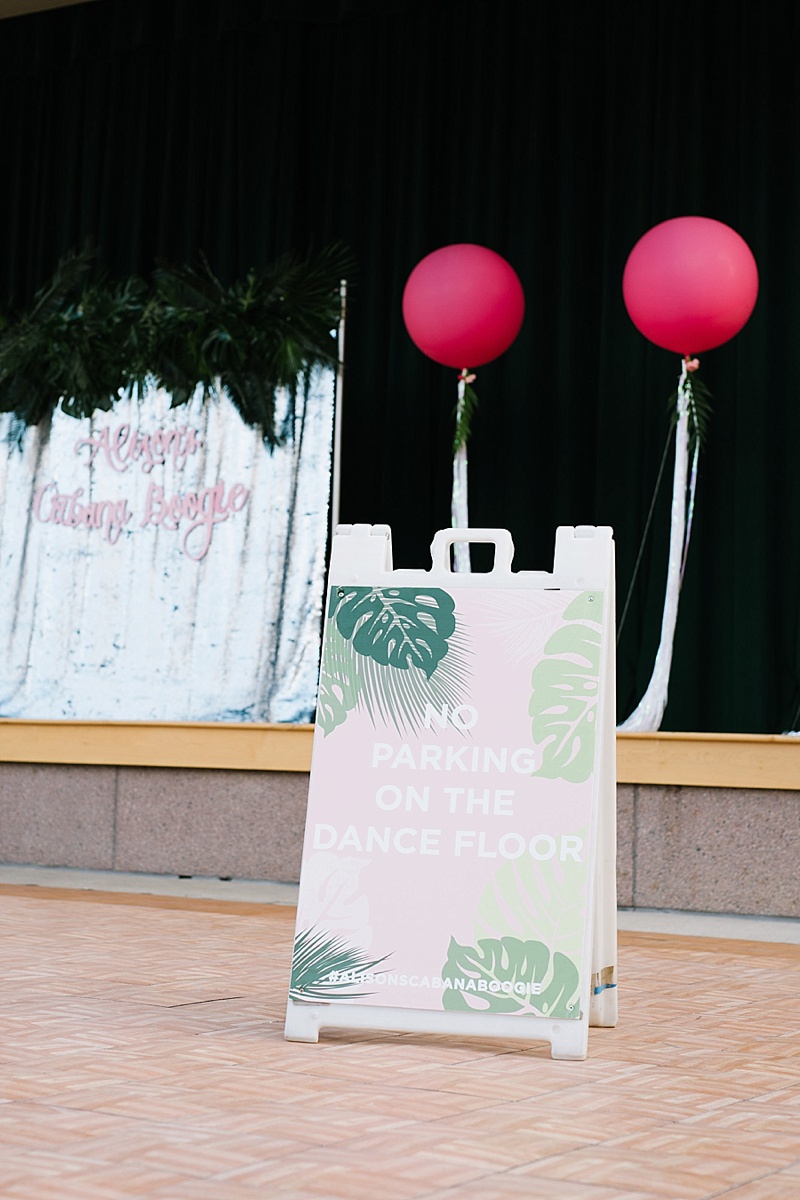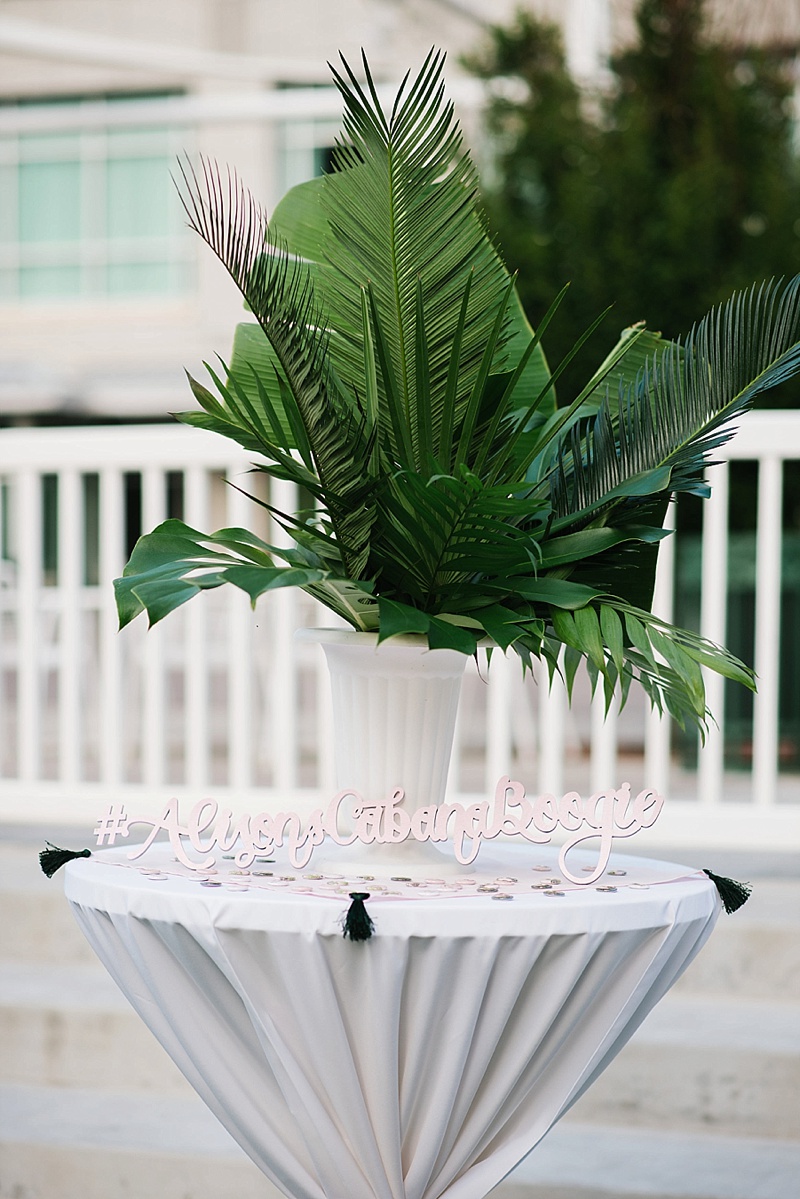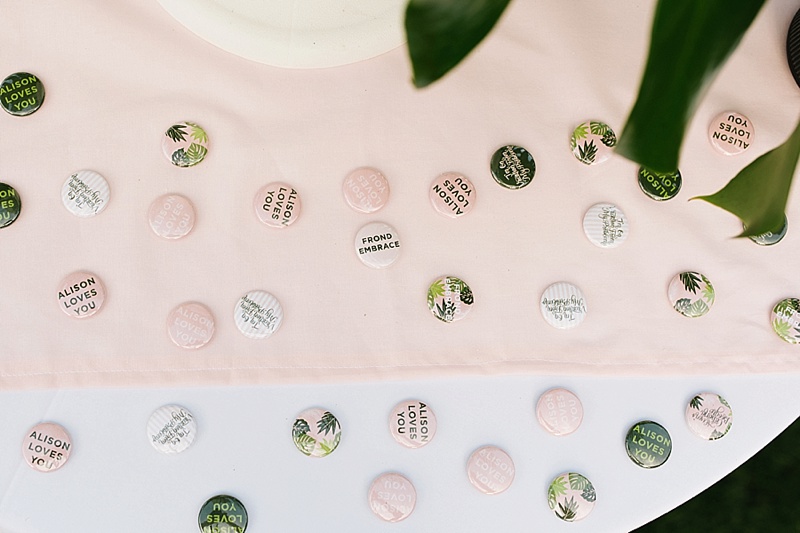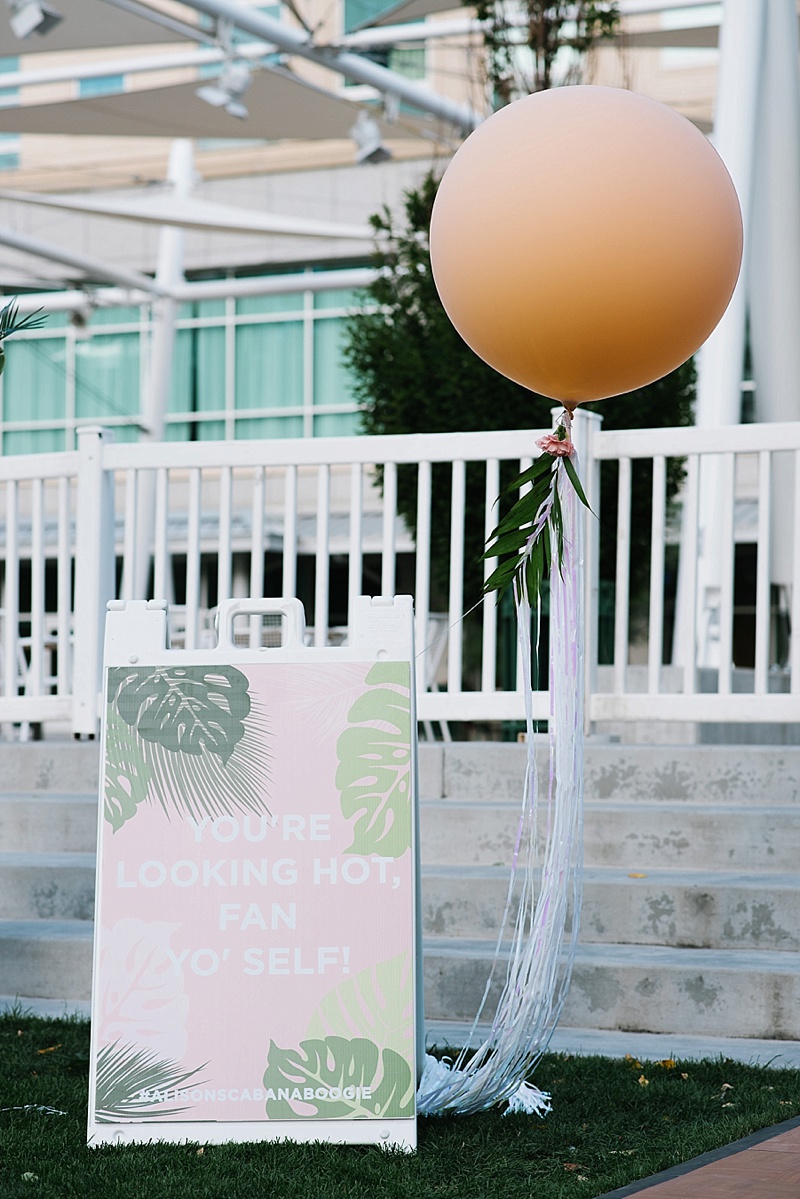 Fantastic volunteers checked the beautiful Cabana Boogie babes in, and we used wristbands to keep track of the first 100 people to receive VIP swag bags, but all 600 guests received a bag filled with a fun gift from Munchkin.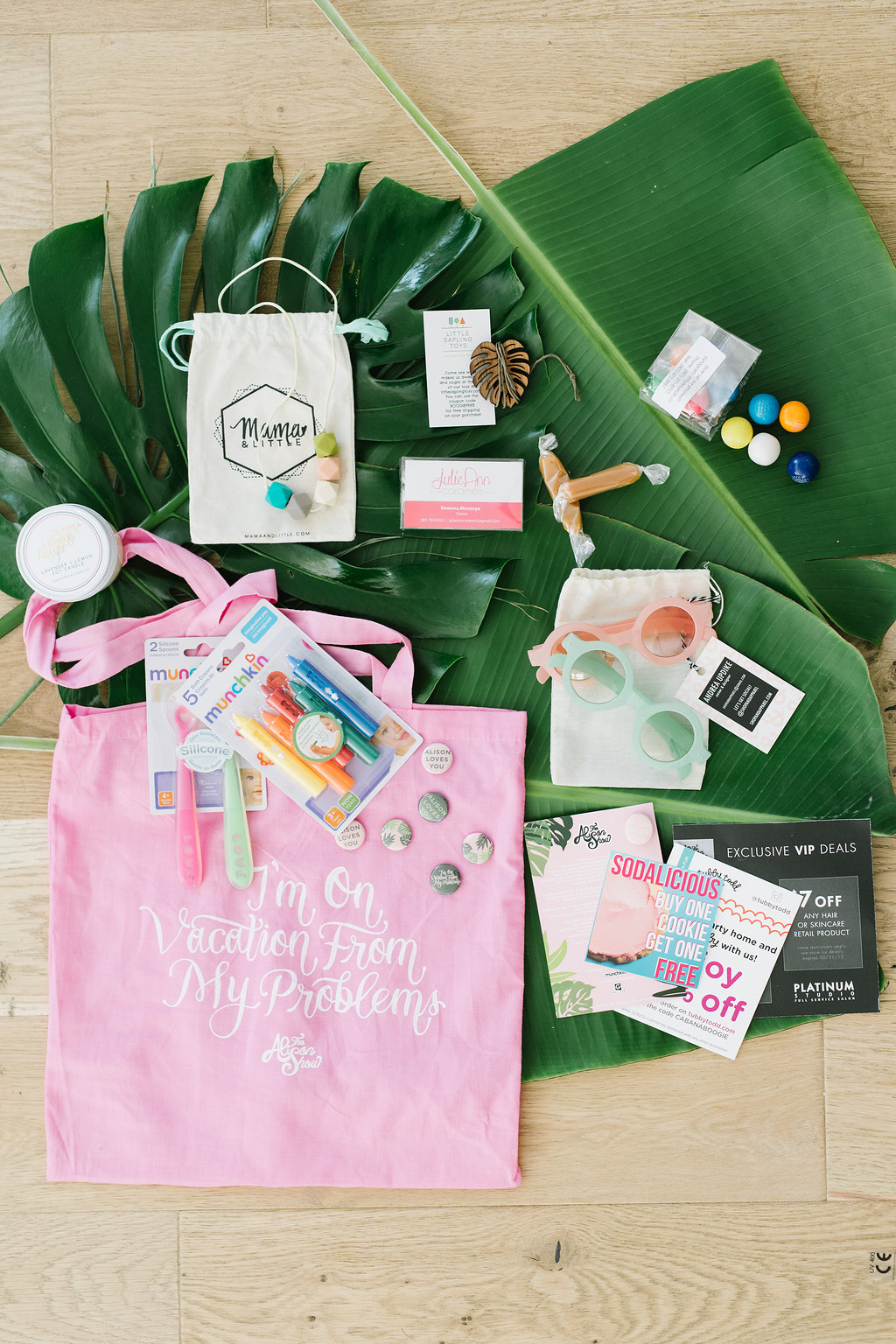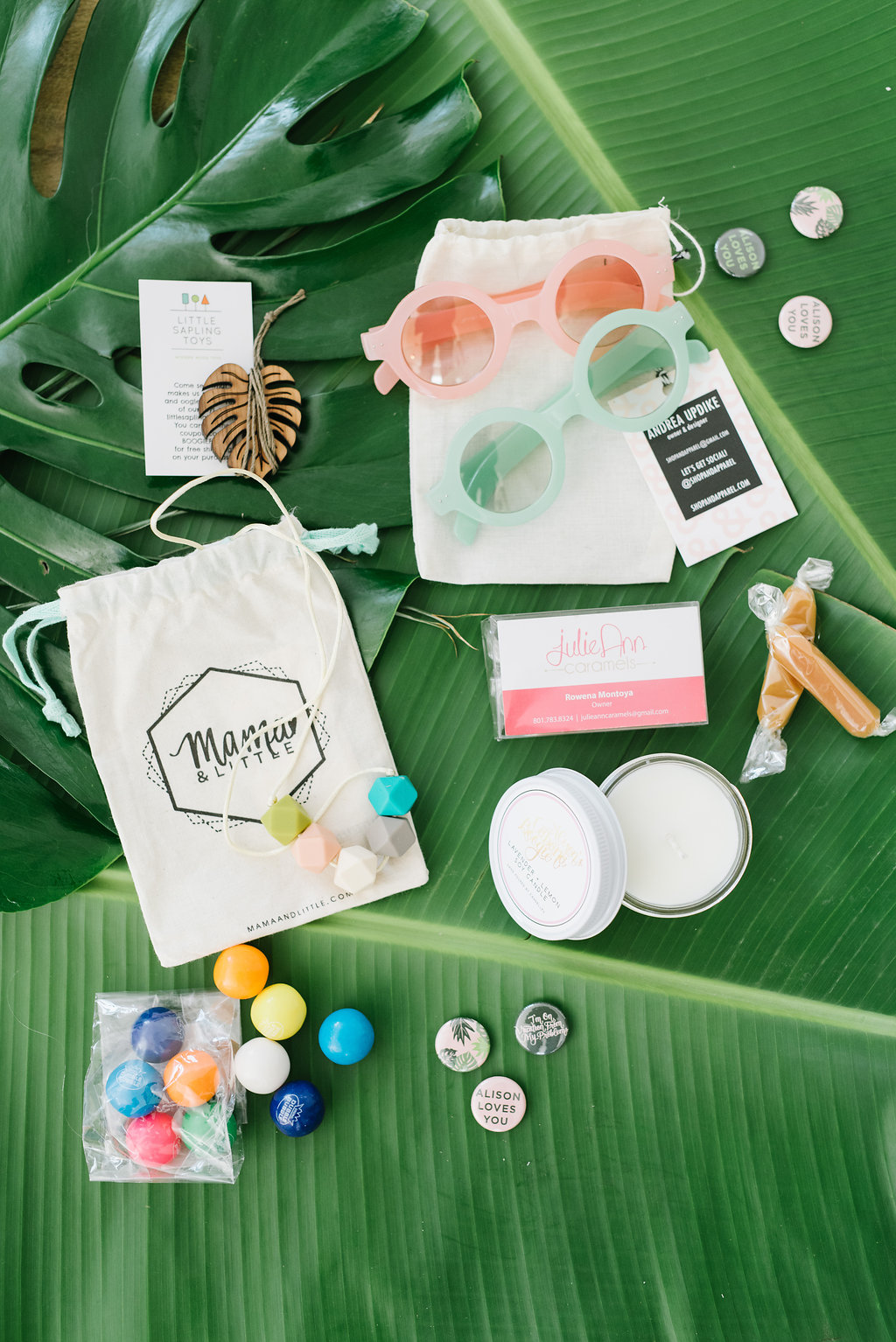 Some of the VIP swag included a custom candle from Candelles, gorgeous necklaces that double as chew beads from Mama & Little, and sunglasses from & Apparel. Julie Ann Caramels provided caramels for ALL the guests, and Little Sappling Toys also provided 600 custom laser cut teething necklaces. I provided a little love note, the tote bag, some buttons, and some coupons from local vendors at the party.
So many amazing vendors came together to create a lush experience for the guests. I could not BELIEVE the line for the Braid Bar provided by Platinum Salon! They did such a great job.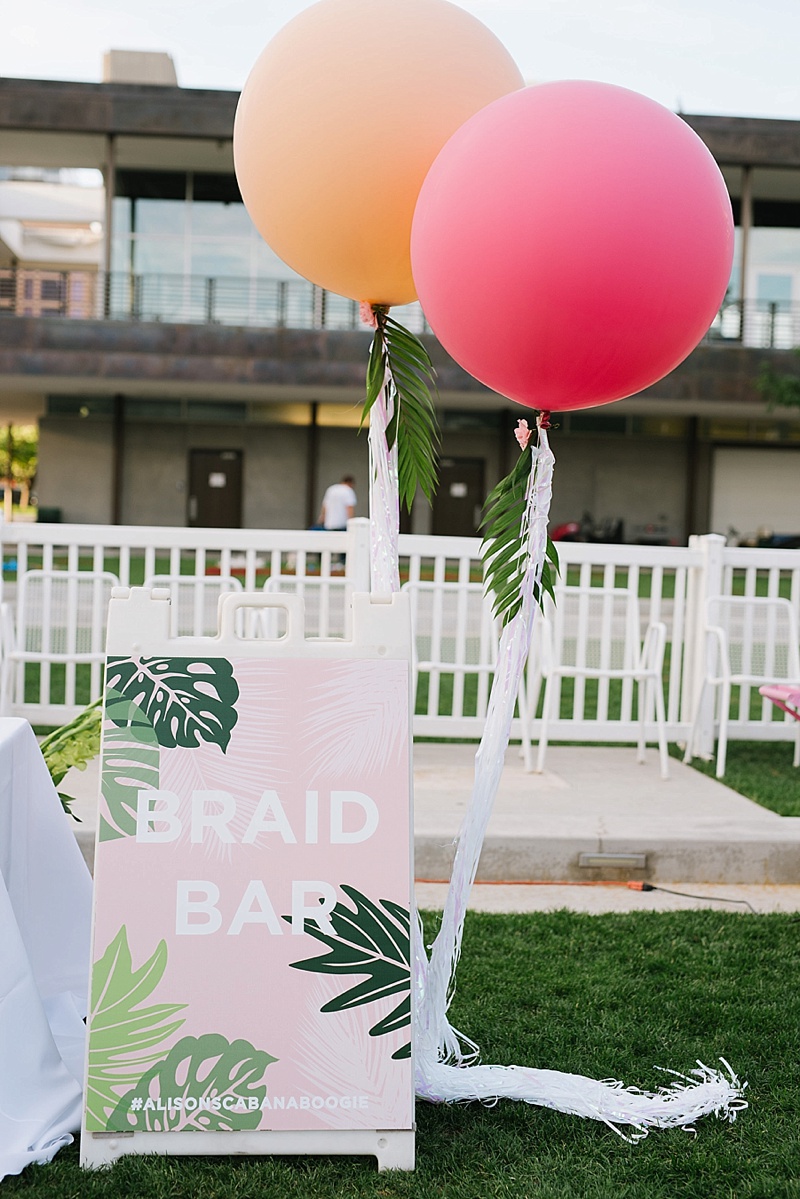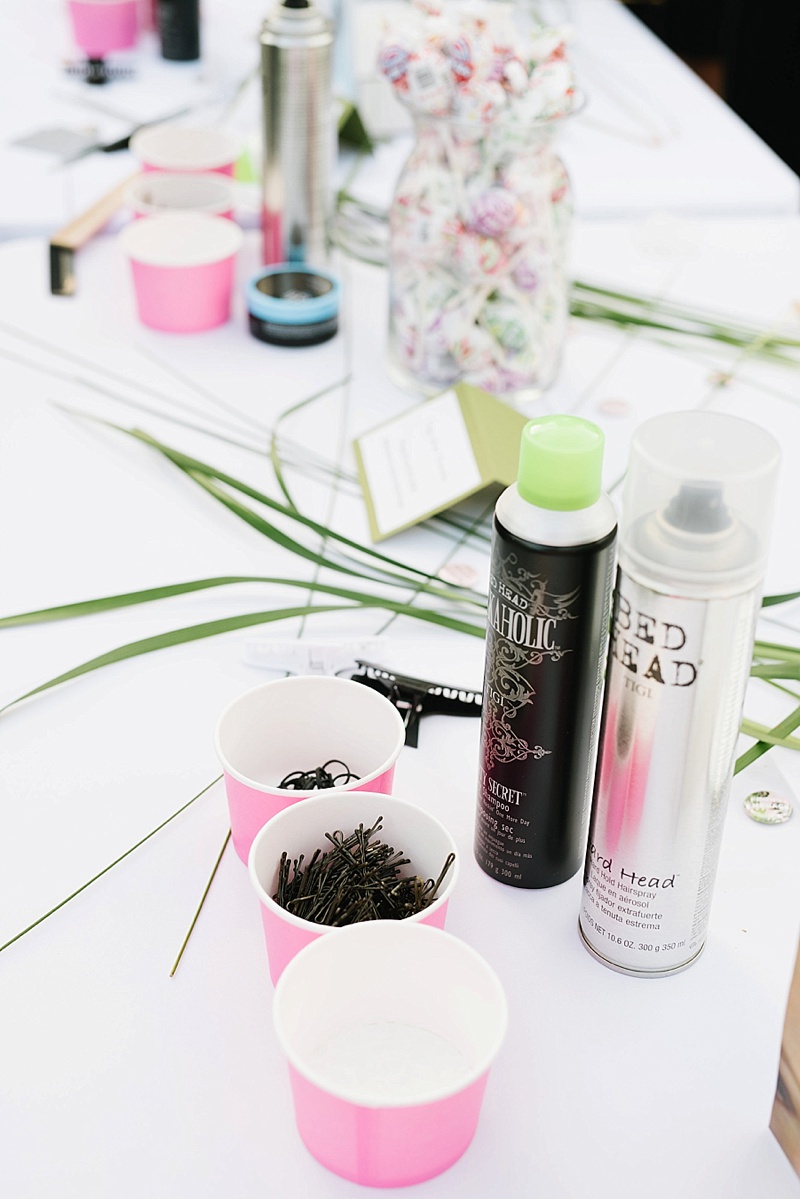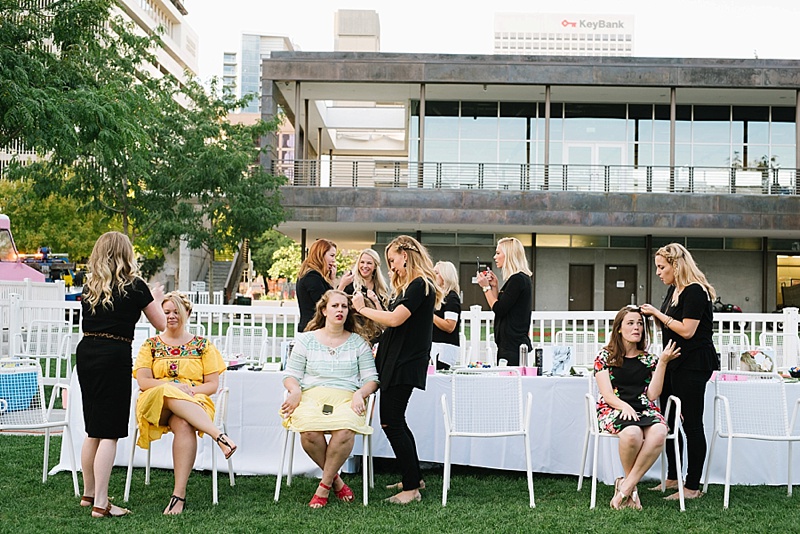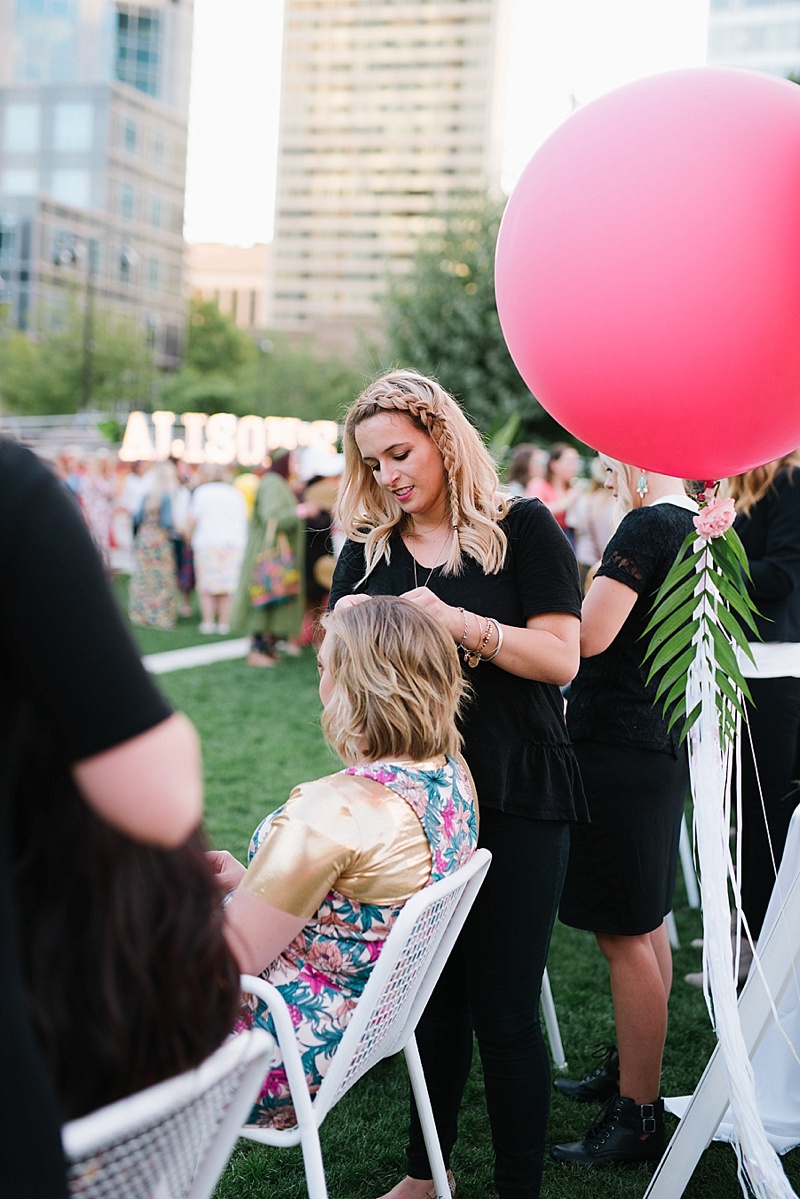 I also wanted to make sure that there were LOTS of photo ops. Lines tend to form for photo ops, and because this party was twice as large as I usually do, I added way more places for pictures. I want people dancing! Not standing in line.
I like to incorporate sponsors seamlessly, so they are really a part of the bash, and adding to it–not just sticking their name on it. So I was so excited to use these really cool oversized Munchkin ducks!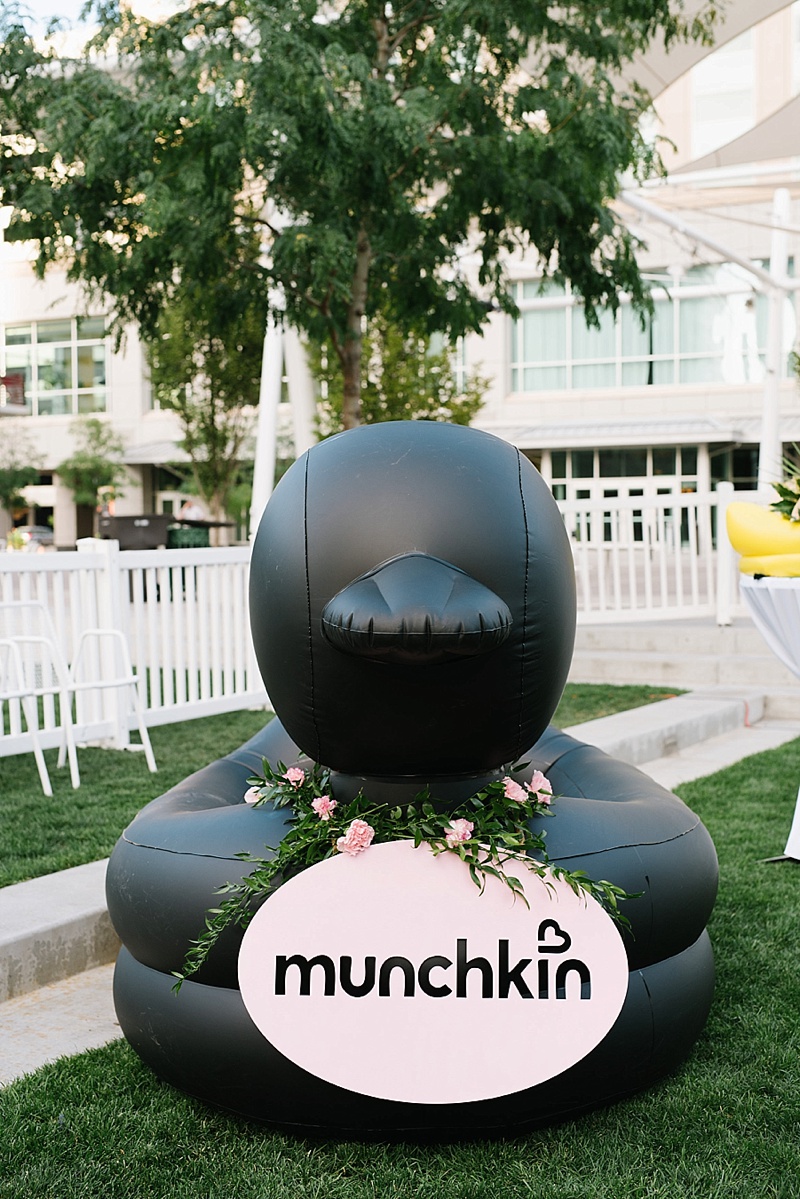 We also used the Munchkin duck bathtubs throughout the party to hold props, fans, and water! These are THE BEST and guests were clamoring for them left and right. They sell them at Target FYI.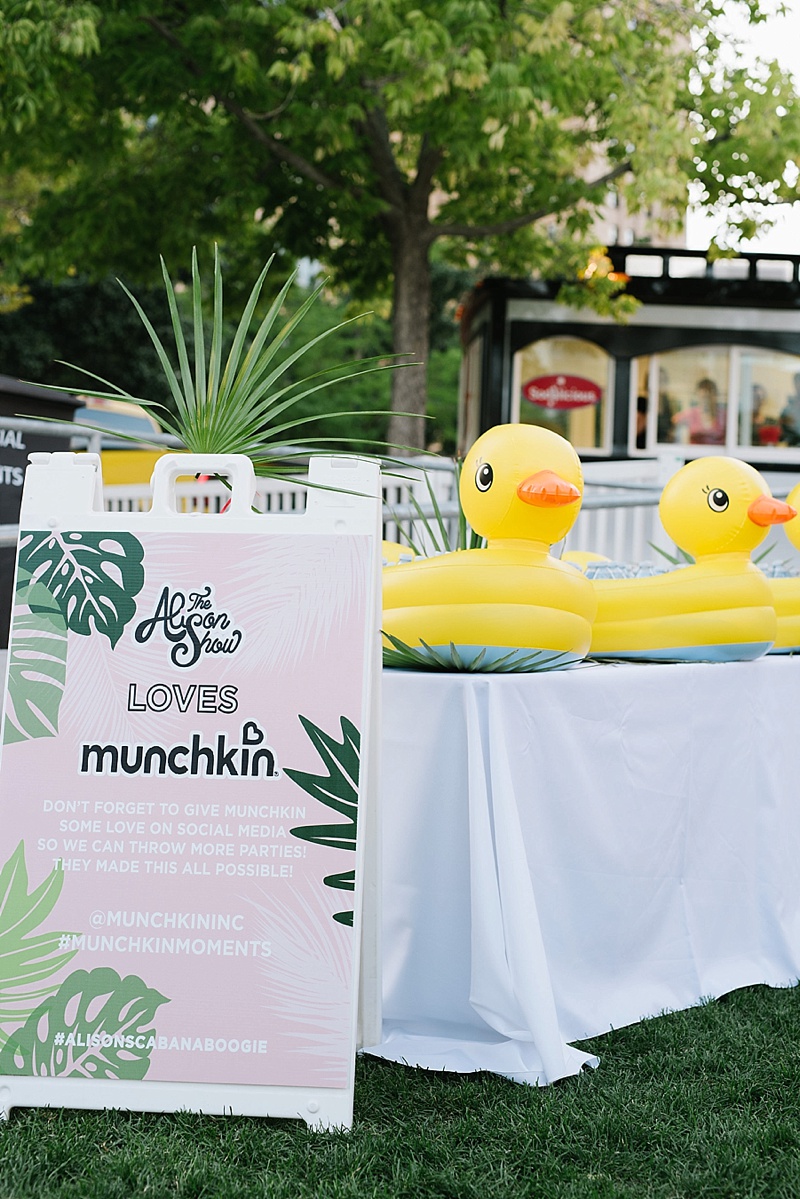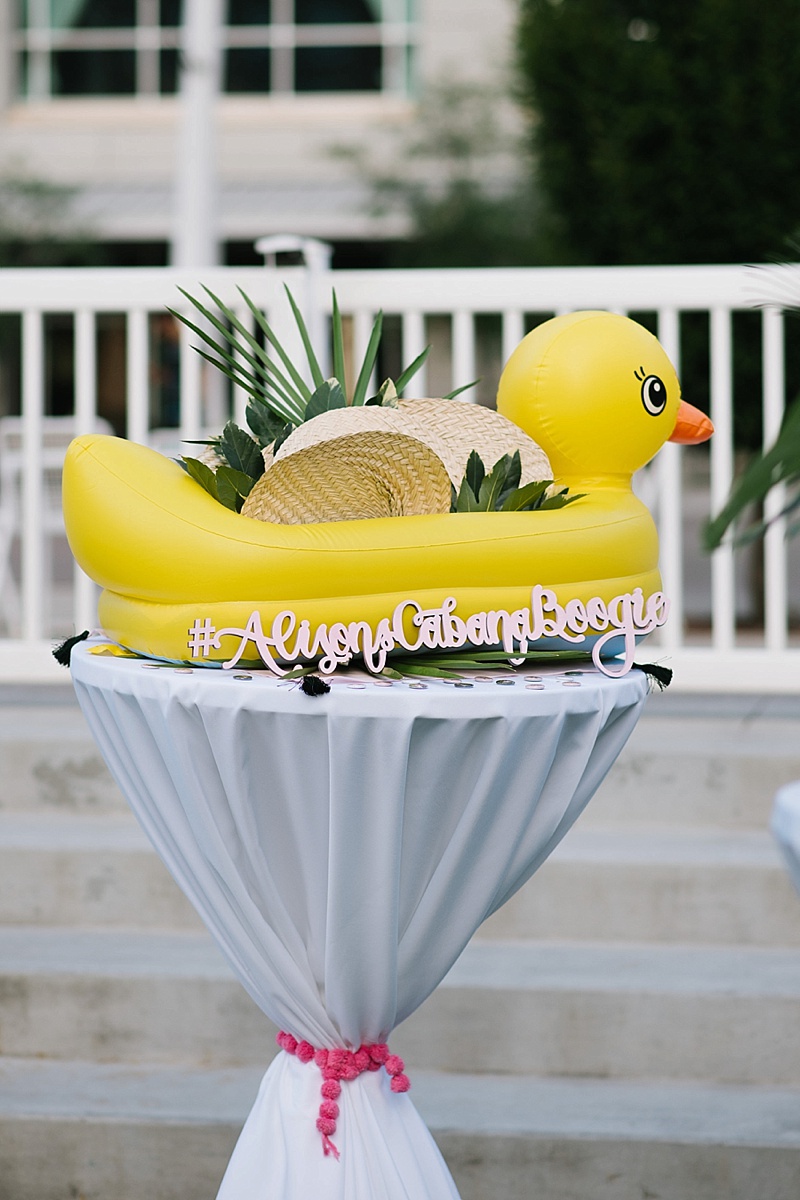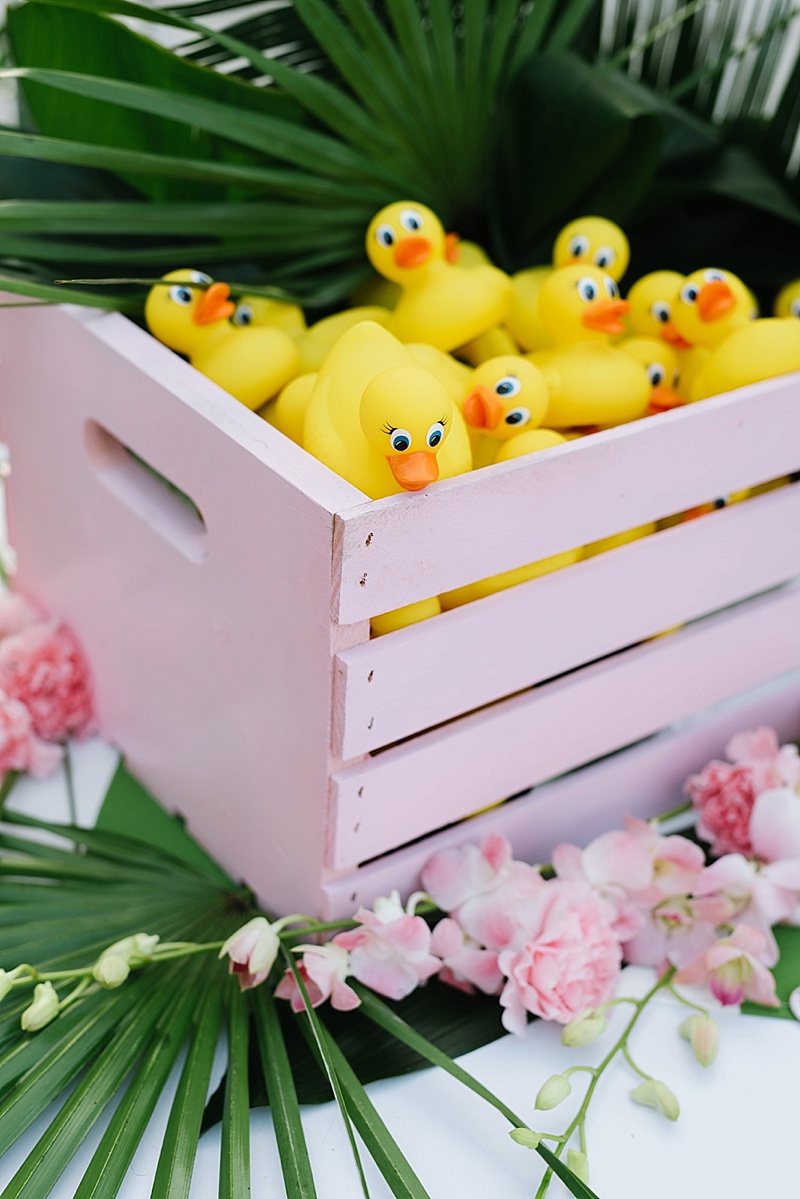 But nothing makes me laugh more than seeing them sneak in these dance pictures.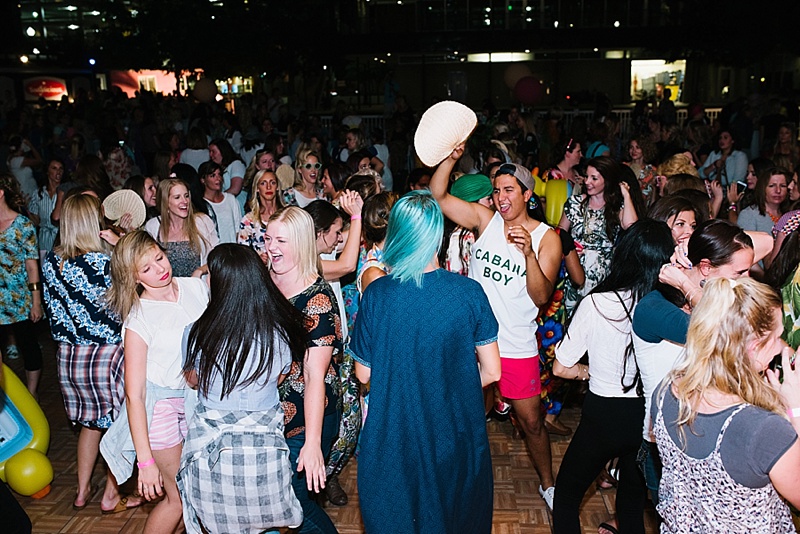 I made an entrance on my new Throne of Awesome. So we didn't have it out in the party for the first half hour or so. We created the backdrop for the throne to shine in front of from mylar curtains, and then Foxglove Florals, who did ALL the florals, greened the top and made it just amazing! They also greened the throne.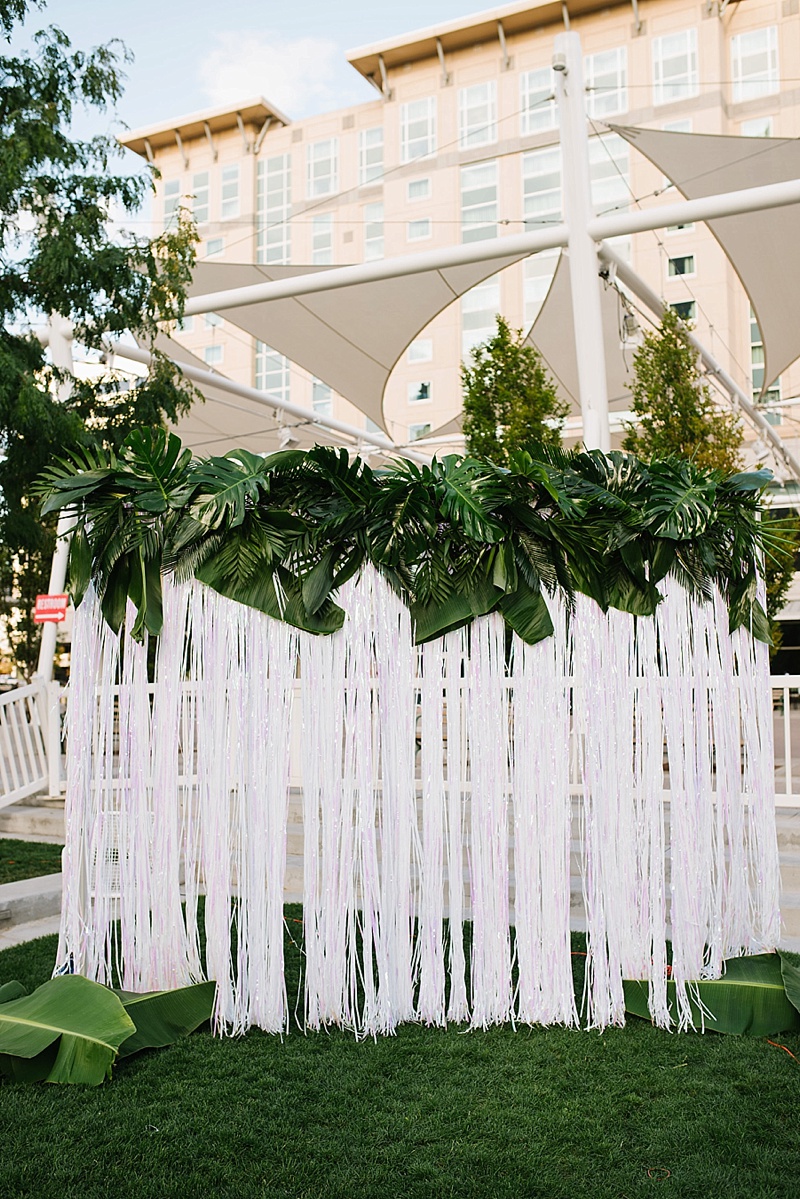 Sincerely I know that making an entrance is absurd, and I've never done it before. But I really wanted people to get the concept of the throne, and I always find the best way to encourage people to do absurd things, like pose in a Throne of Awesome that is lifted by four Cabana Boys…is to lead by example. So they carried me across the stage, I said, hello. And then it became a photo op!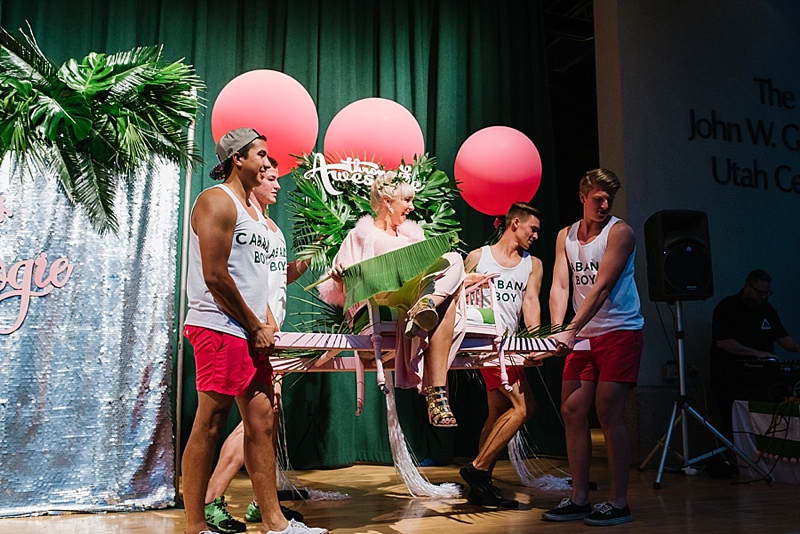 I mean look how good Claire looks in it.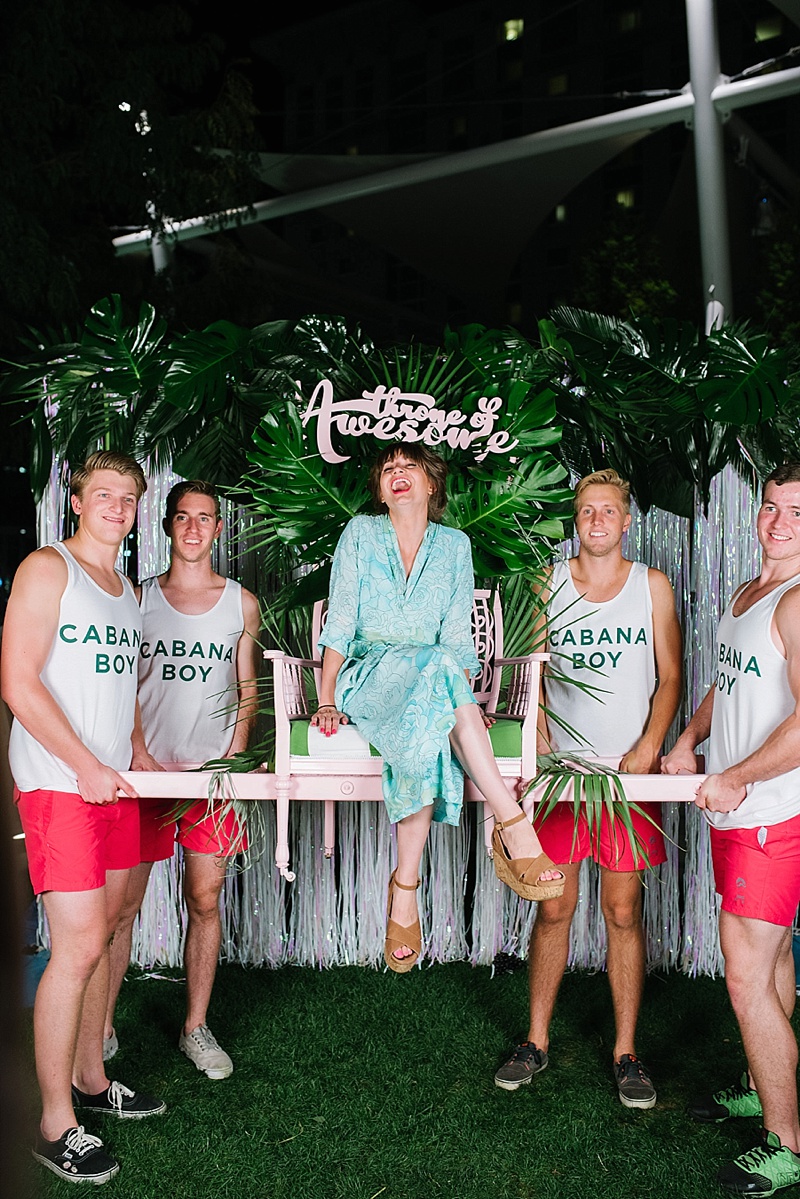 Everyone needs a chance to be lifted be Cabana Boys!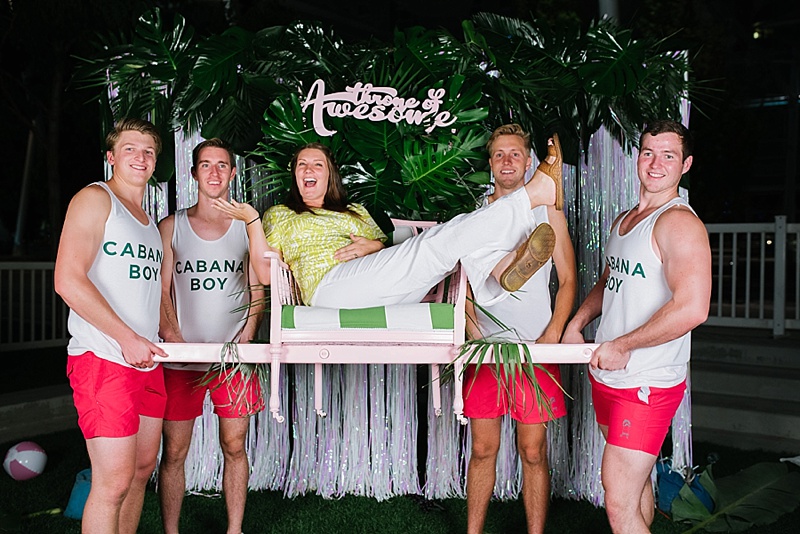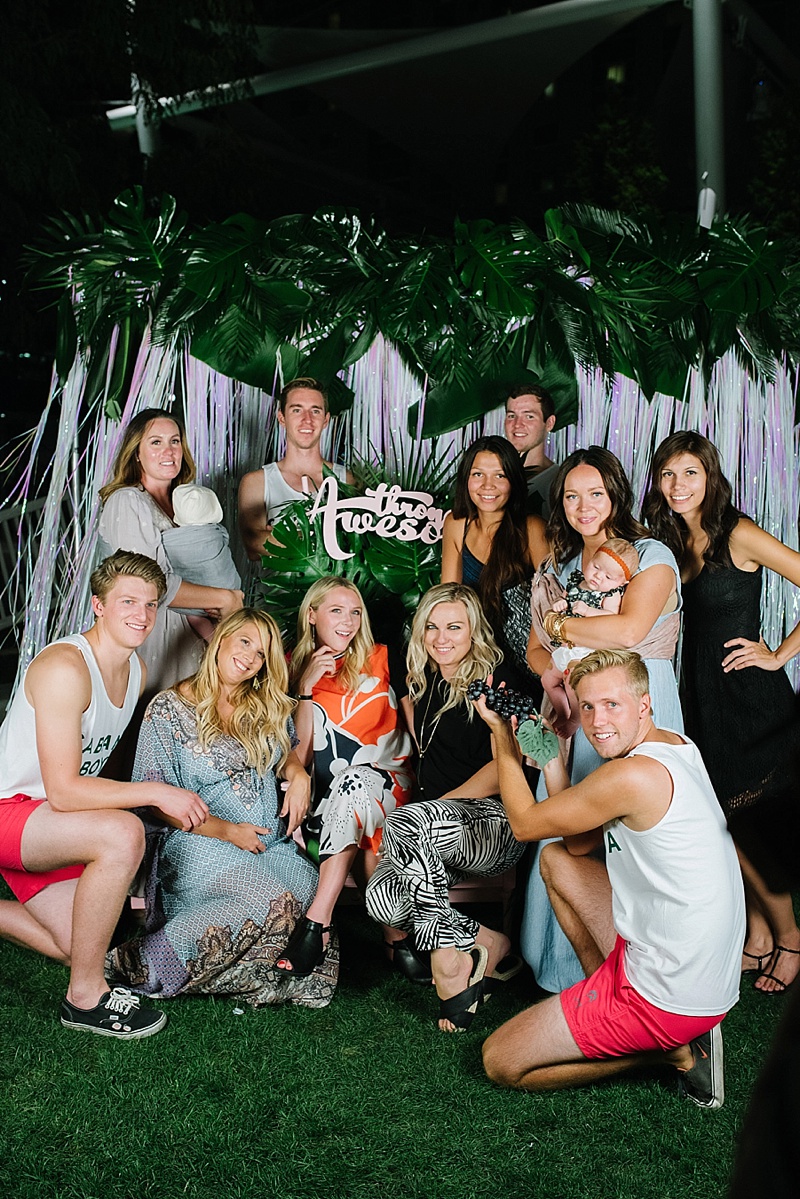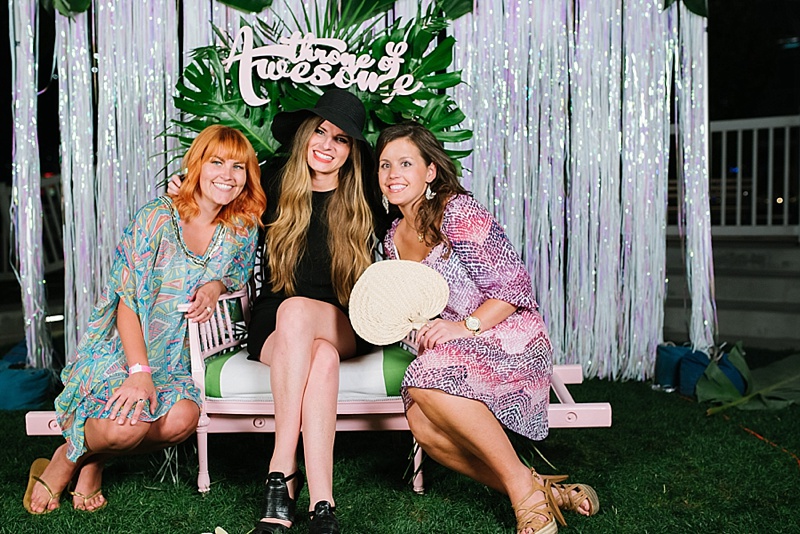 Look how cute they all look in their matching Kortnie Jean Swimmers!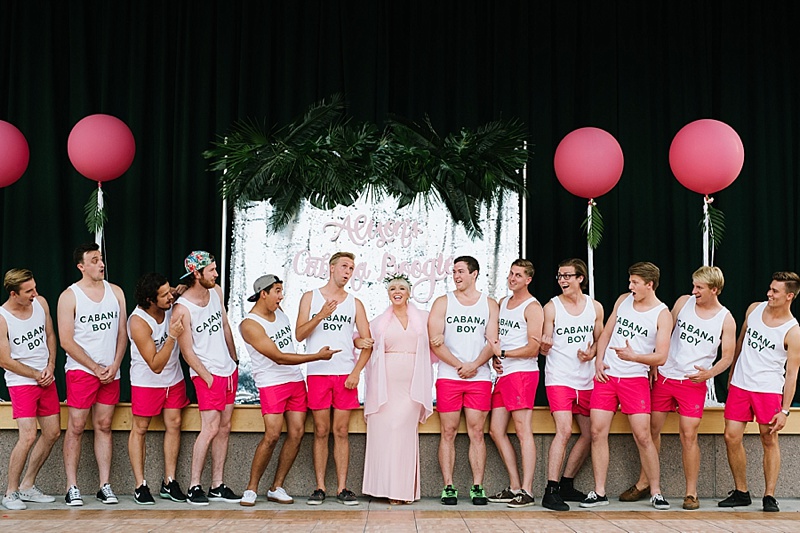 Again, I find them all through my little brother, lead Cabana Boy Blake.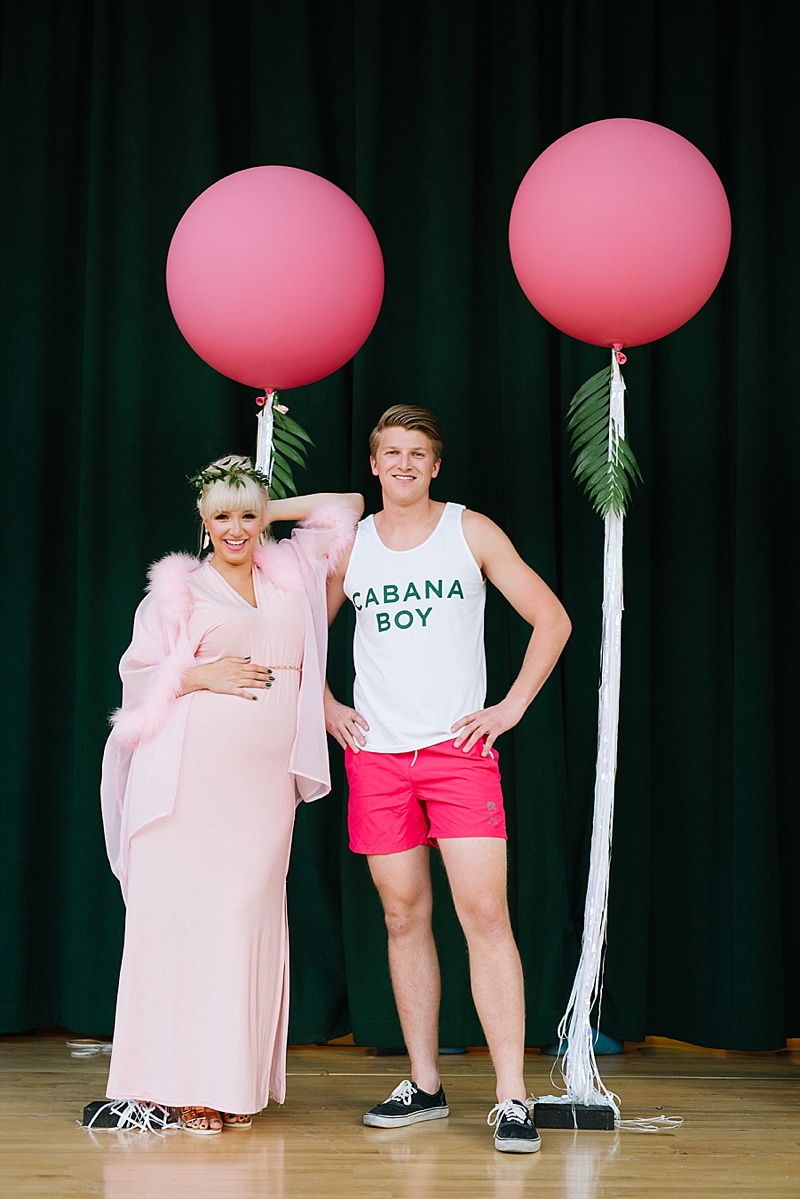 The other main photo-op we provided was the "I'm On Vacation From My Problems." Which is a quote from the movie What About Bob.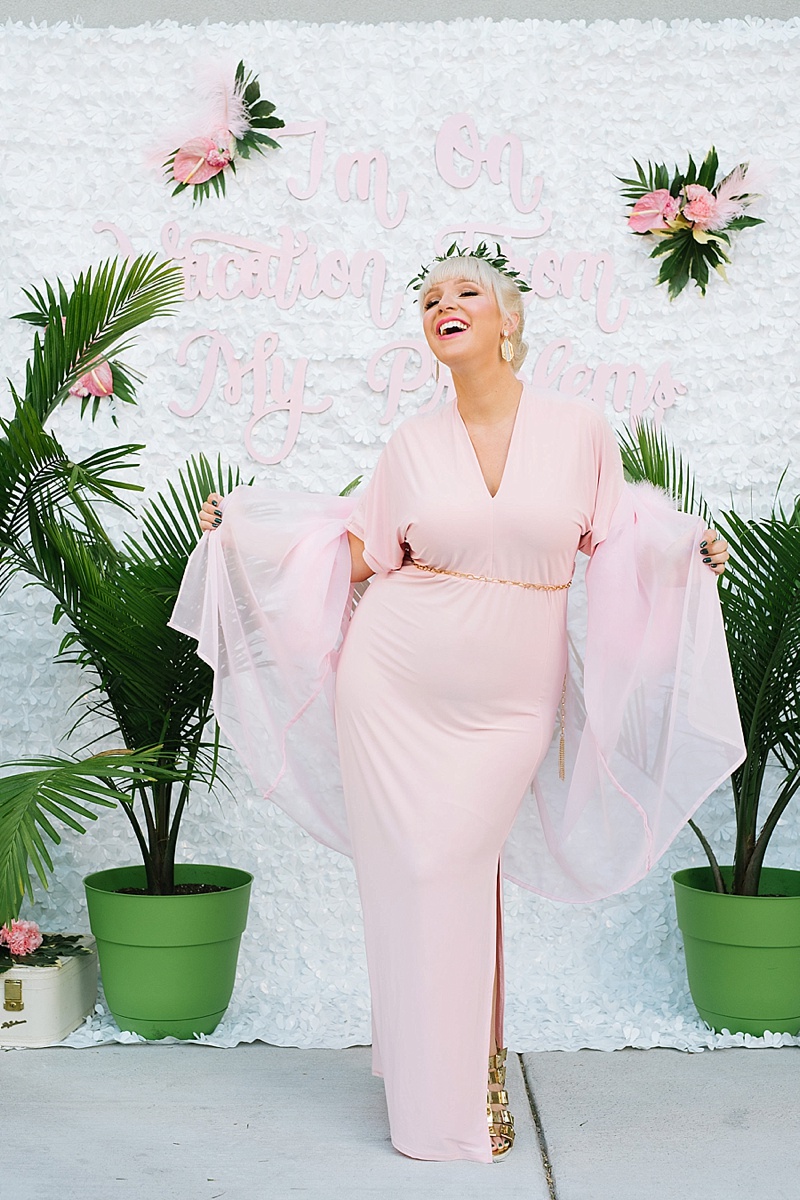 Oh, hello.
Shall we get back to what really matters? Like the sugar and the caffeine? Sodalicious graced us with their mixed drink presence for a third time! And this time we got their new trailer!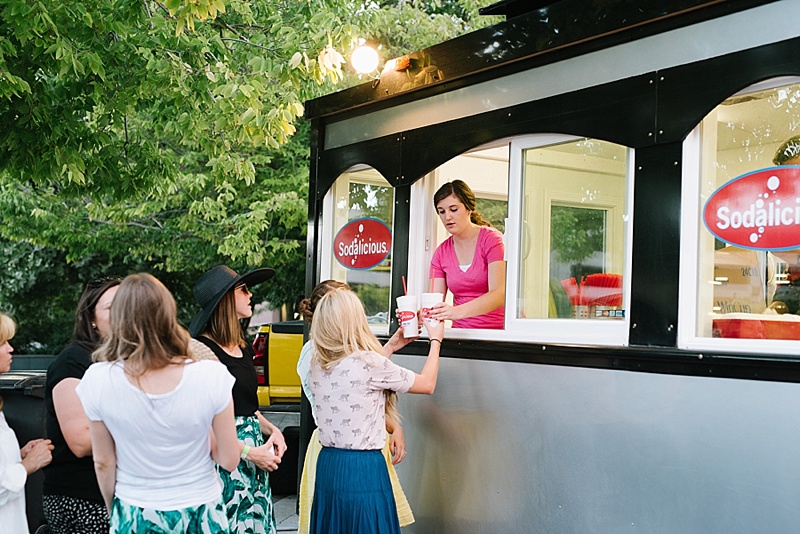 I'm on a first name basis with most of the workers…
We also had the MOST wonderful all natural yogurt from Milk Honey. She makes the yogurt herself and has the yummiest flavors.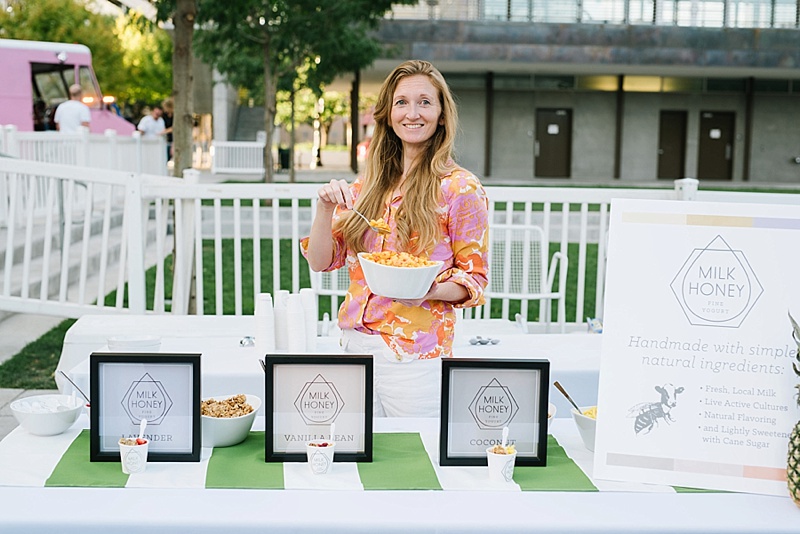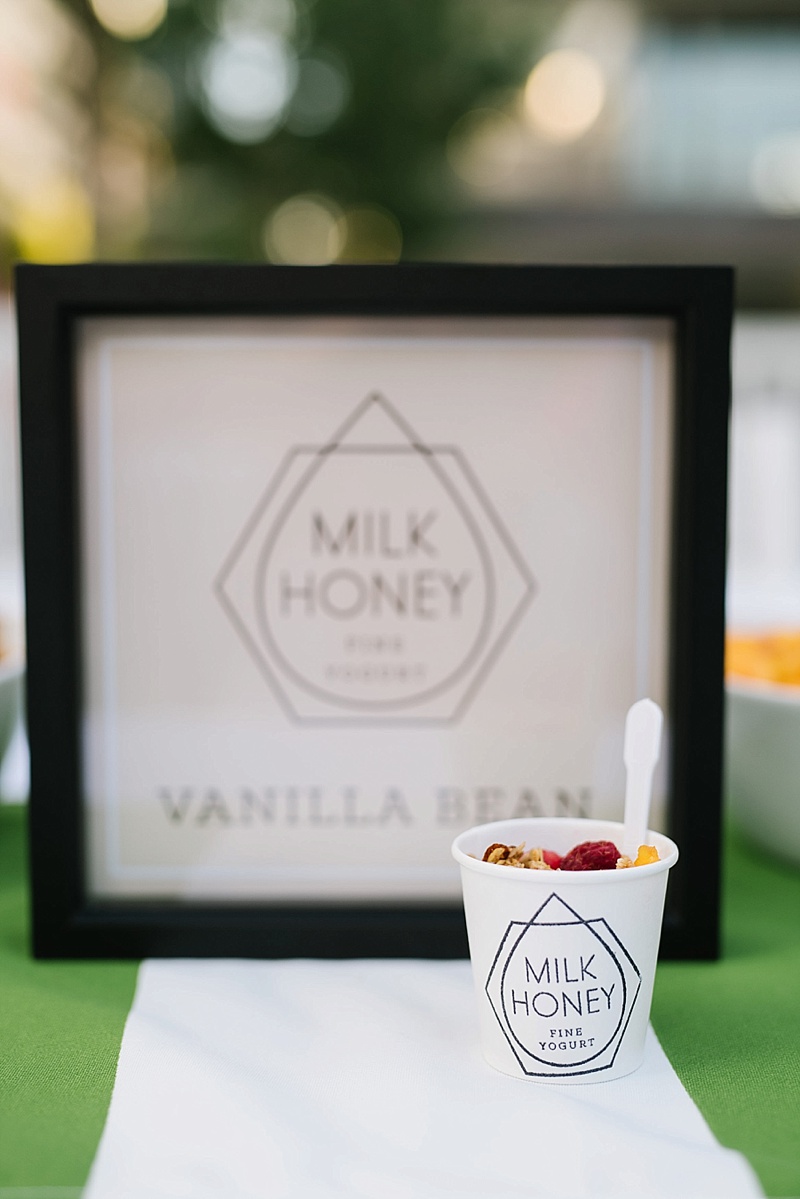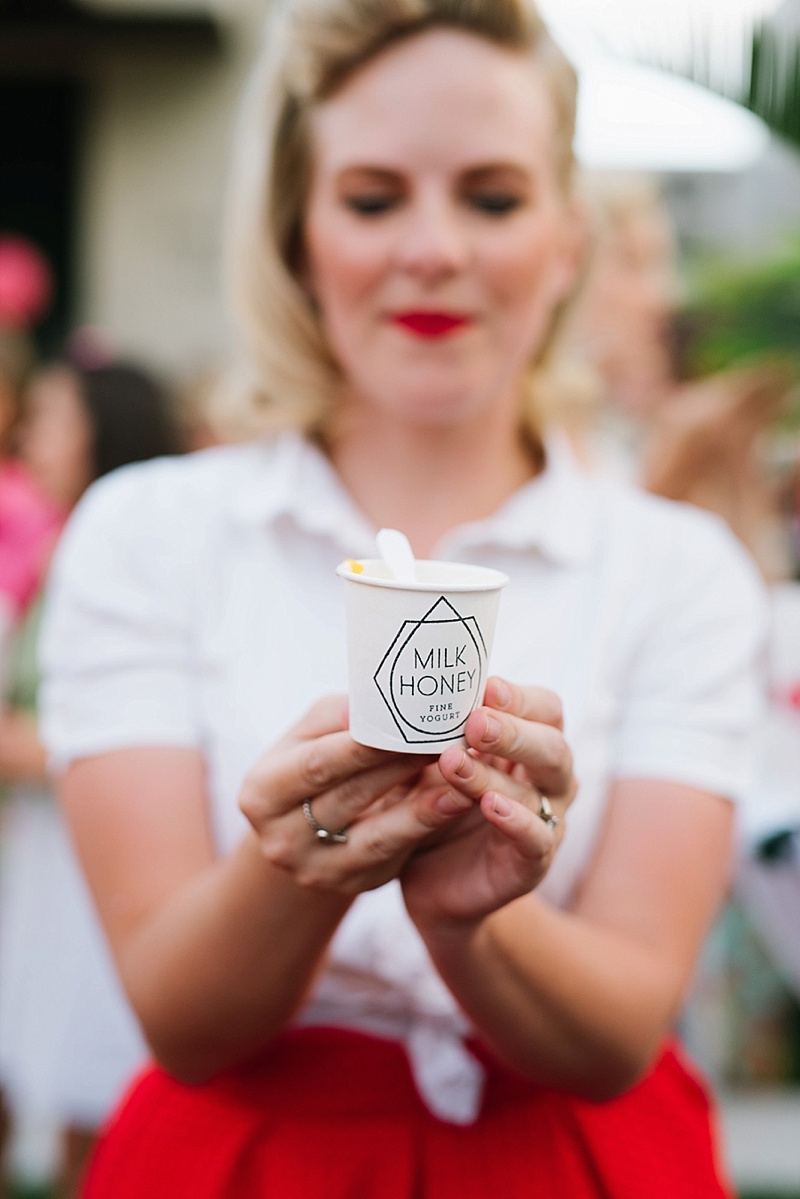 My man was working my new Nostalgia Electrics cotton candy machine like a pro!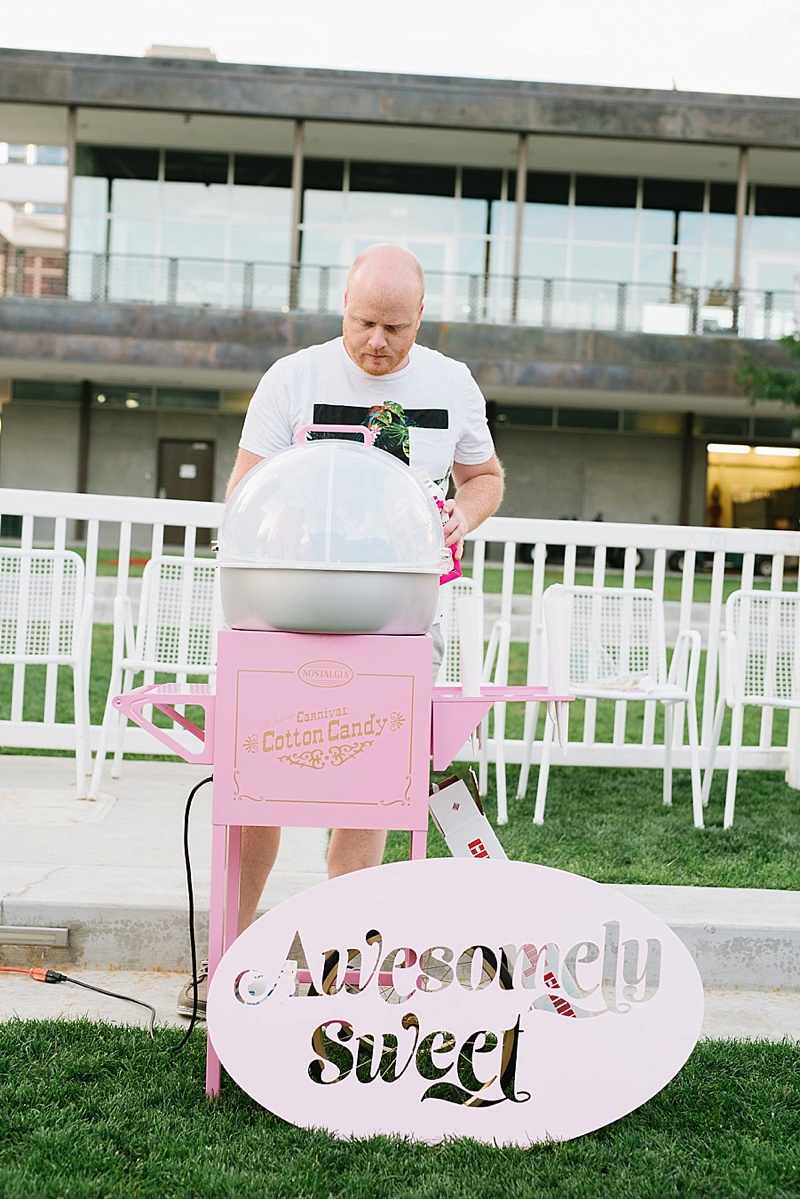 The Cabana Boys served the cotton candy, and I'm sure ate some too…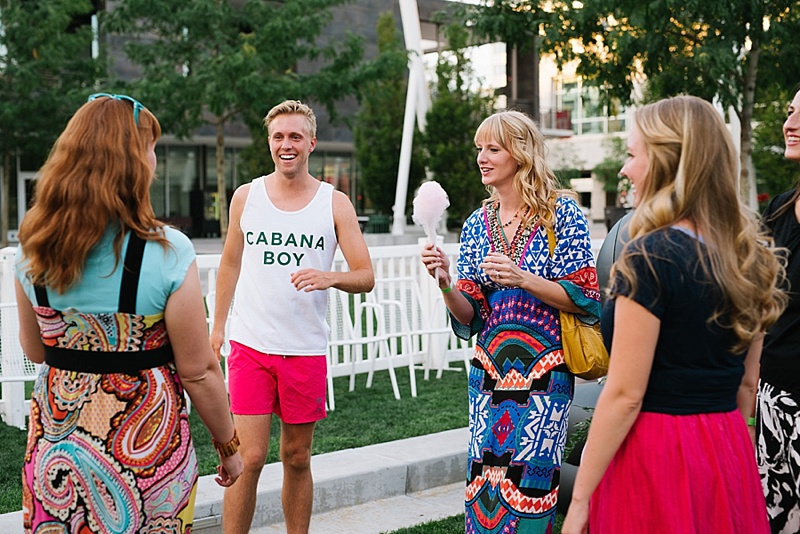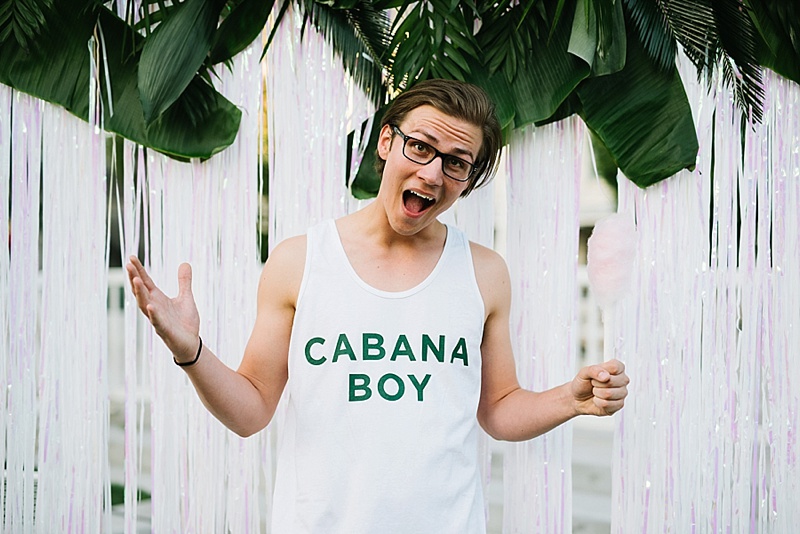 And then we had THE CUTEST ever Penguin Brothers serving up ice cream sandwiches on homemade cookies from their new food truck! It actually broke down on the drive from Provo to SLC, POOR THINGS and they had to TOW it to the party. I'm SO glad they made it. Because I mean, the truck was PINK! And the brothers and treats were to die for.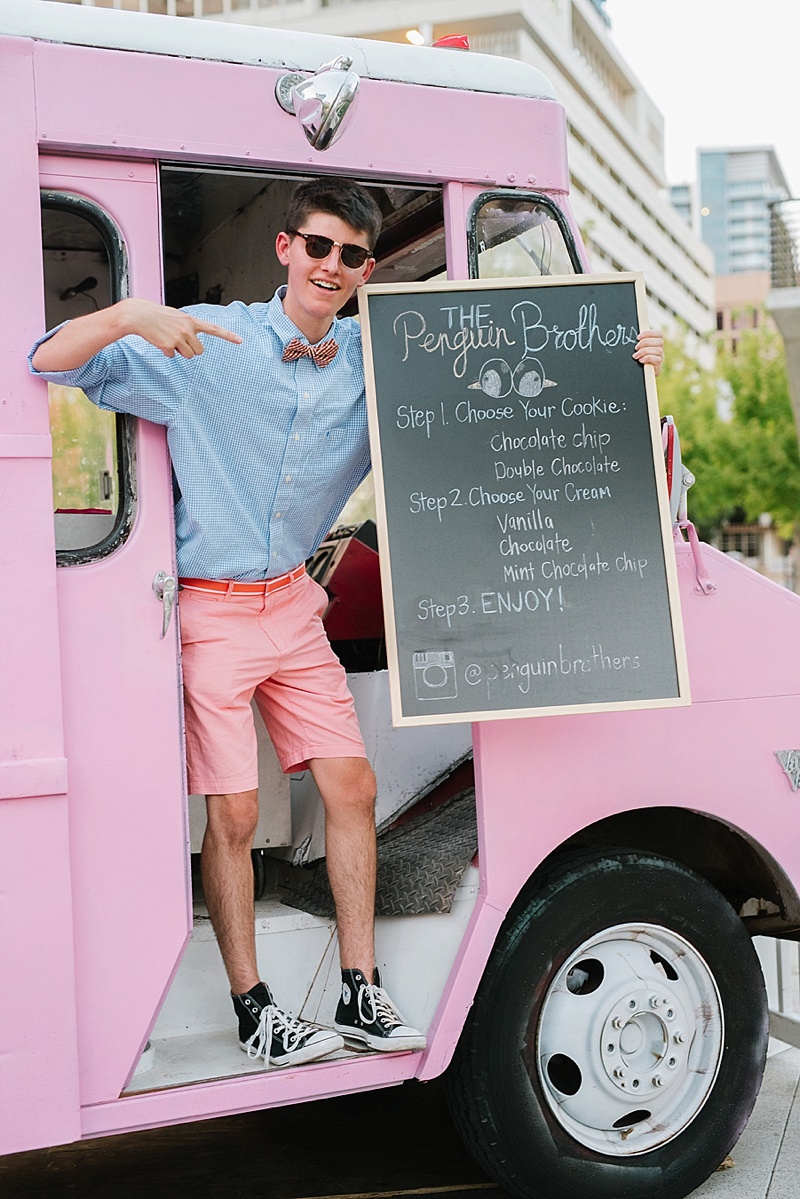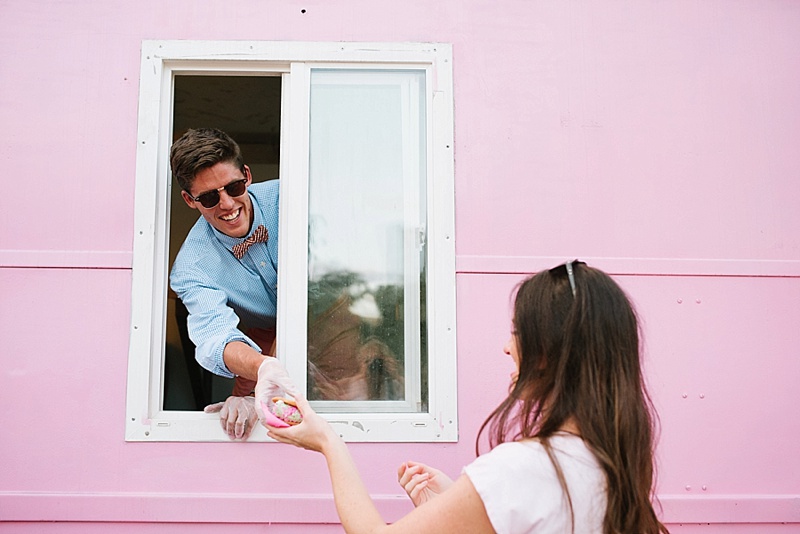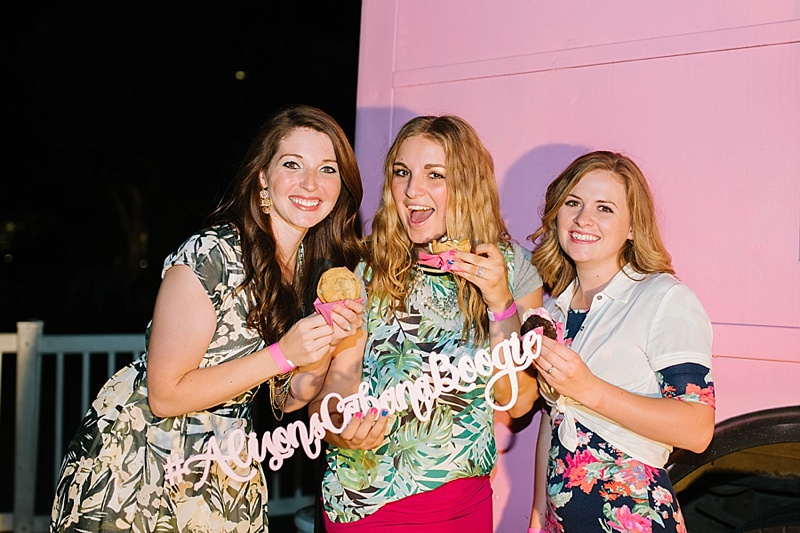 I HAVE NO SHAME. Especially when pregnant and talking to 20-something-year-old boys.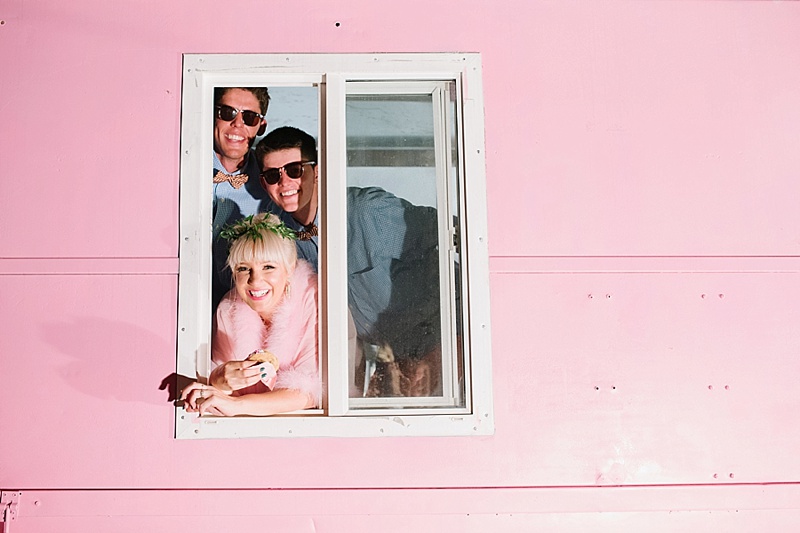 And speaking of no shame. Let me tell you how much these ladies liked being able to dance on the stage in front of my fabulous Drop it Mod Sequin backdrop. They liked it A LOT.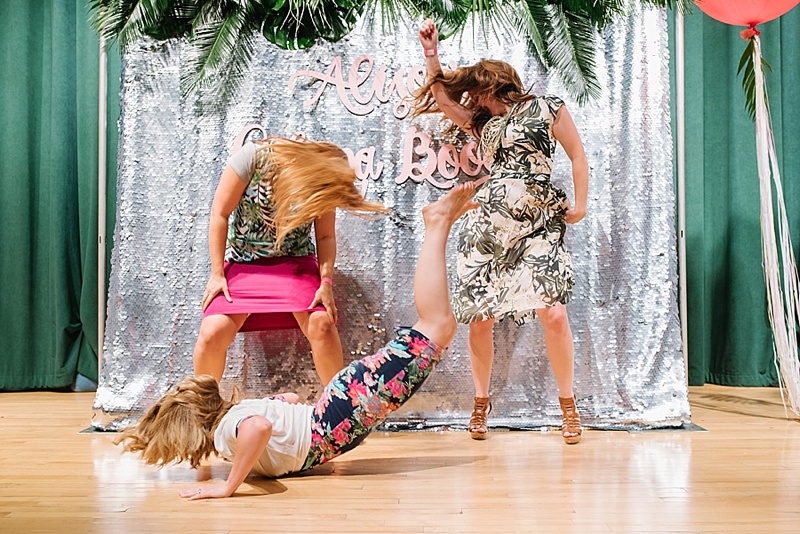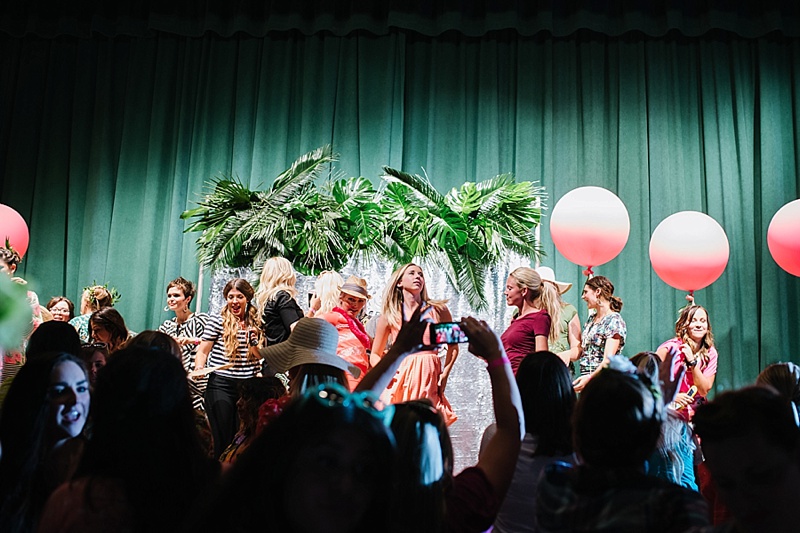 But really. You can't fathom what these sober moms are capable of.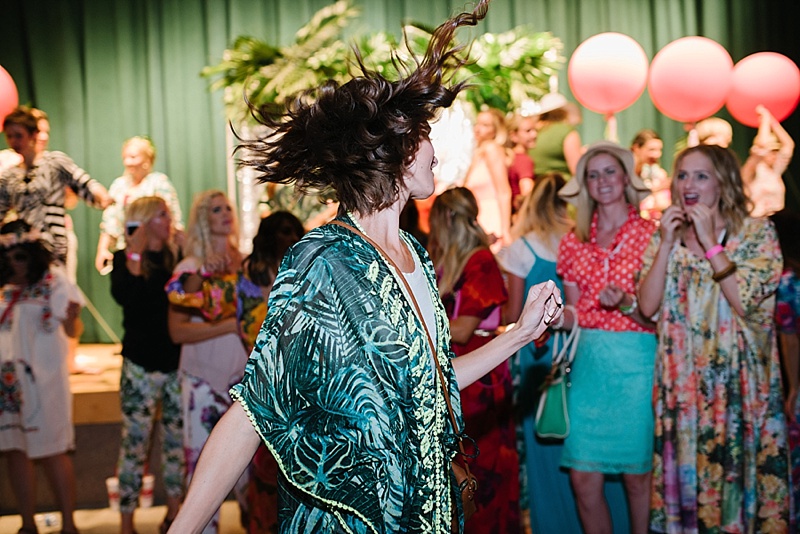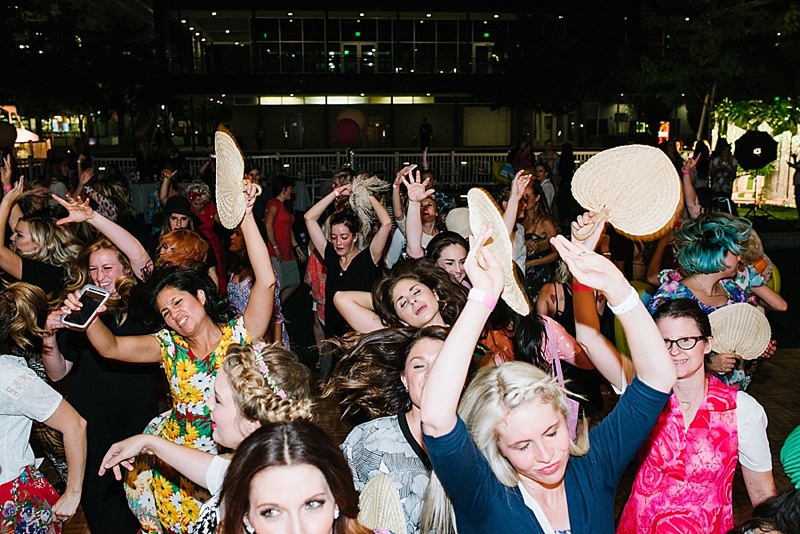 And there you have it.
A very large dance party, for very amazing women. The Party Gods wanted it. And it was all accomplished with the help of phenomenal people, by this very crazy person who keeps naming parties after herself: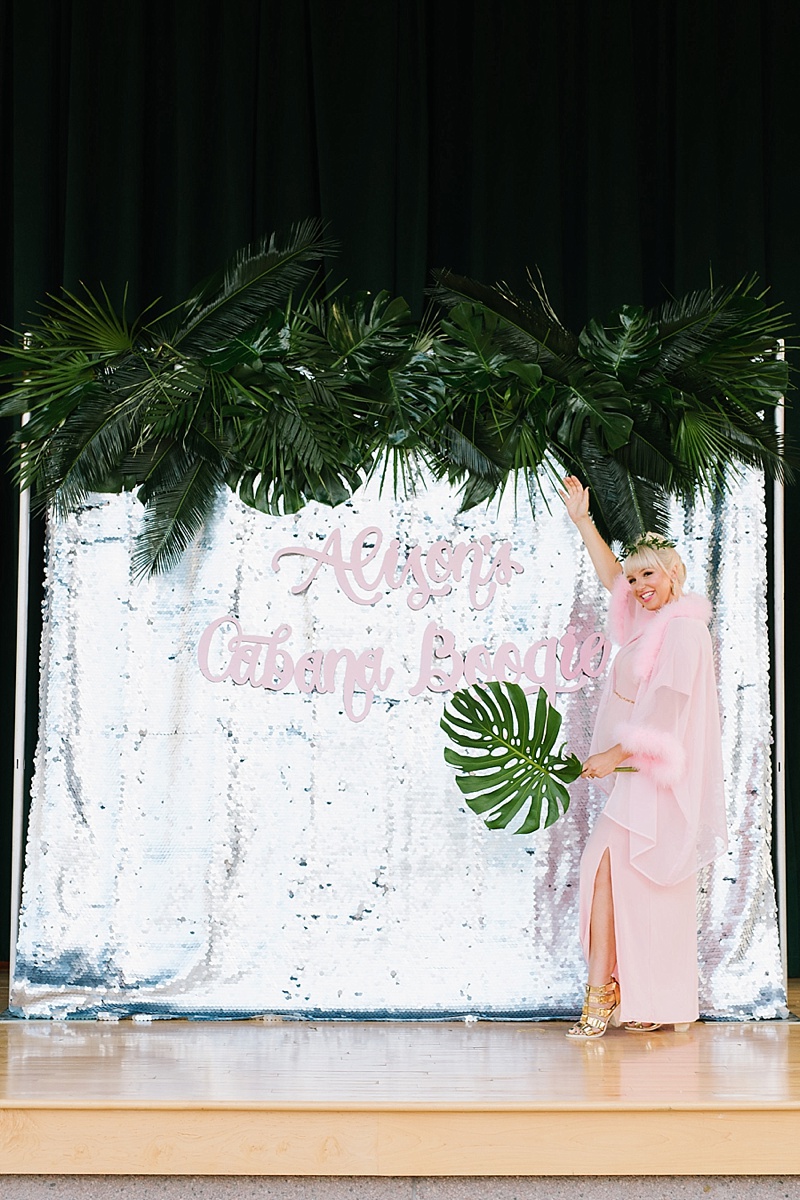 Thank you SO MUCH to those of you who attended, helped, or even just sent well wishes and support. If you want to see my other dance parties, they have happened in this order: Freshly Picked's Lumberjack Jam, Alison's Flamingo Fest, Alison's Feelings Fest, and Alison's Candy Shoppe.
AND If you would like to throw a dance party, or ANY party of your own, I seriously teach you how I do what I do and WHY I do it, step-by-step in my online course Party With Alison: How to throw any type of super fun party!
SO MUCH LOVE.
Until we boogie again,
xo
Alison
Headline Sponsor: Munchkin Inc.
Venue: Gallivan Center
Photographer: Jess Kettle
Videography : Modern Atelier
Braid Bar provided by: Platinum Salon
Florals: Foxglove Florals
Fine Yogurt: Milk Honey
Beverage quencher: Sodalicious
Custom Ice cream Sandwiches: Penguin Brothers
Cotton Candy Machine c/o: Nostalgia Electrics
Sequin backdrop c/o: Drop it Mod
Cabana Boys' Shorts: Kortnie Jean Swimmers
Alison's Hair/Makeup: Vivian Johnson
Alison's Dress: ASOS Maternity
Alison's Custom Kimono: Sarah Tyau
Signage & Invitation: Hello Tosha
"ALISON'S" Marquee Letters: Vintage Marquee Lights
Event Coordinator: Claire White
Throne of Awesome: Carla Thorup/Rachel Butterfield
Volunteers: Too many to name, but THANK YOU!
Swag bag contributors:
soy candles: Candelles
necklaces: Mama & Little
sunglasses from & Apparel
delicious homemade caramels: Julie Ann Caramels
custom laser teething necklaces: Little Sapling Toys