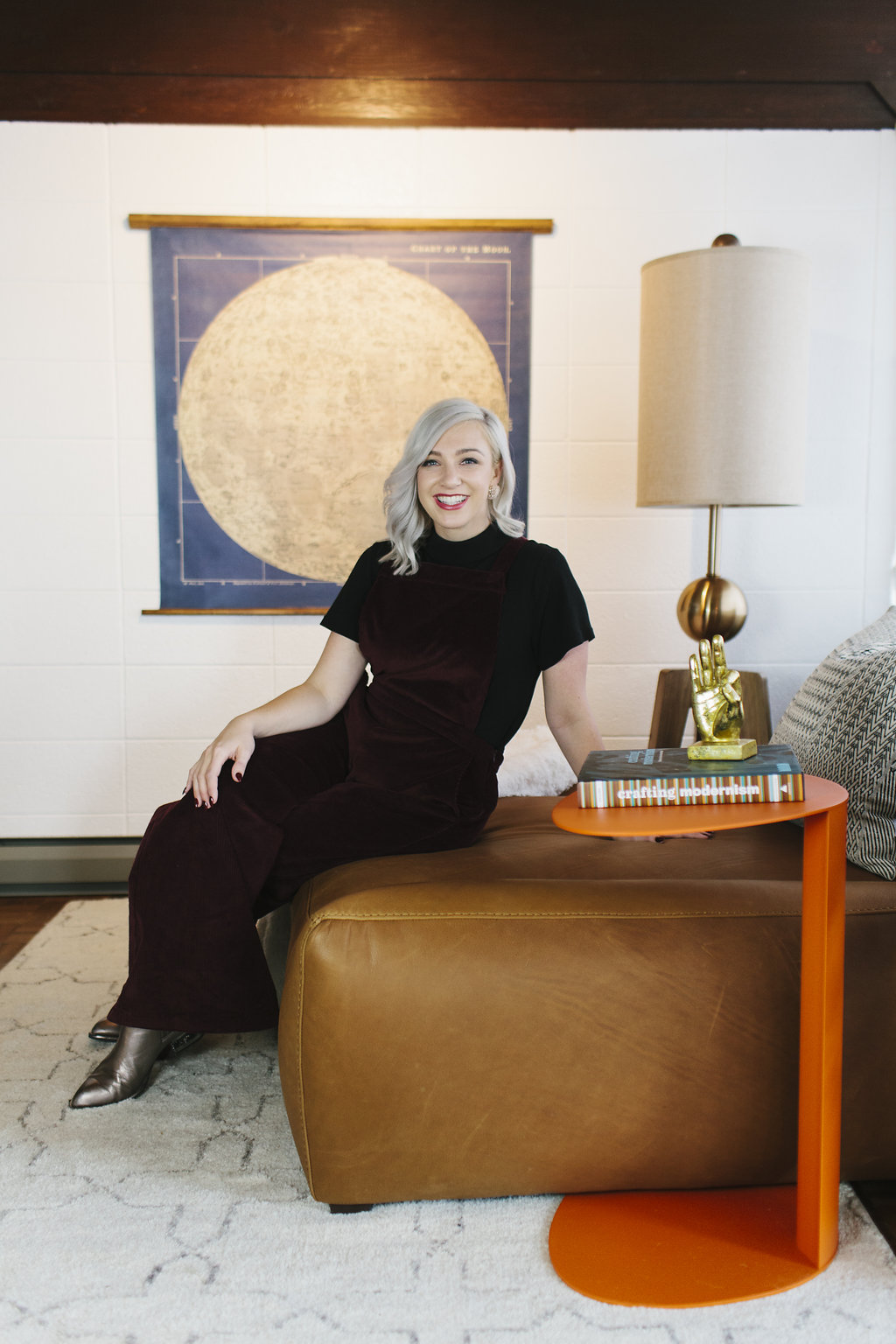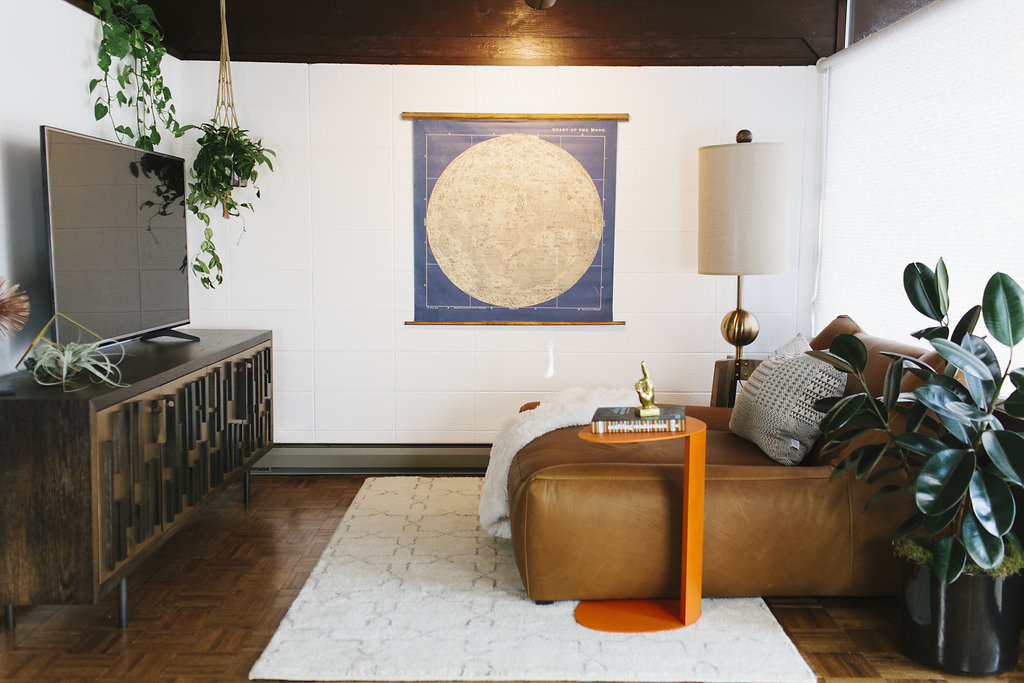 Well I know it's ERIC's Man Country, but I honestly don't know where he was when we were taking these photos! HAHA, but I can guarantee he was glad not to be in them!
We have finally arrived at our 4th and final installment of Alison's House Party with my friends at Gatehouse No. 1!
AND RIGHT NOW 2/15 through 2/18 Gatehouse No. 1 is offering 20% off all of their accessories in a super secret IN STORE sale with the code ALISON! And their Local Loves Event is also going on and has a sale on custom upholstery!
So you could get this buttery leather chaise, or my GORG pink couch as featured in my Glam Room! Or anything else fabulous! And there are SO MANY choices!
So if you're local, get ON THAT! And get on into Gatehouse in Orem.
Each and every gem in this room is from Gatehouse No. 1 and you can reach out to them for availability and design consultation!
But for everyone else who can't there, let's go on a little trip to MAN COUNTRY, shall we? Eric and I love this room so so much we can hardly handle it.
But really, how good is this chaise? I feel so fancy just saying CHAISE! I don't think I would have ever picked a piece this large for this small room, without the help of Gatehouse, but it honestly makes the room feel larger! And I'm so glad we did.
WE LOVE IT. We love being able to pile on it together as a family. Because even though the kids have a playroom downstairs with a TV, you know everyone likes to be where mom and dad are.
With the help of Gatehouse we also realized that there would never be an instance in which we did NOT want to recline in this room. When company comes over we sit in the Glam Room, and this room really is where Eric lounges while kids crawl on him with legos. So a doublewide chaise was the perfect solution.
And let's talk about windows! The roller shades are also SUCH A LIFE changer! Do you remember the original blinds? Fezzik, jog his memory…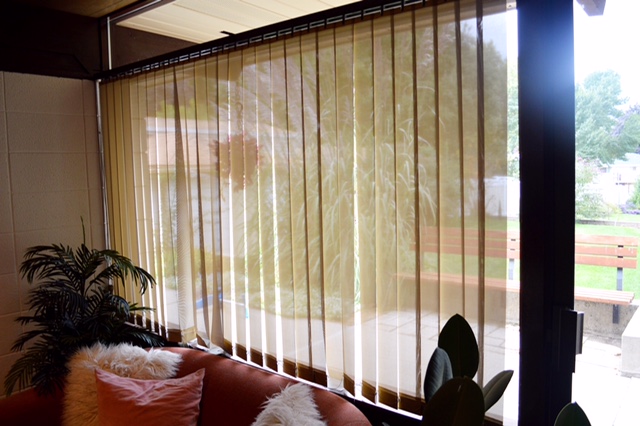 They covered the window behind the chaise and also the sliding door that is next to it. So they were a complete nightmare with the kids.
Gatehouse has a window treatment company that they work with, and both them and Gatehouse came to the home and helped us decide what would be best functionally.
None of this is cheap. We didn't want cheap. We've done cheap and DIY every which way, and honestly it has felt and cheap and DIY. So we wanted to invest in items that would last the lifetime of our house. Like the owners before us did.
The previous owners lived in this house for 40 years, and the inspector told us that everything they had installed, all the repairs they did, were top of the line. He told us this house, of the hundreds he has inspected from this time period, was taken care of better than almost any house he had ever seen. We almost felt an obligation, or like a sense of duty to treat the house with the same respect! Those see-through blinds weren't ideal for us, but they were in MINT condition. Well until Ginger and Rad found them…
So like I said, it's not cheap, and if you need to do a room in installments (like we would have if we didn't have the insane opportunity to collab on this) I would say START WITH THE WINDOW TREATMENTS!
Eric and Stephanie (owner of Gatehouse and lead designer on our project) apparently chose this fabric in like 2 minutes. HAHA.
It was hard to photograph them, as the sun was coming right ON IN, but I think you can see the roller on the side there, and how they give us privacy but also let in the light SO beautifully.
I've made window treatments, ordered some from discount sites, and also used lots of IKEA ones. But these bad boys??? Man oh man. They make the whole space feel luxe and calm. I can't believe the difference they make.
These windows face south, and mid-century modern homes were designed with the idea that you should feel as in nature as possible. Hence the huge windows. But the windows were also designed to work with the sun so that during the winter they help heat the room with the noonday sun, and in the summer when the sun is higher the rooms should stay cooler. Or so they say, what do I know?
I just know I love these FREAKING ROLLER SHADES! They make our life easier and more beautiful.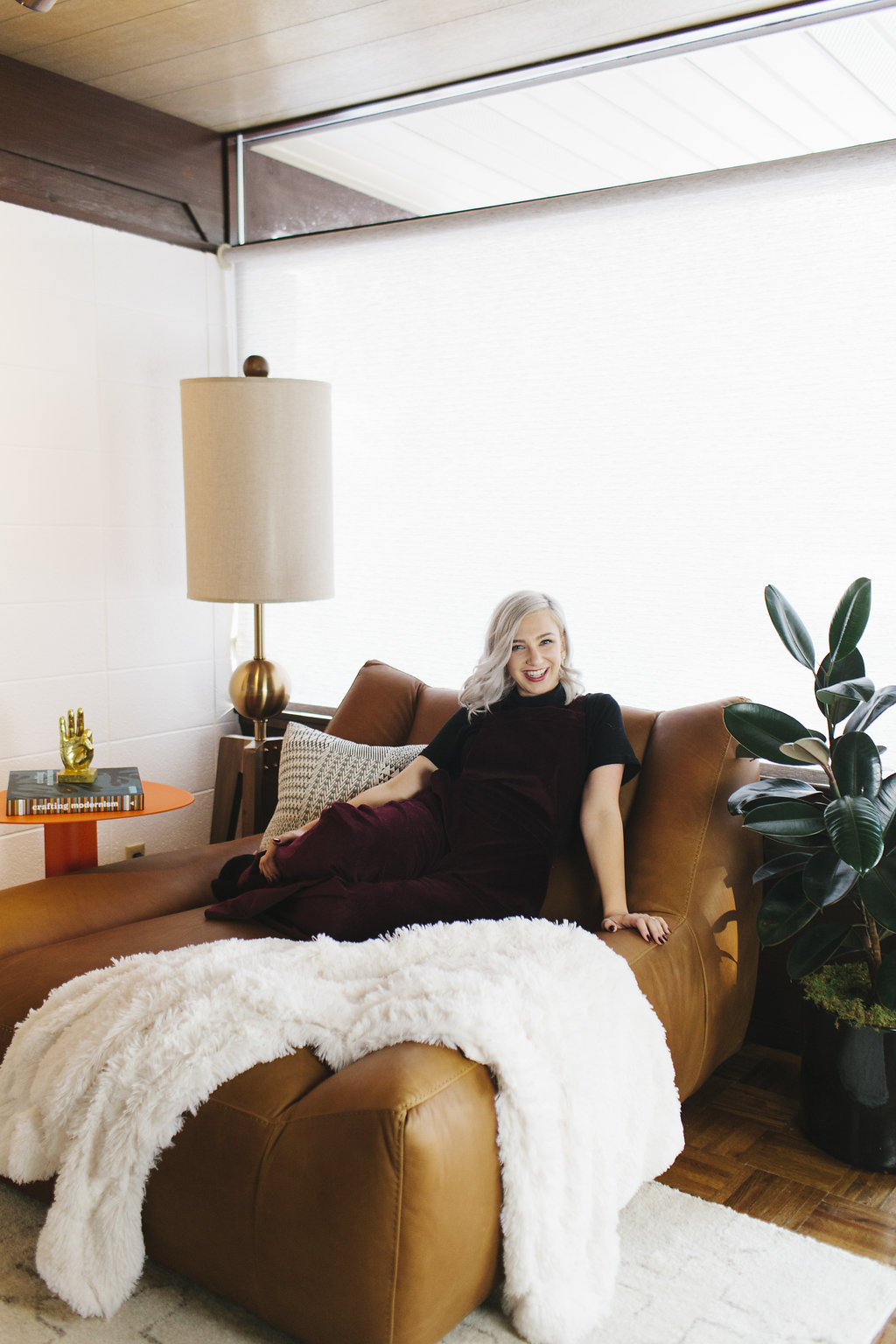 I'd say the top thing I learned from working with Gatehouse is that in order for a room to feel complete, you usually need more items than you think you do. I actually like really clean and simple design. I like to bring the flair myself, so even when I choose typefaces I like clean and simple.
In the past when I tried to design a space I'd go too simple. I do a gray couch, light rug, and I don't buy knick knacks because I don't like extra stuff. But then things never felt complete. Or like ME! Because even though my crazy brain likes my surroundings to be relatively simple, it also likes to have FUN!
I don't think the answer is crap for the sake of crap, but rather to take the time in the beginning to really think things through. In other words, I would try to leave the room hanging mid-sentence, instead of completing the thought.
One of the things that really helped us complete both rooms were plants. And I like them because they aren't just stuff for the sake of stuff.
Again these rooms get AMAZING light! So they are ideal for plants.
So Gatehouse introduced us to Derek from Plantscapes of Utah. HE IS THE BEST!!! And so are his plants. Look at this beauty!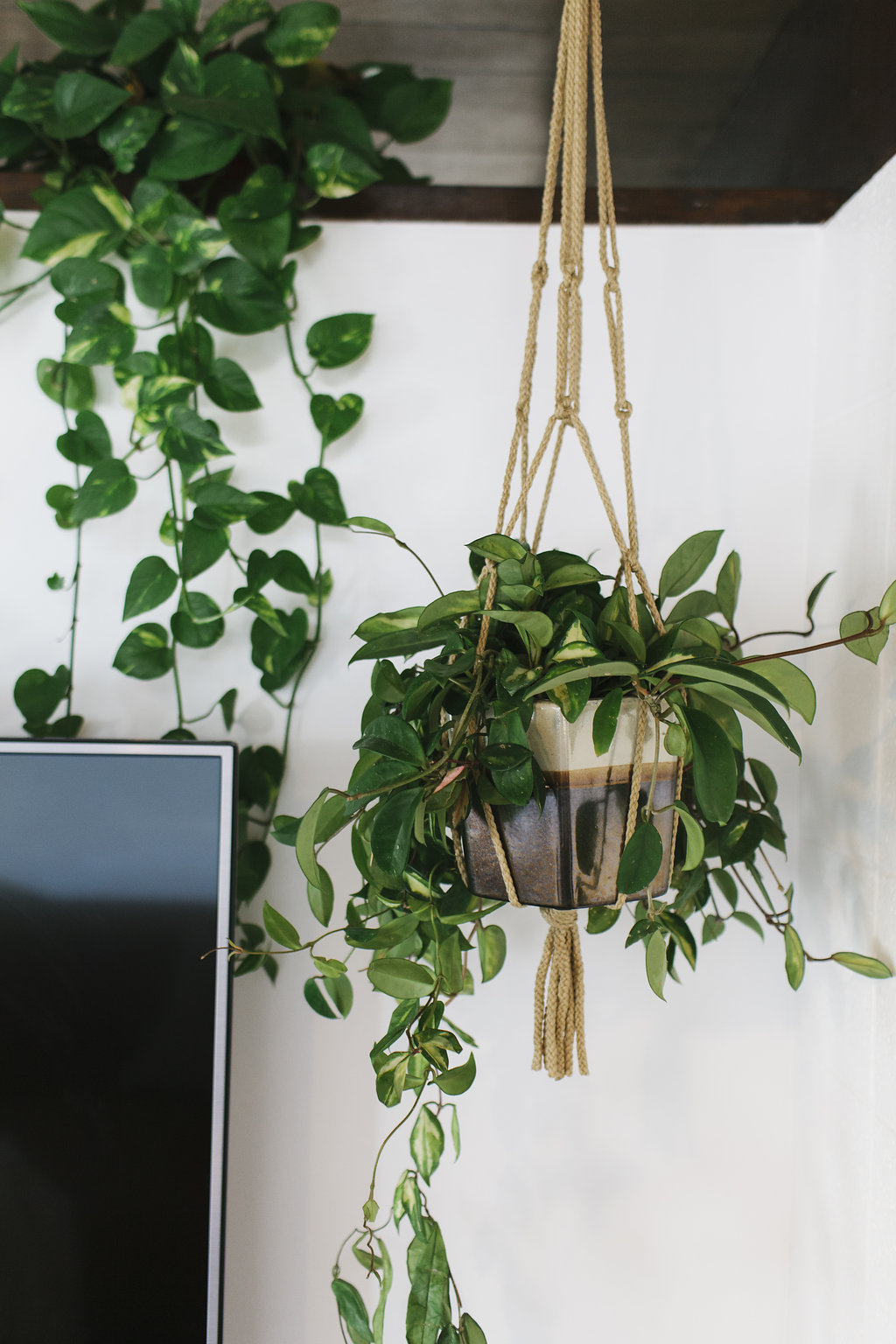 Derek of Plantscapes of Utah provided the vase, the hanger thing, haha, and the plant! Also the plants in the Glam Room were done by them! They do offer a service where they will take care of your plants, but Eric is actually really good at keeping green things alive so I'm lucky there.
We had bought this plant (below) from a consignment store that was going out of business. And Derek found us the gorg black planted and put the moss on top which really classes the joint up.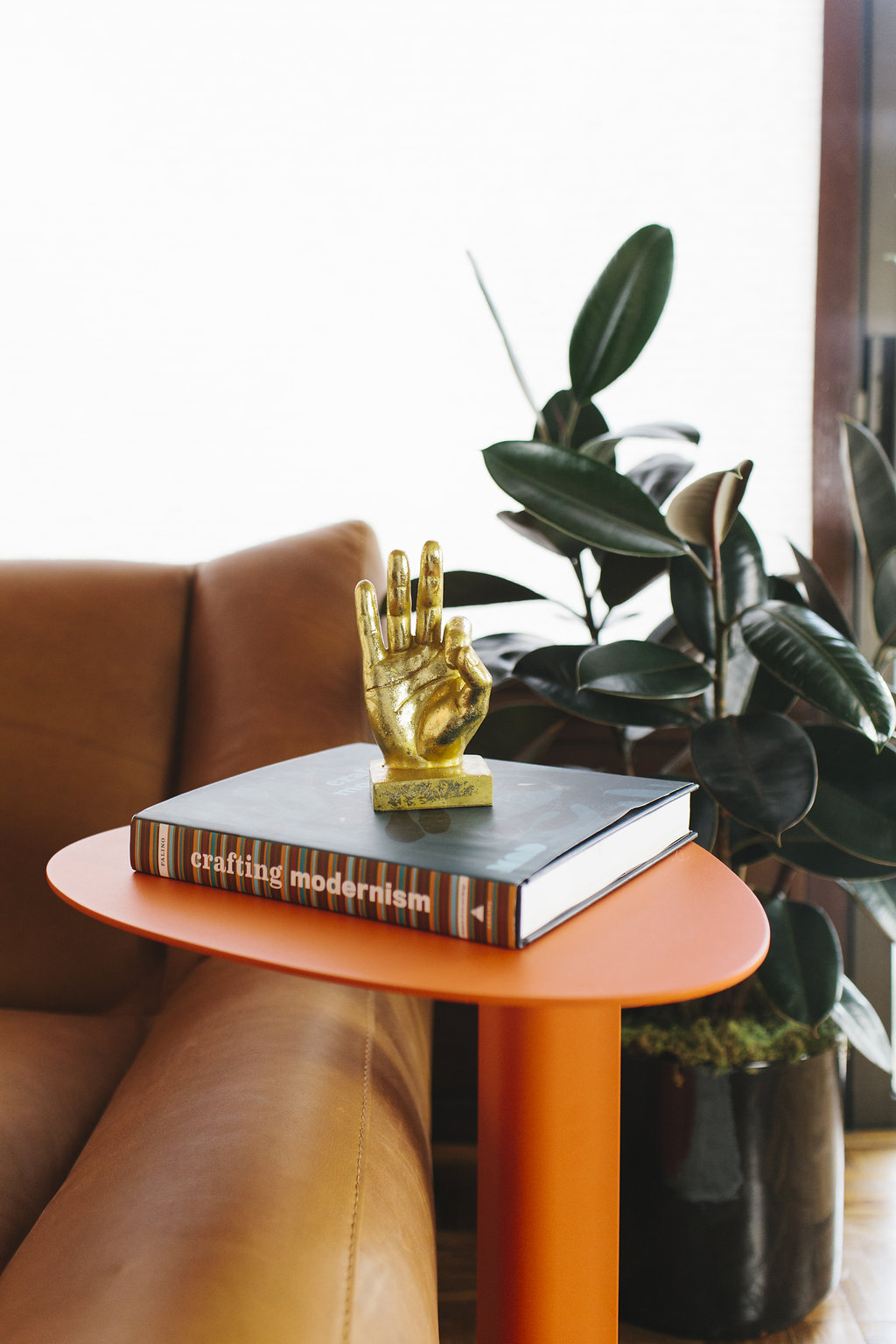 This freaking rad huge air plant is from Plantscapes of Utah too.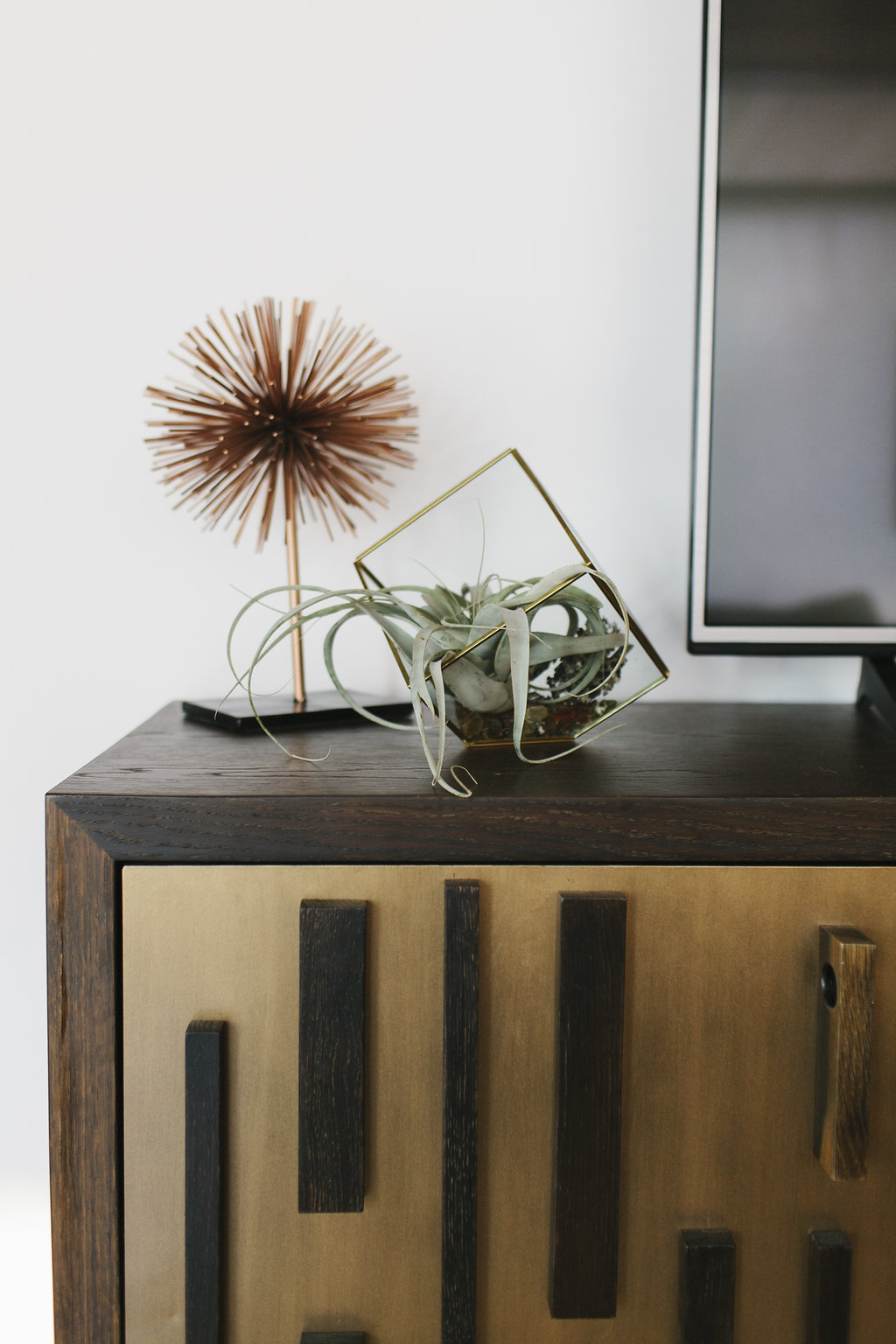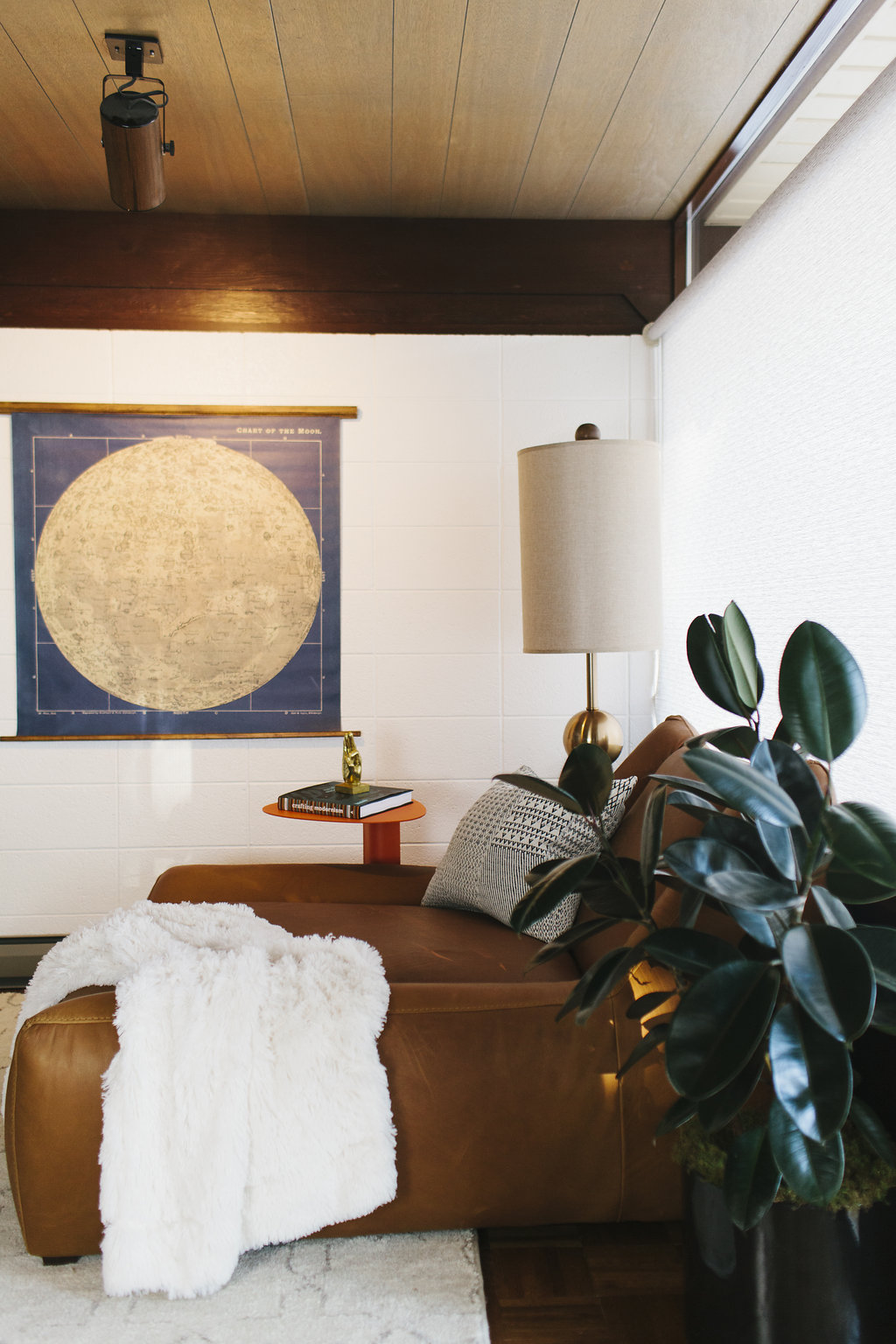 That was the other fantastic thing about working with Gatehouse, every single human who is on their team (or who they helped us find) is GOLD. The adorable delivery men, their window treatment company, Derek the plant guy! Stephanie has done an amazing time building a team that is a complete joy to work with.
They are in a field that can be intimidating and snooty, and they are SO down to earth, welcoming and fun.
I think you can tell from the video what a good time they are.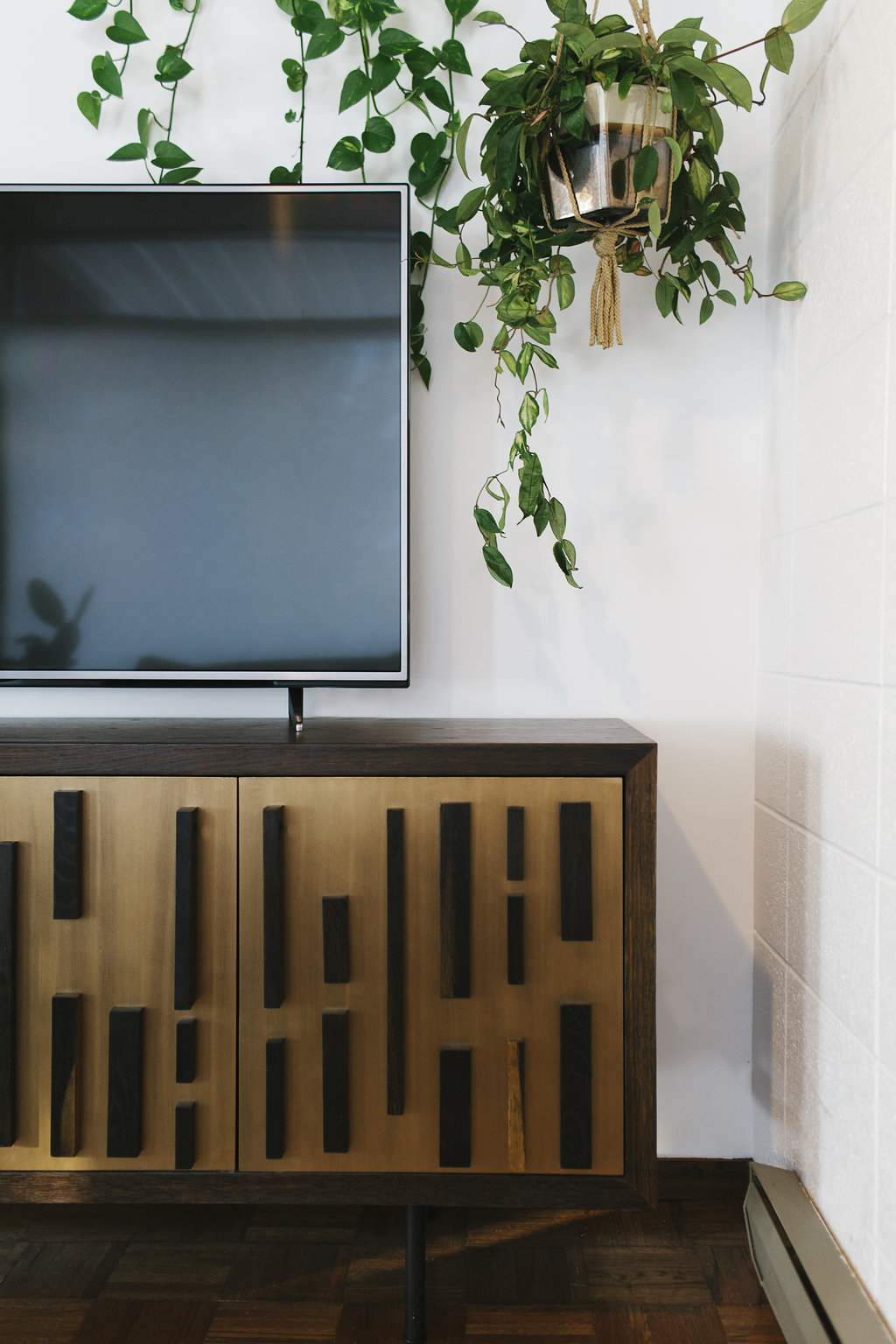 Eric's favorite piece in his Man Country is this credenza. And even though I wasn't crazy about it in the store, it could not look sexier in this house! He also LOVES the color orange, especially how it's used in mid century modern design, so he loves the side table. And it's SO useful!
For me, other than the chaise, this lamp peeking out in the corner (below) there is my absolute favorite. The gold ball with the wood?! But again, even though I would not have picked it left to my own devices, the pop of orange is genius and makes the room so cheery and fun!
So much more useful than just an ordinary side table.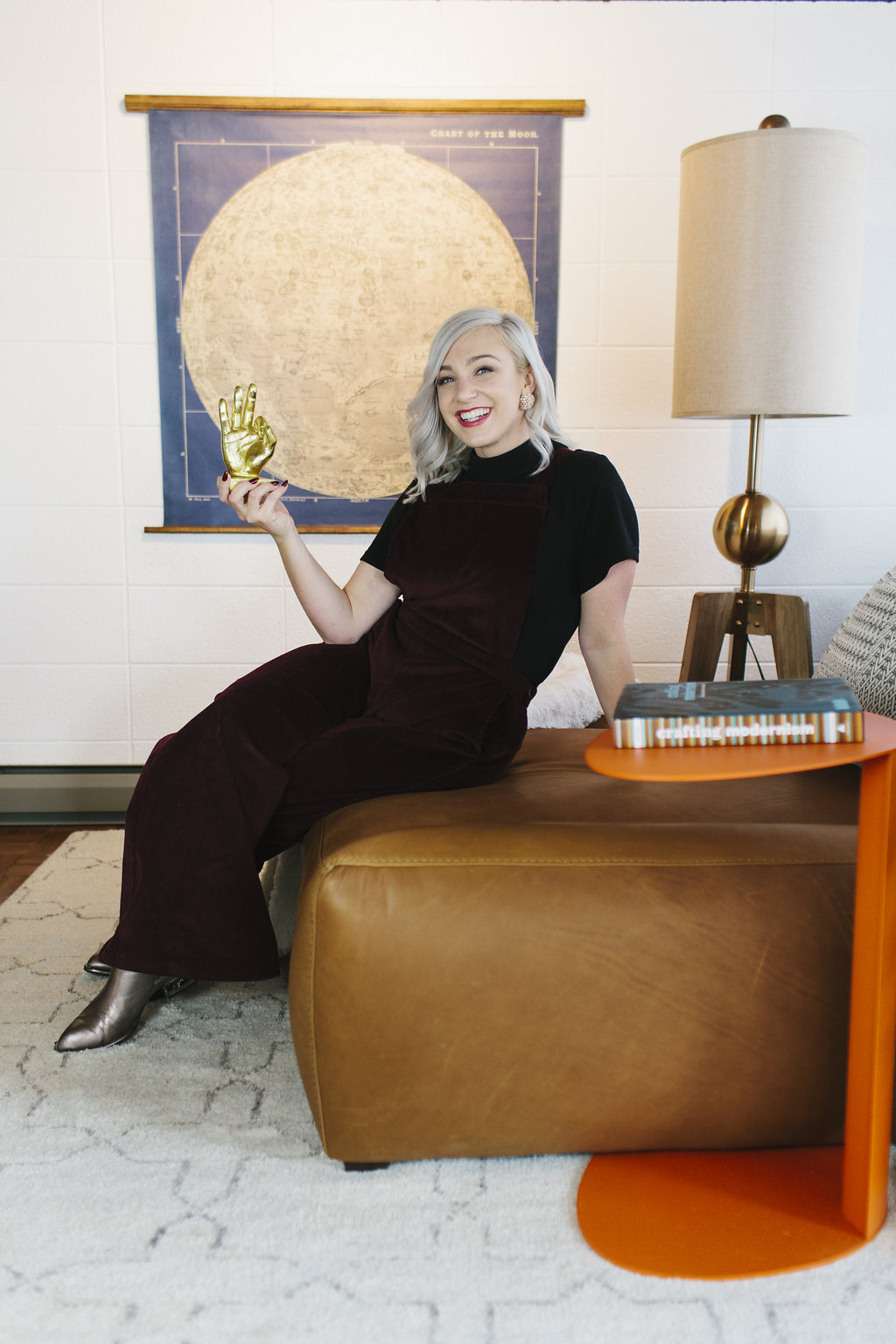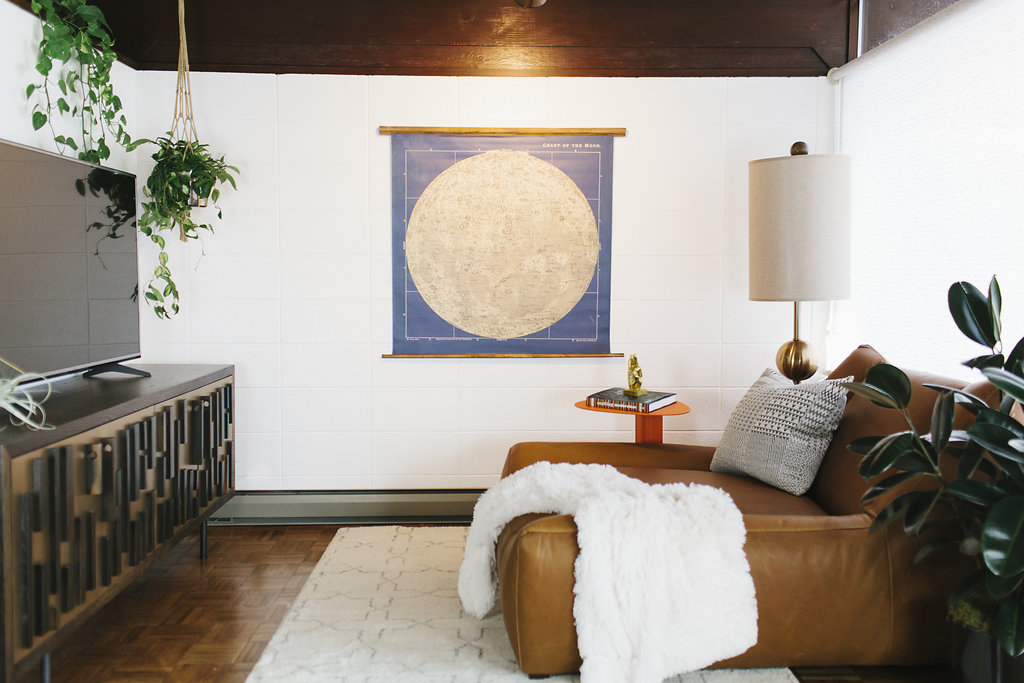 I understand that working with professional interior designers isn't in everyone's life plan or wheelhouse. But I will say, if you can, or you want to make it a priority, I recommend the Gatehouse team SO HIGHLY.
It has changed the way we live in our home.
Usually after work I just want to throw the kids in the car and go somewhere for dinner. I don't know why I had gotten so in the habit of GETTING out of the house. Probably because our old house was pretty cramped and not organized. Also I have anxiety. But I've reigned it in!! HAHA.
And having these living spaces so FINISHED makes it easier for me to be at home and be at ease. It helps me mentally and emotionally more than I could have ever imagined.
My job, my life, it's so OUT THERE. And even though I'm sharing this all with you, and you know I love to, right this second, as I'm stretched out on my pink velvet daybed, I just feel so secluded and private. It feels like a safe haven.
So I know it seems a little melodramatic to say this has changed my life, but it has. So there you go.
In the same breath we lived in the same tiny house for 7 years, building our businesses and not buying anything nice or new so that we could grow a life we loved, and so I also know, you don't need STUFF to be happy.
Like everything else in life it's a tricky balance and comes down to priorities. I'm so grateful to have had the opportunity to prioritize my living space.
Because it really has brought so much joy into our lives.
Thank you Gatehouse for this gift. And thank YOU guys for coming on this journey with me. I wish happiness for you, and a calm and peaceful home filled with love. And if you can have Gatehouse help you make that dream a reality, DO IT.
xo,
Alison
All furniture and accessories in collaboration with Gatehouse No. 1 contact Gatehouse for prices and consultation
Photos: Becky Kimball
Plants by Plantscapes of Utah
Videography by Modern Atelier