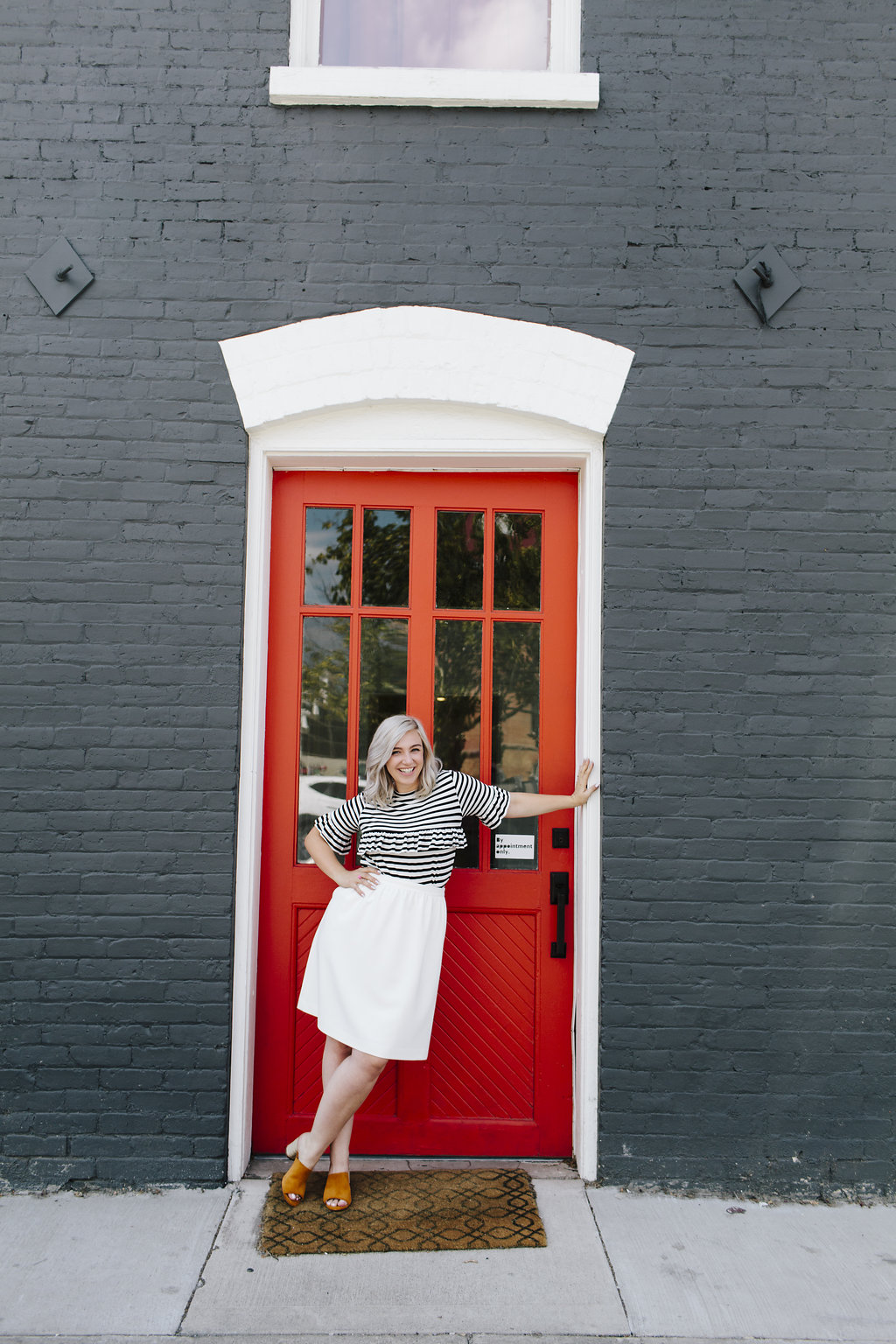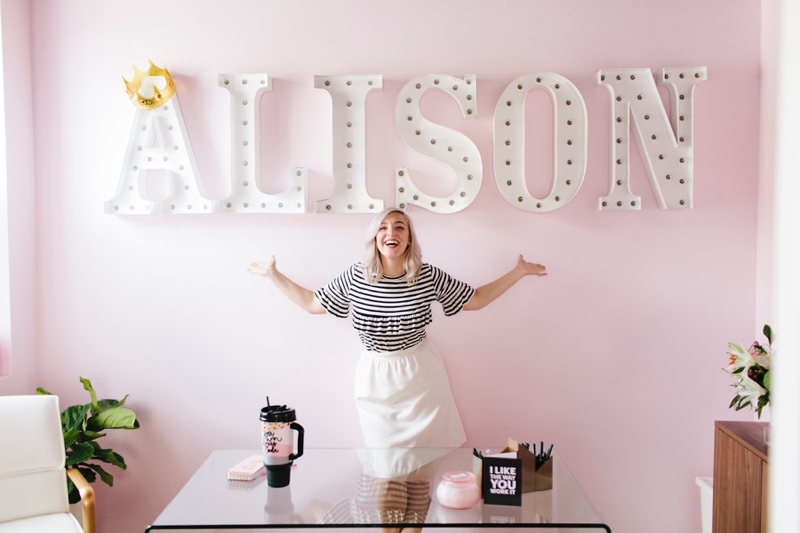 WELCOME SEXY LOVERS AND FRIENDS! Welcome, welcome to ALISON'S PARTY PALACE!
Aka, my palace that I gave myself. Aka, my office. Aka, a space where I pretend that what I'm doing is working. Aka, a way to legitimize myself when I ask people for money. "Oh yeah sure, give me money, I'm obviously successful and know what I'm doing, HAVE YOU SEEN MY PALACE?"
I think I mostly just confuse people when I try to explain what I do, and even people who know what I do, like YOU, online, still often ask, "Wait, like what do you do when you go to work?"
And honestly guys, the answer is WHATEVER I FEEL LIKE DOING.
No, but really. I think it's kind of the same thing like when you ask a mom (before you're a mom) "What do you DO all day, what takes up so much time?" And they just look at you like, how can you not FATHOM how much time all the things I'm doing suck from my soul…but also at the same time they can't quite put it into words what they are spending the minutes doing. That's what work is like for me. I know I'm doing like ALL THIS WORK, but how to actually break down what I'm doing, well that seems tough. We can talk about it more later. But for now let's just talk about all the cute stuff!
I'm so, so, SOOOO proud of my office space, because usually I don't decorate the spaces I inhabit. I hate taking the time to STOP working to decorate where I'm working. And honestly what inspired me to get this done was watching my husband Eric.
Eric had his music studio, and then realized as it became more of a studio that they rented out to people, that he'd need a home office as well so he could work uninterrupted. It was like the MINUTE he decided to add a home office to our house it was done. He brought in a construction crew, picked out carpet, a couch and tons of artwork, and meanwhile I had had this office space since December and didn't even have a real desk, chair or couch for anyone to sit on.
I felt so frustrated with myself and in just plain awe at how quickly Eric had picked out all the things he wanted and JUST GOT IT DONE. Why couldn't I do that?? And then I was like, UM I CAN DO THAT TOO. And started just making decisions. What I was reminded of from watching Eric is that it doesn't have to be THAT hard. He simply just picks out what he likes and what inspires him. He's not on Pinterest or style blogs agonizing over how something is "supposed" to look. He doesn't care about correct design principles, he just wanted to create a space that made it more fun to work, and stimulated creativity. So he did that!
So I stopped worrying about each decision seeming so freaking final and important, and just started getting crap I liked and needed. I had to spend a lot of money, and more time than I wanted to in order to get IT DONE. Because I did want to make sure what I bought was what I wanted. But now that it IS done I don't have to freaking think about it, or spend any more money AND I love, love, love coming here.
One thing I tried to do was be careful to buy what I actually wanted and needed, and not get distracted by something being pretty, a good price, or convenient. If I liked something and it was right, I bought it, and stopped thinking, "Maybe I'll find something better…" because time is money and…yes you guessed it DONE IS FUN!
So I made a video tour with 3 tips for a happy work space, and then I have photos of the details with some more explanation too! I hope you enjoy!
And if the freaking video player isn't working, you can watch it here!
So I'll take you through room by room. This is the foyer or front room, this is essentially a storefront, even though I don't use it as one. When you open the door this is the room you walk into. And I'm all, hey girl.
The hardest decisions for me were both of the rugs. I have one in this front room and one in my office which is right by this. I'm SO SO SICK of buying light colored rugs and having them look awful. I've done that SO many times, because I like the way light rugs look. I also didn't want one that was hard to vacuum or that would bunch up. I went back and forth and picked out 4 different rugs before landing on this one from The Land of Nod (all links below). And I am SO into it. The colors are bright and fun, but it's not a huge commitment to one color. And it doesn't show dirt!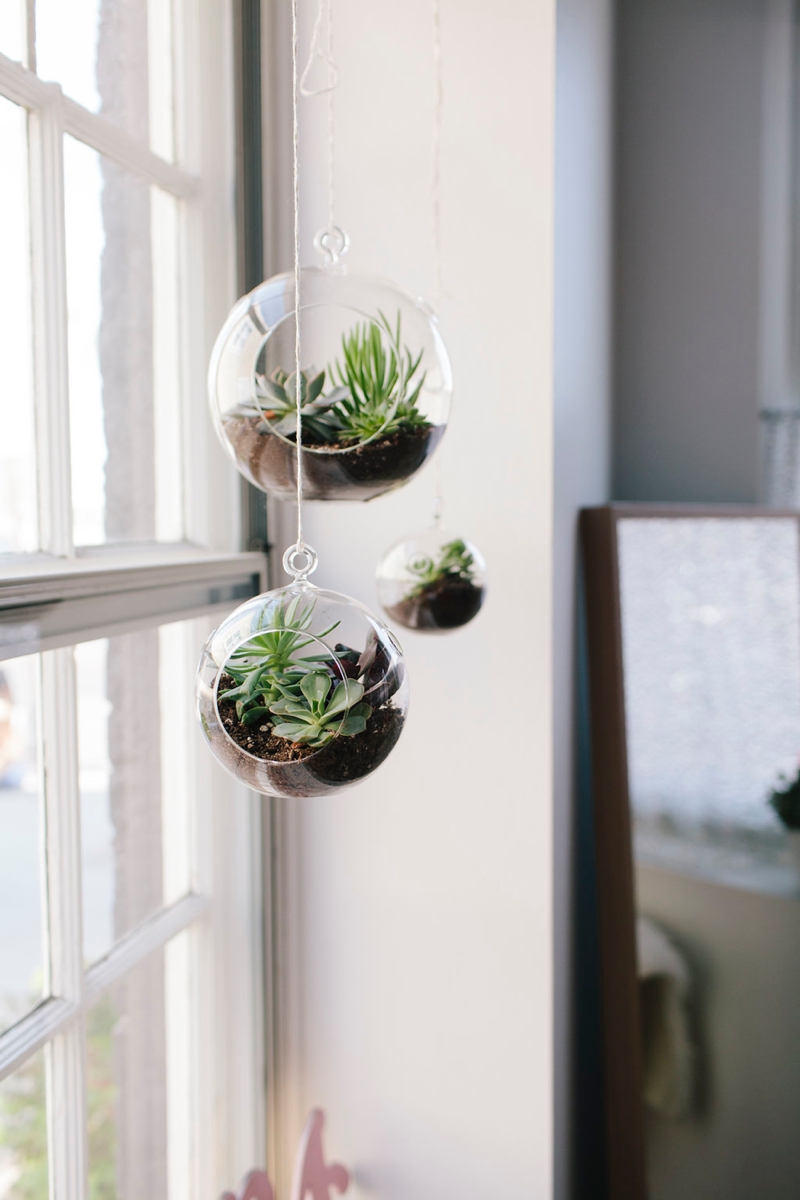 And these guys are hanging in the window in this room, we didn't get the best shot of it but here's this one for context. This is me chillin with Modern Atelier the videography team.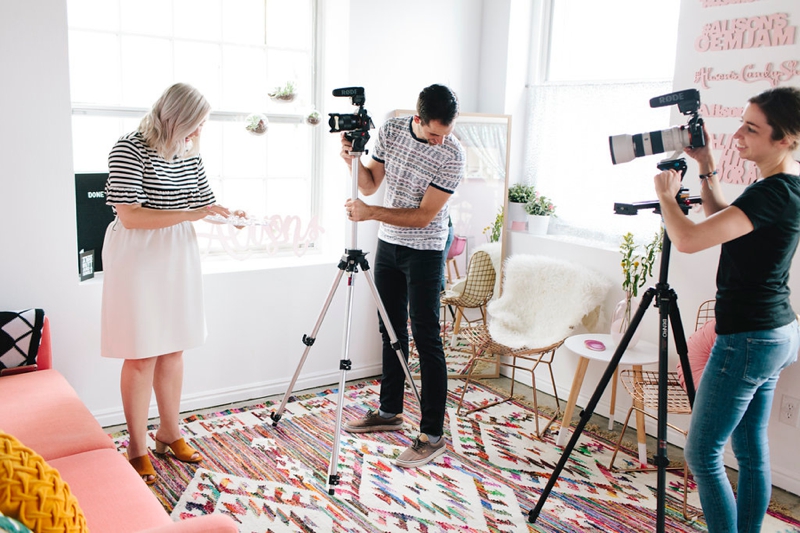 I don't tend to reminisce much about what I've done, I easily forget and just want to look to the next thing. So it was nice to utilize swag and decor from past parties to add some personal touches to the space! These are buttons from the dance parties I've done.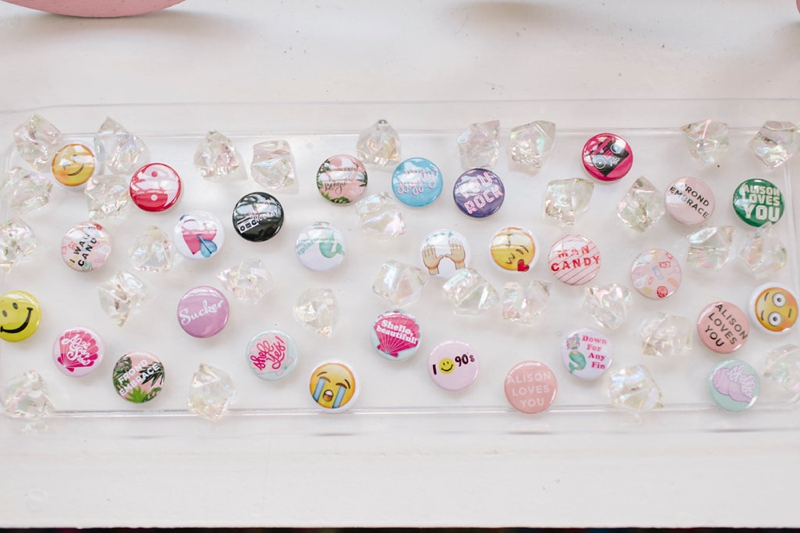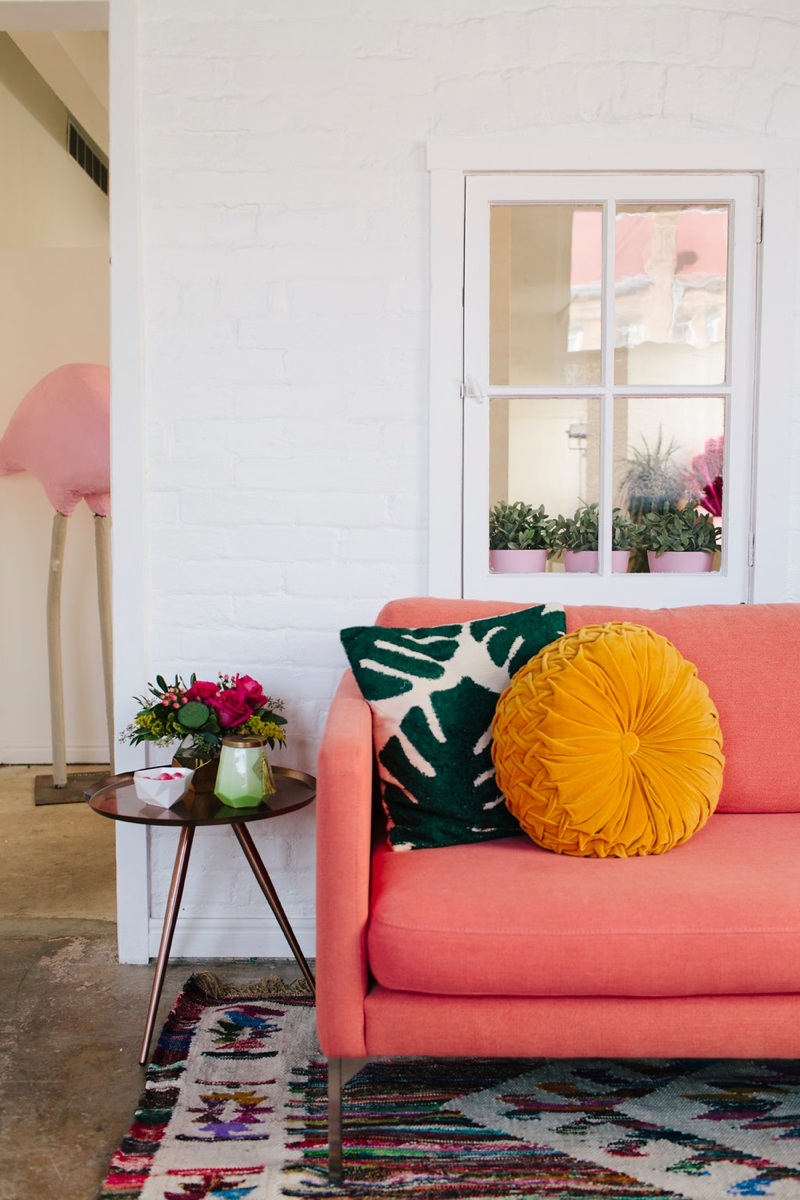 So the wall opposite the couch is my Hashtag Hall of Fame, haha or all the hashtags from my different dance parties. What can I say? I like to put my name in things.
And mirrors are helpful for all those selfies I like to post.
And that's the front room! Now STEP INTO MY OFFICE BABY. I put this on the door during an event one time, and just decided to leave it.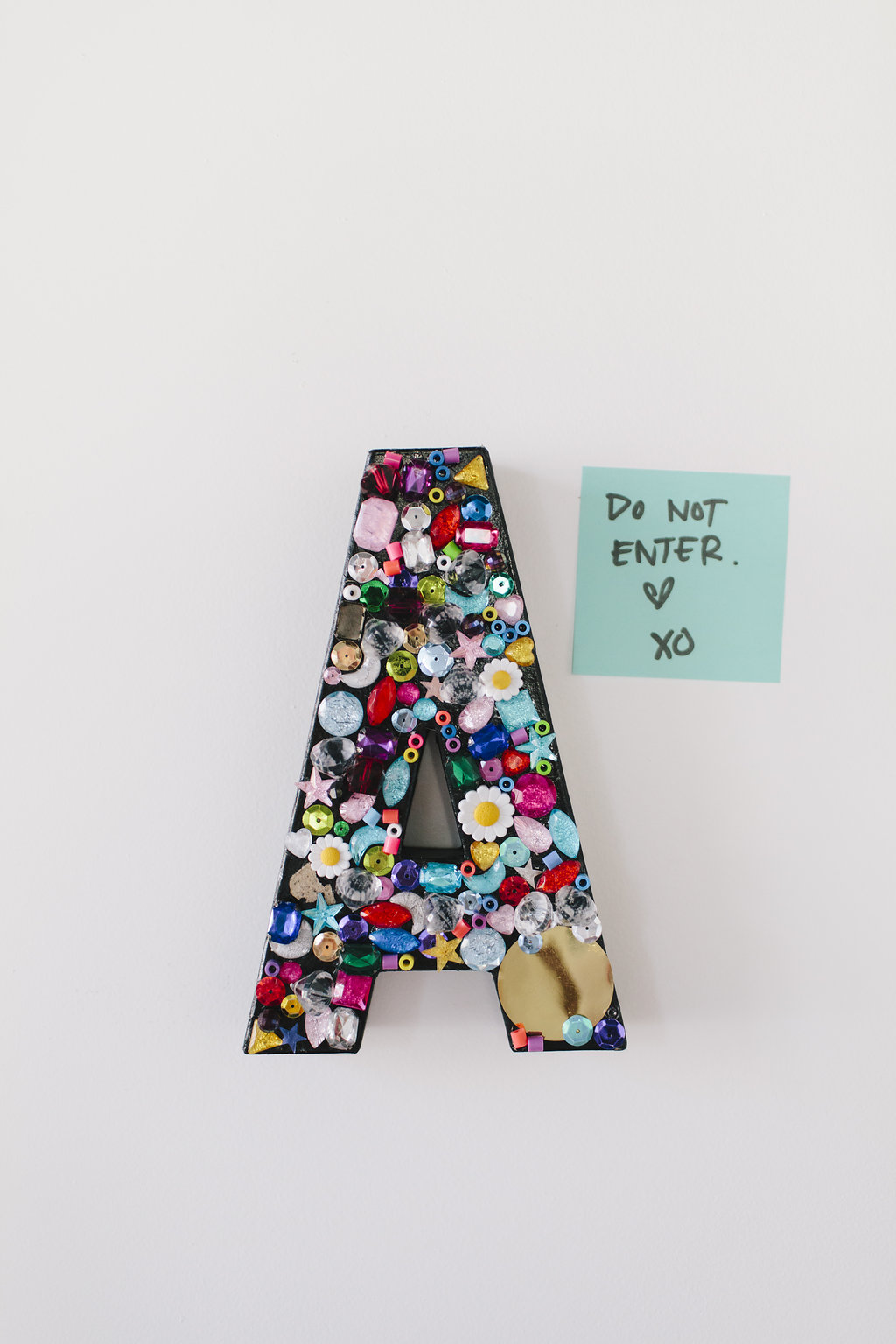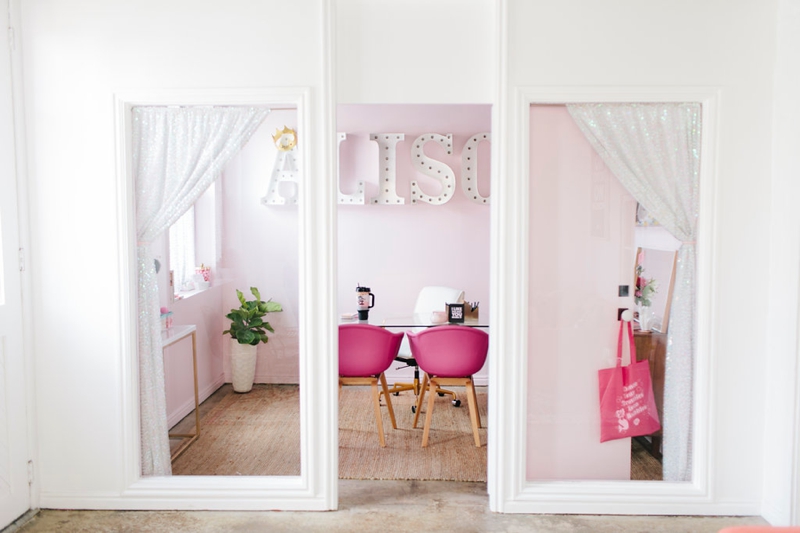 But really I'm a pretty nice girl!
I could not be MORE OBSESSED with my glass desk. It's so perfect. And I love this configuration so my back isn't up against the wall. I'm so insanely happy with the desk, the pink chairs, and my office chair and they are all from Wayfair. I reached out to them and they were excited to help me out with a few things, but even after our collaboration was done I went back and bought additional items. I really like their selection and the variety of price ranges they have for products. Shopping online is always easier for me. I love having a place to keep my marquee lights in between events so they aren't just being wasted in a box. We don't want people forgetting who this office belongs to. Heavy is the head guys. Heavy is the head.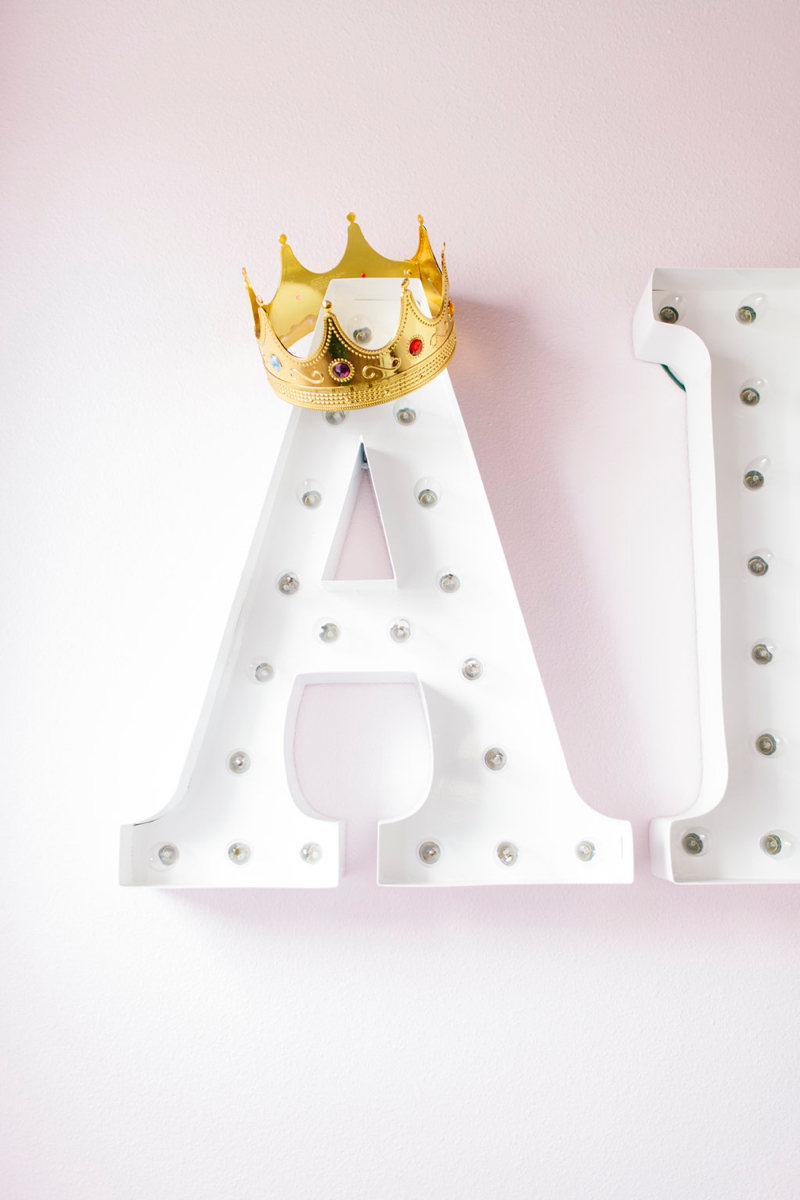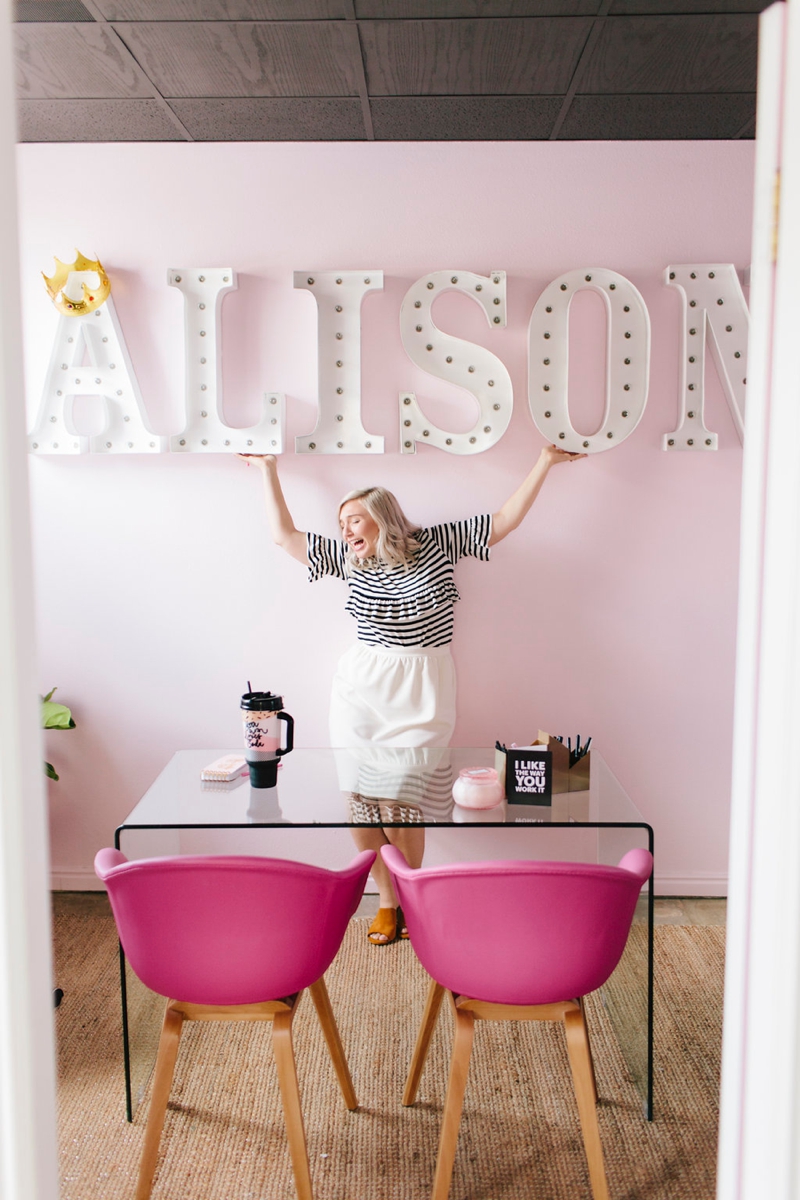 Also I want you to know I killed this plant. But it was fun while it lasted.
This acrylic bookshelf is also from The Land of Nod and possibly my favorite thing in life.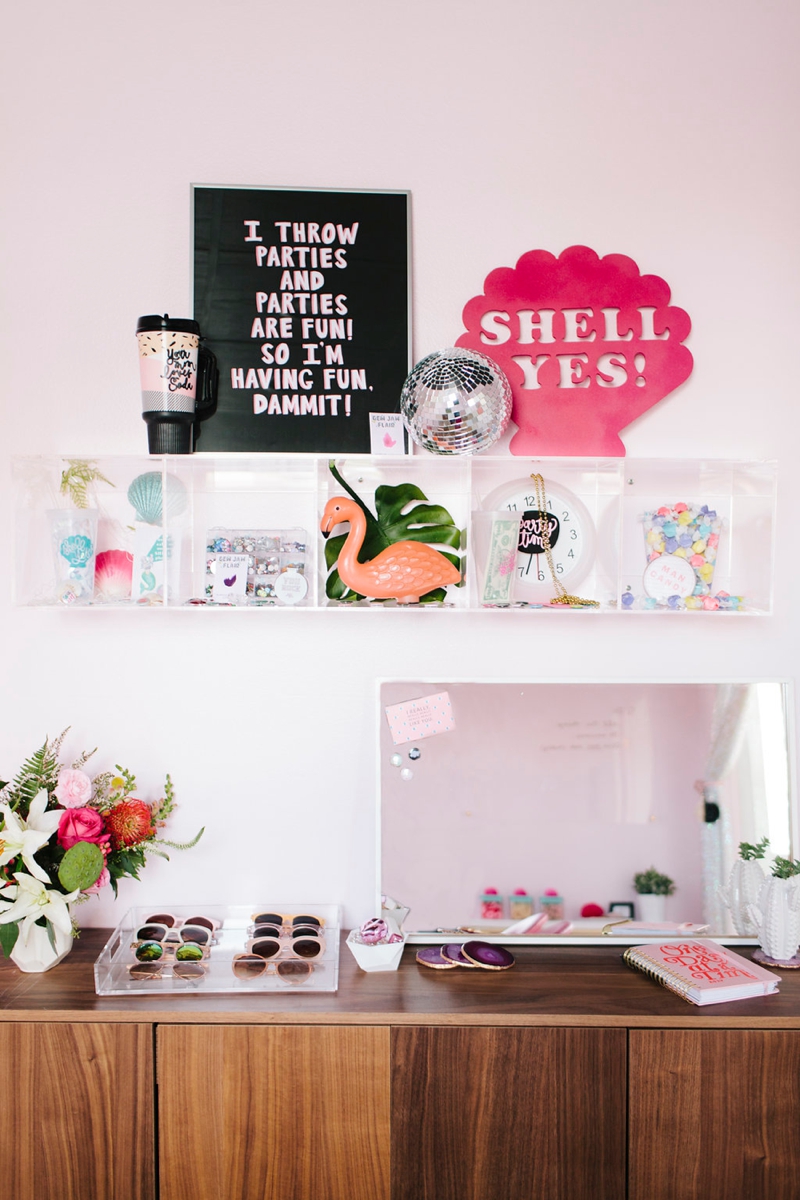 I made the acrylic bookshelf a dance party tribute shelf and each cube represents an event. First is Alison's Shell Yes, then Alison's Gem Jam, but I kind of smooshed Alison's Flamingo Fest and Alison's Cabana Boogie in one, haha then we have Alison's Hip Hop Hooray and Alison's Candy Shoppe. The only one that isn't up there is Alison's Feelings Fest. I wonder how it feels about that?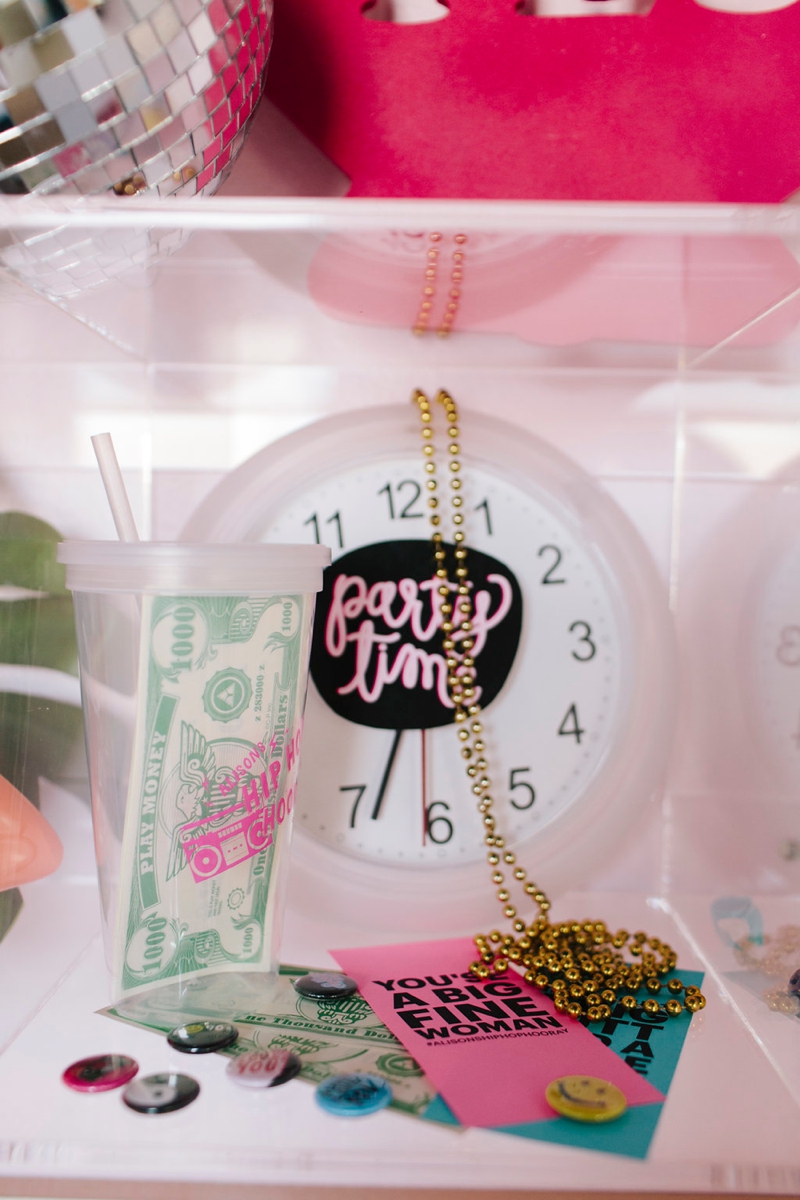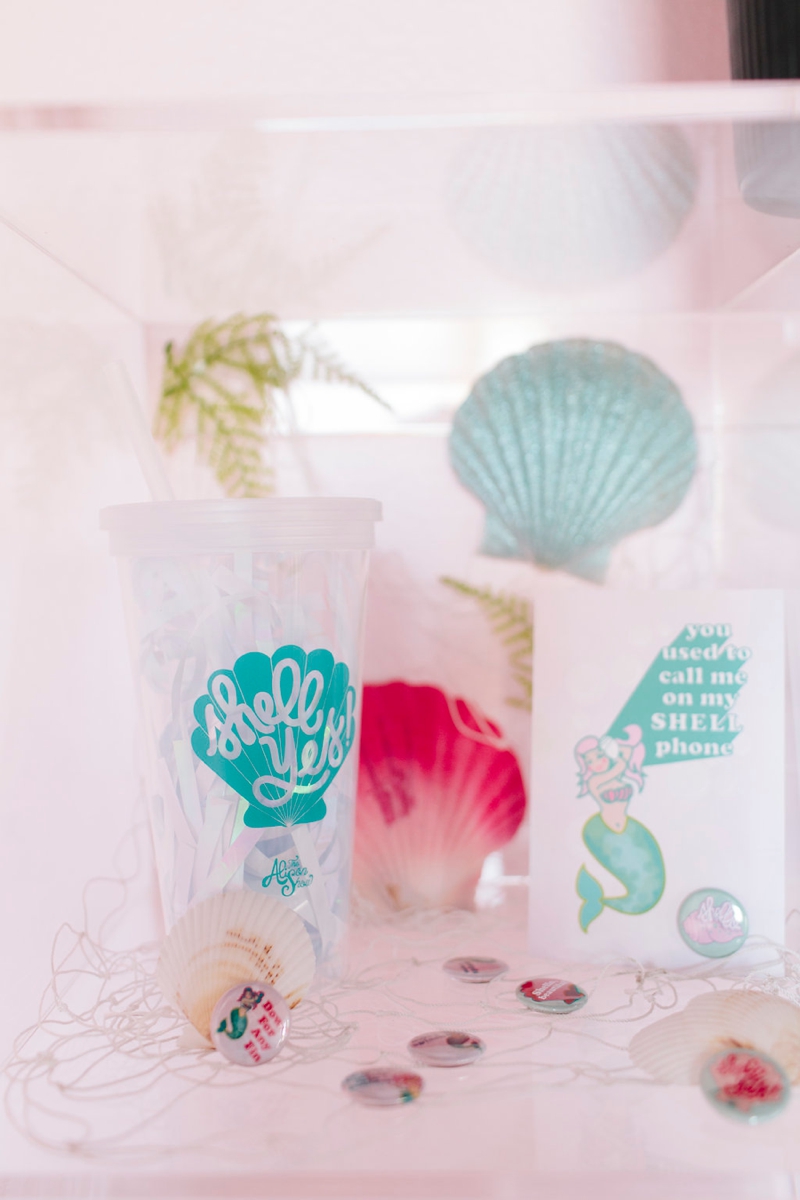 Below the acrylic shelf is this Ikea credenza or buffet table I'm SUPER into. And yes, I do need more sunglasses.
Also I have the mirror in there cause it makes the room so bright and light. Not cause I'm vain…I SWEAR. Haha. No I need it to try on sunglasses and put on lipstick. Obviously. And then opposite that wall is my little baby console table I bought from Wayfair but I painted the legs gold. I like having this table to put my keys on and my purse under. I also did this DIY acrylic dry erase board. It's a tutorial from A Beautiful Mess. I saw Oh Happy Day doing a version on her Snapchat and was like THAT IS EXACTLY WHAT I NEED. And she made a cool version too, which you can see in her office tour.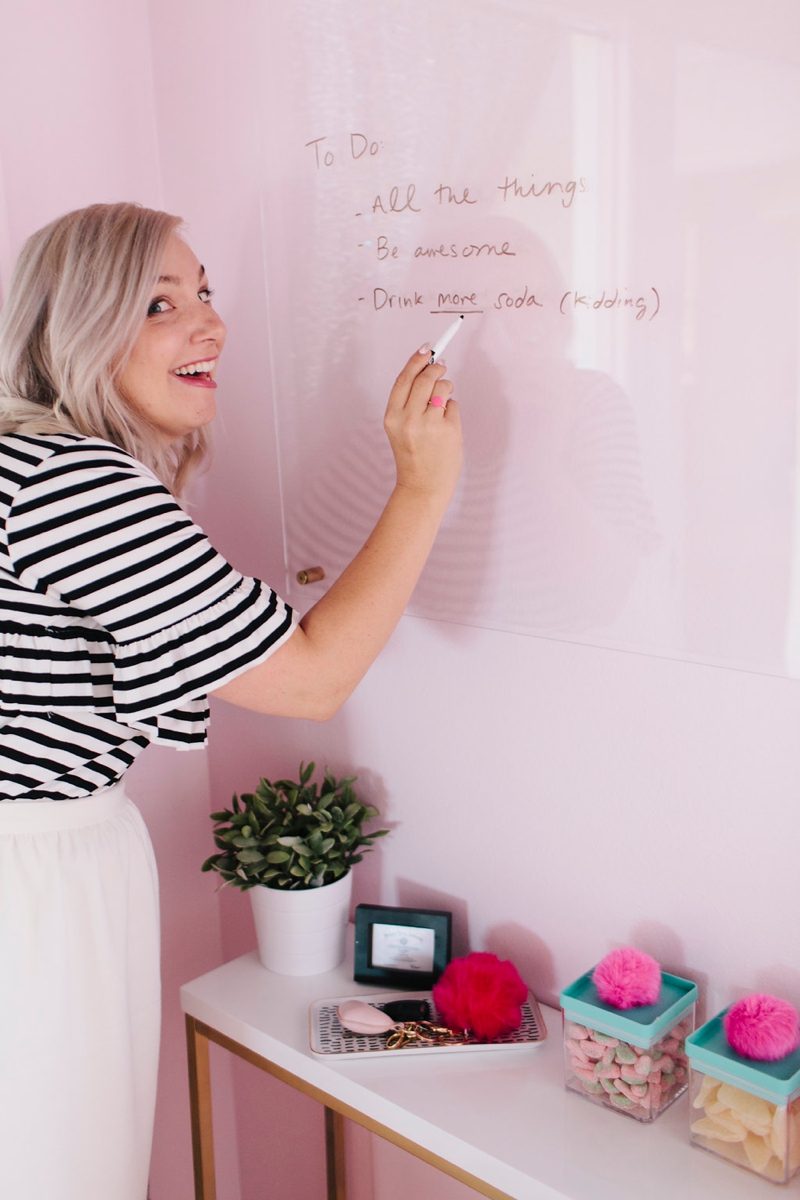 How funny is my tiny diploma? They sent this to me after I graduated college, YA I HAVE A DEGREE. And I framed it and have just moved it around with me. I like to think it shows the emphasis I place on my education. And I cannot tell you HOW ADULT I felt buying a little plate to put my keys on. It's from Target I think. But I mean, that's REAL adult stuff guys. Even if my keys have a squishy heart and giant pom pom on them.
Try not to cry about the gold arms and legs on this chair. But if you do don't feel bad, because I'm pretty sure I did.
Ok, now get out of the boss lady's office!
Now I can show you a bit of the larger back space. Right now Ms. Tara Brooke, my executive assistant is back there, as well as my cute BYU Advertising Intern. He does have name, but he needs to work a little harder before I start using it. KIDDING. It's Brandon.
In the beginning of the year I had two babes sub-leasing the back office space, and this was great because it helped subsidize the larger rent payment for a while until I felt like I 1. needed the space and 2. could really afford it. I've been very blessed this year with some big contracts but it's still always scary to take on big new expenses. I find the best thing to do is just not think about it too hard and set up your giant clam. Here's Tara! I make her film me a lot for Snap and Instagram. Oh the burdens she bears! She's really hot and will tell me honestly if my shoes weren't the right choice.
Frank guards the back space. Gotta keep my team safe!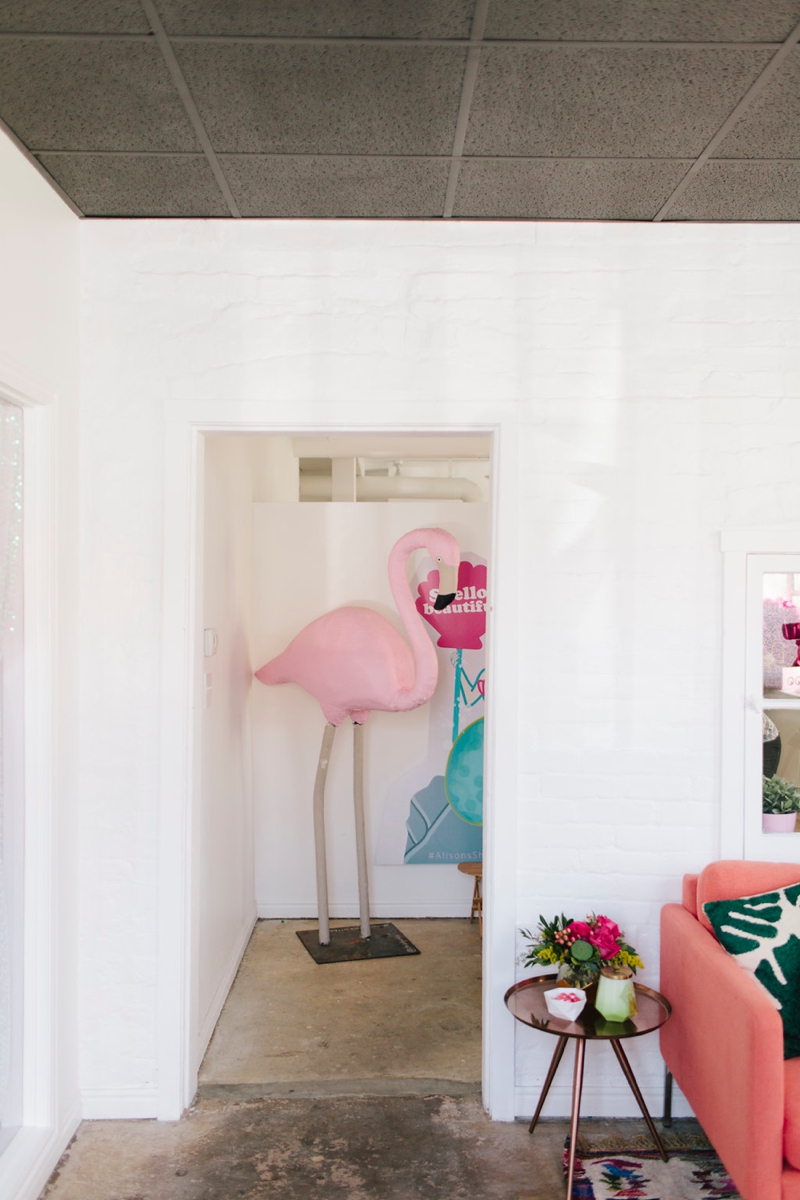 And then across from Frank is Tara's desk. Here's her nook!
And then right around the bend, we find the clam! HAHAHA. I had Mrs. Bri Jenkins make that custom pearl pillow. OBVIOUSLY.
Look MA, I'm happy as a clam!
And then the rest is still a work in progress now that we've taken it all over. There are two storage rooms as well that are holding a lot of my supplies, chairs, tables and whatnot. But I mostly want to keep this back space open for photoshoots and workspace for party prep when the crap I order online comes flooding in.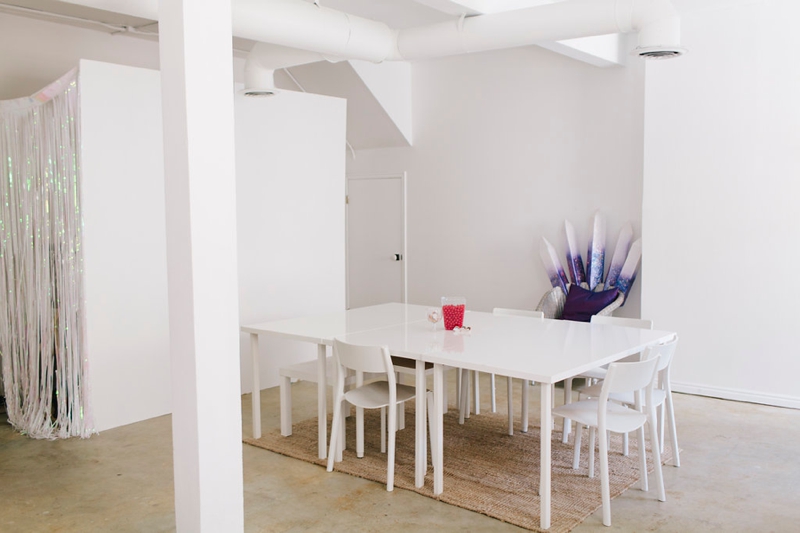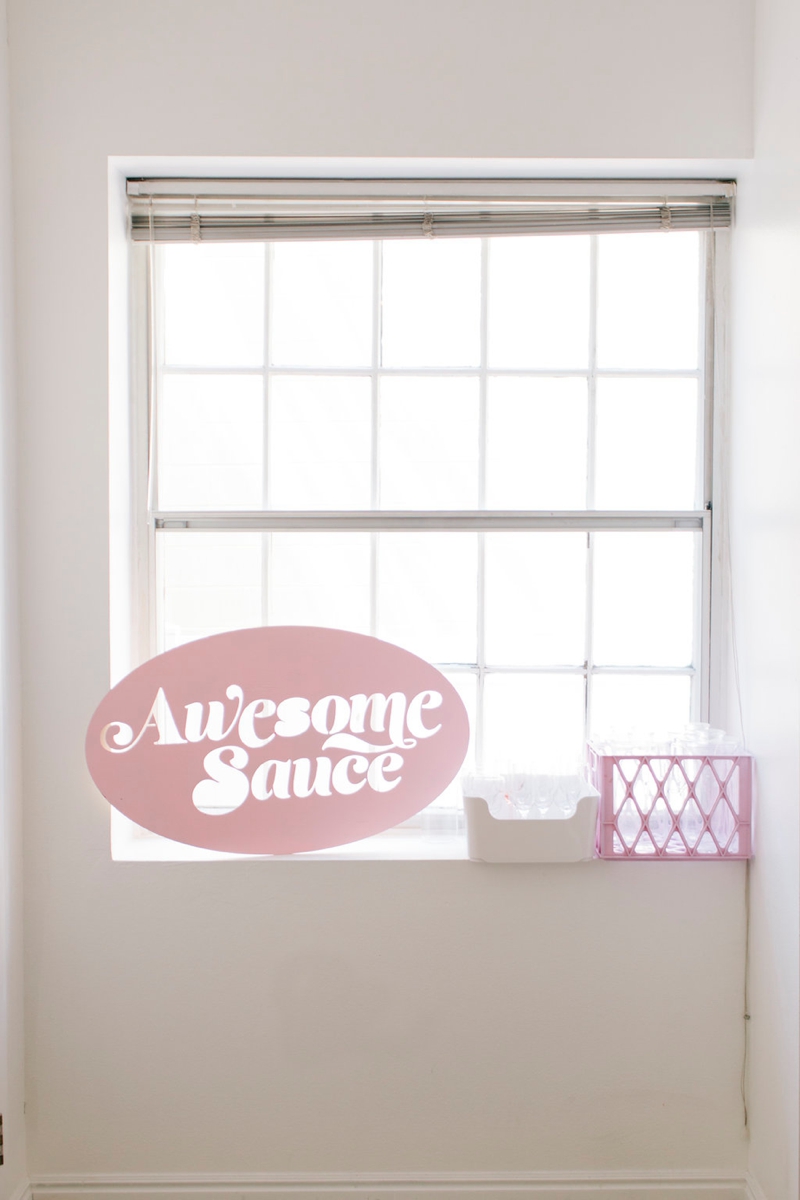 More candy. Hi.
And there you have it! Thanks so so much for stopping by! Let me know if you have any questions. All of the art prints will be available soon in my Party With Alison shop which is full of digital downloads! I JUST REALLY NEED TO GET IT LAUNCHED. Working on it though. Always. 
But mostly I just want to say this: I started blogging over 10 years ago, I didn't know exactly what I wanted to do but I knew I wanted to build a brand. That was NOT a thing back then and so people just patted me on the head. I knew I wanted to put love into the world, I wasn't totally sure HOW I was going to do that, but I just started. It took me years and years to get to this point, the point where having a space made sense, and a few weeks ago I started feeling really out of place and silly for having this space. WHO AM I to deserve this? Who am I to claim this as my own and say it's anything? What am I even doing? And who am I to have my name in lights? (Even if I did put them there myself…)
And that's the point. I'm not anyone super special. I just declared it all, worked my ass off, and it became SO. I've doubted it too many times, and felt the need to justify it all to myself and others too much. And now I'm in this healthy as hell place where I'm just full of gratitude and love. Love for myself, love for others, love for the work I get to do. It is what it is, and what it is makes me happy and productive.
It's a work in progress (just like me) and a space where I can cultivate love and creativity. I can't wait to employ more people and contribute more. OR to just let it be, and see if I change my mind. But I'm in it to win it and I'm not limiting myself with doubt anymore. So, yeah, watch out friends. Thank you so much for caring. Thank you so much for believing the nonsense.
I'm so happy you're here and I can't wait to create more together.
Love. Love. Love. So much love.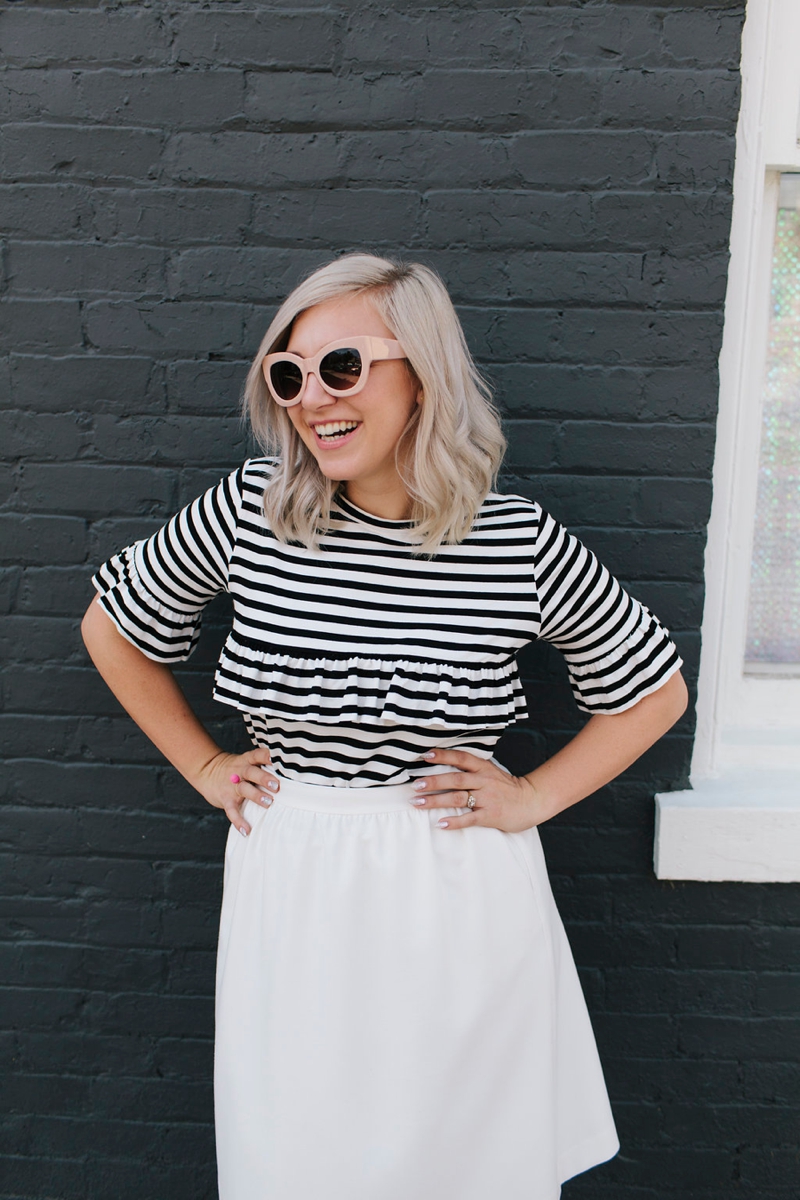 Front Room Foyer
Casablanca Rug – Land of Nod
Rose Gold Chairs – Gatehouse No. 1
White and wood side table – Wayfair
Standing Mirror – Ikea
Letter Board – Letter Folk
Coral Sofa – Article
Party Hashtag Custom Wood Signs – Impression Shop
Rose Gold Side Table – Wayfair
Smiley Face Pillow – Urban Outfitters
Tufted Circle Throw Pillow – Urban Outfitters
Leaf Pillow – Urban Outfitters
Alison's Office
Glass Desk – Wayfair
Pink accent chairs (similar) – Wayfair
White and Gold Office Chair – Wayfair
Acrylic Shelf – Land Of Nod
Buffet Table – Ikea
Geode In the Rough – Coasters
Jute Rug – Target
Side console table (legs spray painted gold) – Wayfair
"ALISON" Lights – Vintage Marquee Lights
Small Rectangle Mirror -IKEA
Acrylic Dry Erase Board – Adpated from a DIY from A Beautiful Mess Sequin curtains & pearl pillow (in clam) sewn by Bri Jenkins
Tara's Nook (Back Office)
Computer Desk – Walker Edison
Black Office Chair – Wayfair
Black & White Calendar – Stendig