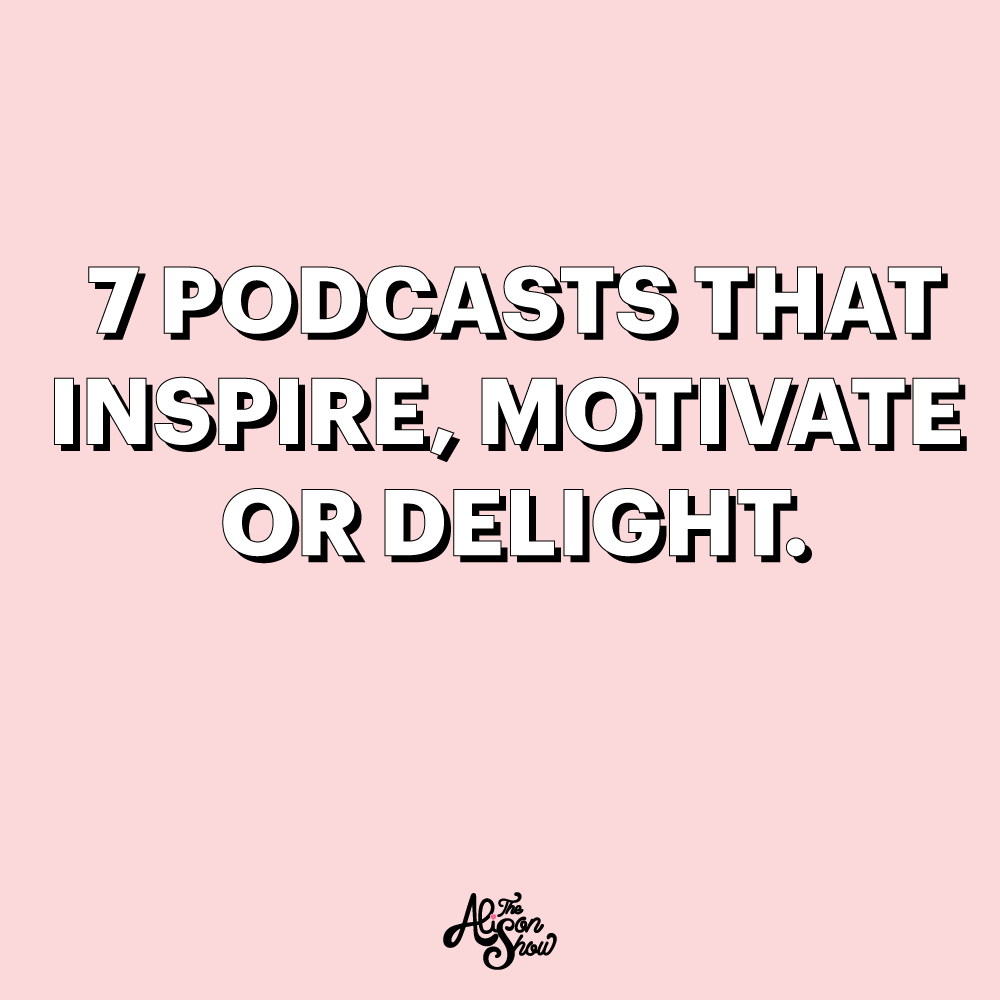 I'm a huge podcast fan! I've talked about this before, and often get the question, "Which are your favorite podcasts?!" And here's the thing, I'm SO excited to tell you, but also will do so with the caveat that I LOVE talking about a very certain set of things. Haha, and you may or may not be interested in them. But they are mostly: entrepreneurism, self-help and psychoanalyzing behaviors and the meaning of life and our purpose. These topics are FUN to me, they get me giddy and excited and fill me with inspiration. So these are the podcasts I'm into. I like ideas, sharing ideas, spreading ideas, making sure I'm reaching my maximum potential, helping others do the same, and gathering all the tools I can to be the best I can be so I can share the best I have to share–that's what I'm into these days. I'm also into run-on sentences. Hair flip.
Yes, yes, I also love white blonde hair, my sparkly nails, pink shoes, and Bachelor in Paradise. I just don't tend to listen to podcasts about those things. SO what I'm saying is, these are the types of podcasts I'm into, but you might be into others. But at least this is a good place to get you started!
This list of Podcasts That Inspire, Motivate and Delight! stemmed from a Facebook live discussion (which you can find here), which ALSO incidentally stemmed from a different Facebook live discussion in which I mentioned that listening to podcasts is a tool I use to help me when I don't feel like doing anything! And you can watch that here if you feel like hanging out: 3 Tips for When You Don't Feel Like Doing Anything!
Also I'm telling you this to hold me accountable: I'm starting a podcast soon.
But without FURTHER FREAKING ADO! Here are some podcasts I like, as well as some episodes you might love. Enjoy!
The Tim Ferriss Show
I recently realized that many of the books that have had the biggest impact on my life in the last two years, are ones I found through listening to an interview on The Tim Ferriss Show. His podcasts are LONG, and very in depth, and I like that. I don't listen to every single one, but I've found value out of every single episode I've listened to.
You'll like this podcast if:
If you're interested in the habits, backstory and thoughts of high intensity, high-level performers in any industry.
START WITH: Tony Robbins on Achievement versus Fulfillment and Jane McGonigal On Getting More Done with Less Stress
Happier with Gretchen Rubin
I'd say this is the podcast I listen to most regularly. This podcast is mostly educational/insightful/asks you to evaluate yourself and I LOVE that. I love Gretchen Rubin's books The Happiness Project and Better than Before and reccomend both.
You'll like this podcast if:
If you're interested in self-help, and psychoanalyzing yourself and your habits and behaviors to improve your life.
START WITH: Any episode. I feel like any title you're attracted to is good for you, but if you want to hear about her 4 tendencies theory (I'm obsessed with this) from her book Better than Before try this one!
The Chalene Show
Chalene Johnson has two podcasts, but I mostly listen to The Chalene Show. I really respect the hell out of this woman. I've become a fan of hers in the past year and think she is such a good example of building a business with integrity and longevity.
You'll like this podcast if:
If you want to be inspired in life, fitness, or get awesome online business building insight.
START WITH: Any title that speaks to you. I tend to pick and choose.
Extraordinary Mom's Podcast, Jessica Dahlquist
This is my dearest friend from childhood, and I'm SO SO happy she's doing a podcast. I love who she choses to interview, but even more I love her insight. Talking with her and listening to her is like going to a counseling session without having to leave your house.
You'll like this podcast if:
If you're interested in the shared human experience of motherhood, from all different angles, with the constant reassurance that being the best mom you can be means that it's not going to look like everyone else.
START WITH: I mean you can listen to her interview me if you want, or Kelsey Nixon's story is super moving and touching, but I like this one too, it's just Jessica sharing her wisdom on letting go of "should."
Smart Passive Income, Pat Flynn
Pat is my first podcast boyfriend. He really is the podcast who got me into podcasts in the first place, and has inspired me so, so much. I always reccomend him when people approach me with business questions. I admire Pat because his focus is as much on being a really good person, dad and husband as it is on being "successful" in online business.
You'll like this podcast if:
If you're interested in online business, marketing trends, audience growth tips, and interviews, as well as following Pat's trials, triumphs and experiments with online business.
START WITH: I really enjoyed a recent episode where Pat shared his public speaking journey: From Deathly Afraid to Cool and Confident. But most of his episodes follow an interview format and I love this one: The Art of Rejection.
Raise Your Hand Say Yes, Tiffany Han
I met Tiffany at a blogging conference, and she was the type of person I immediately wanted to have hold me and tell me everything was going to be ok. HAHAHA, kidding? Not really. She's just SO solid, and calming, and uplifting, and insightful. She works as a business coach too, and she just GETS IT. You don't have to explain what "it" is, she's already there. She's given me some really great advice and puts out solid content. Love this babe.
You'll like this podcast if:
If you're interested in advice for the highly creative woman/ business owner babe.
START WITH: I'm super happy with the interview she did with me a while ago, I also love this solo podcast in which she shares: Success Secrets of the Highly Creative, and this interview with Anne Sage had lots of gems!
The Lifebeats Project, Briana Johnson
Briana is another woman I just immediately trusted after meeting her in person. I'm lucky enough to get a lot of podcast interview requests, and I can't say yes to them all. But I was just so impressed with Briana and her quiet professionalism and insight. She is doing things RIGHT. So after she followed up with me a number of times and I met her in person, I finally made it happen, and I loved getting to know Briana during our interview. Since then I've really enjoyed listening to some of her episodes, and I think her podcast is stellar. She's obviously a talented writer and I love her beautiful words!

You'll like this podcast if:
If you're interested in beautiful words and interviews with insightful influencers.
START WITH: I love her episode Seeing Yourself as You Really Are and Embracing Your Superpower , you can find my interview here, and Susan Petersen is one of my best friends, who I talk to almost daily and I STILL learned so so much from listening to her interview: Taking Your Project to the Next Level.
AND THERE YOU HAVE IT!!! I hope this gives you some place great to start. I have lots of others that I've listened to and tried, but these are the ones in my rotation right now! If you have a podcast or particular episode you'd like to reccomend PLEASE leave the link in the comments! I'm always looking for something new!
So much love. Here's to happier, healthier thoughts, and a fantastic week.
xo
Alison