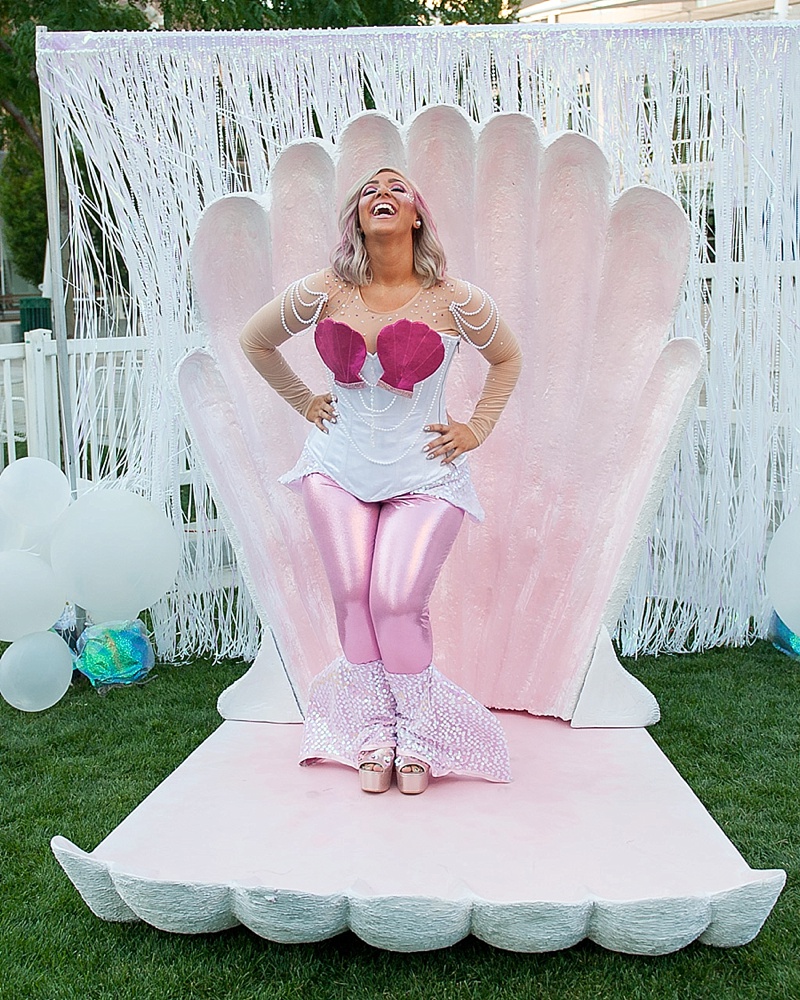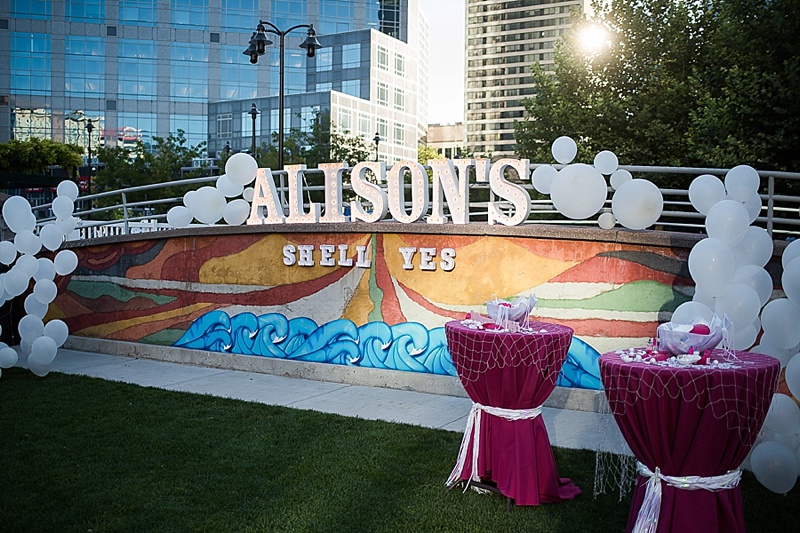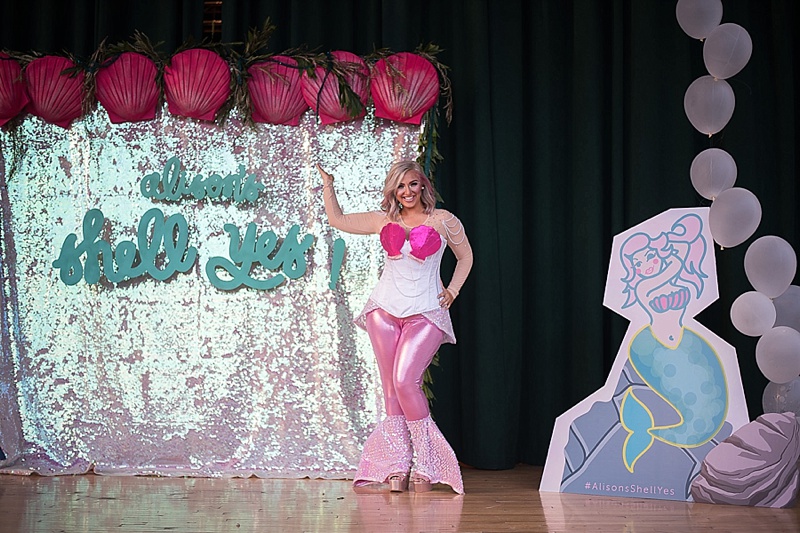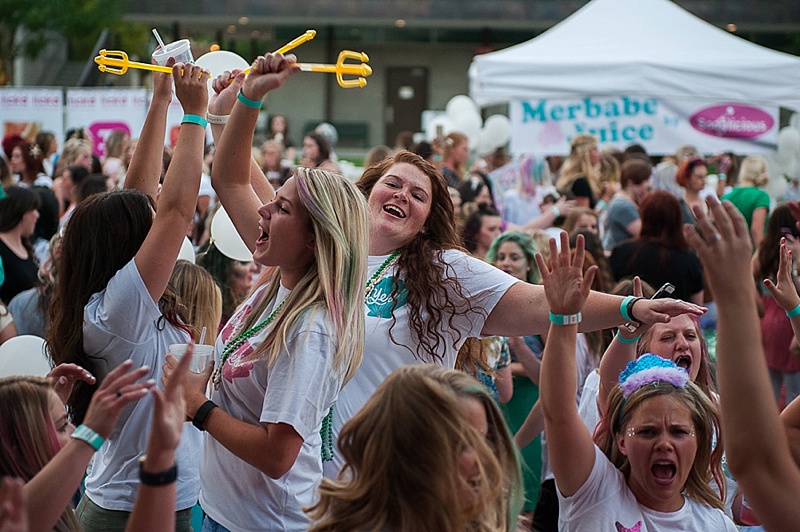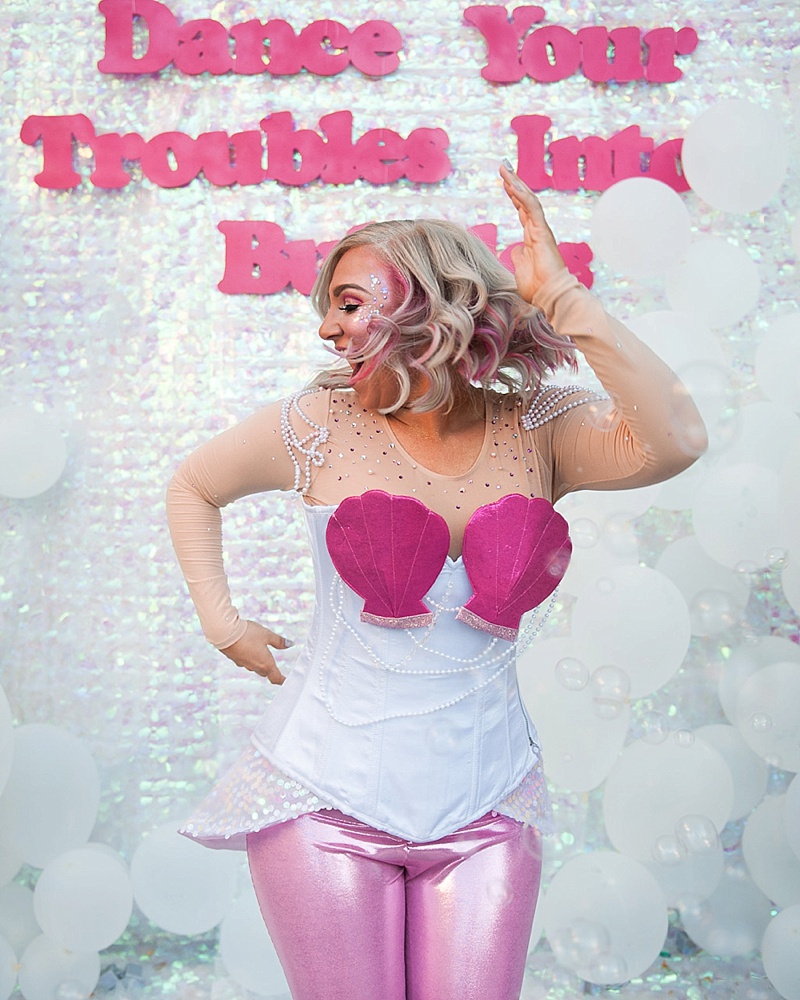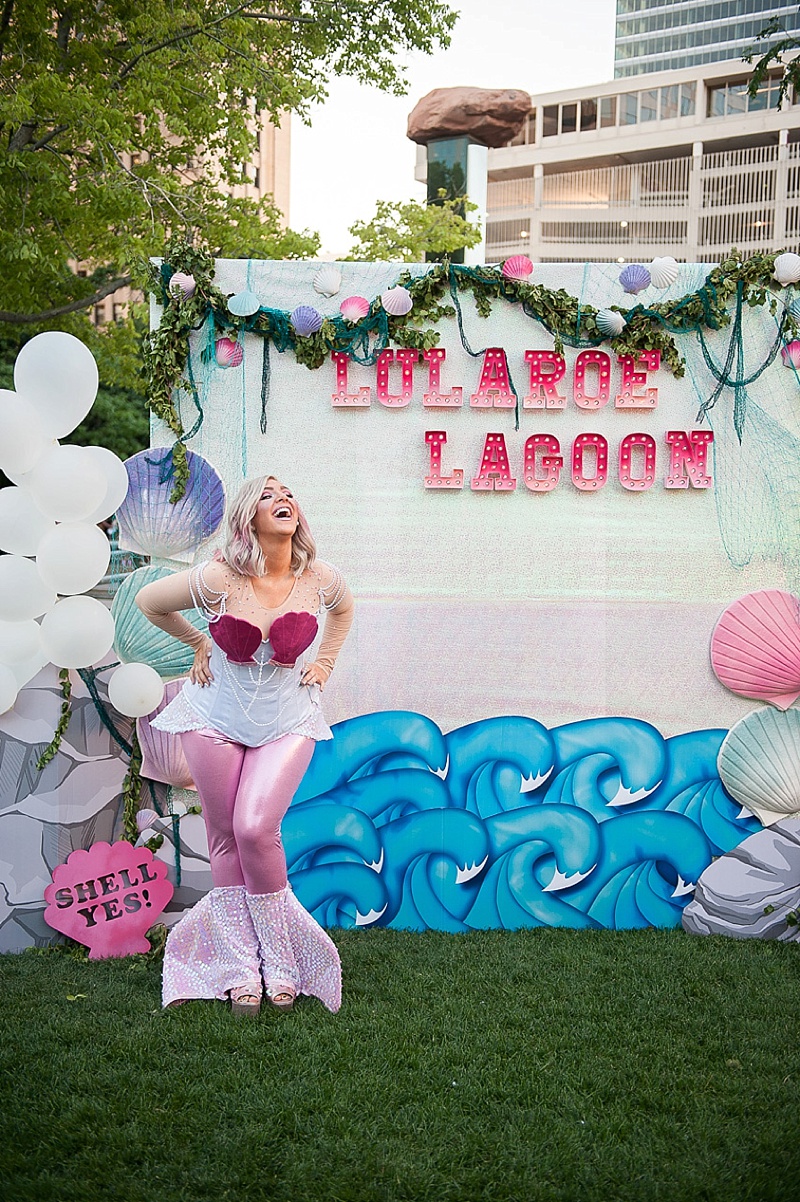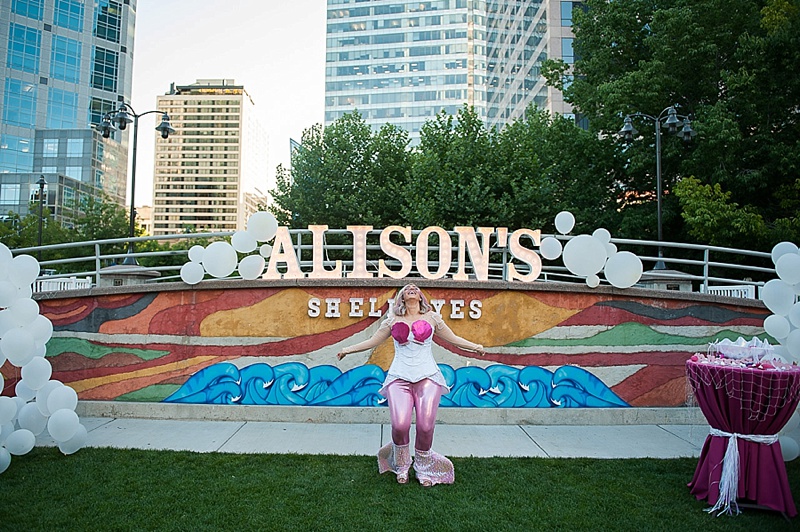 WELL SHELLO MERBABES!!! Are you ready to make a splash? Are you down for any fin? I both LOVE and hate doing these party recaps for you! Haha I love it because it really is amazing to look through the photos and see the joy in so many women's faces, and I hate it because after I throw a party I'm OVER IT, haha but still need to share it! I just want to move on to the next thing, but like, it's too good to keep to myself. So I'm both sharing photos and fun WHILE getting all real with ya. Because you know, that's how I roll, or swim.
First I thought it might be interesting to share a little background about the parties. I know even for people who have been around awhile the timeline and how they came about, or what they even are, might be confusing, so here you go!
Alison's Shell Yes is the 8th official all-ladies dance party I have created. (You can look through my professional events/dance parties here.) When I didn't have quite enough social media power all on my own, or the money to throw just ALISON parties, I created two all-ladies dance parties for other companies. This helped me gain experience, and their money basically gave me the opportunity to really learn how to do large events. Then I decided to JUST GO FOR IT, money or no, and Alison's Feelings Fest was the first all female dance party I did just for The Alison Show with the aid of a headline sponsor.
I created this business model from scratch as well as the formula for this type of party. I had years of experience doing smaller influencer events for companies as well as parties for myself and lots of dance parties in college.
So the formula I created for these parties is this: all women–so both married and single ladies could just LET LOOSE, soda instead of alcohol, sweet treats, and man servants to take your photos and do your bidding. The boys at the party are sweet and kind and not allowed to dance up on or get in the ladies space, unless of course they are solicited for a photo! Haha. Oh and there's always a Throne of Awesome. The throne is not for ME, the throne is to remind everyone at the party that THEY ARE AWESOME. When I created these parties no one else was doing it. And when I started trying to approach brands to be sponsors, they basically said, no, no, no.
But I KNEW what I was doing had value. Not just for companies to put their money behind, but especially for the people I was creating the parties for. The feeling of camaraderie, the raw emotion, and the surge of empowerment I could tangibly feel in the air had VALUE.
I'd say the biggest lesson I've learned from creating my own business is this: just because one person doesn't value what you do, does not mean that it isn't valuable.
I'm so incredibly grateful that other people, and businesses too, now see the value in these parties. I'm also so insanely grateful to the brave few who believed in me and helped me do those first initial parties. I truly often forget how many people have said no because I'm still so floored and thankful for the people who said yes, both individuals and businesses.
I'm going to be starting a podcast, and one of the first episodes I plan on recording is going to be talking about the dance parties, and how emotionally draining and challenging they are for me and what that process is like. After every single party I say I won't do another one. The process is as physically and emotionally strenuous for me as it is to give birth. I've given birth 3 times, so I feel super justified in saying that even though I know it seems way melodramatic! Haha. But I mean, come on, have I ever claimed to NOT be dramatic? It's just about as personal as giving birth too. The parties are my babies, I come up with the themes, the way to implement the themes and all the little details. I've hired more and more help as the parties get larger and more complex, but I still have to be so involved (or can't stop being so involved) because honestly, I don't want to do them unless I'm doing them at the highest level I can. If my name is on it I want it to reflect me, and that requires a lot of myself. I pour everything into them. And so do a lot of other really talented people! But they still take all my creative energy, my heart, and my time. And there are so many people to not let down, and I'm the most critical and hardest to please judge of all. Simon Cowell and Janice Dickinson ain't got nothing on me.
So for Alison's Shell Yes I sat down with a trusted few before the party and wrote down my TOP goals for the event. Like physically wrote them down. I figured that this way, if I achieved those goals, no matter what things weren't exactly perfect in my mind, I'd have to force myself to be happy if I accomplished them.
Ironically enough this is EXACTLY my first piece of advice in my course for throwing a party called Party With Alison, hahaha, but like, I hadn't been doing it lately. Damn if only I listened to myself!
Writing down these goals was insanely helpful, and when a few things didn't turn out just as I had wanted, I was able to calm down, and refocus, and realize they just didn't matter.
One of my top goals was: Make sure every single woman has at least one moment of total happiness. A lofty goal, but more realistic than my previous subconscious goal to be able to control every person's feelings and make them 100% happy. Haha.
There were so many moments of happiness all around the party, and I feel like I accomplished my goal, and I couldn't be happier about it. I'm sincerely overflowing with gratitude. In the grand scheme of things these parties are no big deal. So many people do so many larger things. But I'm still very proud of what I've created, and that I could encourage so many women to say SHELL YES!
Now, do you want to see the party? OK!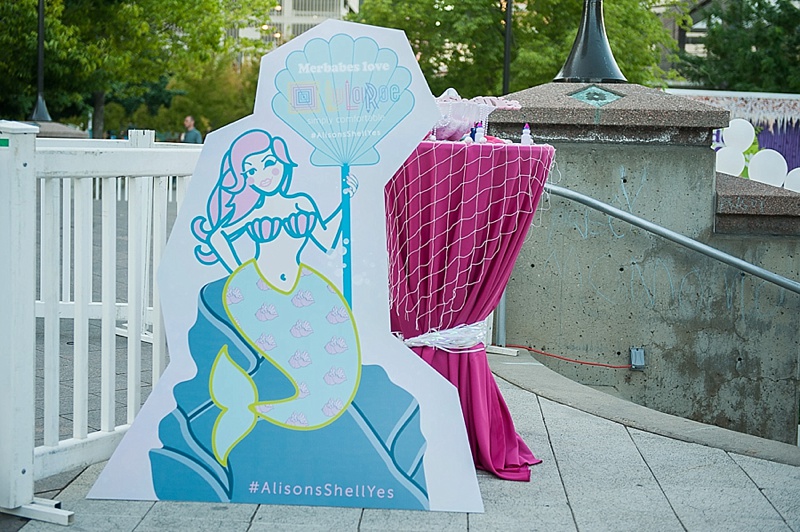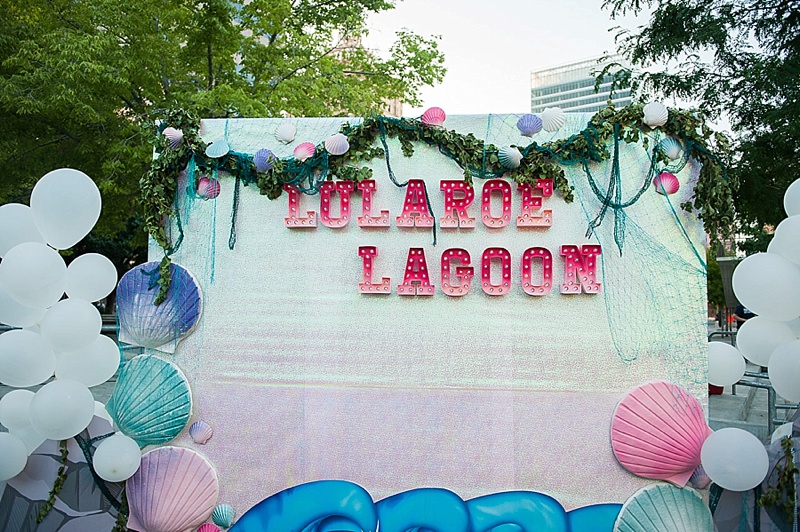 LuLaRoe was our headline sponsor again, and thank GOODNESS because it meant I got to make the party real, real nice. We collaborated to create these custom Shello leggings, and every party-goer got a pair in their swag bag!
Here are some of the Platinum Studio girls rocking them at the LuLaRoe Lagoon.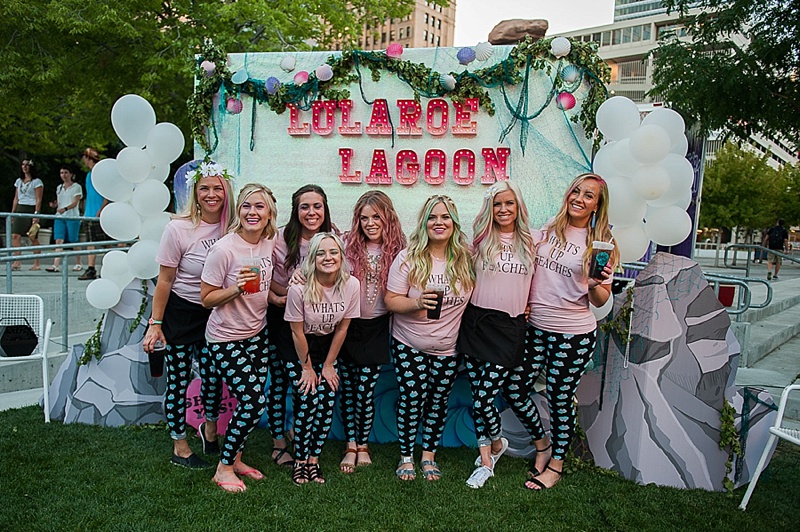 Need a close up on those shells? SHELLO! You can also see them better in my post on how to make your own Shell Boob shirt!
Platinum Studio came to the party early and worked their way through the check-in line giving girl merbabe hair coloring! So freaking cute.
The Gallivan Center is such a glorious venue! It's pretty in every single spot! Even the line!
Look at that cute hair!
Northstar Balloons created these custom shell balloons for me, and we used them at the entrance. I wish we had more photos of them! But I have one leftover one in my office that gives me joy on the daily. How cute are these babes?! People went ALL OUT with their merbabe gear!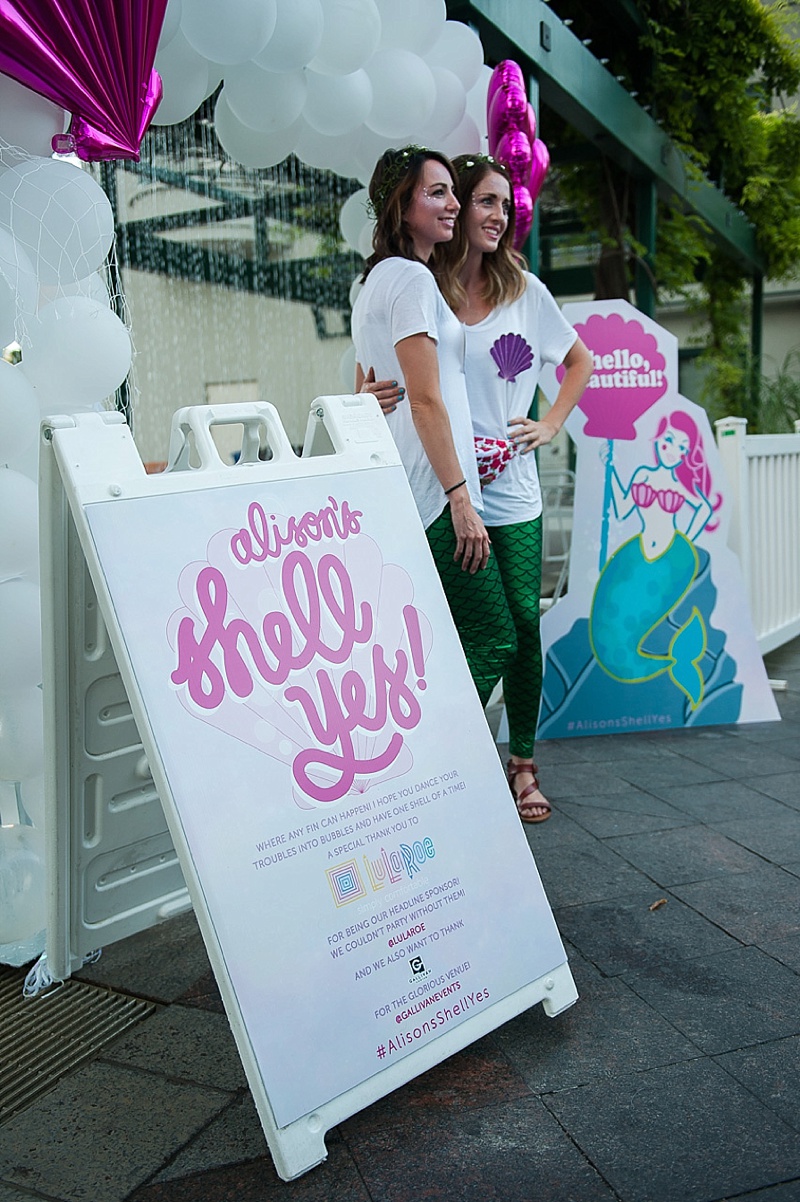 I can't handle how much I love this photo of this merbabe checking in. I chose the color wristband HAHA I'm so happy with how pretty it was.
Once inside the party the ladies got some fun goodies! There was delicious Merbabe Food by Vida Acai! This is the cute owner of the food truck!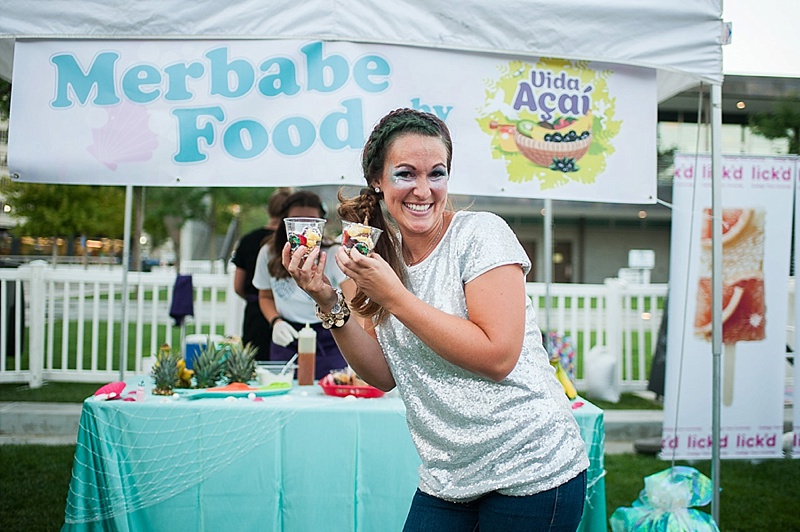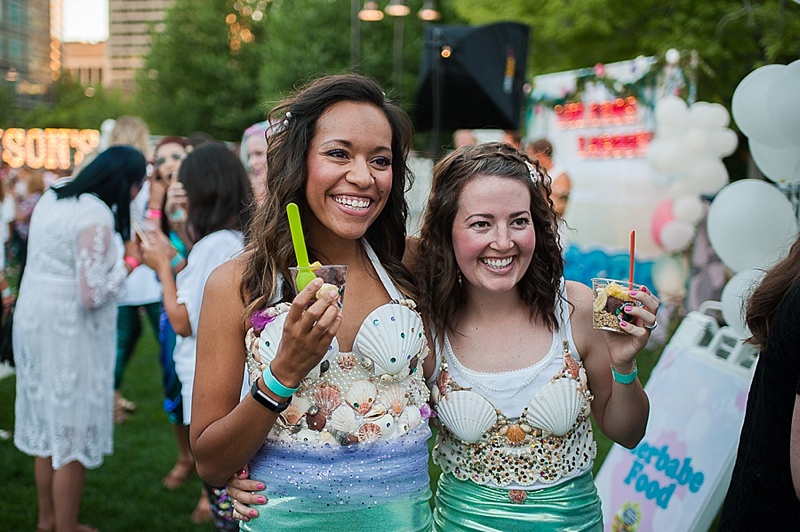 And my besties Sodalicious were there making sure everyone stayed hydrated with some Merbabe Juice.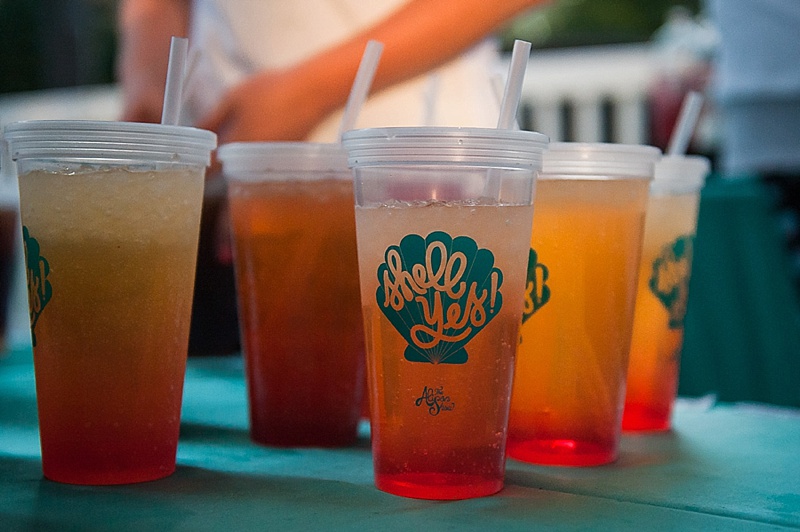 Gah!! Doesn't that drink look so pretty in the Shell Yes cups! This is the second time I've done the take-home cups, I love how it cuts down on waste and then is a fun souvenir to remember the party by. My kids LOVE THEM. Haha. Also, Snapchat filters giving ME LIFE.
We brought the extra yummy gourmet Lick'd Pops back too, because they are just too good to quit. Here is the owner, Tiffany, in the middle, being awesome.
And these are actually a couple of my babysitters/helpers enjoying the pops. HAHAHA. It takes a village guys. A VILLAGE.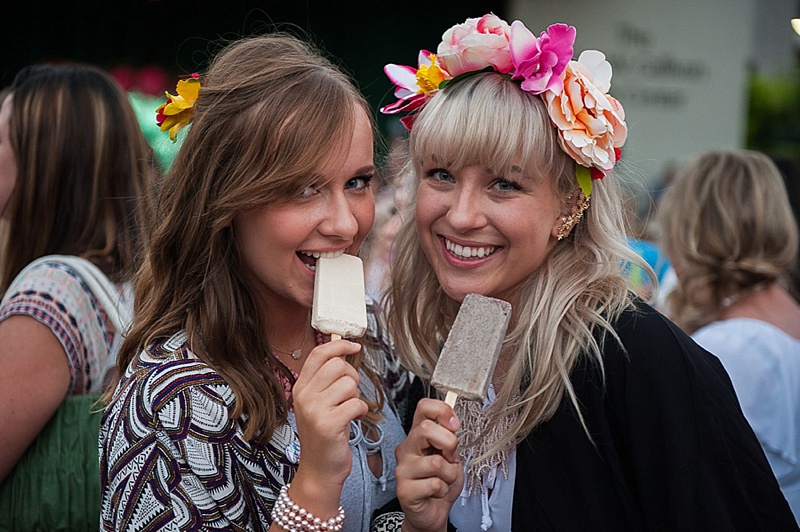 And as you may have guessed by now, I live for signage. Here are some of my faves:
The water table / make a splash sign was over by the dolphin splash zone! More cute balloons from my friends at Northstar balloons!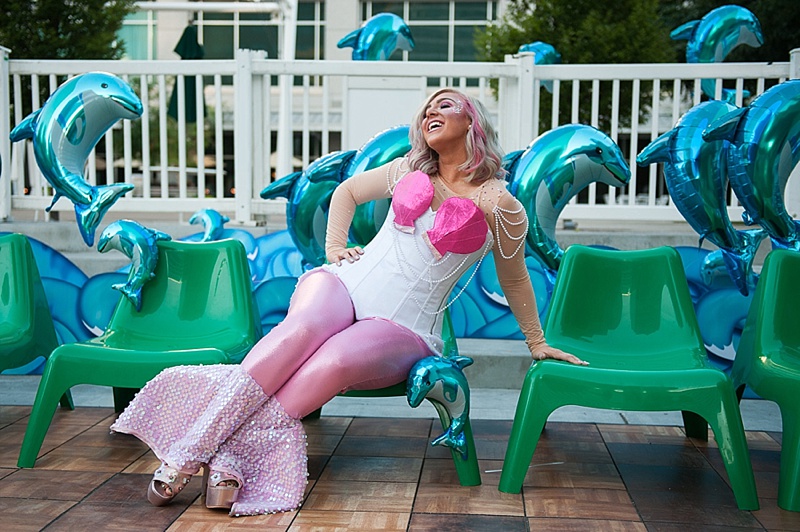 Dolphins are delicious! Kiiiiiiidding.
And the table toppers were so cute too! Can you believe we found those shell punch bowls?!?!
And of course, now we must discuss the giant clam, or The Throne of Awesome. Because IT WAS AWESOME!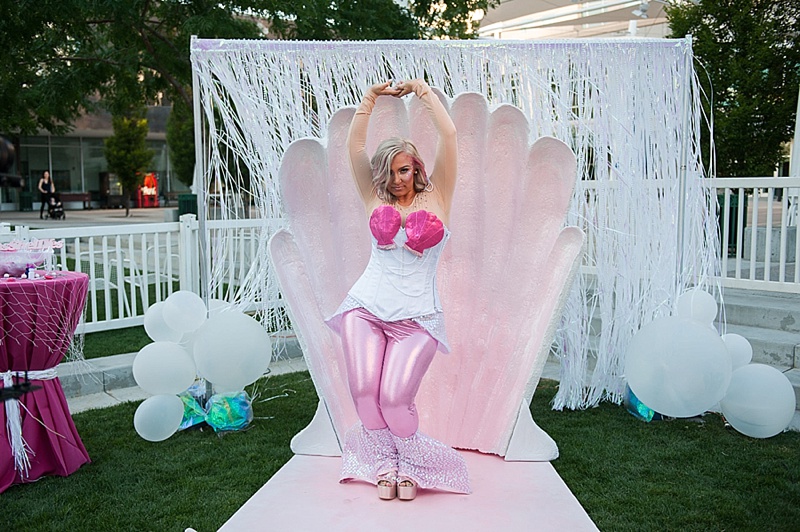 So very awesome.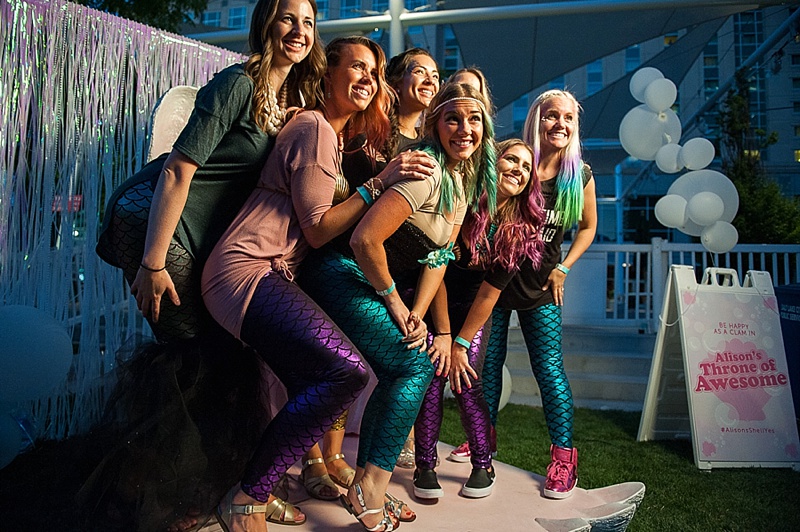 I should have gotten a kick-back for how many people bought those leggings, HAHAHA.
Sometimes there are details that get lost in photos, but just knowing they are there makes me happy, like these pearls behind the clam.
STRIKE A POSE. So below, Tara is on the left, she is my new executive assistant and THE BEST AT EVERYTHING. And on the right, Claire. If you've ever helped with a party, then you know who Claire is. The parties don't happen without her. She's the real one in charge. Haha. These women spent so many hours on this party, and though we do have tons of amazing volunteers and artists, and other awesome babes, these two deserve a standing ovation.
You know who also deserves a standing ovation? Kate Cannon for making my dream of a giant clam come to life!
For this event I wanted to have some special friends get involved, and so we had a lot of guest appearances, if you will. HAHA friends from under the sea.
First we had King Triton and Prince Eric!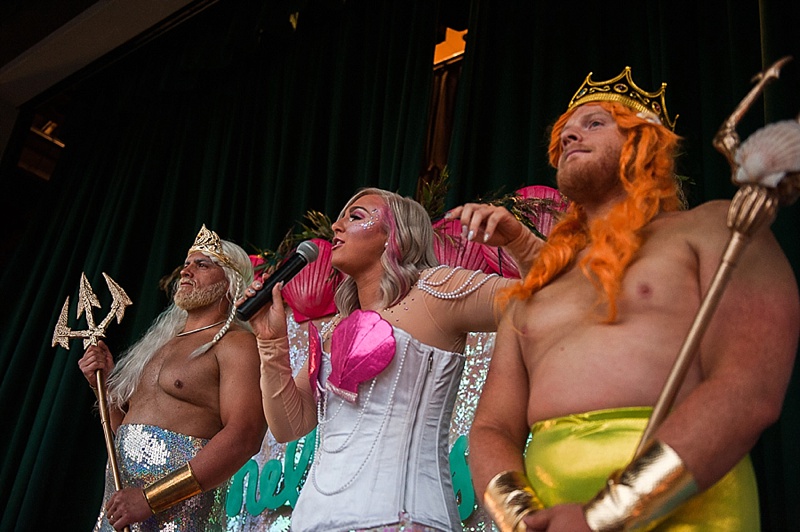 And this is how you get Mermen from the stage to the LuLaRoe Lagoon!
Thanks Gallivan Center for the cart!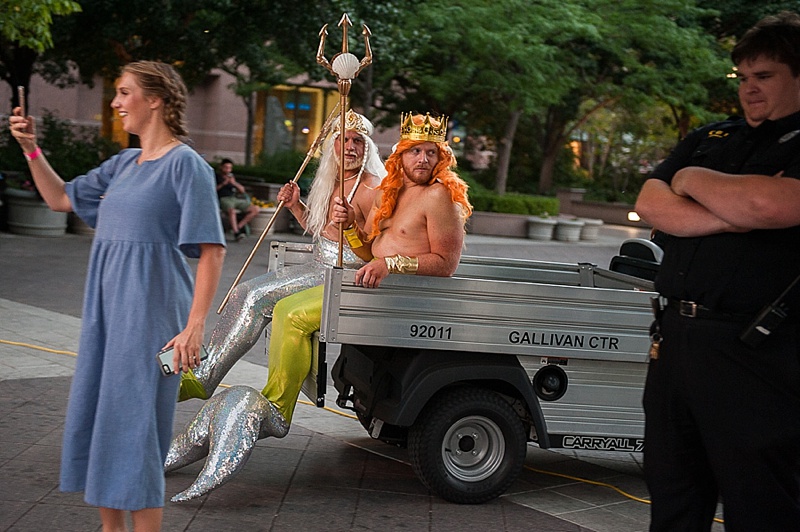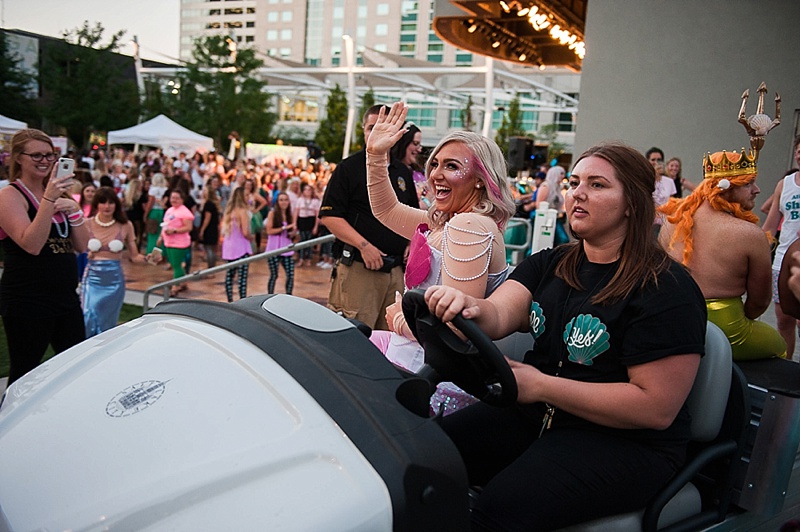 And of course I needed an escort, so here's King Crab just winning at crustacean life.
These guys were the ABSOLUTE best! So Abe, (King Triton) actually had those tails from a Halloween stunt he did. He was kind enough to bring them out of retirement, as well as bleach his beard. COMMITMENT. That is the key to success friends. Look how awesome he is! Haha!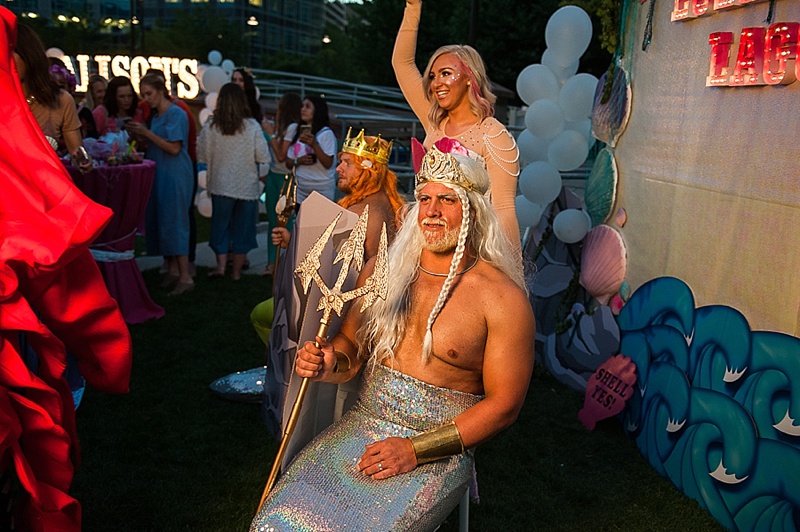 The ladies loved them.
My other special surprise friends were the dancing sharks! Here they are waiting to make their debut backstage.
This was the best moment of the party for me.
But then of course, I had to do just a couple of moves with them.
And not that these merbabes needed any help, but then the sharks stayed and got in on some dancing action!
Like can you handle the crowd surfing? HAHAHA.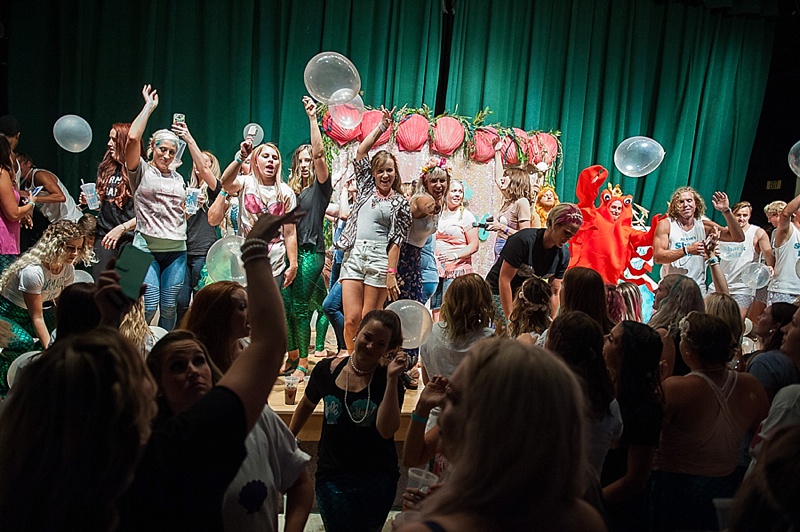 The final song was, "The time of my life," You know, from Dirty Dancing. And the sharks had a saxophone solo on that as well. GUYS I'M SORRY I'M A GENIUS I CAN'T HELP IT! Hahaha. That sax solo like came to me while on vacation in the Catskills, which is where they filmed Dirty Dancing. DESTINY.
But of course we had some saxophones for merbabes too.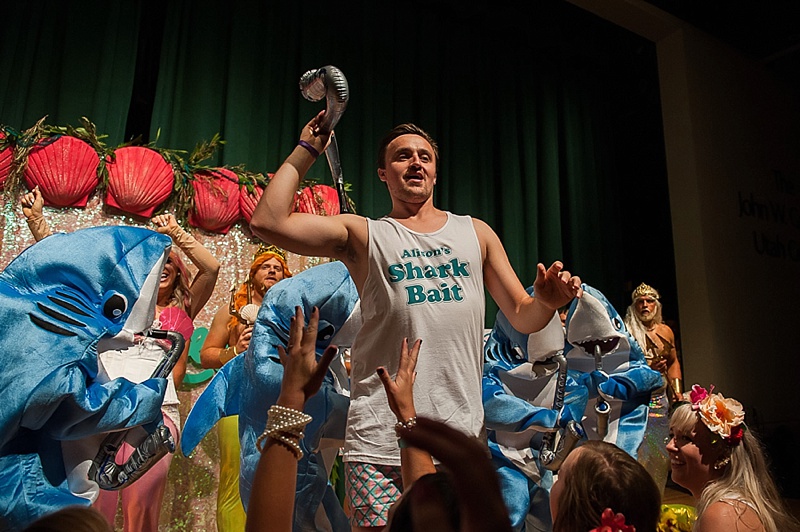 The funniest part of this whole thing is that this is the first party that people have accidentally referred to as, "A show." And that's for sure what it was like.
So what I'm saying is I've done it guys. I finally created The Alison Show, just the way I've always wanted it. Where it's a little about me,
But mostly so it can be about YOU.
Poor Shark Bait, HAHAHA They do get a bit abused, but look so cute in their Kortni Jeane swim trunks.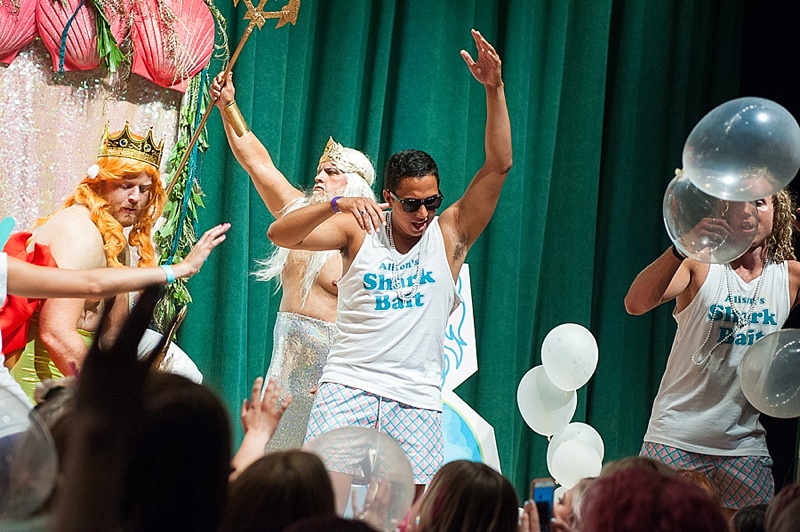 Gotta snap them pix!
SHELL YES loves. Thank you so much for being there, or for being here, right now, reading this, being a part of it from far. I hope you feel my love for you. I'm zapping you with it as strongly as I can. I'm so grateful for the good in a world filled with so much sad and bad. Thank you again for making it possible.
Come back tomorrow for the video recap! It's SOOO freaking good it needed it's own post!
xo
Alison
Again, special thanks to our headline sponsor and purveyor of awesome: LuLaRoe!
VENDORS:
Venue: The Gallivan Center
Photographer: Trevor Christensen 
Merbabe Hair Coloring: Platinum Studio
DJ: Justin Godina
Drinks: Sodalicious
Acai Bowls: Vida Acai
Popsicles: Lick'd Pops
Sequin Backdrop: Drop it Modern
Marquee Lights: Vintage Marquee Lights
Balloons: Northstar Balloons
Signage & Graphic Design: Hello Tosha
Wood signs printed by: Impressions Shop
Shark Bait Swim Trunks: Kortni Jeane
ON ALISON:
Makeup: Vivian Makeup Artist
Hair: Jess Newcomb
Costume: Alyson Hancey