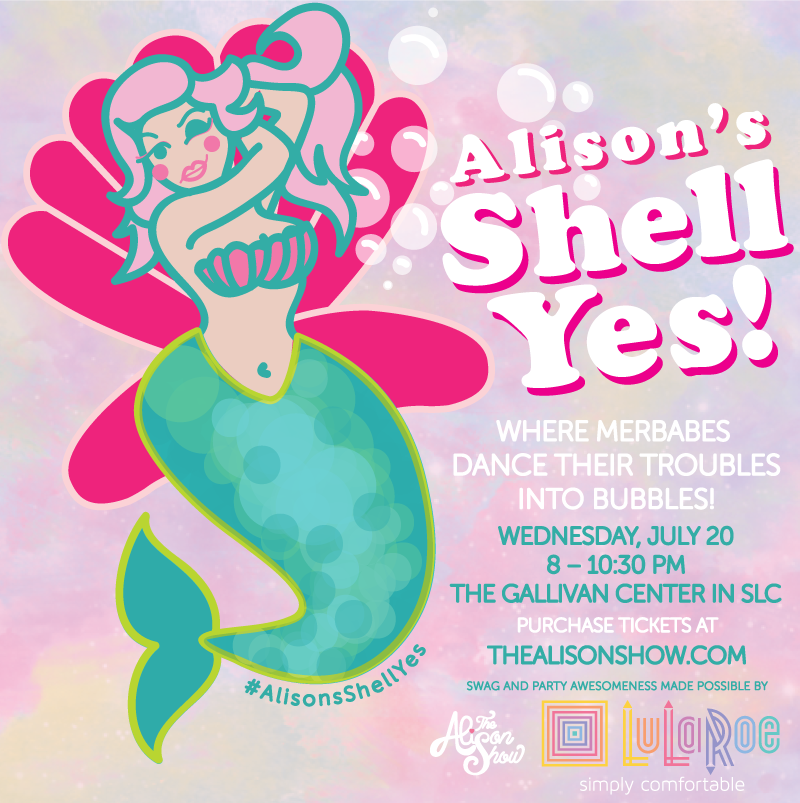 I might kill myself throwing this many parties, but HERE WE GO!!! Because this might be my favorite one yet! It's time for:
ALISON'S SHELL YES!
This party is for merbabes (18+) looking to DANCE their troubles into bubbles! So grab your ticket and come make a splash at Alison's Shell Yes! I need you there! I want YOU there. I'll have my amazing DJ pumping the jams at the GORG Gallivan Center in SLC, and each guest will also get a signature item from our awesome sponsor LuLaRoe! SHELLO! That's awesome, huh?! There will be acai bowls, my free-flowing soda bar, and lots of other fun goodies I'll unveil as the date gets closer!
The dress code is shiny pastels; you know MERBABE CHIC, or just throw on something comfy. The most important part is that you're there!
I'm so excited to announce we will be partying with LuLaRoe as our headline sponsor once again! LuLaRoe empowers women to love themselves and take control of their story. That's why I'm are SO excited to party with them at Alison's Shell Yes! Every merbabe will receive a signature piece of clothing from LuLaRoe! Their leggings are buttery soft and will change the way you boogie! To see LuLaRoe's collection, learn about a pop-up boutique, or discover how you can join the movement, check them out here! 

This party will be taking place at the BEAUTIFUL Gallivan Center in SLC, we had Alison's Cabana Boogie there last year, and this venue is BREATHTAKING! I cannot wait to turn it into a merland oasis!
Thank you so much to those of you who come to the parties, or cheer them on from far! As I mentioned in my Alison's Hip Hop Hooray rhyming recap! Haha, I've decided to keep these parties in Utah for the time being. But this means you're just going to have to come here. Which has been part of my master plan all along. UTAH IS GREAT!!! So just plan a little trip and do a little dancing! I'll make a travel guide and everything! OMG I'm so going to do that. Ok. This is going to be fun.
I love you all! So much love!
xo
Alison