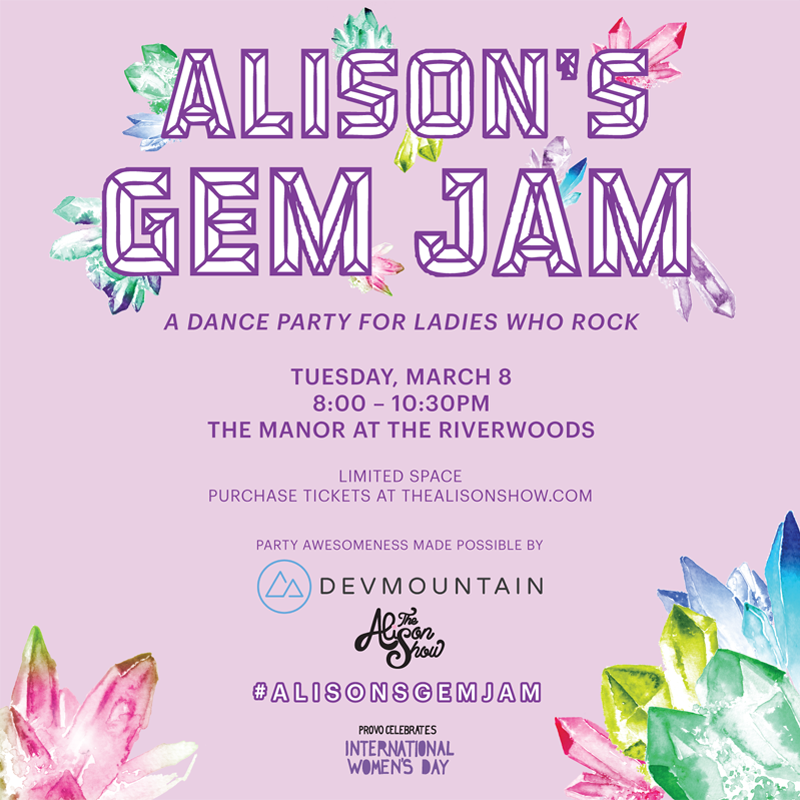 Are you ready to ROCK?! I am so excited to announce my next The Alison Show dance party: Alison's Gem Jam! A dance party for ladies who rock! And the best part is this jam falls on International Women's Day! Provo City is having celebrations all around town, so I planned my event on the same day so my dance party can be the JEWEL ON TOP! HAHA. Learn more about Provo Women's Day here!
Tickets for Alison's Gem Jam are on sale today, Thursday for *$25 and go up in price to $30 starting on Friday, Feb 26.
*Eventbrite service fees apply
TICKETS ARE NOW SOLD OUT!
Please hang out in the comment feed of my IG posts about the party! People often have to cancel or change plans, and they sell their extra tickets on there!
TICKETS INCLUDE:
In addition to a BLINGIN' dance party with a BOMB DJ at the gorgeous The Manor at Riverwoods your ticket includes: a seriously sparkling Gem Bar sponsored by DevMountain so you can get bedazzled like the goddess you are, free-flowing Sodalicious, goodness from Rockwell Ice Cream, delicacies from The Sweet Tooth Fairy, glorious photo-ops, A BRAND NEW Throne of Awesome (BOOM), and yes, my highly-sought after (imitated but never replicated) manservants waiting on you hand and foot as Man Candy Miners.
I'm so honored to be throwing this party on International Women's Day so we can celebrate women like the solid-gold babes we are. United Way will be at the event collecting new items for Welcome Baby of Utah County. This program helps families in need gather items for their new bundles of joy. I've been holding a 2-month-old as I plan most of this event, so I'm so excited to be gathering items for them at this party! They will be collecting cash donations, new receiving blankets, books and diapers.
FIRST 50 GUESTS WILL GET SOME EXTRA FUN SWAG FROM PROVO CITY AND DEV MOUNTAIN.
All of the information is on the TICKET EVENTS PAGE but if you need it one more time:
#ALISONSGEMJAM
A dance party for ladies who rock!
Tuesday, March 8th
8:00 – 10:30 pm
The Manor at The Riverwoods
DRESS CODE: SHINY!!!
Anything that sparkles is good to go! Crystals, minerals, and gems are the jam. Think jewel tones and bling, bling bling. Why? Because YOU ROCK.
DIRECTIONS TO THE MANOR AT THE RIVERWOODS
This event is for my ladies 18 and up!
Again! I really want to party with you! The whole point of these events to put some LOVE in this world! I want you to shine on, feel awesome, and dedicate one whole night to celebrating the gem that you are.
No pressure, no expectations! If you want to dress up great, if you want to come as you are, fantastic. It's not for social media "specials" or anyone BUT YOU! And you my friend ROCK. So grab your girls and let me spoil you.
A little bit about our amazing headline sponsor!
I just want to really emphasize that tickets for this party would be double without the help of amazing generous sponsors. DevMountain stepped in and is so excited to empower women and encourage them to jam! DevMountain is an industry-leading coding school, founded by fellow coders, that are all about empowering the next wave of programmers, entrepreneurs and designers. They have campuses in Provo and Salt Lake City, UT and Dallas and Addison, TX. When my husband and I decided to make career changes in order to follow our passions it was scary but exciting. So I have a fondness in my heart for people and programs who enable others to go after their dreams. DevMountain is doing that by offering accessible bootcamp-style training that preps people for a career in coding. After you've graduated from one of their 12-week programs, will you PLEASE come tell me? Because I seriously need some help with my website! Ha! So spread the word about DevMountain! We love them so much for making this party possible! And I'll be sharing more about them soon.
Also FUN FACT! My first professional dance party EVER was held in the space where DevMountain has its Provo Campus! How funny is that?! It was Freshly Picked's Lumberjack Jam! So really this was all destined in the Gem Jam stars.
I can't wait to party with you!
xo,
Alison
Take a gander at my other dance parties:
Alison's Cabana Boogie
Alison's Candy Shoppe
Alison's Feelings Fest
Alison's Flamingo Fest
Or throw your own! I teach you how to throw any type of event in my online course: Party With Alison!