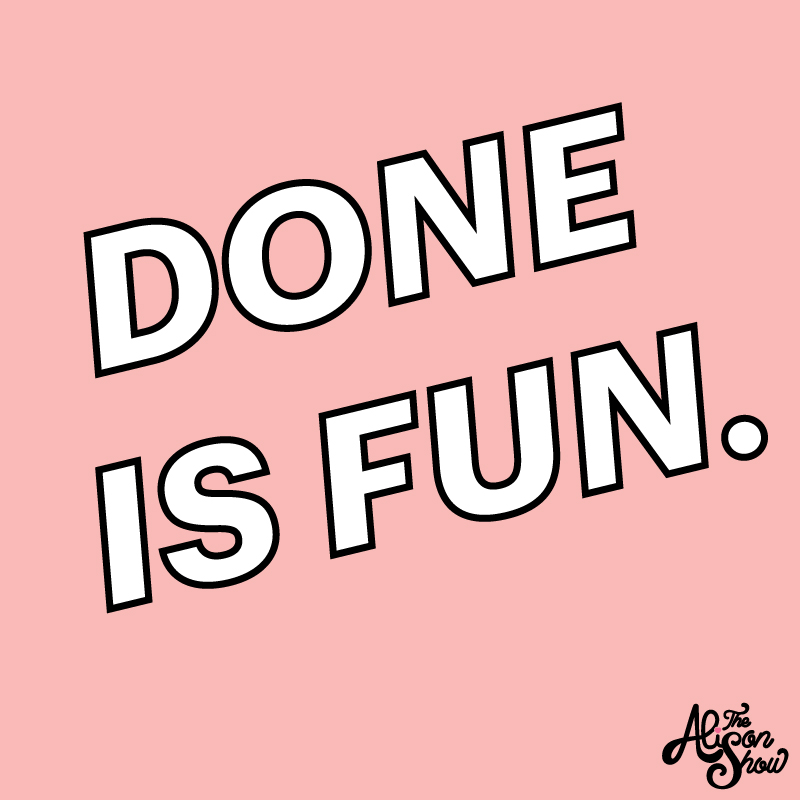 I have a motto for 2016. Words to live by that are also fun to say! If the image above didn't give it away they are: DONE IS FUN.
I have wanted to do a REALLY in-depth blog post, or a YouTube video, or something more significant feeling, to share this motto. I wanted to have a graphic designer whip it up, and whatnot. So I've been waiting to share it since before the new year. And despite what Alanis Morissette says, that IS in fact, super ironic.
Instead of just getting the message out there, so I can free up brain space, I've been sitting on it. Which is a shame, because this has been insanely helpful advice for me personally, a super useful motto, and when anything is personally beneficial I like to share it! So today I put my graphic design minor to use, and sat down to write this post, so it could be DONE.
It was my dear sweet mother who said, "Done is fun," to me and really made it click. I was HUGELY pregnant with Fiona, and stressing about really important things like, "Will I be able to get the house decorated for Christmas before it's time to have the baby?"
I was on the phone with my mom, and told her that I had gotten MOST of the house done to my liking, but there was still more I wanted to do. But then I said, "Then again I might just leave it as is, because I'm tired and getting too big." And to that she said, "Done is fun!"
It hit me like a ton of bricks. DONE REALLY IS FUN. I am a perfectionist, I want everything I post, everything I do, each and every word and picture and idea I share to be absolutely mind blowing. It's a lot of pressure, haha, that is almost entirely created and perpetuated by me. Because the really hard truth is, not EVERY thing I do is going to be perfect or necessarily mind blowing. And I, of all people should know this. I've created SO MUCH content over the past 10 years, through blogging, social media, online shops, online courses, in-person courses, physical products, digital content. ON AND ON AND ON. And most of it has not been wildly successful.
So instead of feeling guilty about MAYBE needing to do more to my Christmas decor, or add more to this or that, I just decided that I was done, and OH MY GOSH that being done was fun! I stopped feeling guilty! I let go of that nagging feeling.
Now, I still believe in doing the BEST I can do. I really believe in making things mind-blowing and insanely awesome. I like to believe that over the years I have built a certain expectation about the level of quality that comes with things associated with "The Alison Show." I will never let that level drop, and I aspire to an even higher level of professionalism as I have the means and resources to make that happen.
But instead of sitting on things and waiting for them to be more "ready" and more "awesome" in 2016 I'm getting back to getting THINGS DONE.
I love the cyclical nature of life. I like that there are years we grow, and years we sit back and reflect on that growth so that the lessons the year brought are not missed entirely. But I think it's somewhat of a trap to get too introspective. To talk to TOO many people about our ideas, ask for too many people's opinions, and get stuck in the fun and dramatic loop of having an existential crisis. I am the QUEEN of existential crises.
But not this year. This year, DONE IS FUN.
The only way to get better, or to make the THING that is the THING that ends ALL things, is to get started. Like I say in my How to Be Awesome series Part 1: Don't Be Afraid to Get Started. I am really really good at getting started. But this year I'm going to try harder to make sure that the things I've started, are getting DONE.
I am SO excited for the ideas and projects I have to share. I'm always trying to decide what platforms I should be focusing on, whether that's the blog, video, or a podcast. I love hearing your feedback, because I like to make my content easy for you to access and digest. But at the same time, like I said, I think I really will better serve you, and what I'm trying to build, by not worrying about feedback too much, and just getting the content out there and in the world. With that said, still let me know!
This motto has been making things easier for me left and right. I almost didn't do a Valentine's Cookie Party sale because I didn't think my cookies I had made (to promote the sale) were exciting enough. I almost didn't make 3 new videos because I didn't feel thin enough to be in them. I'm so so so glad I didn't let myself get in the way. I really almost canceled the videographer the night before we were supposed to film. But I held true to my motto, I literally kept saying it OUT LOUD to myself, and after we were finished it felt so amazing to have the content ready and available to share. I really believe in the power of saying mantras out loud. You might feel silly, but it works!
I love you all. I hope you find this helpful! Or maybe it helps you think of something else that could be helpful for you.
Either way so much love. Thank you for being on this journey with me.
Now let's all go get things done. Because, yes, yes, you got it! DONE IS FUN!
xo,
Alison
Looking for more posts to amp you up?
Check out my: How to Be Awesome Series
Or read about how: I'm On Your Team
Or you could watch the story how my husband and I got started working for ourselves in this series: How I Share It