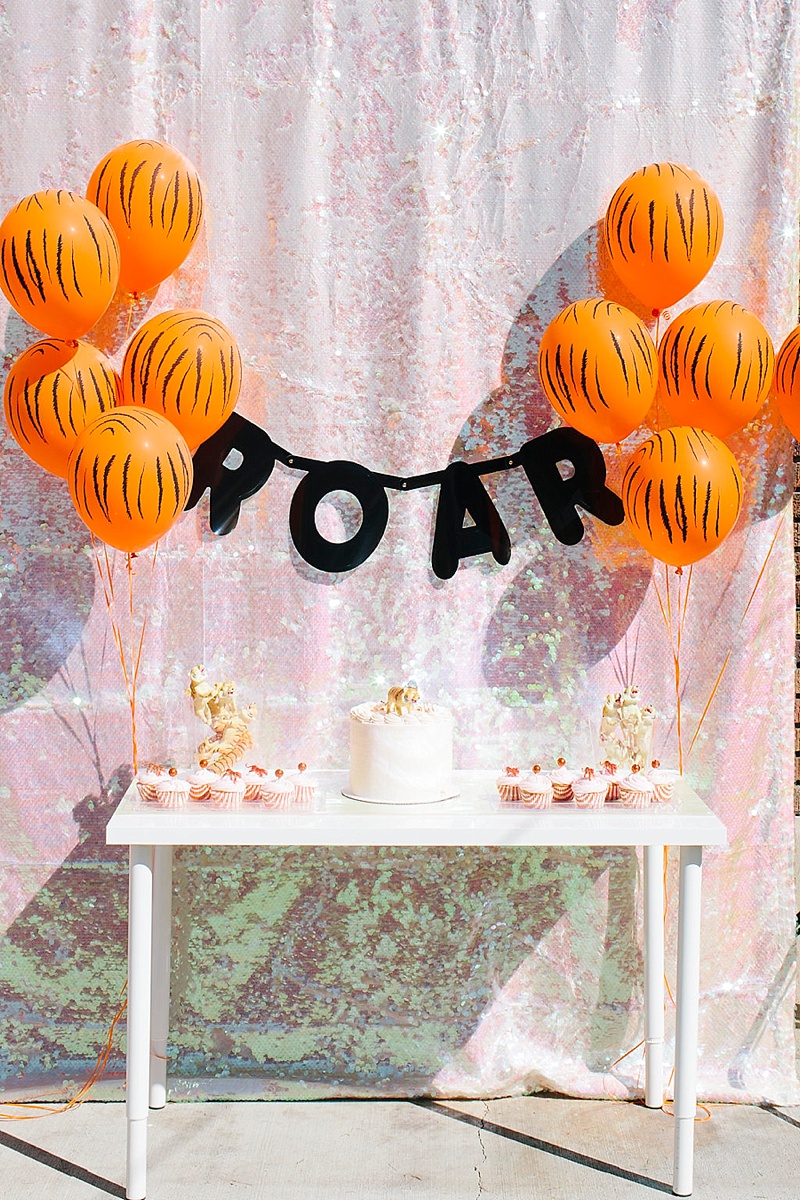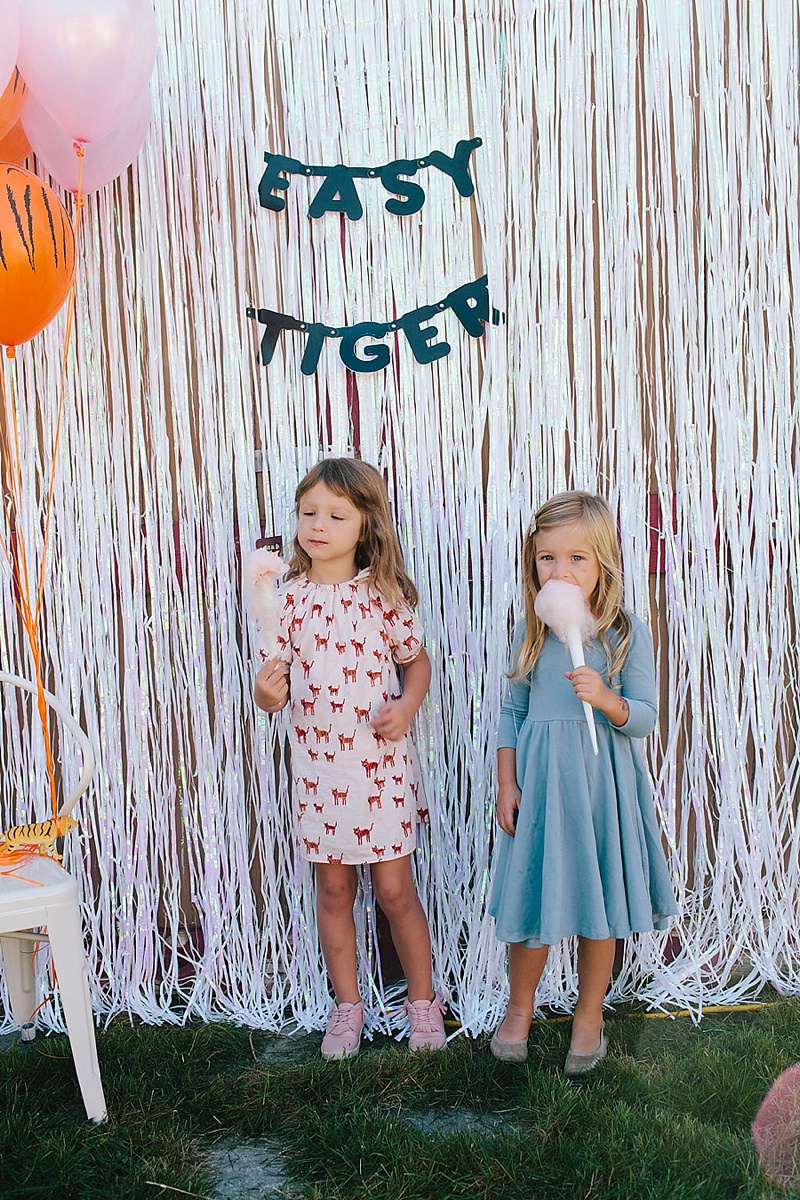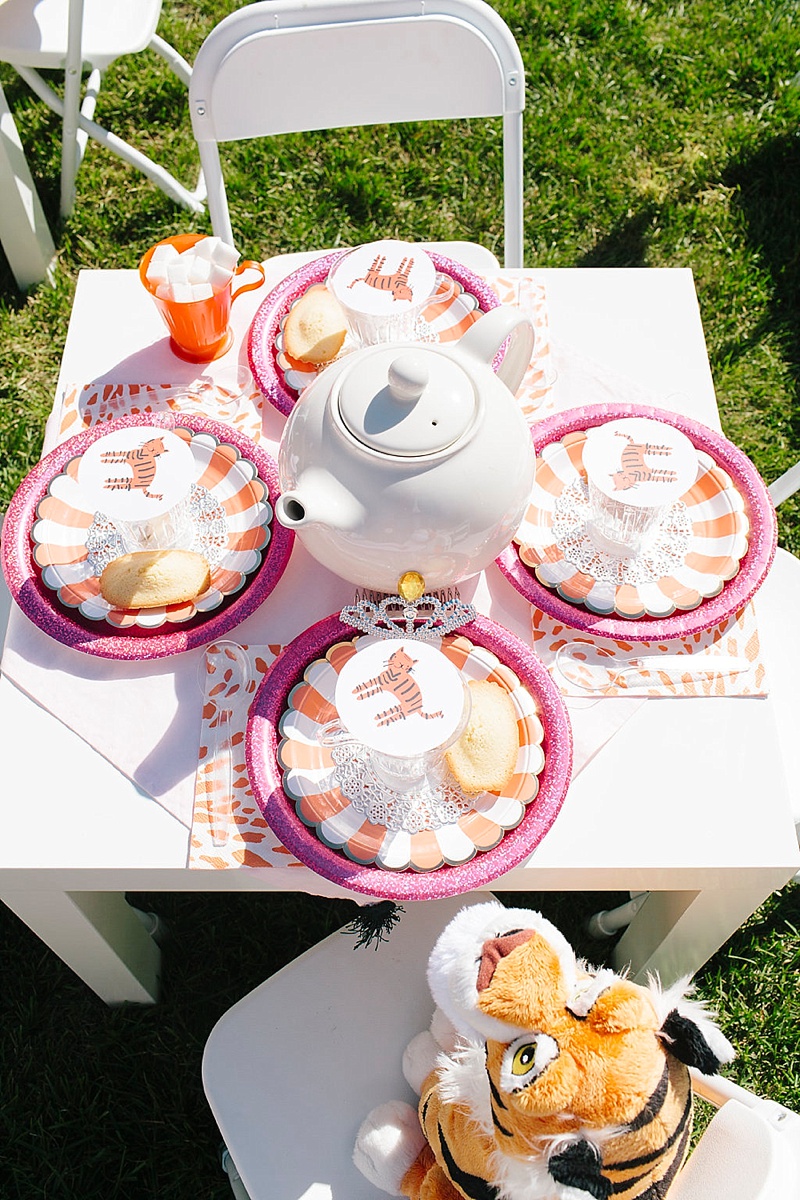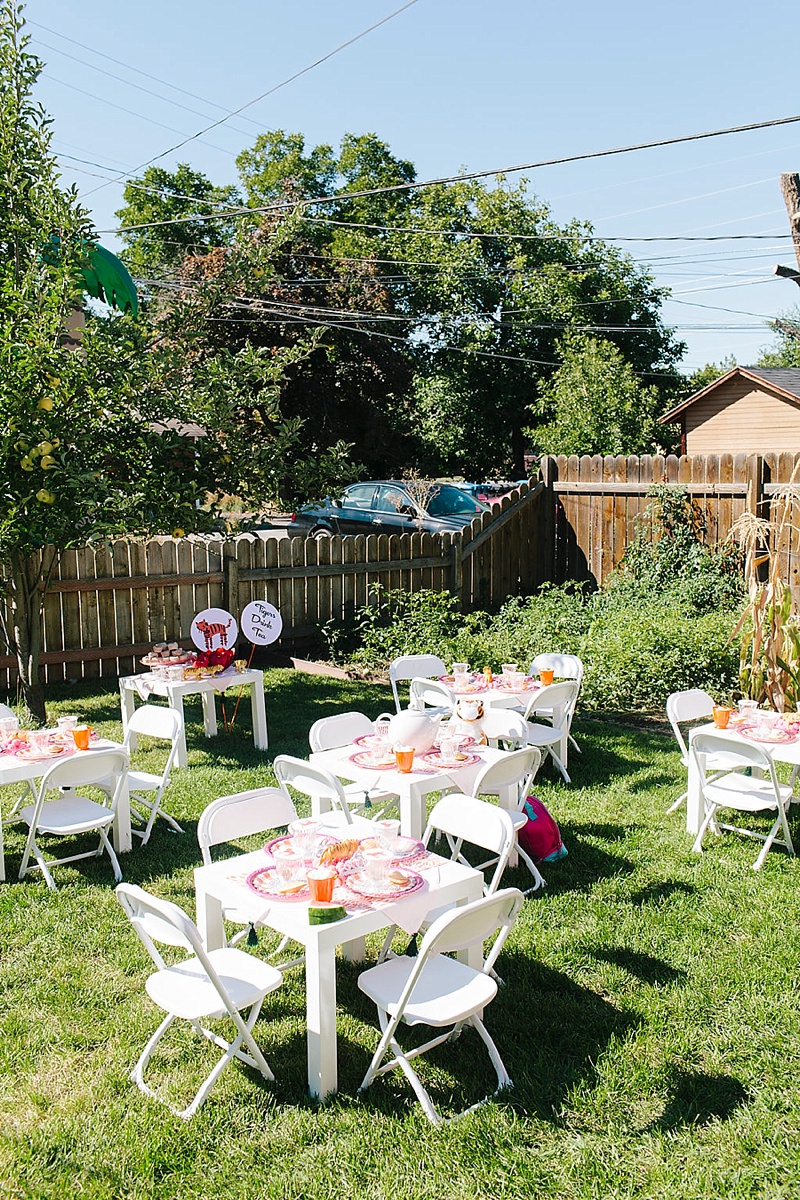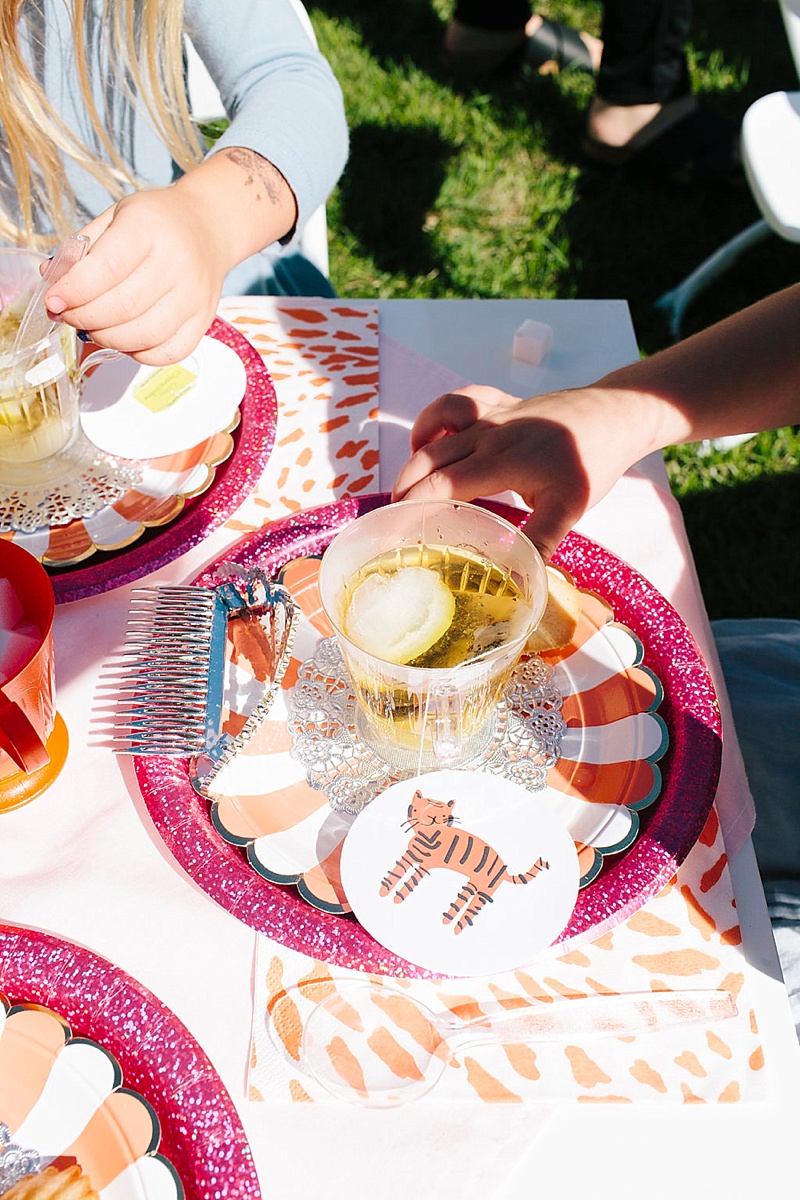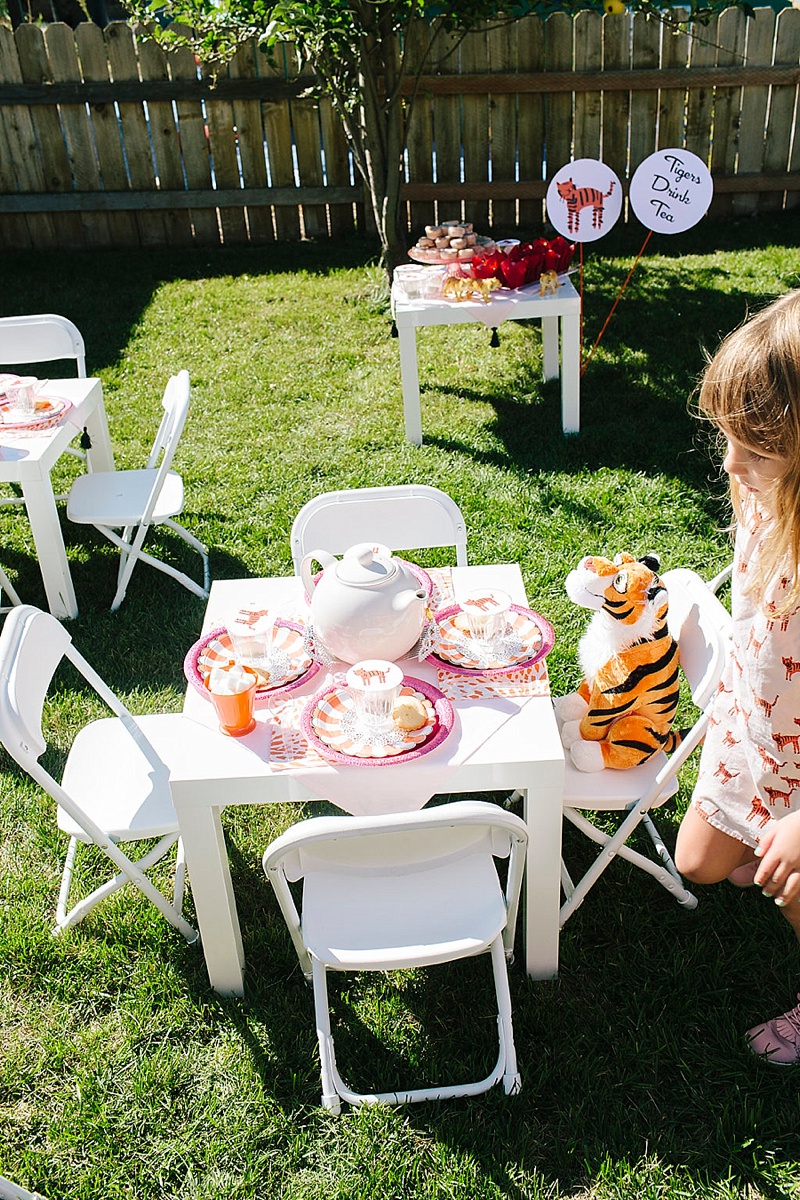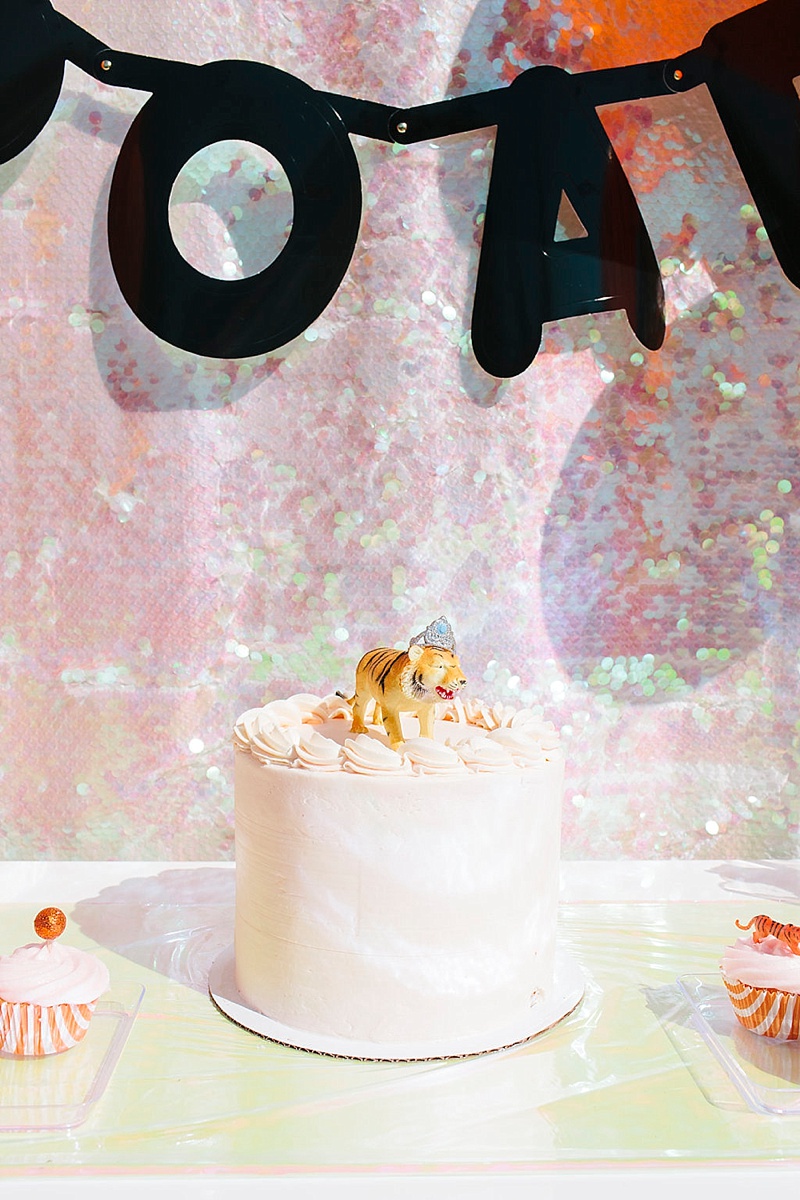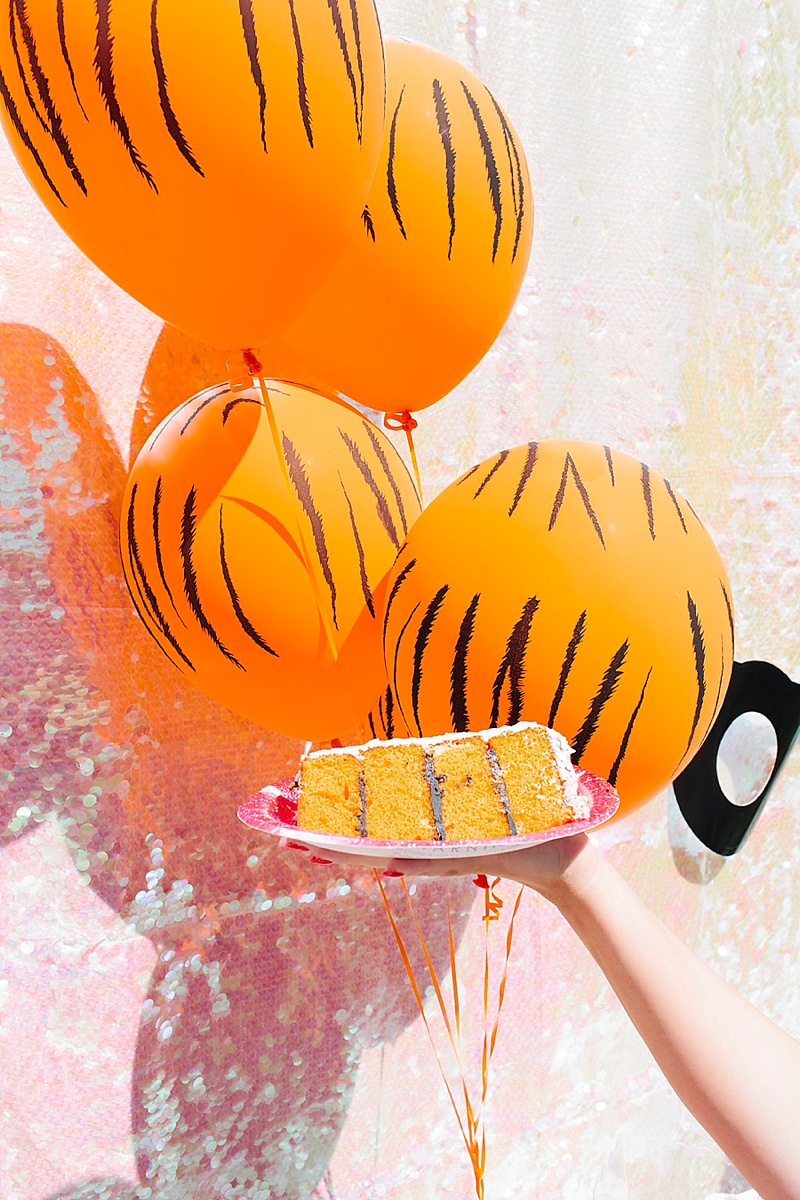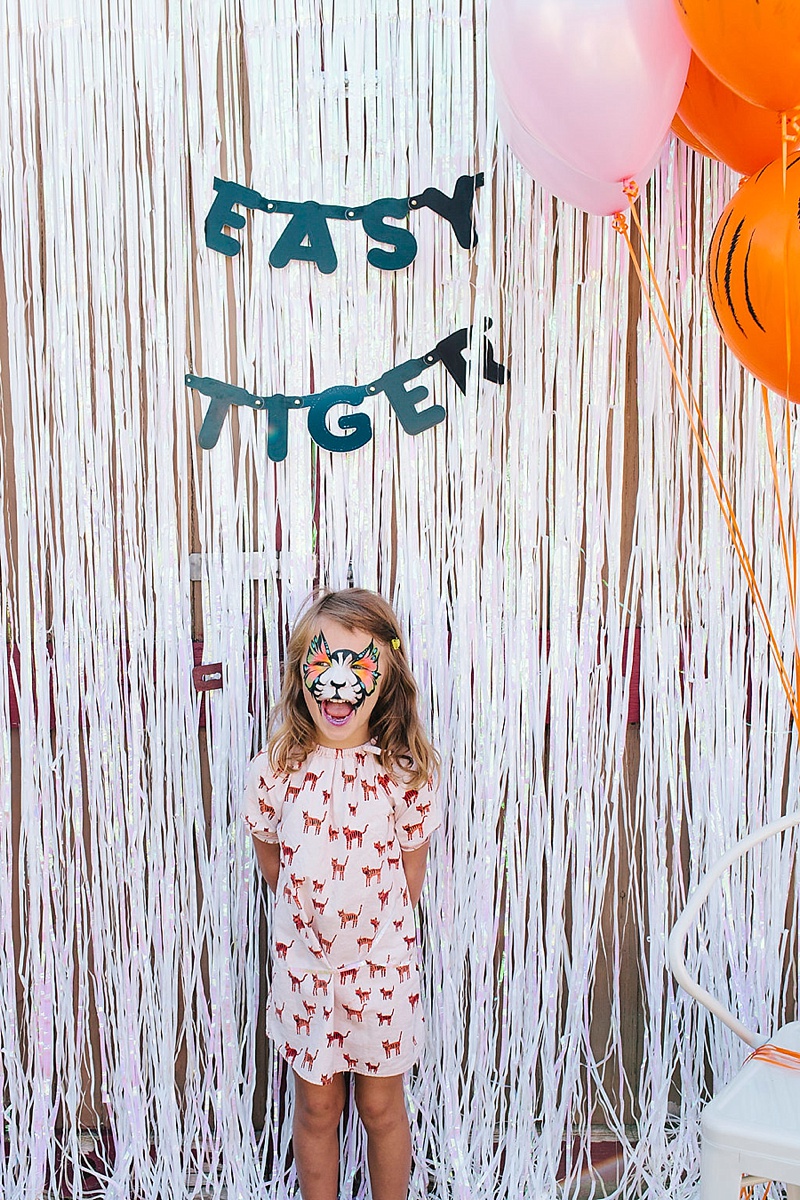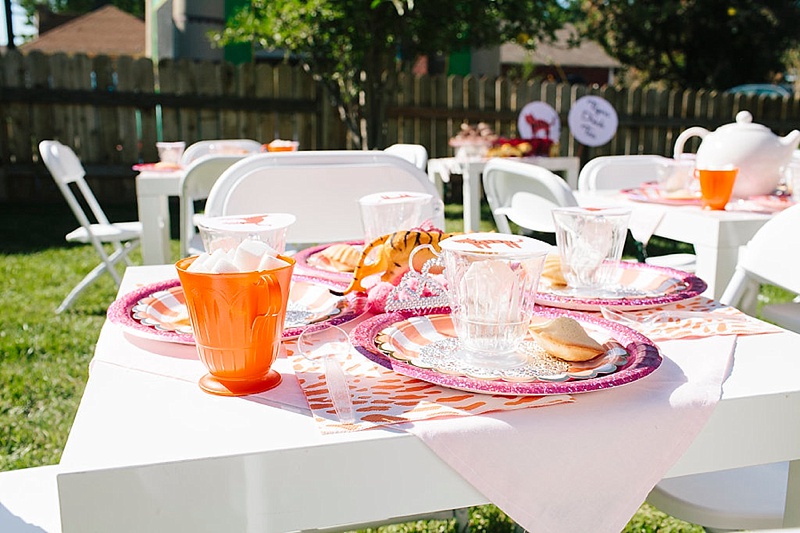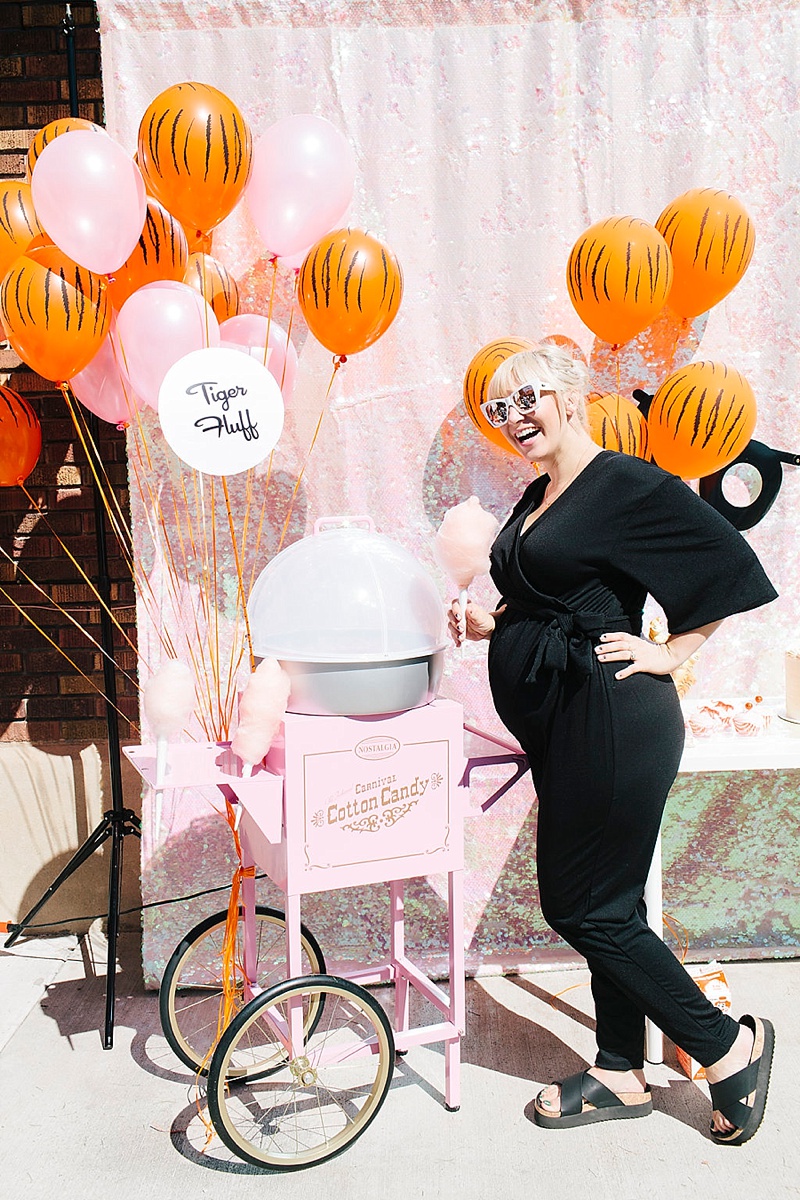 Do not let my smiling face fool you for TWO SECONDS. Because although the smile is genuine, and the kids and people at the party had a good time, and all was well, and Ginger was so happy, before and during this party I was A HOT FREAKING MESS. Not because things didn't turn out how I wanted them to, or for any REAL reason. But mostly because I just didn't have things ready on time, I felt rushed and behind, and silly for not having everything, perfect, and running smoothly at 11am–when the party started. It's hard being crazy.
In fact, I cried every 15 minutes the whole party. I was over-tired, over-stressed, and just not emotionally capable of having that many people I loved and felt comfortable crying in front of in one place. I just felt, stupid. So, so, so stupid. And tired. Did I mention tired?
A close friend who volunteered at Alison's Cabana Boogie showed up with her son and was dumbfounded that I was in such a state of panic and anxiety. She said, "I expected you to feel like this at the party for 600 people! Not the birthday party for 20 kids!"
And here's what I did wrong. I tried SO SO SO hard to convince myself that this wasn't work. This was personal. And because I decided it was personal, I didn't get help. I've learned that in my business life I will fail and drown if I don't find and hire help, but apparently I still think in my personal life that it's not ok to let others help me. Because I think they are all silently judging me for being so-over-the-top. Like I'm doing it for all the wrong reasons. And I can't ask for help because I've brought this on myself.
But after several days of emotional recovery, haha, here's what I've decided, YOU DON'T HAVE TO EARN HELP.
The truth is I'VE ALWAYS BEEN LIKE THIS! I do things ALL or nothing. And not for any other reason than that's the way I like to do things. Ask anyone who has known me my whole life. I planned the senior prom for crying out loud, and had a breakdown the whole time.
People can question why I do what I do, but it doesn't matter. All that matters is, I KNOW why I do what I do, and that I do what I can to protect myself and the people I love (my kids and my husband) from the negative side effects of being a compulsively festive perfectionist.
And what can I do? I can allow other people to help me.
So here's what I think. If you need help, just let people help you. If you need help and no one is offering to help you, pay someone to help you. It's ok to let people help you. It's ok to hire people to help you. For work, or for personal reasons. Are you SO MUCH more impressed with this party because I didn't have an assistant, or intern, or something like that? No. Probably not. Does it seem like I love Ginger more because I didn't let anyone help me? Um. No. No it does not!
I have people DYING to shadow me for events. They email me all the time. I could have allowed someone that opportunity. But I was too proud? Or too stressed? Or didn't think I deserved the help? Oh man. It's SO silly in retrospect. But it seemed harder to let someone help. It's easier to just do it myself. Do you ever say that? HAHA. I do all the time.
I was HORRIFIED that I didn't make sugar cookies for this party. And I was really priding myself on the fact I was going to make the cake, like I used to do (before I worked 40+ hours a week and had multiple children). But two days before the party when I couldn't get a grip on my anxiety I called the Provo Bakery and had them make the cake. OH THE SHAME. THE SHAAAAAAME. But really, that's how I felt.
I figured if I wasn't making sugar cookies or the cake, I could handle everything else with the help of my husband.
I did NOT follow my own advice in my online course Party With Alison: A step-by-step guide on how to throw any type of super fun party. I thought I was above my own party planning philosophies. And the result? A pretty party, and a very, very, sick, emotional heap of a pregnant woman crying in the shower.
Sometimes I wonder why I bother spending so much time creating things. I feel lame and like it's not that important. But after doing this party THE WRONG way, and NOT following my own advice, it made me SUPER proud of my course. It will keep other people from feeling the way I felt. It will help people throw parties they love for people they love, that are pretty AND FUN and will not cause a nervous breakdown. So I'm glad I made it. It's really awesome. Ha! But really.
Anyway. Like I said, everyone else had a great time! They really did. I kept those big glasses on, and people only knew I was crying or having a hard time because I kept telling them.
I feel like even though I was super stressed out, and going insane, I still treated people with love and kindness, and tried to focus on Ginger. This is something I've been working on for years: to not allow my anxiety dictate how I treat others. So I'm trying to focus on that accomplishment. That Ginger knows I love her, my friends know I love them, and I didn't act in a way towards anyone that I regret or am embarrassed by. So when I start getting sad I didn't get a picture of something I wanted a picture of, or embarrassed that things weren't ready or as relaxed as I would have liked them to have been, I try to remember what matters. My heart was in the right place and there was a lot of love.
Now that I have given you THE WHOLE STORY! Would you like to hear about the party?! Maybe go get a snack or something. You deserve it. But there were lots of good things going on! Haha and as usual I'll break it all down.
For kids parties I always recommend LOTS of activities. We had a jump house, a face painter, the tea party, a tea cup decorating station and a cotton candy machine. There was tea time sandwiches, food and treats, fruit, and lemonades with fruit/sprite ice cubes. I KNOW SUE ME. The activities don't have to be quite so lavish, but try throwing a 600-person dance party and then scaling back to reasonable levels 2 weeks later. It's hard.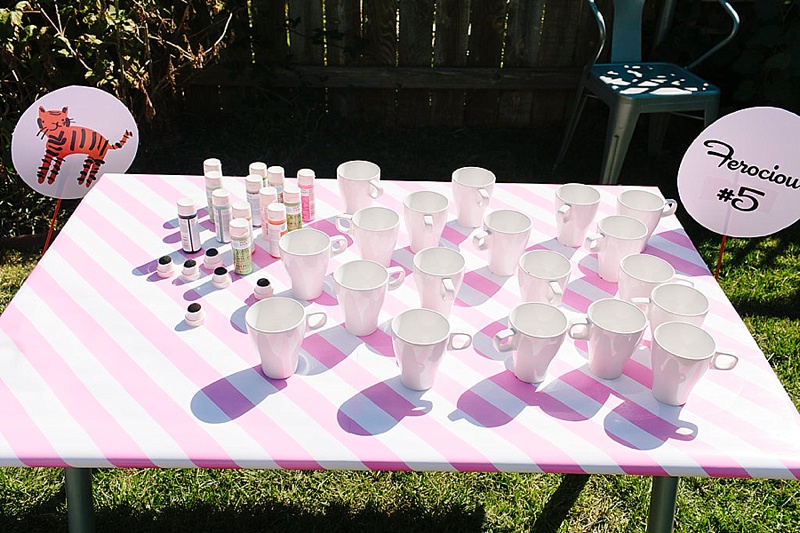 I got these mugs for .99 each at Ikea. I used Martha Stewart all-surface paint because it's dishwasher safe on glass after 21 days of "curing" or sitting. Did I tell my guests this? No. No I was too busy crying. But now you know.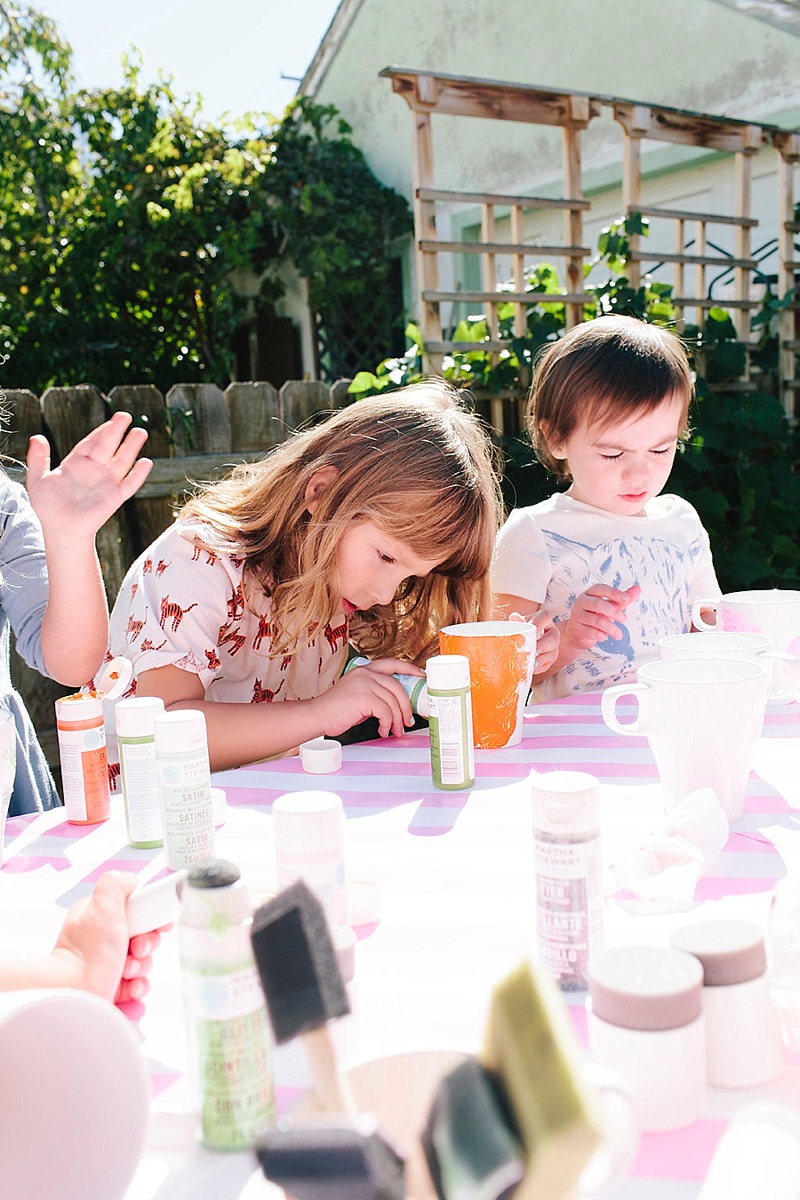 They were pretty cute about it.
So as guests arrived we gave them cotton candy and let them jump in the bounce house and paint mugs. When everyone was there we served the tea! I made a place for each kid. I have all these side tables from Ikea, and I bought some mini chairs for Club Alison. And they make the PERFECT kids table. The chairs weren't cheap and I got them on some random supply store, but the tables, as you know, are super cheap! Like $8.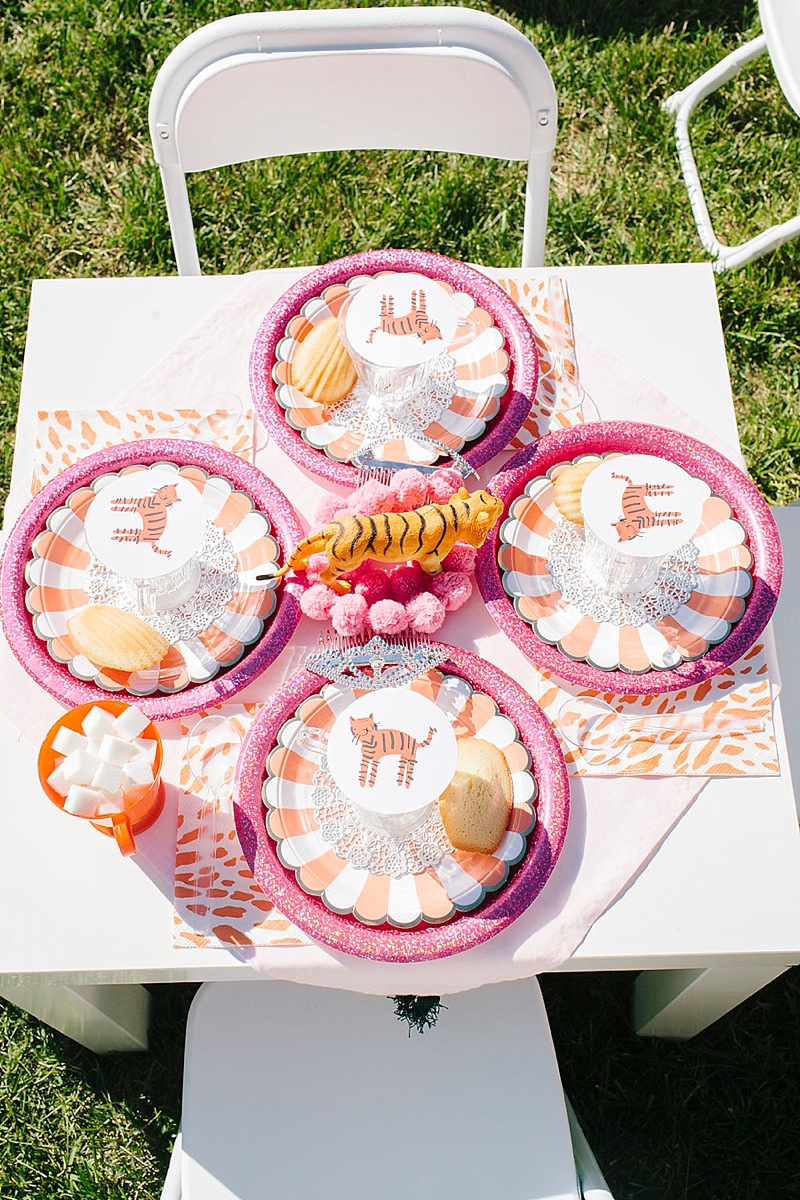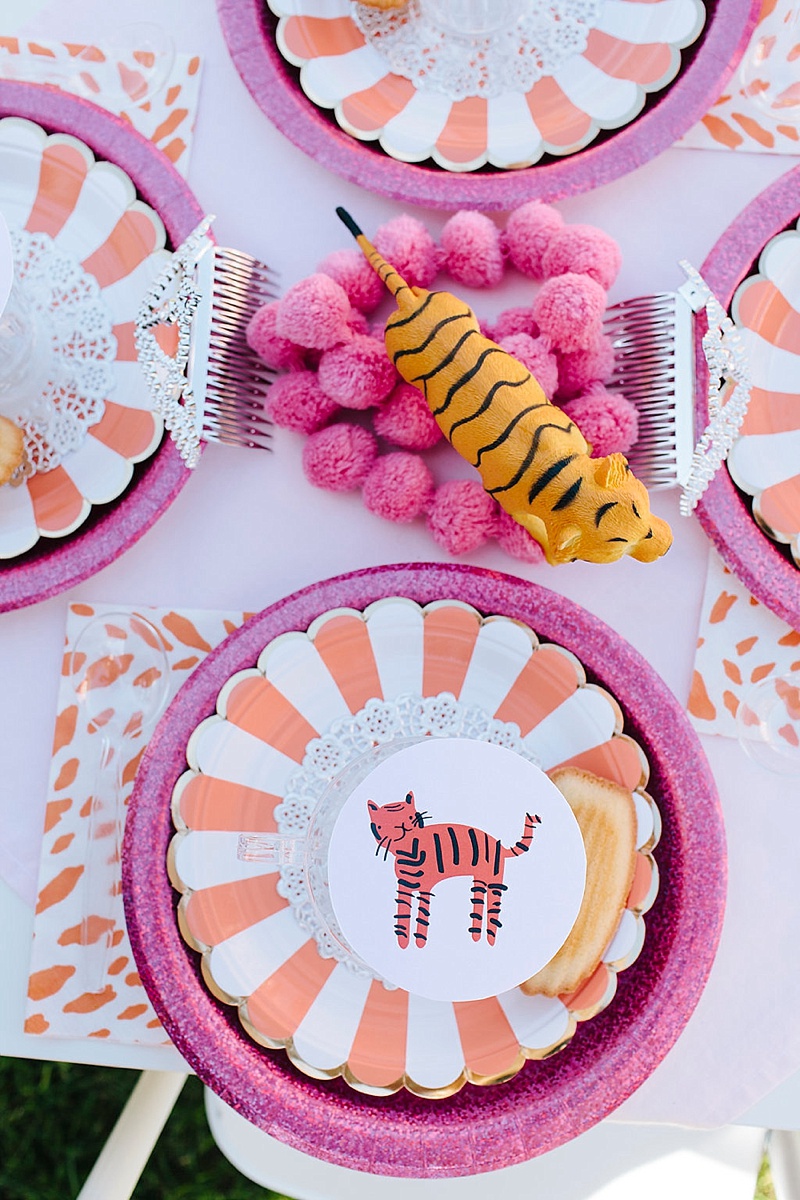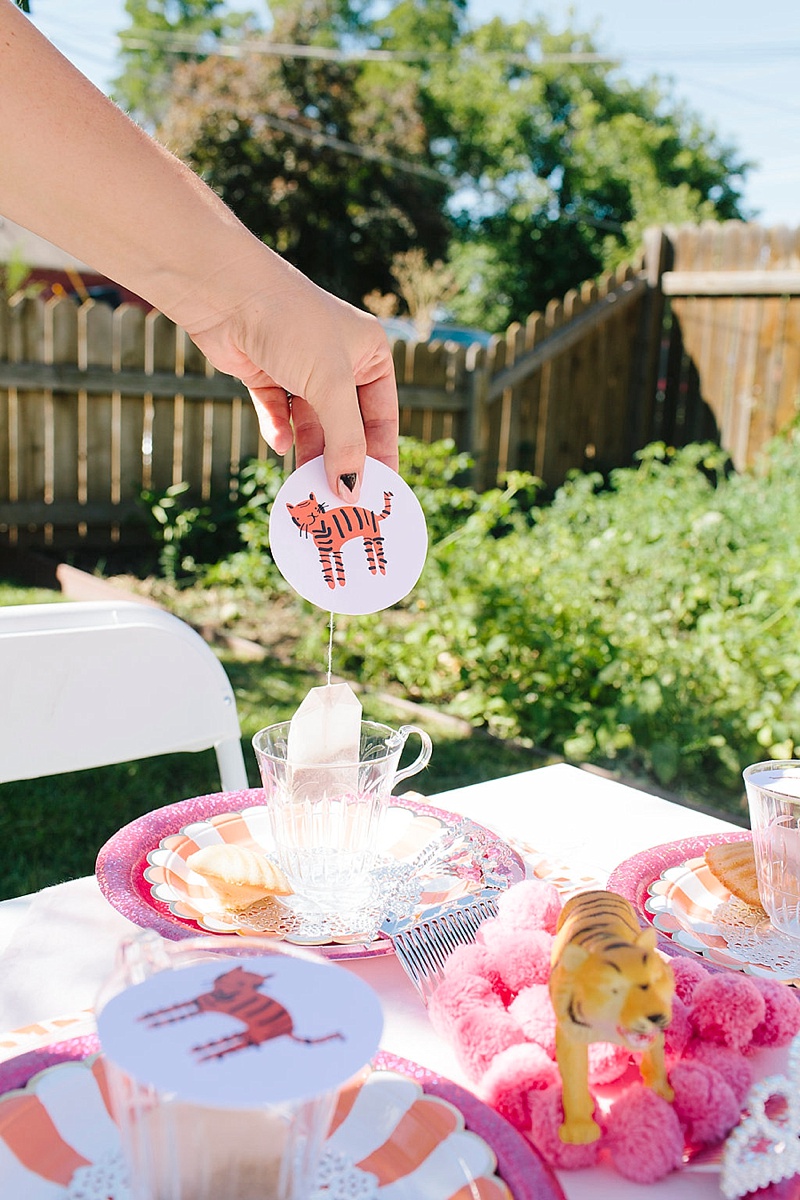 Ginger's adorable tiger dress from Hum Stitchery inspired the tiger design that I did for the top of tea cups and on the signs around the party. But because I totally ripped the design off from the fabric artist, I won't sell or give away the tiger designs. Just for personal use. If they made paper or other products I would have bought it! It just wasn't available. This is the super cute fabric though!
I taped the tag of the tea bag to the tiger circle design, and that way each cup had a tea bag resting in it ready to go! And I was able to tie in the tigers without having to use something lame that I didn't like.
For tea time treats I made cucumber sandwiches and per the birthday girl's request sandwiches with "meat and cheese and miracle whip." I also had cookies, lots of fruit, and lemonade with ice cubes made with Sprite and fruit and some with mint leaves.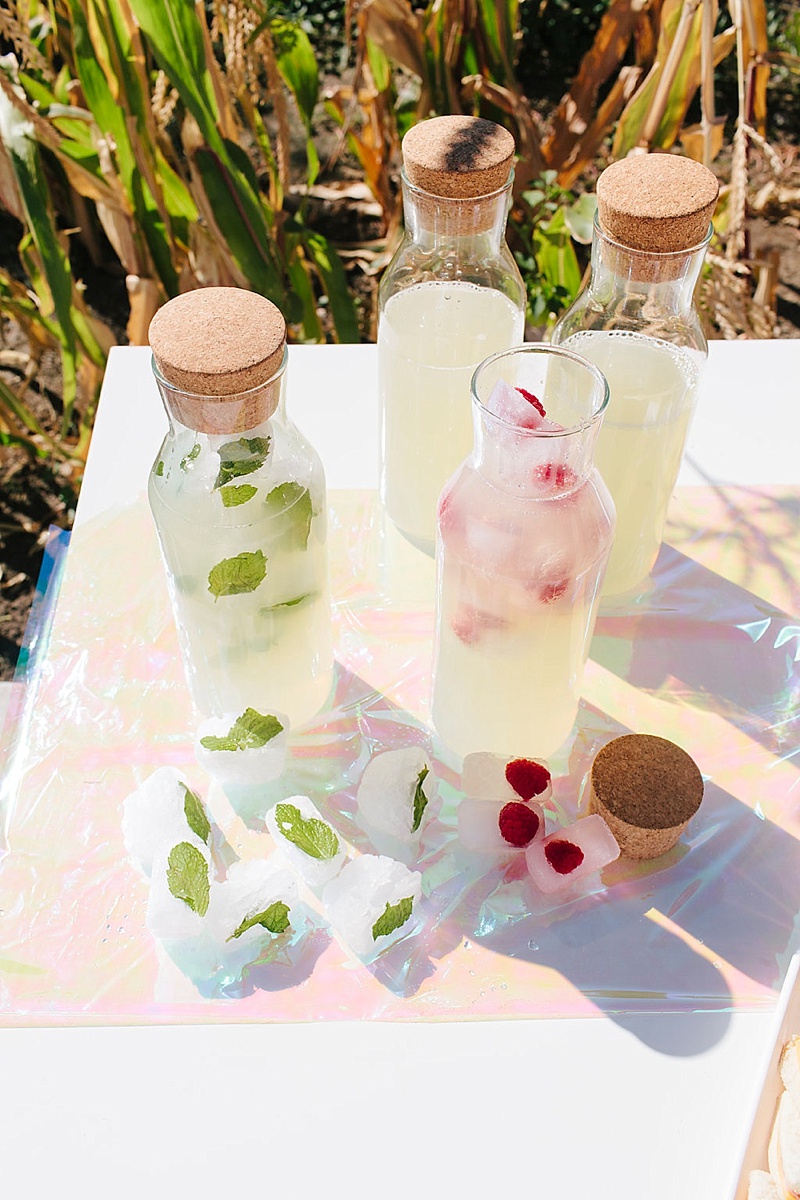 Because the ice cubes were made with Sprite and fruit when they melted it added super yummy flavors to the drink.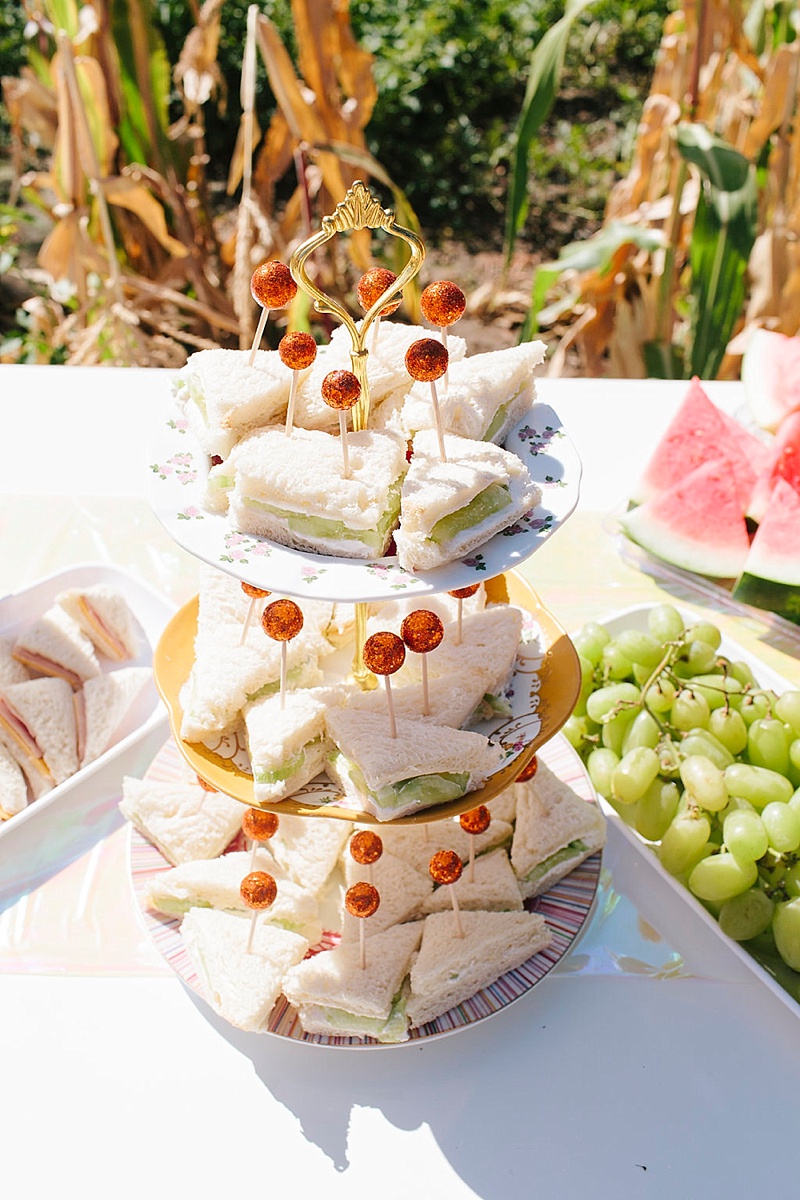 I bought a bag of those styrofoam glitter balls, in orange, and just stuck toothpicks in them. I got those at Hobby Lobby, it was a bag of hundreds for like $4.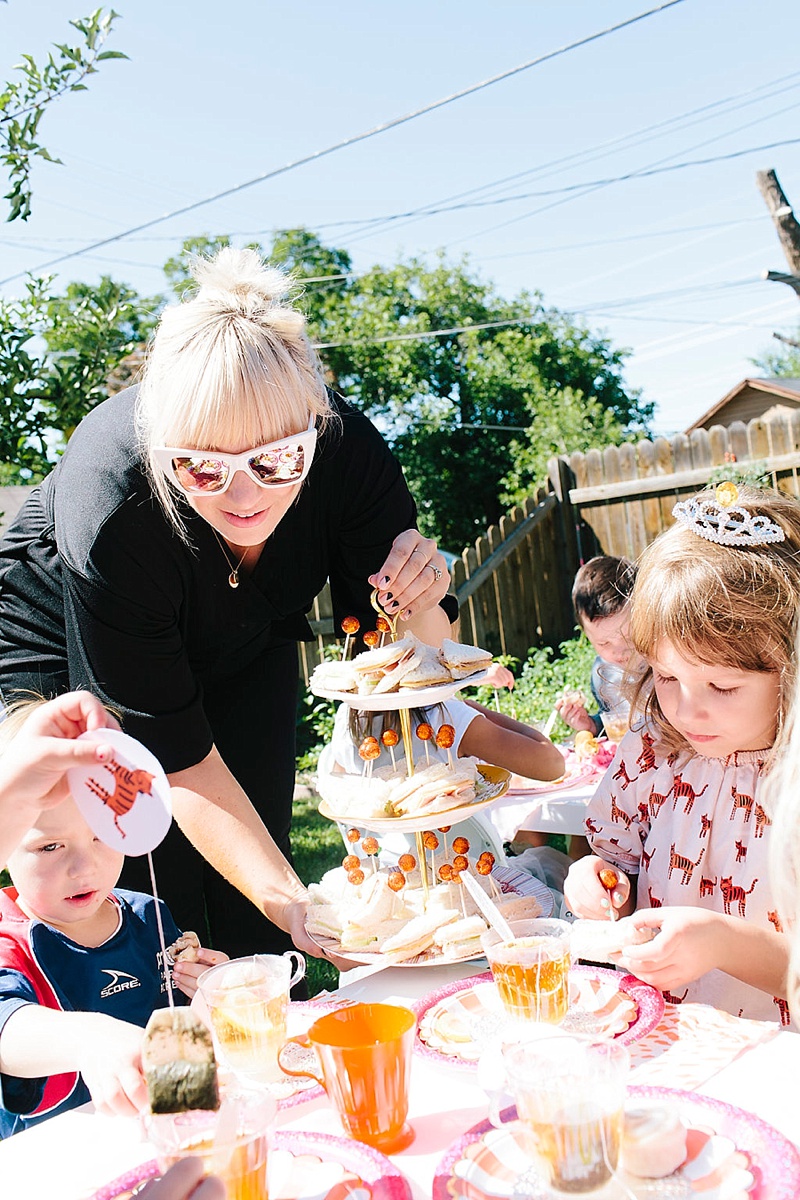 I used peppermint and chamomile herbal tea for the kids. And I also chose to do sugar cubes instead of honey. This was great because it wasn't a sticky mess, and kids were sneaking sugar cubes left and right feeling like sneaky tea bandits. I spray painted a few plastic tea cups orange to put on the tables to hold to sugar cubes. One other thing I did that worked really well was freeze lemon slices in water. So when the kids had their hot tea we immediately put an ice cube with lemon in it so they wouldn't burn their tiny tongues.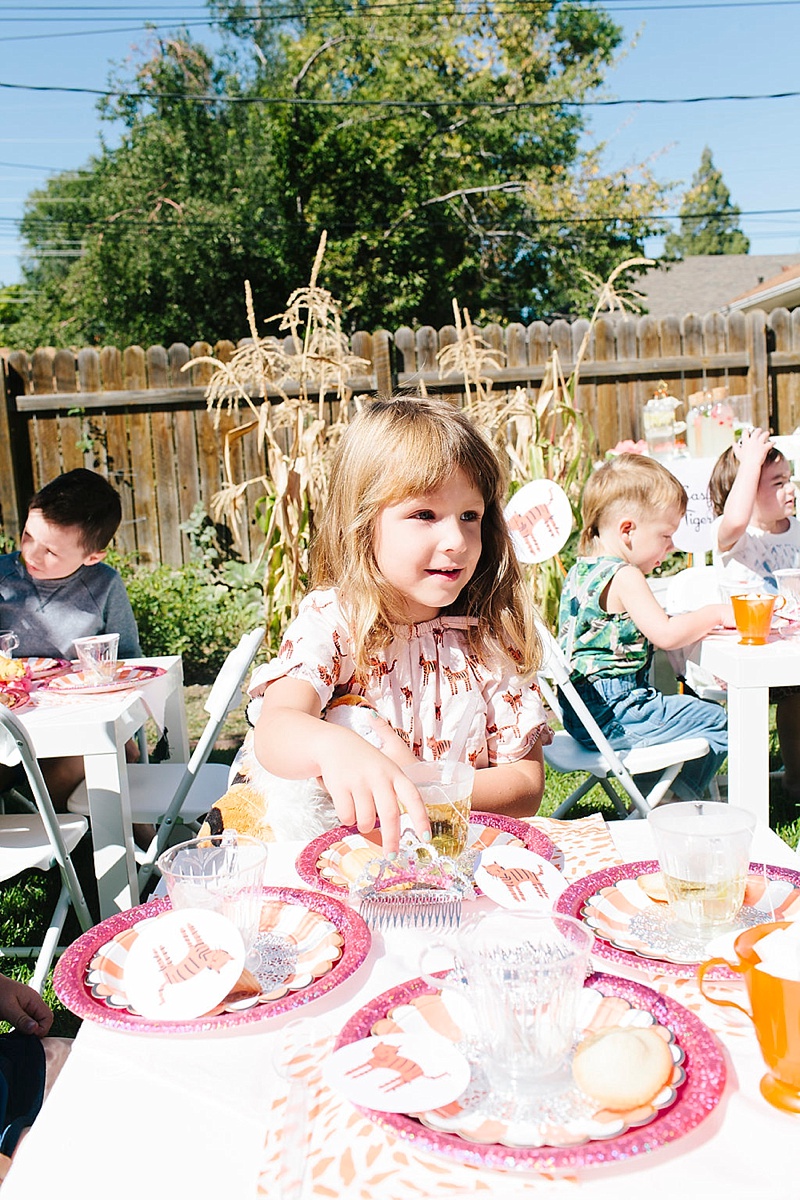 Rad was stoked.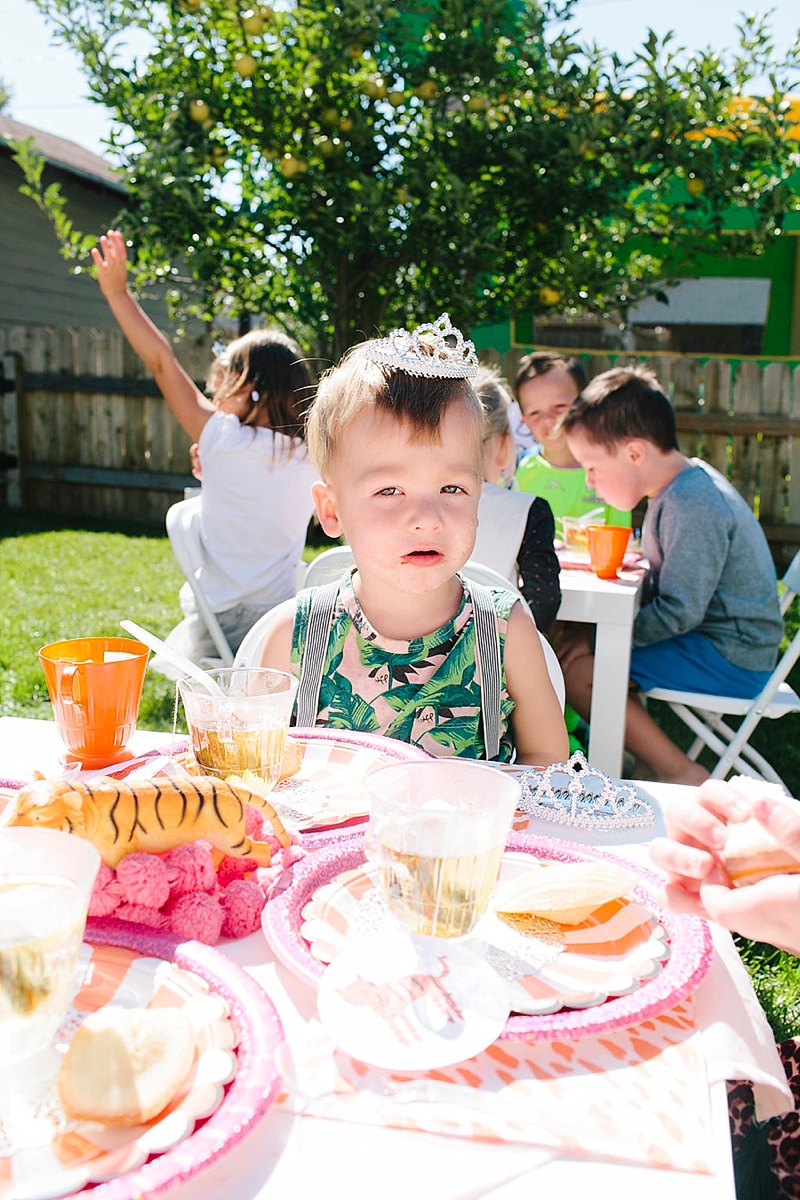 Also if you don't want your kids to eat sugar DO NOT bring them to my parties.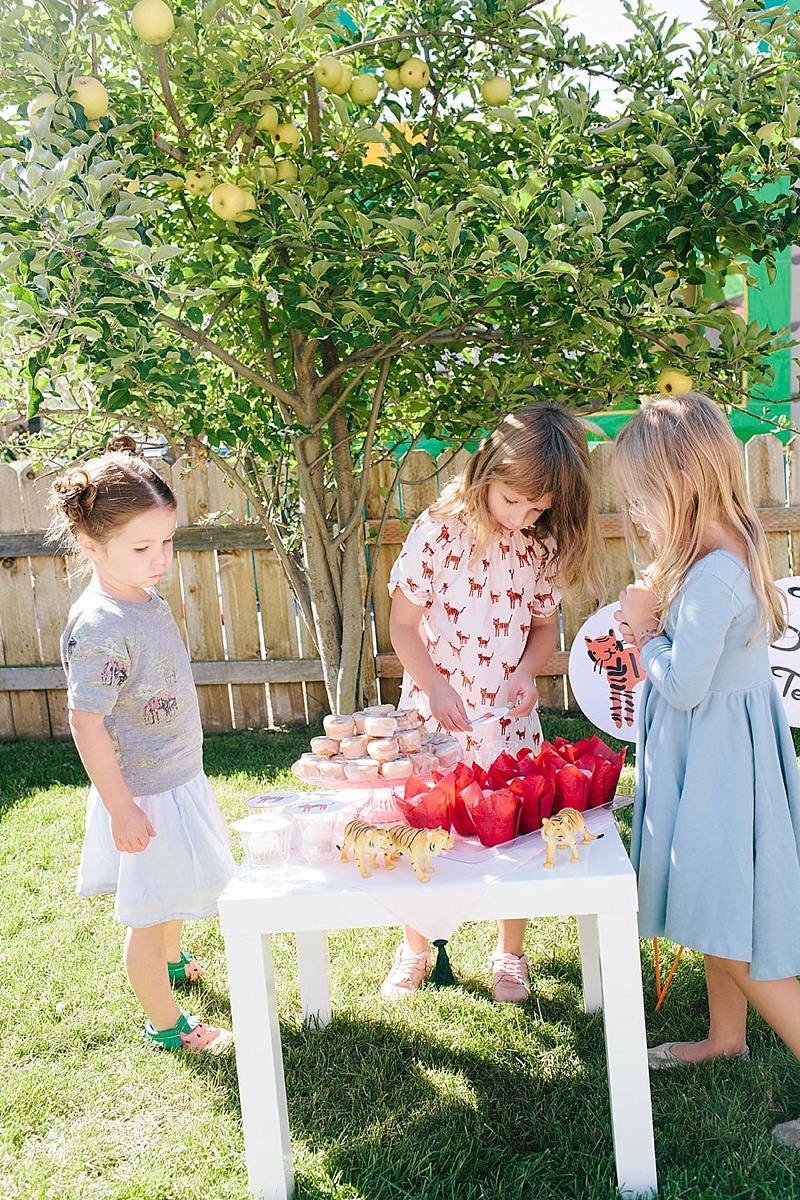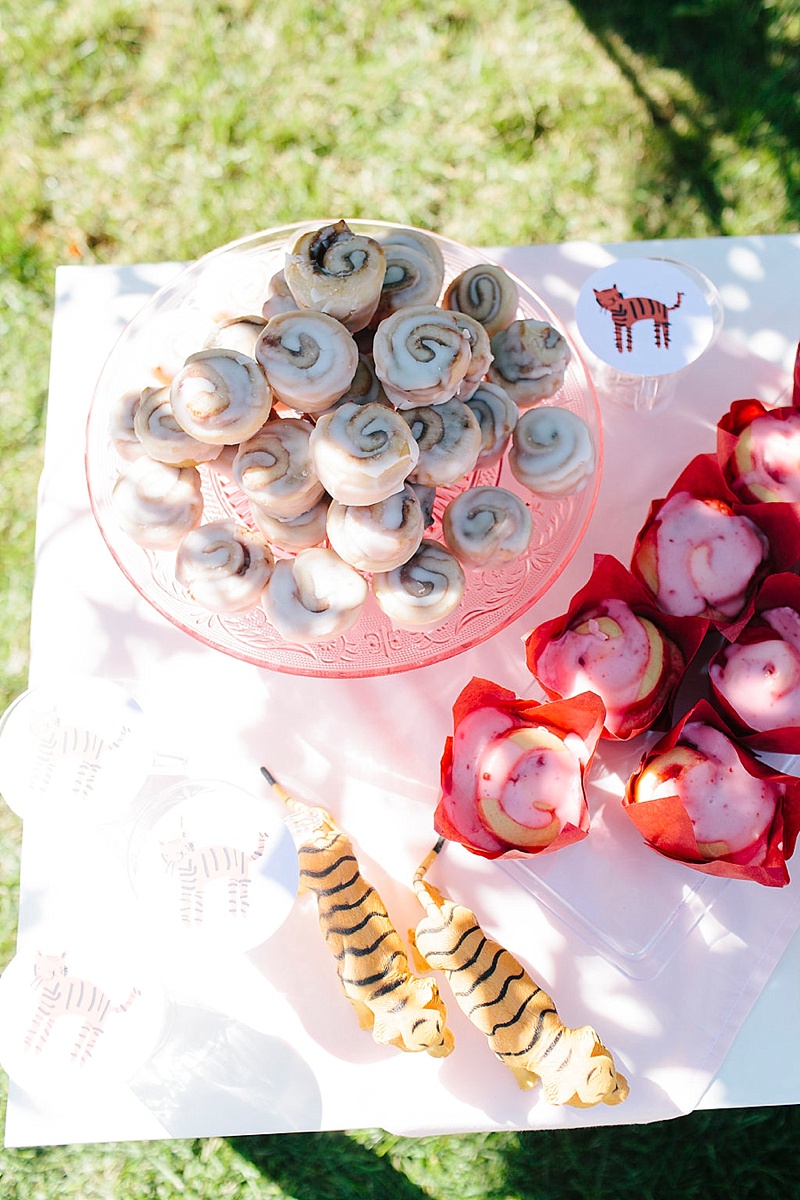 I mean I wasn't lying, people had a good time!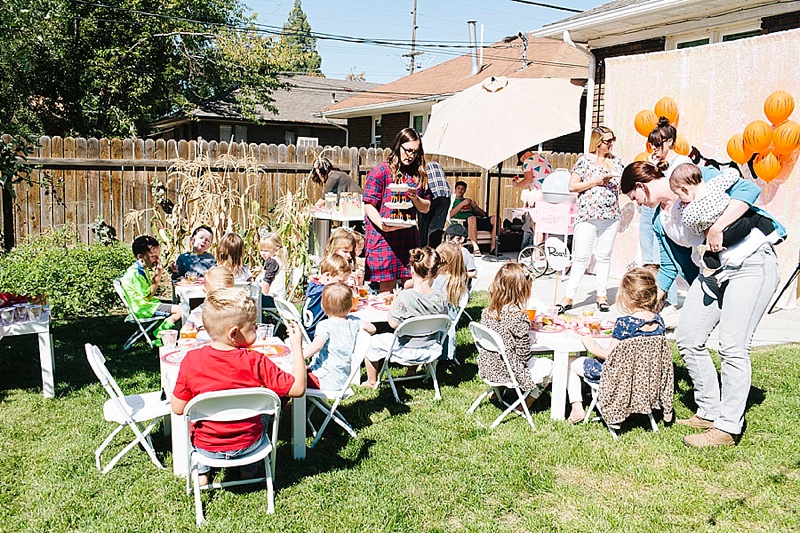 As I said Provo Bakery made the cake, but I made some cupcakes that started to melt in the sun.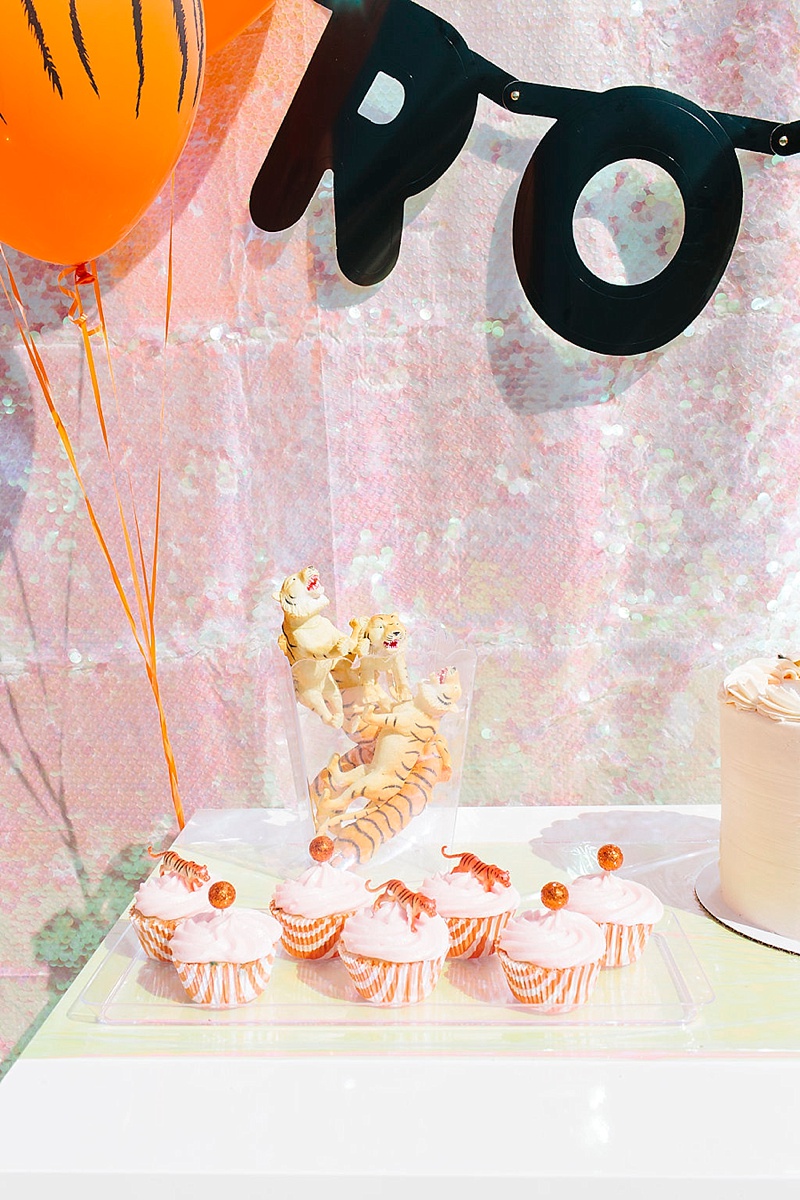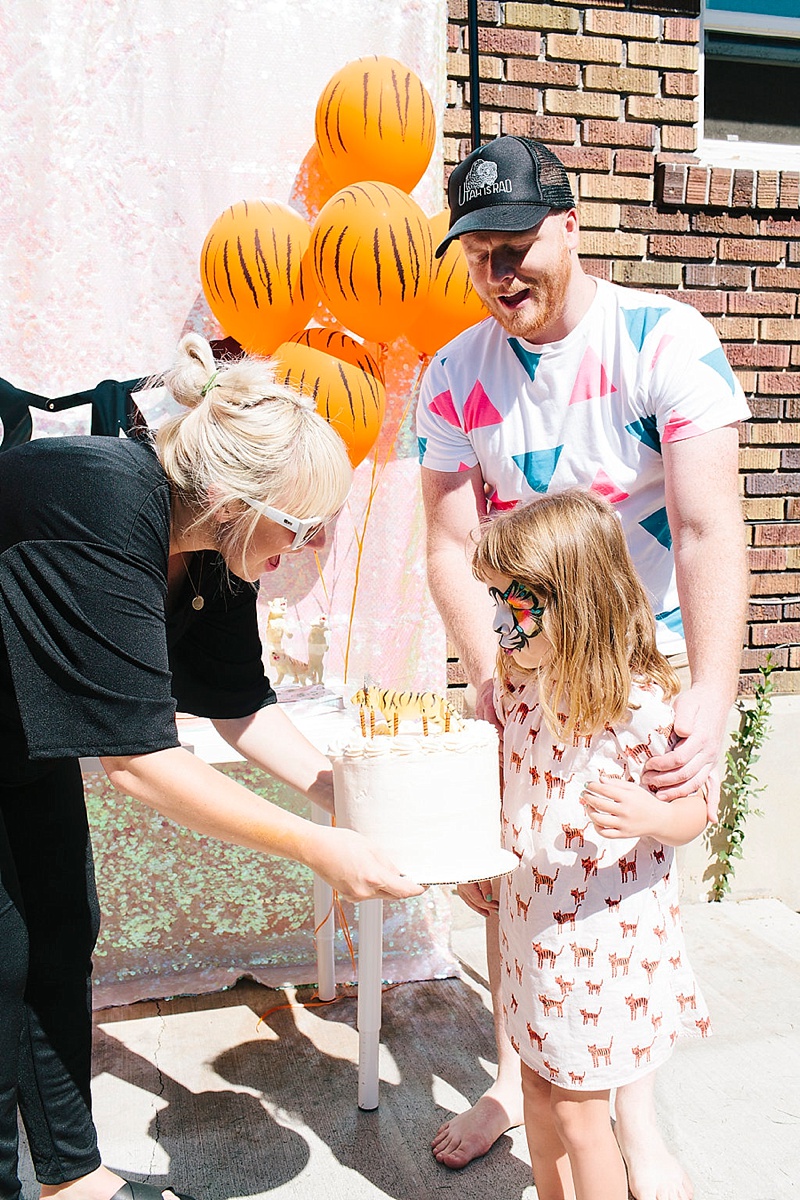 I really love my Ginger girl. And I love cake.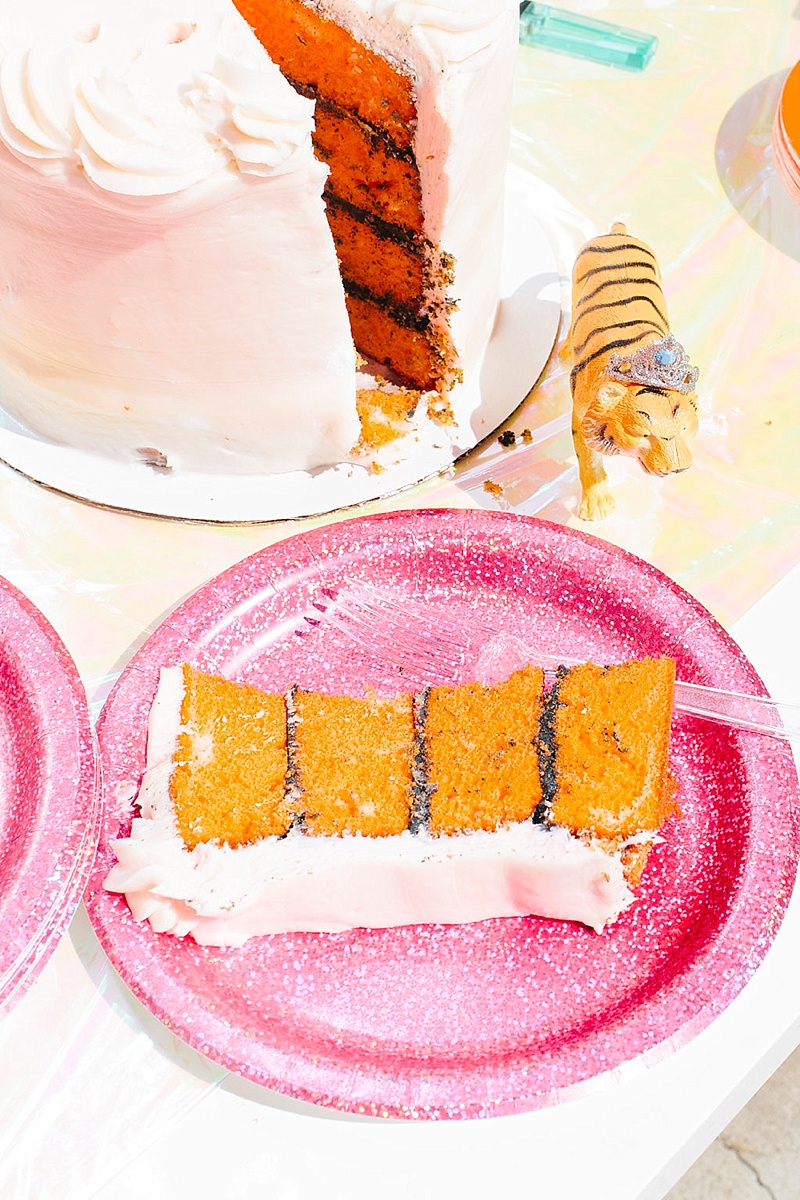 I also love my man. Working that cotton candy machine like a pro. He requests to do so now! haha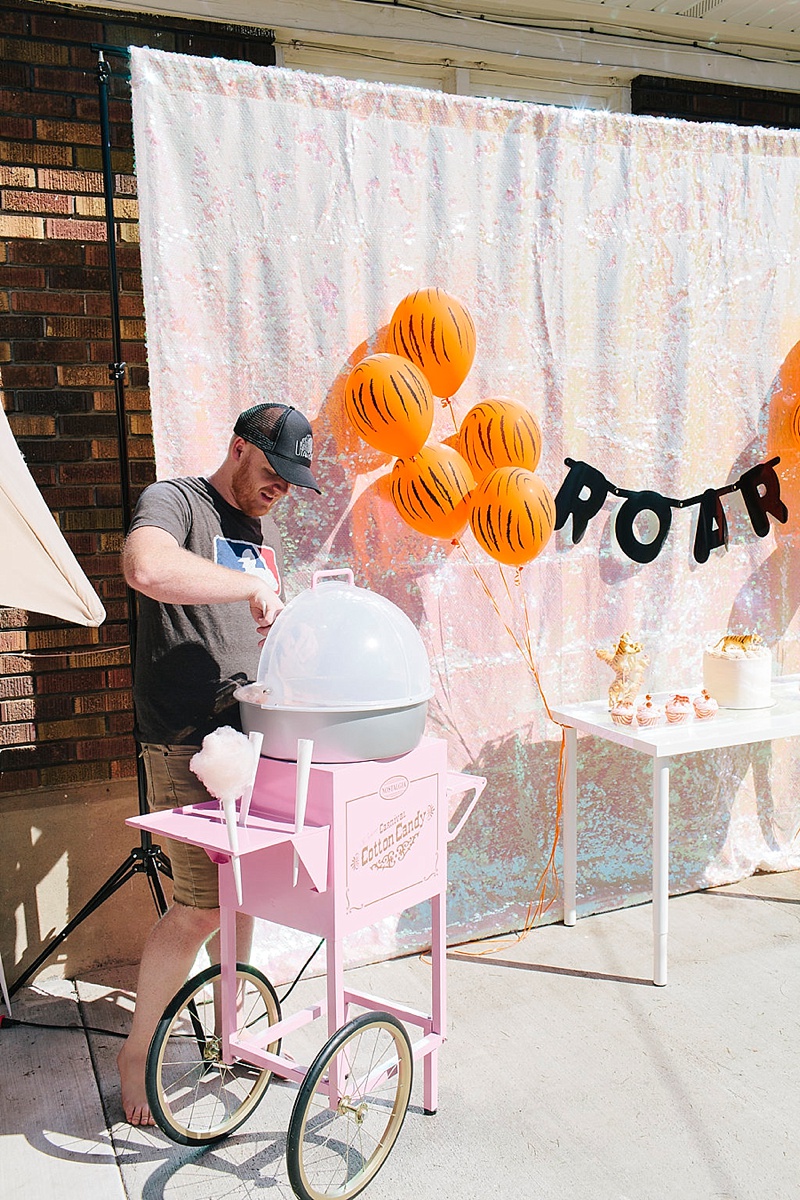 The kids had a blast jumping and being turned into tigers. Because if you have kids you know that the actual drinking of tea for this age group lasts about 10 minutes max. So it was good there was LOTS for them to do. I probably could have just gotten a bounce house and $5 pizza…but I mean. That's beside the point.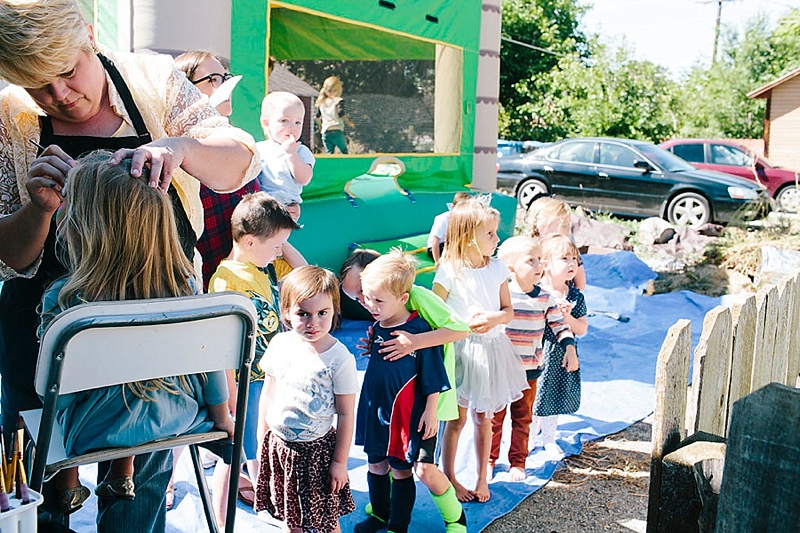 It was also extra fun having my sister there with her kids (in town from San Diego) because our kids are all best friends. How cute is Walker with his tiger?!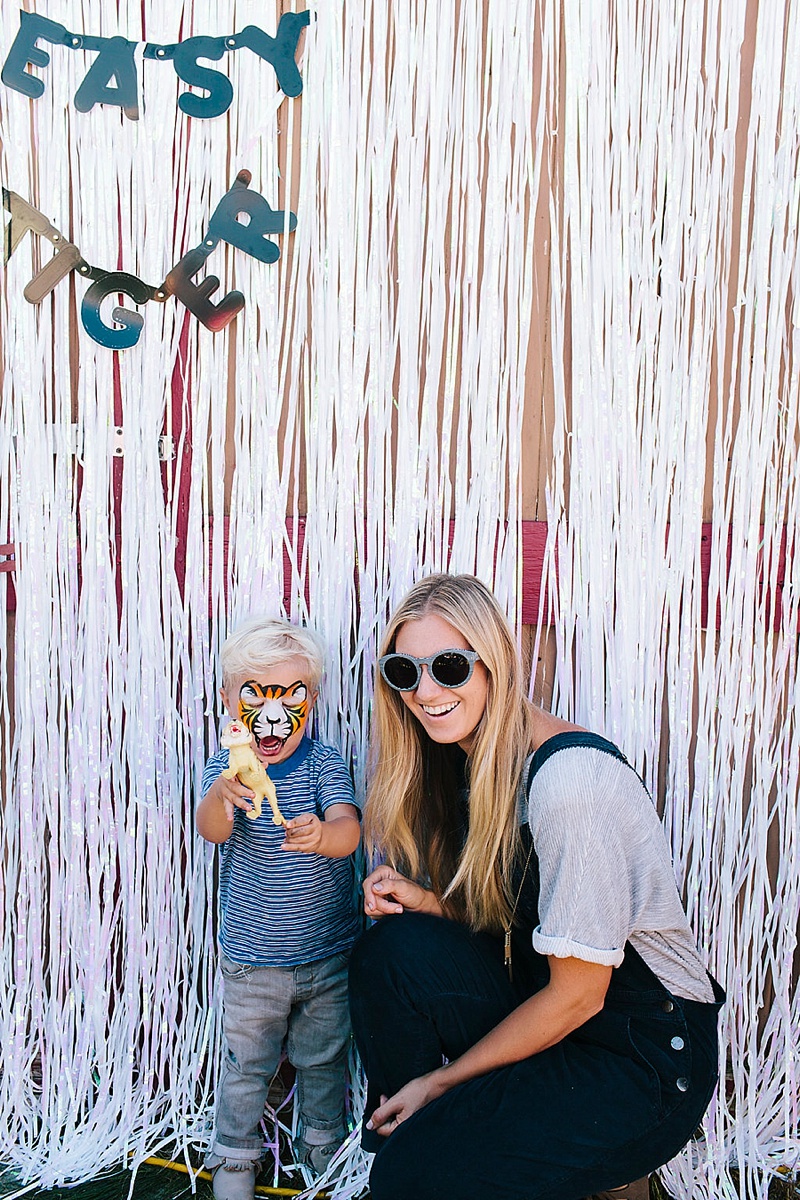 Rad refused to have his face painted. But I didn't mind. His kisses calm the soul.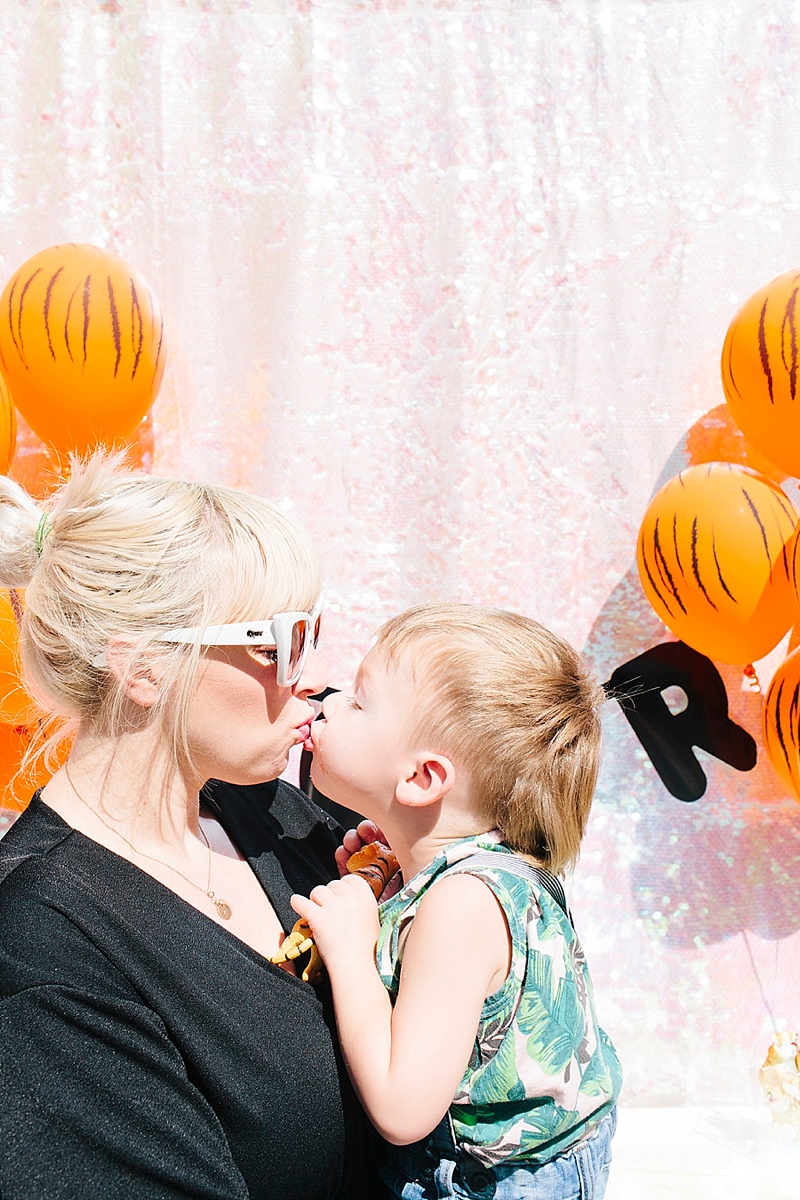 And here's the whole roaring gang!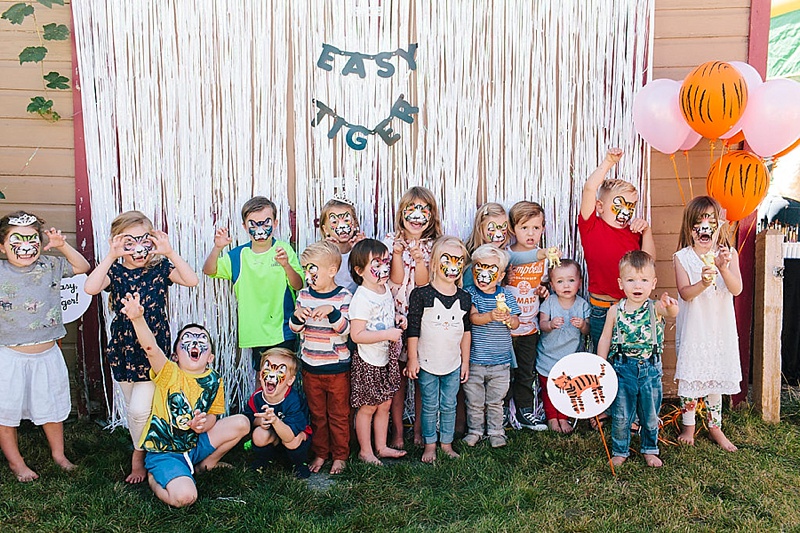 Haha! I had all the kids take home the toy tigers and tiger balloons, as well as the tea cups they painted. I do stuff like that instead of doing traditional favor bags. It's all about killing as many birds with one stone as possible. That is of course when you're already being a tad bit crazy to start with? Haha. Again, it's all in Party With Alison!
Ok. Want to see Ginger's other birthday parties?!
4: Ginger's Unicorn Parade, 3: Ginger's Puppet Theater, 2: The Pony Party, 1: The Fancy Pants Party.
Part of my break down might have been that it's getting a bit too hard to manage parties like this for people much older than 5, so this one kind of felt like the end of an era. For my Ginger girl at least. But I mean, never say never right?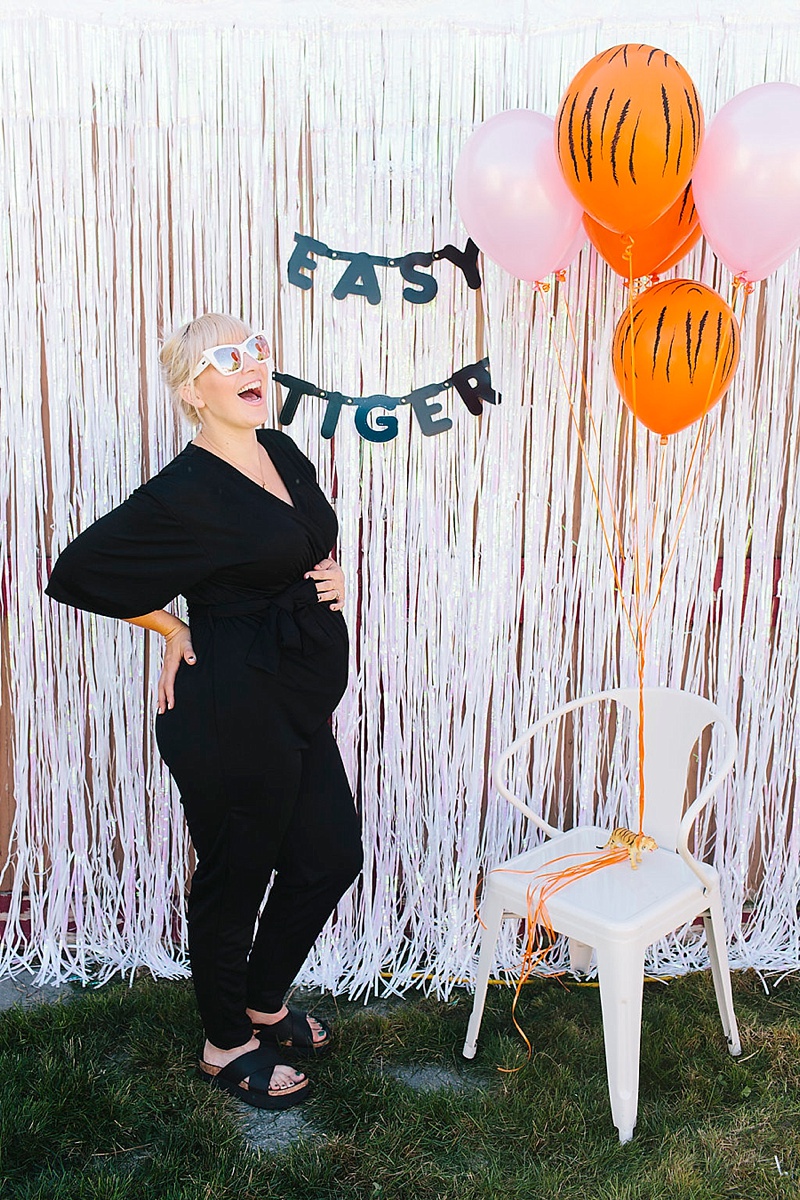 xoxo,
Alison
SOURCES:
Photography: Becky Kimball
Sequin Backdrop: Drop it Modern
Cotton Candy Machine: Nostalgia Electrics
Ginger's Party Dress: Hum Stitchery
Tiger Design by me inspired by Alexia Abbeg Fabric/ Design (the same fabric that Ginger's Dress is made in)
Tea cups: In bulk / Similar
Tiger toys / cake topper /dessert table / table centerpieces: Walmart $1 Toy bin!
Cake: Provo Bakery
Glitter Plates: Target
Pinwheel Plates: Oh Happy Day Party Shop
Tiger Balloons: Here (or your local party store might have them!)
Hinged letter signs (ROAR & EASY TIGER): Local party supply store (there's not really anywhere online that makes it easy to customize your message, but check any local party store, and ask the clerks! because lots of times the cases where they keep the letters are hard to find)