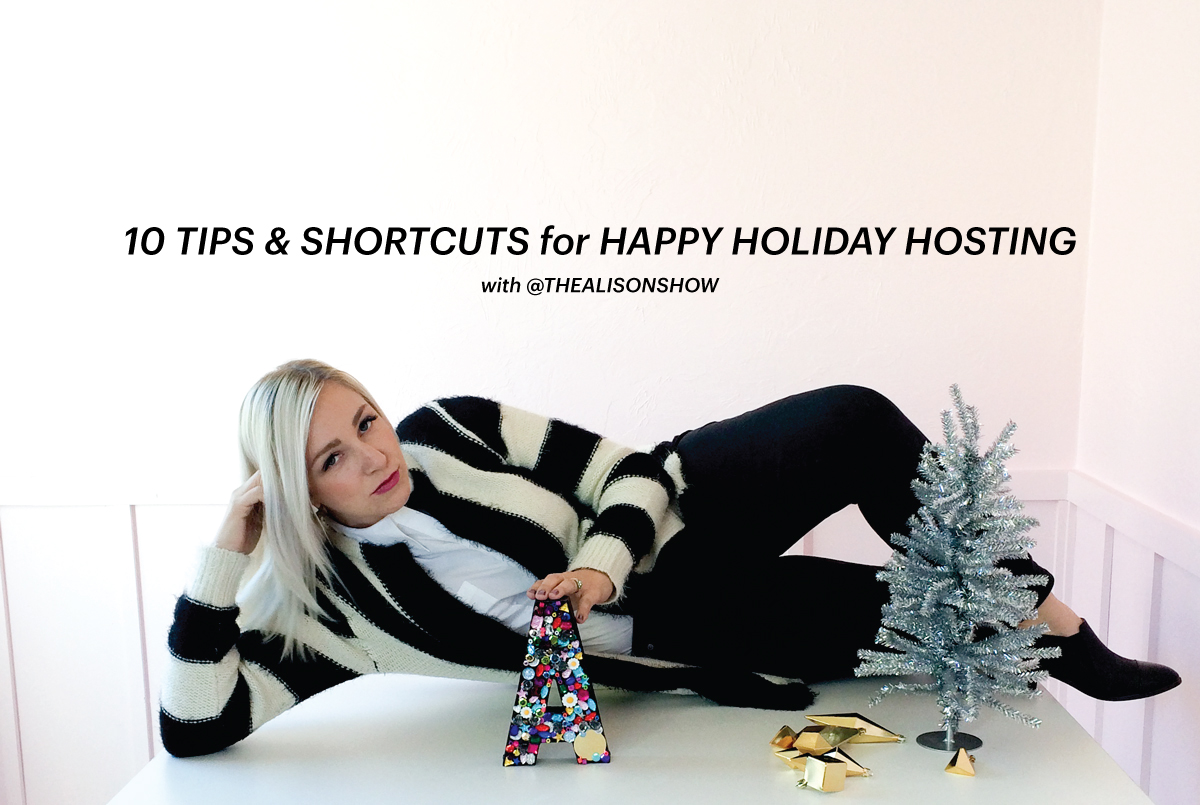 Recently I taught an in-person class at a local furniture store as part of their Holiday opening event. It was super fun and I talked about tips for happy holiday hosting! But I wanted to share some of those tips, and a few shortcuts too, here with you on the blog! So I made this really fun video. Hope you enjoy!
I also created a party time line! When I sat down to think about it, I basically have a timeline that I follow for all events that I do, whether they are large or small, professional or personal.
The PARTY TIME LINE is a free download you can get here!
But the party timeline really goes best with my "How to Plan a Party Regardless of Budget" video, so I highly suggest checking that out too!
Some of these tips are tangible and some of them are philosophical, haha you know how I do! But I hope you find a few that are helpful!
10 Tips and Shortcuts for Holiday Hosting
1. Think of some pre-planned activities for guests!
Whether your hosting an evening event, or an entire weekend, it's nice to have a few pre-planned activities. You might not need them! You might just have booming conversation the entire time. But I'm always surprised how a few casually planned activities, in the video I suggest a board game tournament, can bring out a fun side of people you don't always see. Grab something as a prize while you're out running errands, and you've upped things a level.
Also having some games, or movies, or ideas as backup can relieve some stress because it can be hard to think of what to offer up as suggestions on the spot!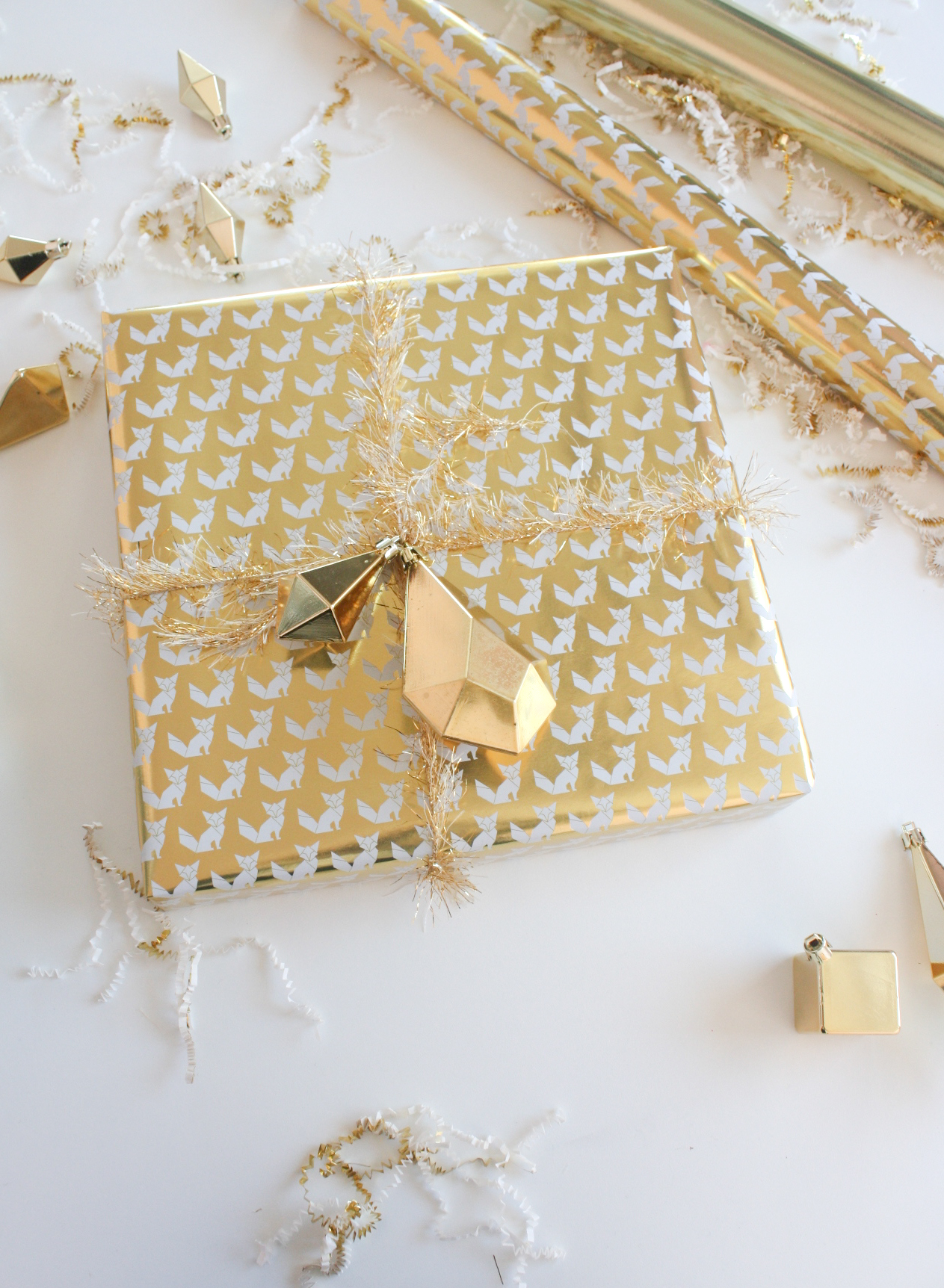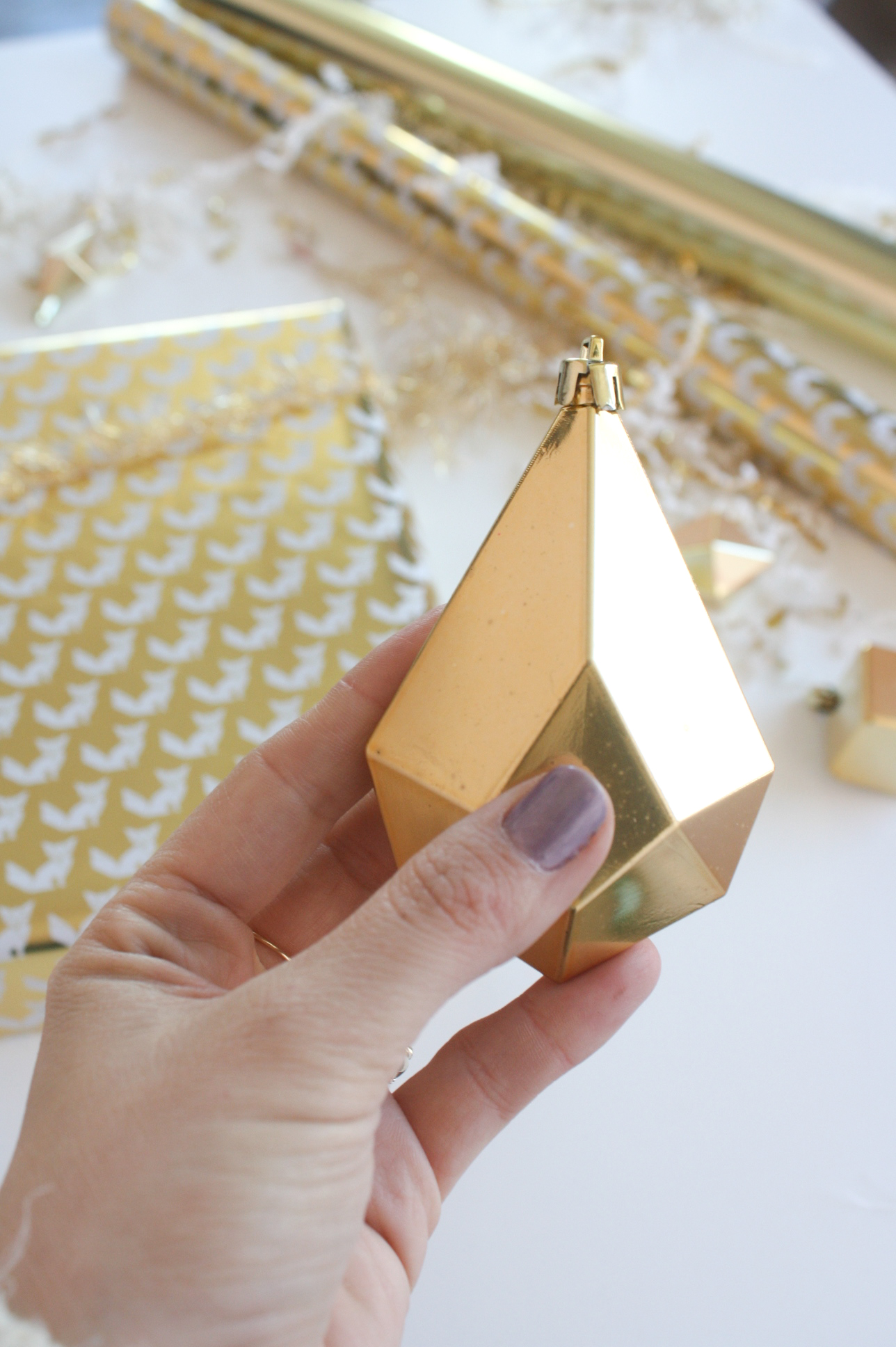 2. Repurpose what you have!
This is something I do for parties ALL THE TIME! The top of a piano can be a drink bar, a couch with some different pillows can be a "throne" for a mother-to-be. ALSO I like to repurpose holiday decor! You can use some inexpensive ornaments leftover from decorating your tree with some non-holiday wrapping paper to wrap holiday gifts! You're favorite holiday mugs can be perfect for a taco bar…see where I'm going with this?
3.Buy in Bulk & Personalize
I LOVE doing this for like, every holiday! I'll buy one fun item, like a board game, or a book or movie I'm loving. And then I'll pick out a little something else to personalize the gift for who I'm giving it to. So a "Game Night" might be fun, and I paired Twister with something fun and different for each person. This also saves time because you can wrap all Twisters the same, and then attach the details as gift toppers. Assembly line magic!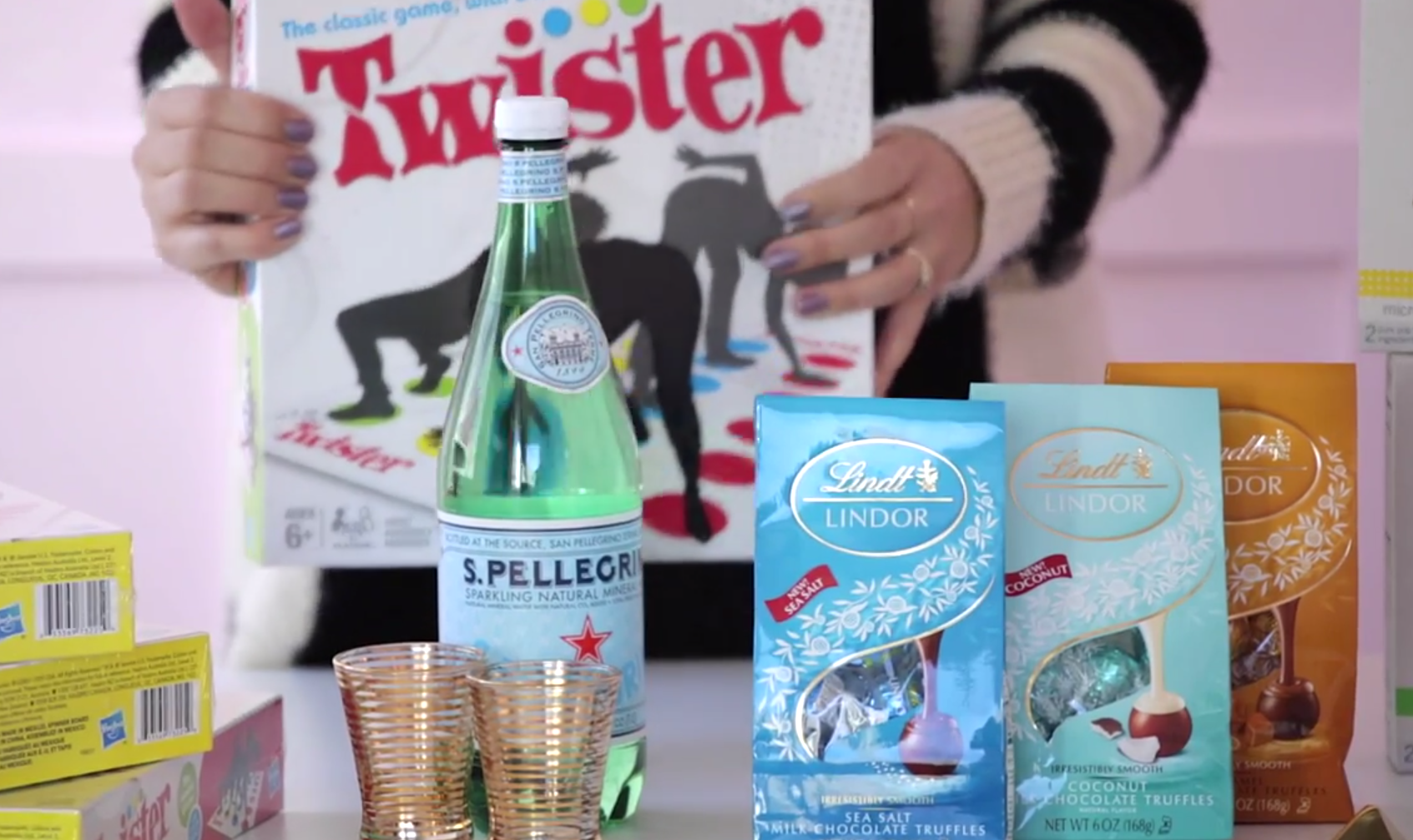 4. Take advantage of online printables!
Did you know I have a WHOLE BOOK with gift ideas and downloadable tags and present stickers? It's called A Hip Handmade Holiday and you can buy it HERE!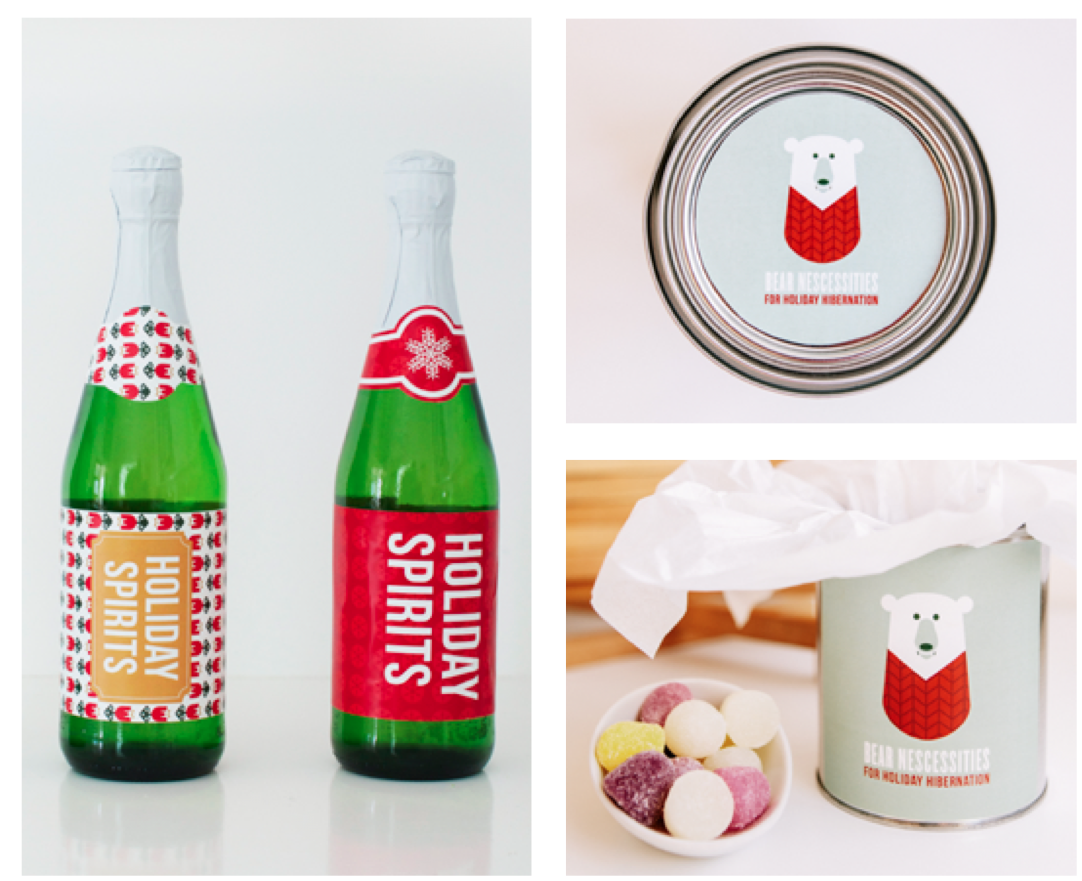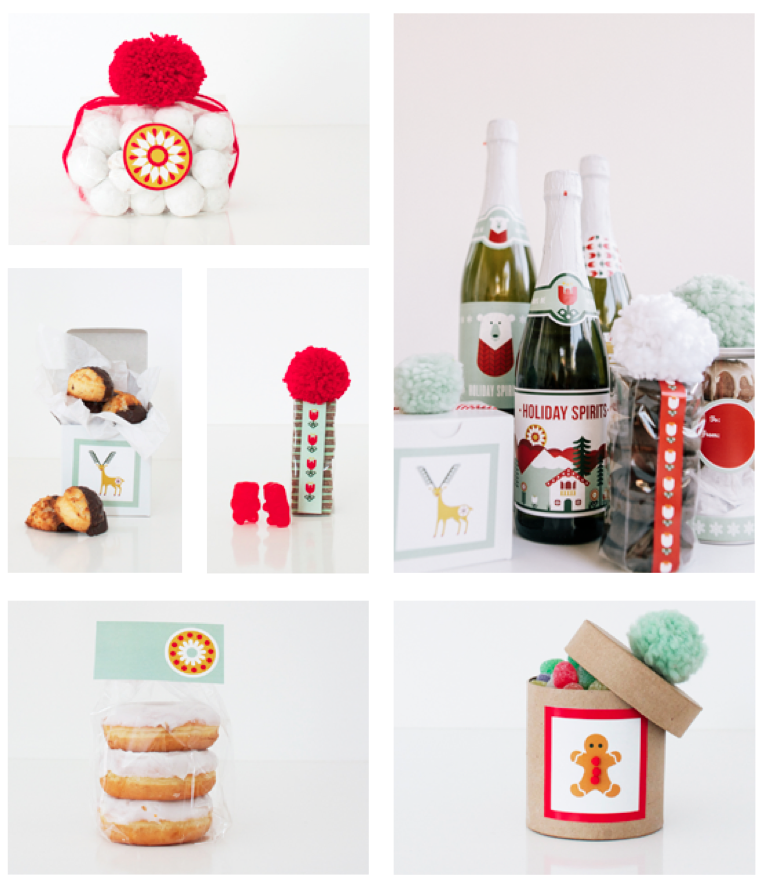 A bottle of sparkling apple cider or store-bought donuts can become an adorable gift when you slap a sticker on it!
They are also SUCH a fast way to do decor for a party! Here are some of my favorite places for decor ideas and downloads:
A Hip Handmade Holiday
Caravan Shoppe
Studio DIY
Free Printables from Oh Happy Day
5. Do What You Do Best and Hire Out the Rest!
Trust me, I think I can do EVERYTHING! Hahaha, but as the years go on and I plan more and more parties, I've learned that I'm not really proving anything by doing EVERYTHING myself, other than I'm a prime candidate for a nervous breakdown. If you're good at baking, BAKE BABY BAKE and buy the food! If you're good at decor, focus on that and hire out the food! I've been know to hire this really amazing caterer named Little Caesar quite often. Have you heard of him? His $5 pizza is bomb. Also for a private party it can be cheaper to rent things than to buy them! Don't be intimidated or feel stupid reaching out and looking into rentals for linens or chairs. I'm just mad it took me so long to figure this out. I honestly have been killing myself because I think I really had to BAKE EVERYTHING and make EVERY morsel of food myself. ALSO I have a cleaning lady now. No I can't afford her, who can afford cleaning? But it's something I prioritize because cleaning is not what I do best! Haha. Hiring some cleaning help before an event is an awesome idea, especially if you suck at it like I do!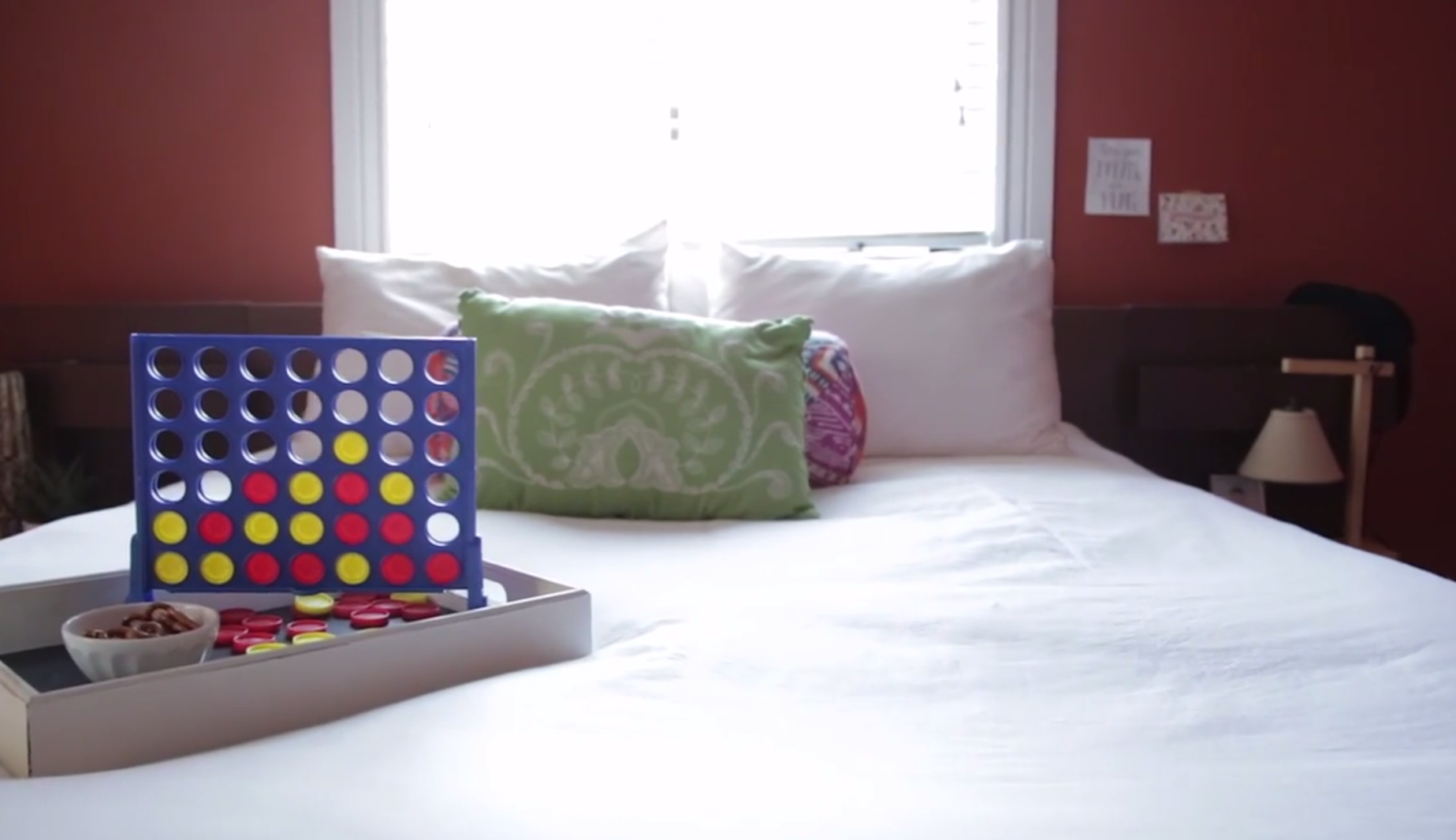 6. Leave Some Activities In Your Guests Rooms
When I taught my in-person class I surprised how many people wanted tips for hosting overnight guests! I'm all about killing two birds with one stone, so I love the idea of having the gift you give your guests for the holidays be something they can use while at your house. Like a game, or a book, or some magazines they might love!
7. Play Up Your Strengths
Why not plan events and activities around what you're best at!? If you're not a good cook don't put pressure on yourself to make a huge meal. I'm not good at sitting still. I can't do it. So I don't plan an event where people will be trapped and forced to chat if they're not in the mood. If you're not much for decorating, invite someone who is good at it to do it! Or get out of your house!
8. When Decorating: Pick One Picture-Perfect Moment
Another thing I learned the hard way, is that not every freaking corner of your house or space needs to be decorated. Instead of driving yourself nuts trying to spruce up every corner pick on stand-out moment and give it your all! If it's a dinner party maybe you set up a FANTASTIC dessert table that stays beautiful throughout the party. If it's a party party maybe you make one bomb photo-op. You know I love a theme and having it run throughout the party, but especially if you're on a budget or you're strapped for time, go all out in one place and have that be the focal point.
9. THINK ABOUT LOGISTICS!
Holy hell is this ignored. HAHA, can you tell I'm passionate about it! But it's ok! It's not hard to fix! I'd say one thing that sets me apart as an event designer is my ability to think logistically. SURE lots of people can make a space pretty. But with a little bit of thought a space can be pretty, functional and make people feel welcome. What are the logistics of a party? It's thinking about the functional details of what you'll need and what people will physically do when at your event.
If people are having apps, is there a place to throw away plates or napkins? When people walk in what will they do with their coats? What will people do FIRST when they walk in the door? Is there enough space/serve ware for laying out the food? The way to plan logistically is to think about the event from start to finish, and imagine yourself at the party. I like to try to think how my guests will feel. Do I need a sign that explains something? Will I be able to stand there and explain it? If not a little sign can go a long way. Even for a small personal dinner party a bit of logistical thinking can go a long way!
10. Have a Party Time Line!
Have no feat! The Alison Show Party Time Line is here!
DOWNLOAD MY PARTY TIME LINE HERE!
I've detailed how I think about an event, and when I do the food and the decor details and those logistics I went on and on about! I hope you find it helpful and that it provides at least a loose outline for your next event.
Ok! That's it! You're not going to have a nervous breakdown, you're going to have a super fly holiday party!
I hope you enjoyed these tips and shortcuts!
A special thanks to Hasbro Gaming for making this video possible! Be sure to see all my holiday decor videos here!
Happy Holiday Hosting!
xo
Alison
SOURCES:
Sweater, Tinsel Trees
Tai Pan Trading
Gold Wrapping Paper and Ornaments: Ikea
Treats from Target
Music by Pleasant Pictures
Video by Modern Atelier