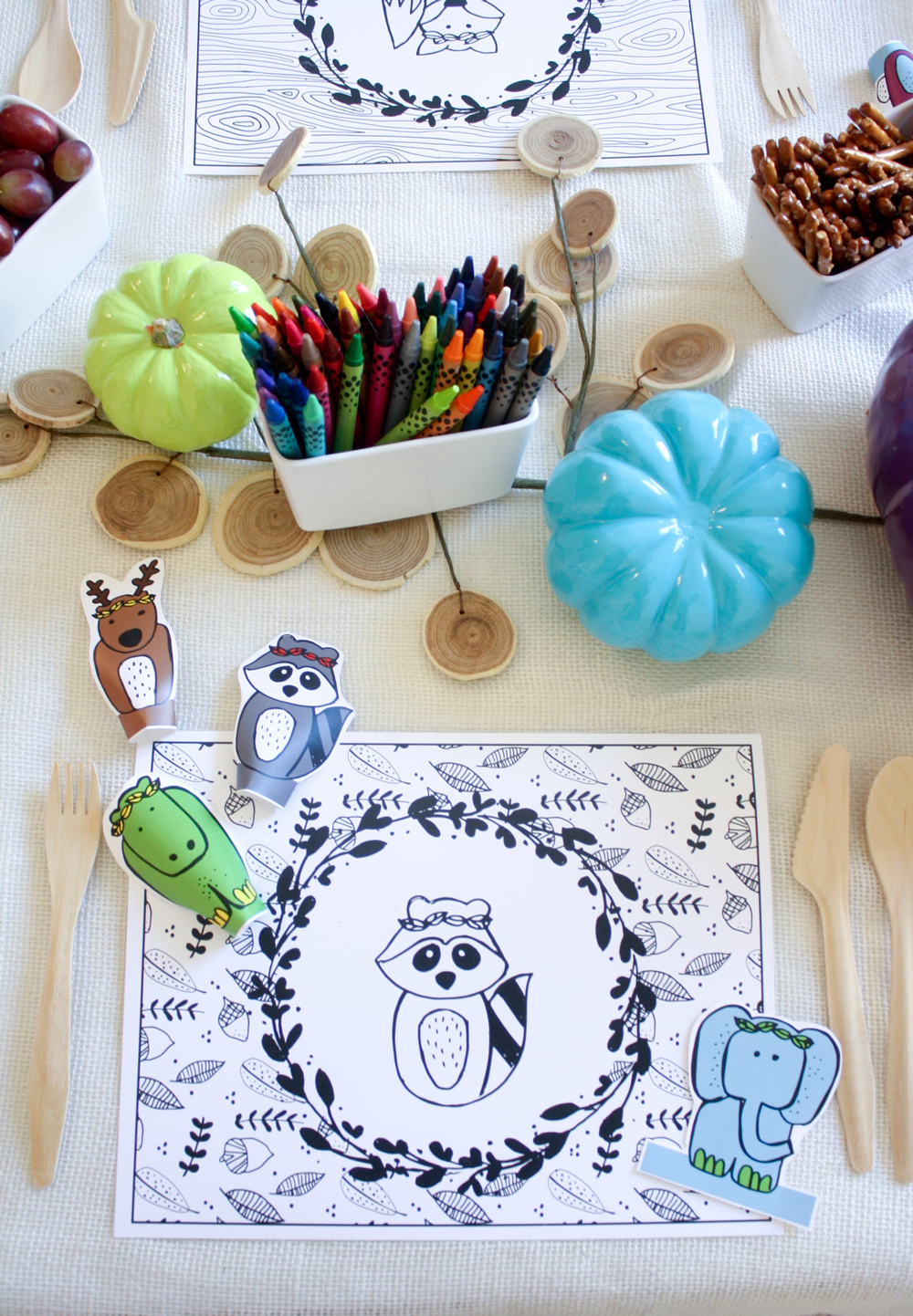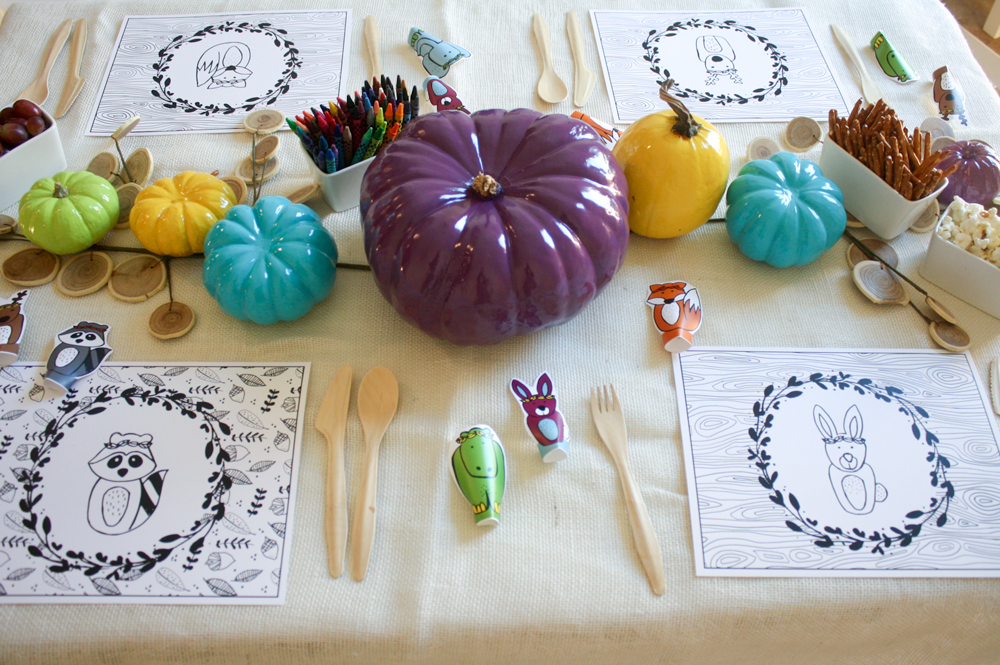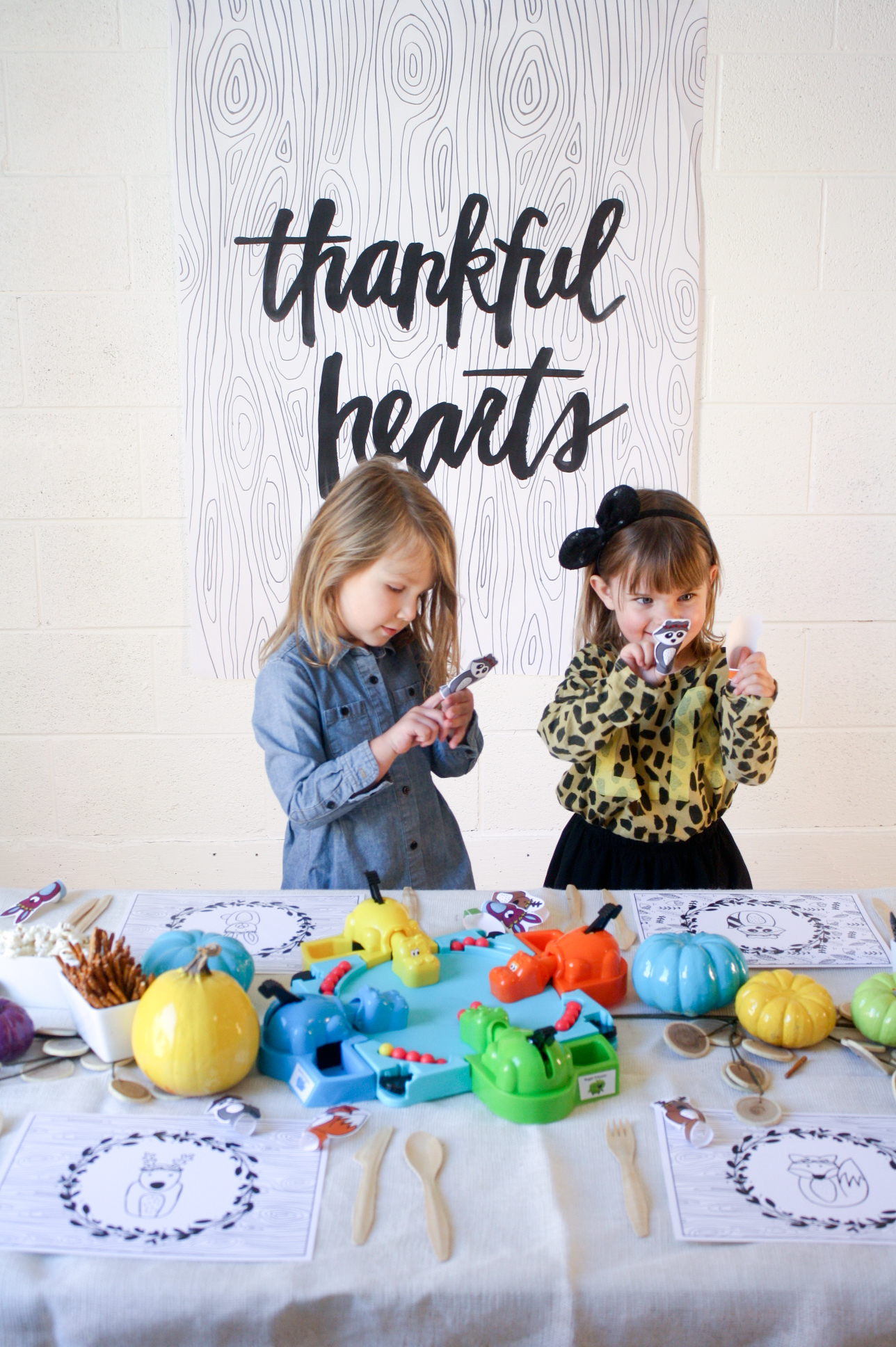 The other day I went to pick up Ginger at her grandparent's house, and her Grandpa had gotten out the game Sorry and was teaching Ginger to play it. She's 4 and was SO excited to learn the rules and try to play the game. I kind of had totally overlooked the fact that Ginger is getting old enough to play some of those classic board games. It's like how Rad's the second child and people go to give him a high five and he looks confused, and I realize I've totally forgotten to teach him all those things we were SO excited to teach the first child…high fives, waving goodbye, colors, shapes, HAHAHA parent of the year over here.
ANYWAY speaking of neglecting my children…KIDDING…I LOVE giving kid's their own special space when doing a party or family gathering. Not because I think children should neither be seen nor heard, haha no but because giving them their own special space, on their scale and their size makes them feel awesome. And because Ginger is old enough to play games now I thought it would be SO fun to do a kid's table centered around a fun game and some other SUPER easy kid-friendly activities.
So I came up with
6 quick fun kid's Thanksgiving table ideas!
But they would work for any holiday really! And LUCKY YOU there's a video! A super fun one!
1. Give them their own space!
Ginger seriously gets SO excited when I create a space just for her. I've shared some ideas for a kid's party table before, and giving the kid's a special table for holiday parties is really easy to do. This is an Ikea desk that I usually use to craft on, and I dropped the table legs low!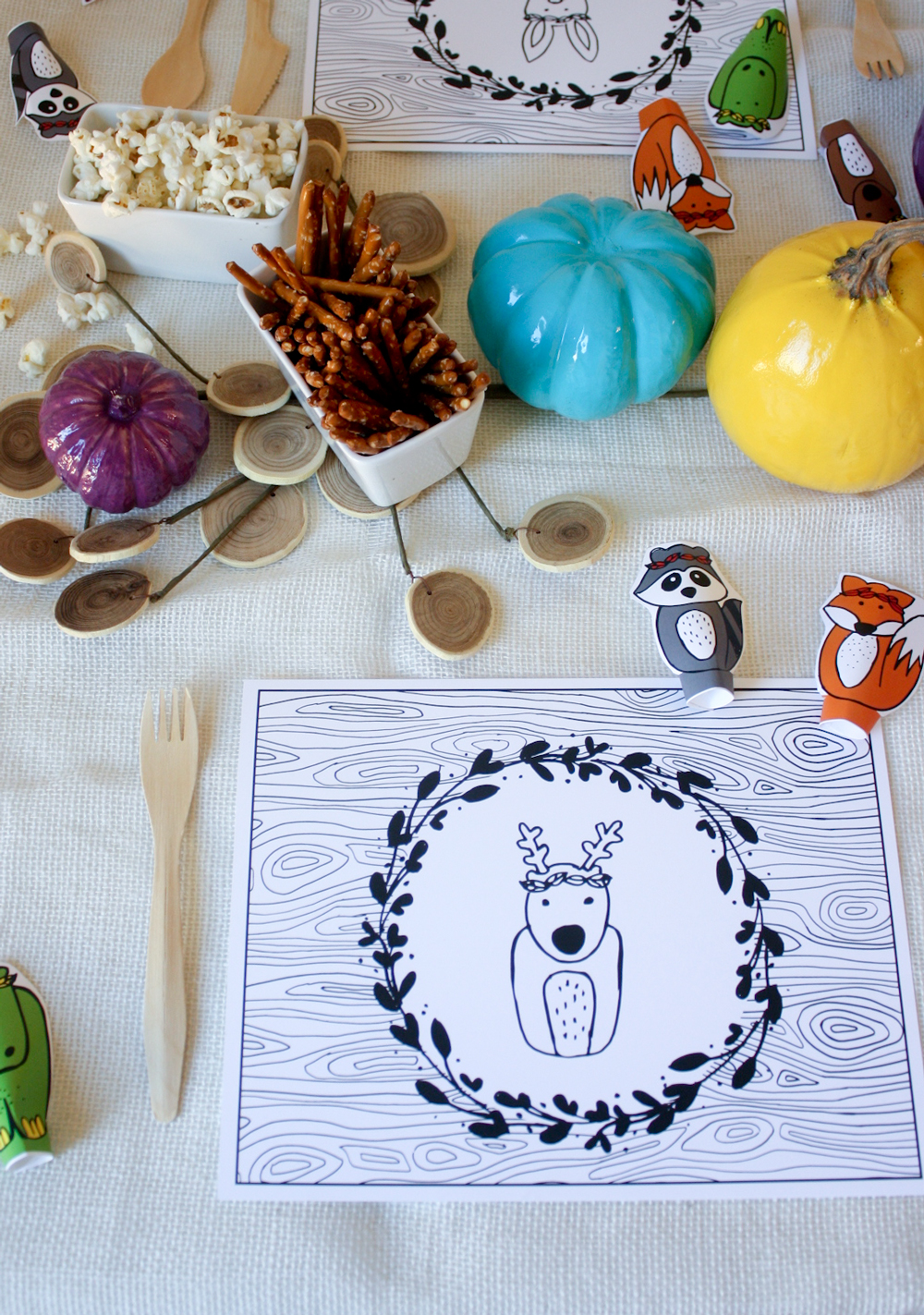 2. Snacks
Yes I want my kid's to eat real food, but honestly some days I'll take any form of calories I can get with those people! Some light snacks will keep the kids occupied, and maybe keep the super picky eaters blood sugar from plummeting. I chose relatively non-messy snacks. I did some pretzel sticks, grapes, popcorn (the kind you buy in a bag) but carrot sticks, or veggie straws would be good too!
3. Finger Puppets/ Printable Place Mats and Wall Art
I partnered up with Caravan Shoppe and they made these ADORABLE finger puppets for FREE just for us! I also LOVE to use their large-scale posters and place mats. I have a video about large-scale printing here!
DOWNLOAD THE FINGER PUPPETS HERE!
PLACE MATS
THANKFUL HEARTS POSTER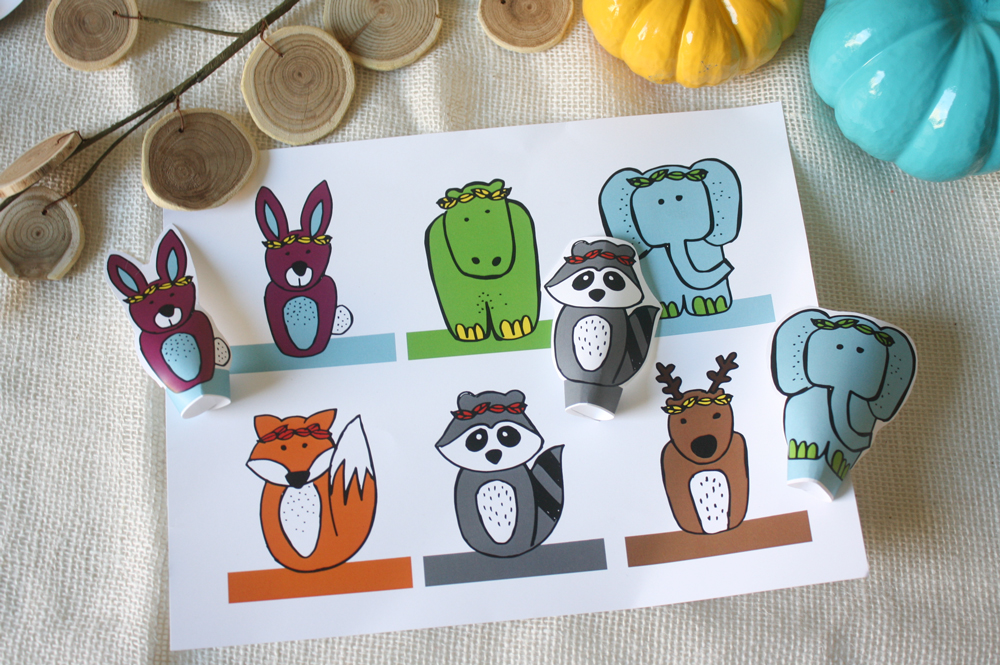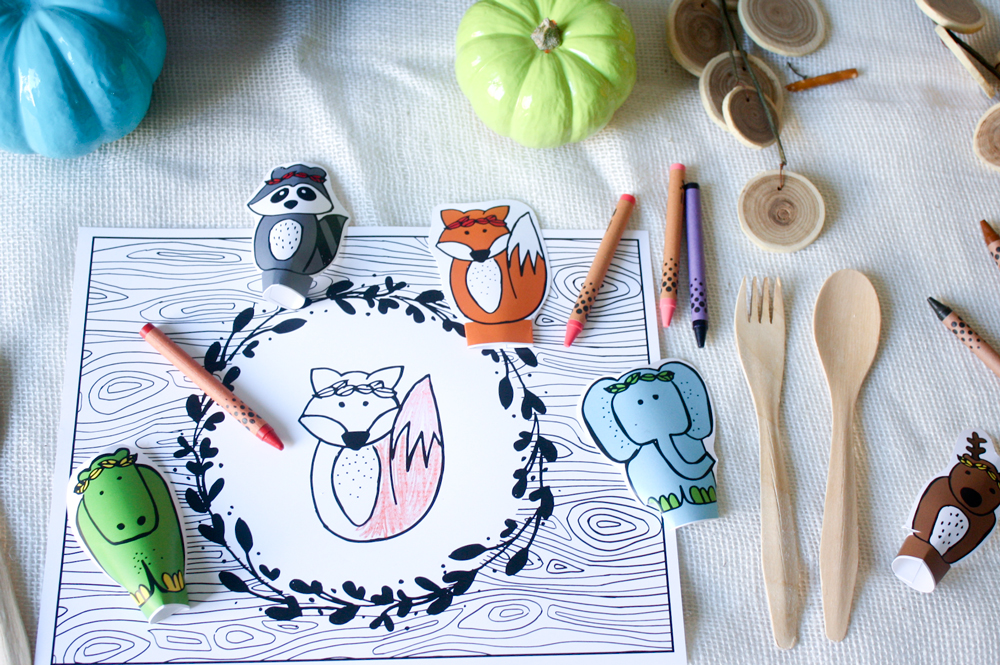 4. Table Games
OK! I'm so so so excited that I got to work with Hasbro Gaming for this video and my Feelings Fest! Hasbro contacted me like DAYS after finding Ginger and her Grandpa playing Sorry, so it was just such a good fit! I cannot tell you how obsessed she has become with Hungry Hungry Hippos! We play it every day. Also, because she's so hooked, after we filmed this video she INSISTED on taking the game to In n Out Burger for a friends 1 year-old-birthday party. We set up the game in the restaurant and there were 10 kids around the table all fighting to play. It ended up being the MAIN event because ALL the kids, like ages 3-10 loved it.
I think it's a fun idea to bring a game to a casual restaurant like that, and I hadn't thought of it before. And I LOVE the idea of putting a game right at the table while the kid's are waiting to eat!
Caravan Shoppe even made an adorable hippo finger puppet so that if you decide the use Hungry Hungry Hippos at your table, it will totally coordinate! It's the little things that bring me SO much joy! But also Operation, Connect 4, Battleship or Sorry would all be super cute and easy for younger kids too!
I also like that putting a game at the table is something a crafty or non-crafty person can do without ANY stress.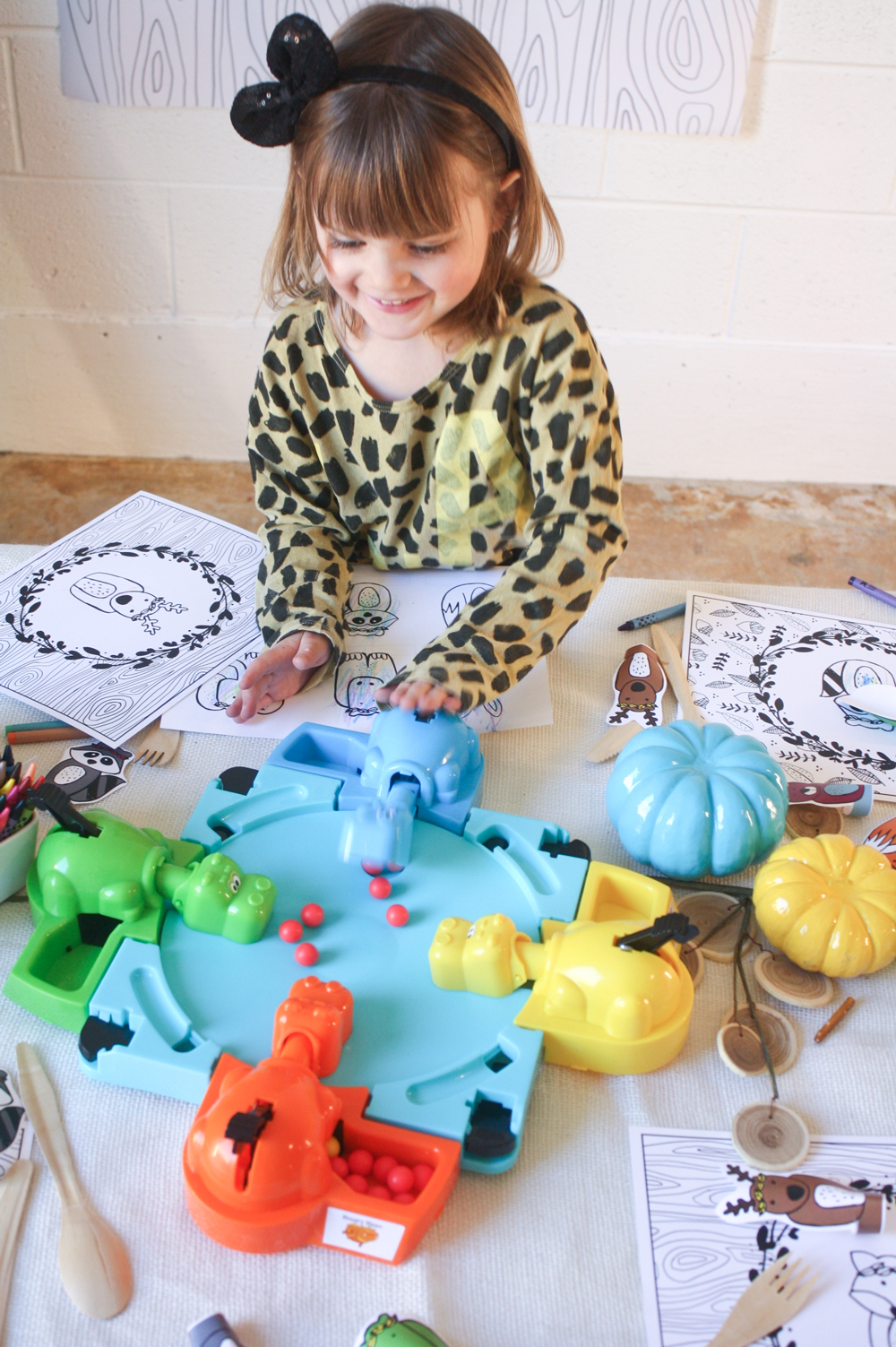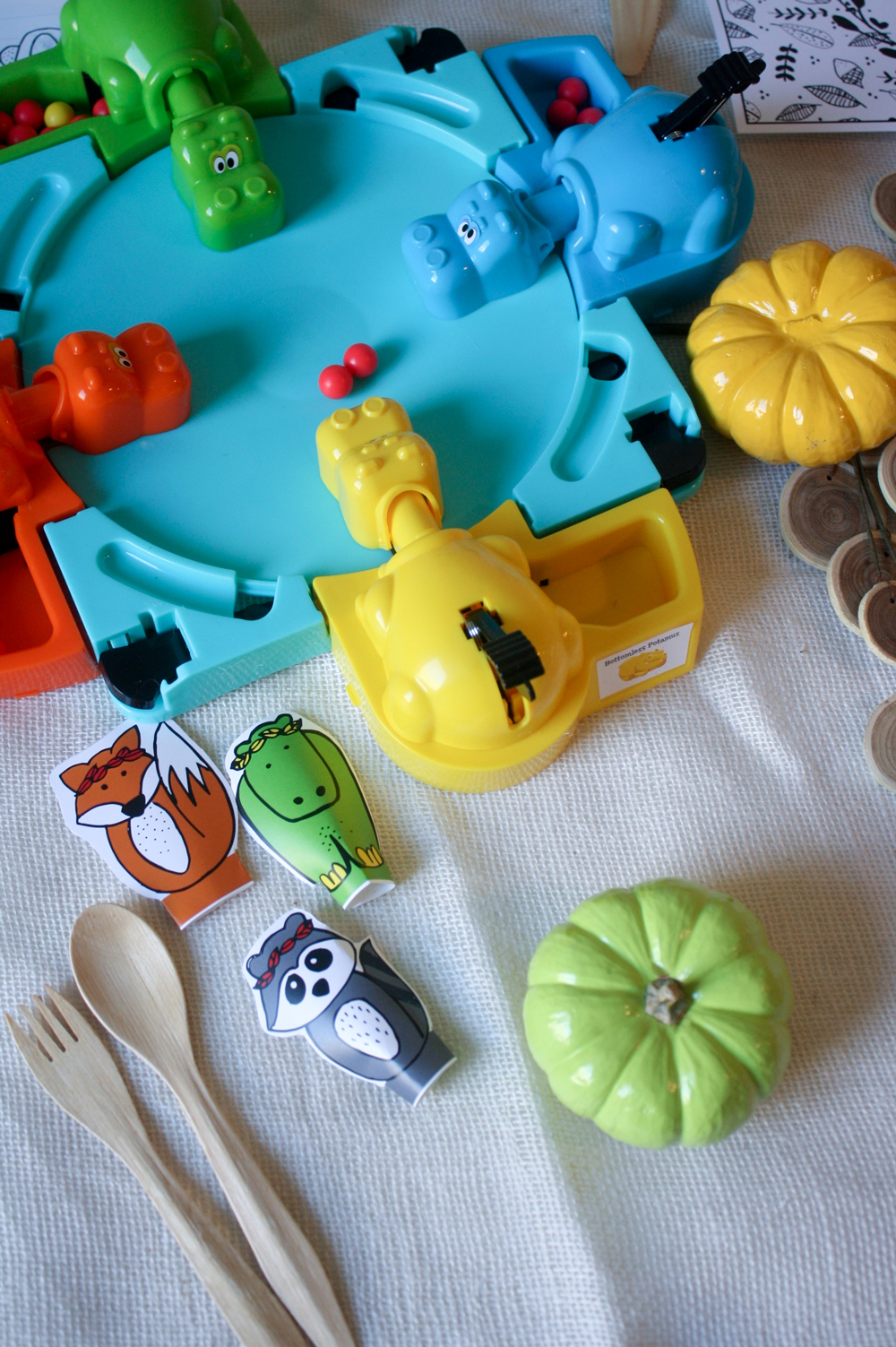 5. Crayons
Again SO SO easy, so so simple. I love giving the kids the place mats to color for the Thanksgiving meal instead of covering the whole table in butcher paper (like I usually do) because it keeps things just a tad bit dressier.
6. Painted Pumpkins!
This was the fastest, easiest, cheapest way to add some bang for my buck to my kid's Thanksgiving table! I just spray-painted our Halloween pumpkins with some spray paint I had on hand! I've said it once before and I'll say it again my favorite spray paint is Rust-Oleum Painter's Touch Ultra Coverage. Some of the other brands I had on hand kind of slicked off the pumpkins.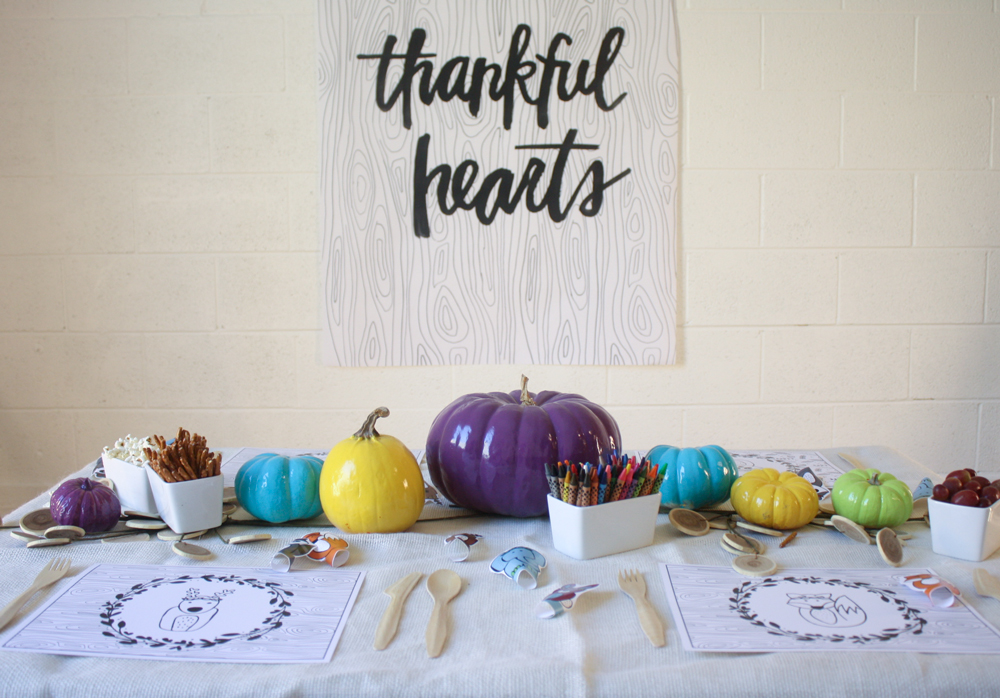 AND THAT'S IT! There you have it! Are you ready to rock the kid's table? Even if you don't have kids you're gonna look like a rock star if you're hosting!
Love you all and GOBBLE GOBBLE!
And here are all my resources:
Special thanks to:
Saron Winn and Roe Oldham
DOWNLOAD FINGER PUPPETS
Skirt, Wood Slices, White Dishes
Tai Pan Trading
Place mats and Wall Art
Caravan Shoppe
Music by Pleasant Pictures
Video by Modern Atelier