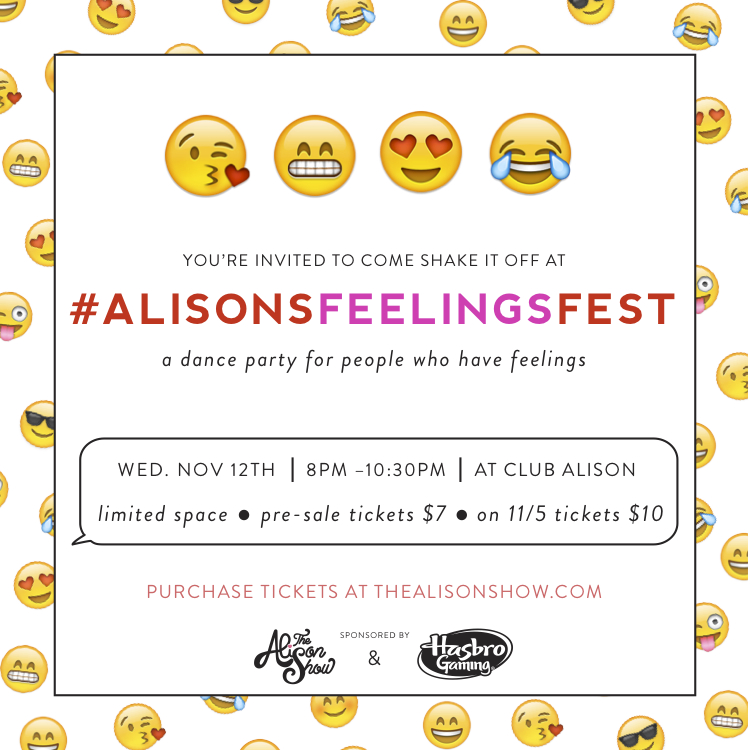 I AM SO EXCITED to announce The Alison Show's first official event at Club Alison! A DANCE PARTY!
TICKETS SOLD OUT IN JUST A COUPLE OF HOURS! THANK YOU!
PURCHASE TICKETS HERE!

I decided to call it #alisonsfeelingsfest because I just have SO MANY FEELINGS. And sometimes I wish I didn't have so many, and other times I love them all. But the one constant is dancing always makes me feel better.
I'm calling this a GIRL'S NIGHT OUT! So leave your men at home, and bring your babes 16 and up!
We will also be having a Twist Your Feelings Out GIANT Twister Tournament, two DJ's, FREE Sodalicious beverages for the first hour and FREE custom donuts from Provo Bakery! It's going to be fun!
If you're not convinced, see my other dance parties HERE and HERE.
My number 1 goal with The Alison Show and my LIFE is to help people feel good about themselves. I think that gathering together, not caring about looking a certain way, or being anything other than a person, a person with feelings, is pretty damn good way to feel good.
And because I want to be able to invite ALL my friends, and also justify some of the work and costs, I am charging for the event! I hope you guys understand, events of this size are VERY expensive and that's why lots of brands like to only invite bloggers, or social media influencers. They use them as marketing. But I am adamant about being inclusive, and I want you all to feel like royalty! So I'm trying to keep costs down for you, but still make it a BOMB event.
So #alisonsfeelingsfest is only $7 (pre-sale) and $10 (starting on 11/5), BECAUSE Hasbro Classic Games came in as a very generous sponsor and is ensuring that it's going to feel more like a $50 ticketed event than a $7-$10 party.
There will be insane fun doorprizes from Hasbro Classic Games (think all of your favorites, Monopoly, Scrabble, Operation, MORE MORE MORE!) and lots of other fun treats from people that I love! I am adding lots of stuff so I will keep you posted!
I hope you guys want to come, I hope you want to shake off some of those feelings with me! I'm nervous, I'm excited! And also my birthday is Nov. 10, so if you were wondering what to get me…let your presence be your present.
xo
Alison