Talk about a FAB group project! Susan from Freshly Picked, and Melanie from Fifth & Hazel came up with this little doozy for you! And I kind of have to WANT TO take credit for writing the little sayings on the creatures! The owl says, "You're a hoot Valentine" The skunk says, "You're my favorite lil' stinker" and there might be a porcupine saying, "You give me the quills!" Well, you know who was behind that crap.
To add even MORE FUN! Heather from The Coterie (her project is tomorrow!!) brought her son Cole over, and Hattie (Susan's daughter) and him got super crafty.
Susan was sweet enough to make the whole tutorial available right here! So I'll let Susan take it away!
For my tutorial, which has heavily helped by Alison and Melanie, I'm sharing how to make temporary Valentine tattoos. It's really easy, all you need is temporary tattoo paper, I purchased the Quickutz Silhouette – Printable Temporary Tattoo Paper.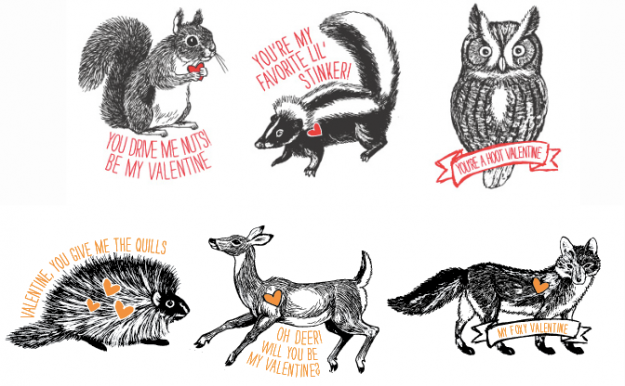 You'll also need to head on over to Fifth and Hazel and download these amazing tattoos.

Start by printing out the images on the paper, you'll need them to be reversed. Take the sticky piece and apply it to the tattoos.

Using something like a ruler or a bone folder scrape the paper to make sure the there aren't any air bubbles. Then cut out your tattoos!
Find a couple of cool kids and apply the tattoos and then make the coolest valentines in the class!

P.s. We got those little envelopes from the party supply store, and Hattie picked out some gem stickers to seal the deal!
If tattoo paper isn't in your future, be sure to check out the FREE little Valentine's Melanie made out of these sweet designs!

HUGE thank you's to Susan of Freshly Picked and Melanie from Fifth & Hazel for their creative genius!
I hope you guys are enjoying these projects as much as I am!
xo
Alison